Content
Agile Management
Working in the modern age requires flexibility and quick adaptation, both of which are easier to achieve with Agile management. Easy Project provides with a solution applicable for any agile methodology, may it be scrum, kanban or mixed. Agile management insures close collaboration of the team and quick adaptation even at late stages of project, to insure client satisfaction. While harnessed in the IT world, Easy Project Agile solution is highly applicable for any client oriented company which strives for efficient delivery of product.
Kanban - Personal & Team Boards
Get an overview of work to be done and the current status of tasks with personal & team Kanban Boards. Simply implement these on your personal or team dashboard and update and re-assign tasks via drag & drop without leaving your dashboard.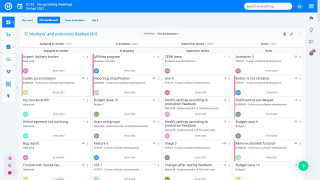 Agile Board for SCRUM, KANBAN
The Agile Board displays tasks and gives you a clear and adaptable way of viewing, managing, and reporting on work in progress. Choose between SCRUM or KANBAN - to benefit from their unique advantages and features.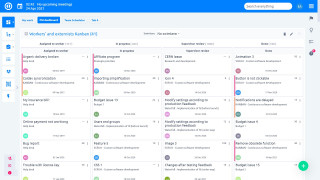 Burndown Chart for smooth sprint commitment
Perform in-depth analysis of progress patterns for timely sprint completion with Burndown Chart. Compare ideal versus real work remaining, identify a working pattern and make sure that sprint commitment is met without a hitch.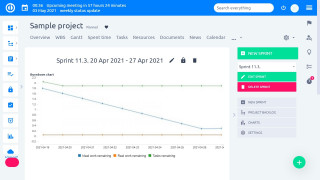 Key features:
Chart displaying ideal versus real work remaining
One of the most common sprint tracking mechanisms used by Agile practitioners
Bars displaying number of the remaining and completed tasks
Predicts when all of the work will be completed
4 indicators: Ideal work remaining, Real work remaining, Tasks remaining, Tasks completed
Backlogs for the organization of agile projects
Creation of a weekly backlog is easy with Easy Project and will only take a couple minutes. Simply construct a Product Backlog using drag & drop from the pool of tasks, and then create a weekly Sprint Backlog during your meeting.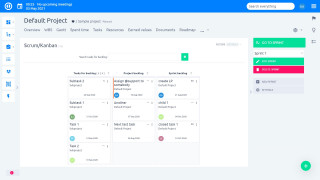 Additional information
Master your projects easily
Easy Project is ready for serve you
The best project tools integrated together...