Content
Agile management - Scrum and Kanban
Kanban - Personal & Team Boards
Get an overview of work to be done and the current status of tasks with personal & team Kanban Boards. Simply implement these on your personal or team dashboard and update and re-assign tasks via drag & drop without leaving your dashboard.
Agile Board for SCRUM
The Agile Board displays tasks and gives you a clear and adaptable way of viewing, managing, and reporting on work in progress. Choose between SCRUM or KANBAN - to benefit from their unique advantages and features.
Backlogs for the organization of agile projects
Creation of a weekly backlog is easy with Easy Project and will only take a couple minutes. Simply construct a Product Backlog using drag & drop from the pool of tasks, and then create a weekly Sprint Backlog during your meeting.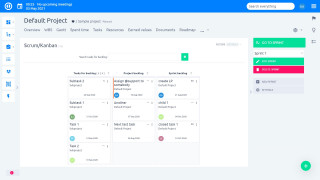 SCRUM master's dashboard
All live operations are at the SCRUM master's fingertips. Current sprint status, overall sprint completion progress, velocity by day, week or month, closed story points in time, eye-catching charts and other customizable modules and options.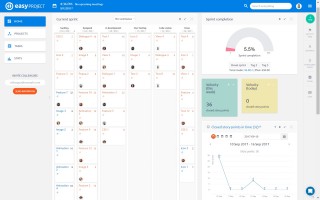 Additional information
Easiest onboarding
& implementation
8 predefined user roles, ready to use
dashboards, features, permissions
and workflow.