Content
Project management features of Easy Project
Work Breakdown Structure
Eliminate undefined tasks and delays by using WBS. Clearly parse out projects and define all the deliverables. Quick personal planning and collaborative development of a project's scope are easy with WBS.
Gantt chart for easy project planning
Tired of overdue tasks and clumsy Excel spreadsheets? Try a Gantt chart, it will visualize your projects and make planning easier so the process runs faster, is more synchronized, and stays easily communicable.
Mobile project management
Quick Project Planner
Quickly plan complete projects by entering the basic task details: name, duration, and due date. Available through the sidebar of your project page, the planner will allow you to take note of tasks during both the brainstorming and preliminary project definition stages.
Project Roadmap
Get and instant overview of your project goals in the form of milestones and all the tasks that need to be completed. With Project Roadmap, you get an instant overview of the whole project plan.
Personal Dashboard for your every need
Address the needs of multiple users and optimize the flow of daily processes with Personal Dashboards and a portfolio of preset dashboards for typical company roles, such as project managers, support workers, sales reps, and more.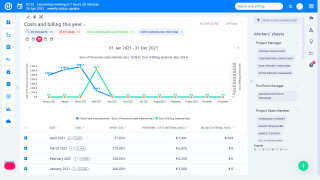 Key features:
Tasks in a list or calendar format,includes: my tasks, task assigned to me, tasks I cooperate on, tasks according to projects
Projects in a list – my projects
Activity, attendance and time management modules
Easy buttons for easy task update
Variety of graphical outputs, reports, Gauge diagrams
Project Documents
Documents can be attached to tasks and projects and then easily searched, versioned, and edited online. Under the Documents module you can find a complete overview of all the attachments from a specific project and tasks related to each of them.
Critical path of the project
A critical path is a sequence of tasks that cannot be delayed or else the whole project would be delayed. Also, it shows the shortest time that the project can be completed. A task within the project is considered critical if its due date can not be delayed since it would directly affect the project completion date.
Baselines
Assess project performance by comparing it to the original plan. Baselines provide snapshots of the project plan at different moments, allowing you to easily compare the plan to current performance within your Gantt chart.
Templates for every project
Create project templates from existing projects or from scratch to save time and improve project structure over time. Easy Project also offers you a list of project templates for typical company processes.
Key features:
Unlimited number of project templates
Full-featured templates – team & roles, tasks, milestones, documents
Easy Project templates for typical projects
Saves time by eliminating the need to fill in all project details
Complete list of all project templates accessible through Administration
Custom Fields
Make Easy Project your own by creating computed fields customized to your personal needs. They can be created on a variety of entities and can appear depending on trackers and attributes.
Additional information
Master your projects easily
Easy Project is ready to serve you
The best project tools integrated together...