Content
Work Management
Task Tracking for up-to-date projects
Update task features according to your permissions, visualize project progress and push tasks through the workflow. Task tracking eliminates the need for status update meetings, since everything can be tracked in Easy Project.
Time tracking and reporting for efficiency and planning
Time tracking and reporting is the key to efficient time management and planning. It allows employees to efficiently utilize and report their time, and managers can monitor spent time and use it as a reference for future project planning.
Checklists
Checklists can easily increase work organization, motivation, and productivity. They eliminate the possibility of forgetting a step and make the delivery of repetitive tasks more efficient and with fewer mistakes.
Workflows
Workflows allow you to define, execute, and automate business processes, eliminating chaos and coordinating tasks between employees. Easy Project allows you to set task permissions and workflows based on user types.
Meeting Calendar
Meeting planning can be a tedious process involving dozens of emails. With the Meeting Calendar, you can easily organize personal, team, and project meetings, check your colleagues' availability, and send invitations to their emails.
Activity Feed
An activity feed is the fastest way to find out about the latest task updates. It is always accessible on your sidebar, where you can see updated tasks and recent comments, completely eliminates the need for email notifications.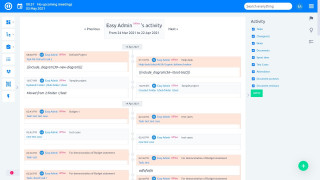 Team Chat
Stay in touch with your colleagues, remote teams, and work-from-home employees. Easy Project offers integrated communication tools such as instant chat, which is always available on the right sidebar. Available in all paid subscription plans.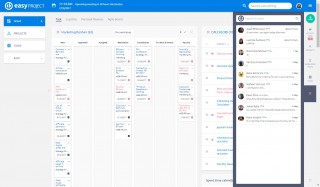 Action Buttons
Cut down the number of steps necessary for a task update. Simply open a list of tasks and drag & drop one to the pre-set Action Button, which can perform any kind of task update, including change of assignee, tracker or priority.
Additional information
Master your projects easily
Easy Project is ready to serve you
The best project tools integrated together...