Content
Познакомьтесь с нашей командой
Viktor is a skilled web developer, who makes sure that everything is correctly interlinked between our web and other systems. He likes cycling, nature and follows latest trends in technology.
Miroslav has been strengthening our frontend part of the programming team. He comes from Litvínov. He graduated at the CTU Transport Faculty. He gained practice in website development during the course of his studies from building his own projects as well as his diploma thesis. His hobbies include web programming as well as traveling or sport shooting.
Miloš is Easy UX designer. His main responsibility is Your visual satisfaction. He loves design in all forms.
Stanislav works as a Front-end developer. He came from Ukraine and studied at the Faculty of Electrical Engineering of the Czech Technical University in Prague, where he first began his professional training in front-end and programming. His main hobbies and interests include sports, especially basketball, volleyball, and ping-pong.
Jiří is our programmer who takes care of debugging and development of new features. He holds a degree in IT, specifically web technologies and knows Ruby, Ruby on Rails, CSS, Javascript, Jquery, Pascal, HTML languages.
Dominik works as a developer, mostly taking care of Ruby back-end. He is responsible for debugging and repairing codes, based on evaluation reports to coding fixes. Dominik has been with Easy almost three years, so he knows all the ins and outs of our product. He is fluent in English & Czech and has a thirst for solving mysteries.
Barbora works as a sales coordinator for our Easy sales team. After graduation, she left to work in England for 2.5 years and then she worked in Bohemia Jihlava. She likes traveling, taking excursions, spending time with family and friends. In addition to traveling, she likes to baking, reading and undertaking various sports activities.
Ondřej is our developer, he likes to learn about new technologies, which help him in his personal development. He is looking for a new challenge and likes to work on new projects, in which he can fully exploit his skills.
Pavel is a Ruby On Rails developer with extensive experience in debugging and fulfilling our clients custom requests. He is a big coffee enthusiast and loves backpacking in his free time.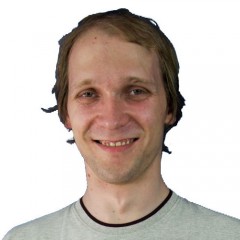 Jakub is a passionate marketing manager, he enjoys working on new, progressive and strategic marketing concepts. He graduated at the University of Economics and he gained marketing experience in various companies. He is big fan of movies, surf sports and internet of things.
Josef works as front-end developer and is also responsible for all our websites. He loves his wife, his kids, and Red Dwarf series.
Jan is a senior graphic designer, copywriter, and visionary. He develops creative ideas and concepts. His strongest skill is the ability to listen to customers and understand their needs. During his 20 years of practice, he worked on a variety of products and activities, such as websites, advertising, books, magazines, product packaging, exhibitions, corporate communications and corporate identity.
Languages: CZ, EN
Jan is an experienced specialist responsible for Easy Project integrations via Zapier platform and optimization of processes focused on e-commerce. He holds a master's degree in economics and informatics with specialization in the analysis of information system processes. In his spare time, he is interested in web technologies, playing as DJ, making wooden furniture and going to nature.
Pavel works as front-end developer. He studied at Czech Technical University in Prague, knows AngularJS, PHP, MySQL, CSS and other web-related technologies. He enjoys running and photography.
Petr is responsible for selling Calculoid and developing business relationships. He is interested in new trends in IT such as artificial intelligence, machine learning or IoT. His hobbies are cars, steam locomotives, and politics. He also plays soccer as a goalkeeper.
Lukáš takes care of online content and knowledge base (documentation) management. He works on delivering comprehensive manuals to guide you through Easy Project. He has extensive experience in copywriting, translating, and public relations.
Gabriela works as a financial specialist. She is responsible for invoicing, payments, controlling, reporting and reconciliation. She holds a Master's degree in Economy and Management and has extensive experience from multiple banks. She speaks Czech and English. Gabriela is easily adaptable to changes and excels in communication. She is certified by Czech National Bank in insurance and capital market field.
Martina cares for finance and related administration. She has extensive experience in accounting and financial administration in international companies. The numbers just entertain her. In her spare time, she devotes herself to family, dancing and likes creative activities, such as furniture upholstery, sewing, and other handicraft works.
Andrea is an assistant to our CEO Filip and also creates the best working environment in our offices. At the same time, she prepares a variety of corporate events for us to enjoy some fun and get to know each other not only on the job. Andrea loves to move so she likes to sport, travel and learn all the beauties of life.
Lucie is a finance specialist. She holds BSc in Economics along with other necessary skills, such as bookkeeping basics, fast computer writing, a good knowledge of MS office package, especially Excel. She spends her free time playing golf or with her friends over some good food and drinks.
Languages: CZ, EN
Monika takes care of our team. She holds a Master's degree in Economics and Management and in Easy Software she takes care of team onboarding.
Jaroslava takes care of Easy accounting - no one know as much about "Easy Number", as she does. In her free time she likes to do various sports.
Additional information
Просто внедрить
и легко научиться
8 заданных пользовательских ролей, готовые
панели, настроенные функции, права
и рабочие потоки.

НУЖНА КОНСУЛЬТАЦИЯ В ПРЯМОМ ЭФИРЕ?
Выберите время, и мы свяжемся с вами по телефону/скайпу или проведём видеоконференцию.