New Easy Project 2019
with Business Intelligence included
Make your projects more profitable with new powerful features like
Business Intelligence, Scheduler, Cost Breakdown Structure and more...
Les meilleurs outils de gestion de projets
Gantt, WBS, Earned Value, Kanban, SCRUM, Resources. Tous ces outils, et bien d'autres encore, y sont intégrés pour vous faciliter la gestion de vos projets.
Facile à utiliser
Vous allez pouvoir définir automatiquement et en un seul clic autorisations, workflows, jusqu'à 15 rôles et tableaux de bord prédéfinis et adaptés à tout type d'entreprises.
Accès rapide
La possibilité d'accéder à des centres de données répartis dans le monde entier ou des solutions locales sur vos propres serveurs garantit des réponses de premier niveau n'importe où que vous soyez.
Easy Project nous a permis de prendre le contrôle de nos projets, être plus efficace et avoir des points de vue stratégiques sur nos projets que nous n'avions pas auparavant. Le service support d'Easy Project nous a aidé à répondre à nos besoins uniques.
Meilleur travail de groupe
Fondé sur une étude de plus de 40 000 utilisateurs d'Easy Project.
Detailed specification of Easy Project 2019 update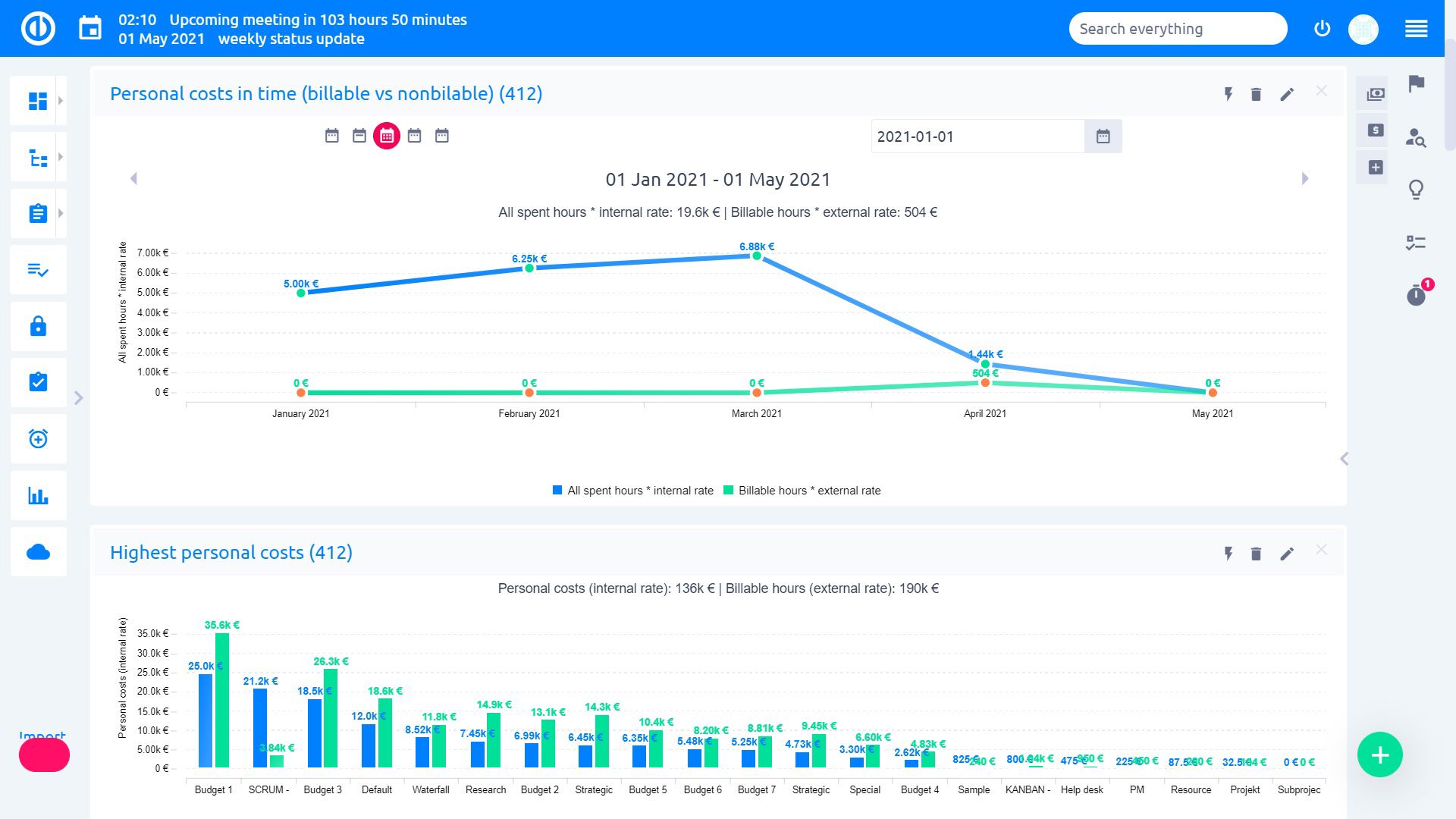 New Global Dashboards
Easy Project has in-depth pre-prepared visual dashboards for any project management area you can imagine - projects, tasks, milestones, sprints, resources, time tracking, budgets, people, test cases, etc.
Why wasting time with creating new dashboards from scratch? Just open the one you need with one click only from your homepage or More menu.
With Easy Project Global Dashboards, your project team will not miss any important news anymore. Stay in the picture and make informed project management decisions.
Scheduler
All tasks, meetings, attendance, CRM cases, sales activities and resources on a single well-arranged calendar screen. Plus all entities can be easily distributed and edited with a drag & drop feature.

It makes daily working much easier for both workers and managers. Managers can use it as a tool for task allocation of teams and subordinates. Regular workers will benefit by using Scheduler to manage their own tasks and other entities.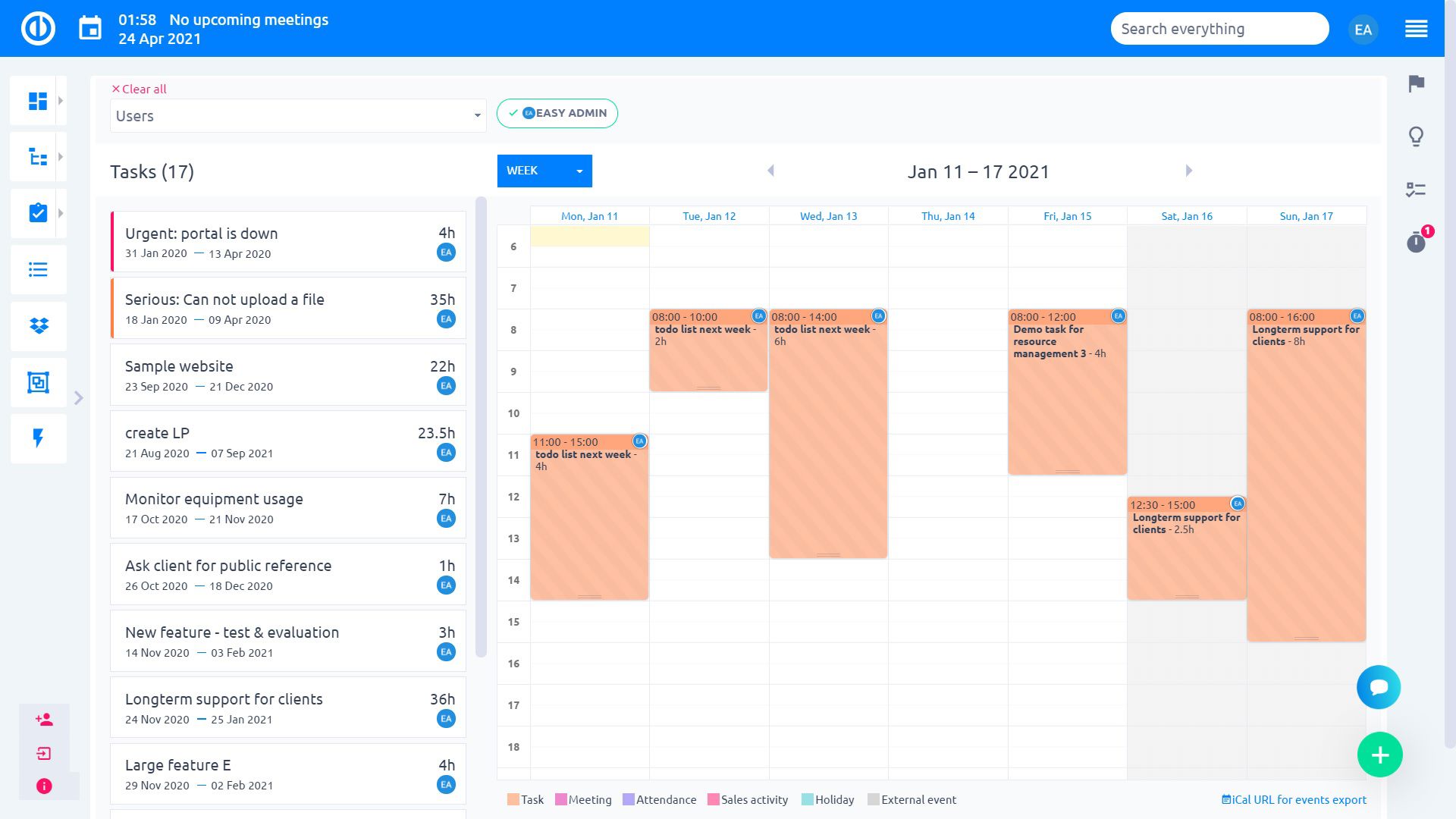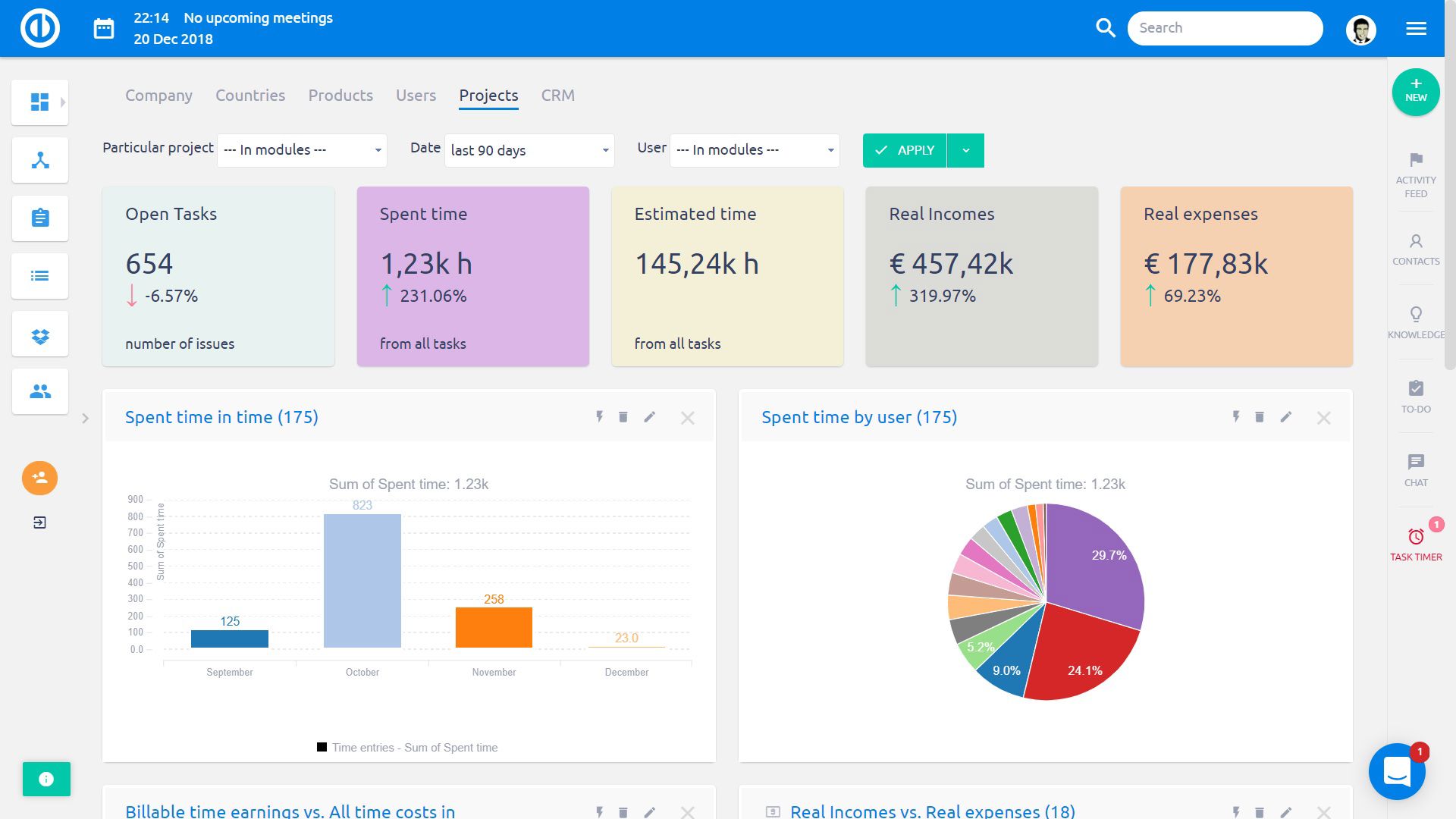 Business Intelligence
BI brings you important insights and overviews of your projects and company performance. Therefore it will be easier to make decisions that are based on real data.
The most important ROI in a particular business segment can be viewed by product / project / country. Total number is calculated based on:
incomes & revenues (invoicing)
project earnings
project costs
personal costs (spent time X hourly rates)
other costs
CRM data
campaign cost (Google Ads connection)
Cost Breakdown Structure = CBS
You can call it Visual finance management too. CBS is now an integrated part of our existing Work Breakdown Structure feature. You can see & manage projects and tasks finances right from a mind map view. Just display your projects costs, revenues, profit.
Plus you can continuously compare the actual costs with the budget, and integrate to the cost control system.
On top of that, you can create new entries easily right in the mind map.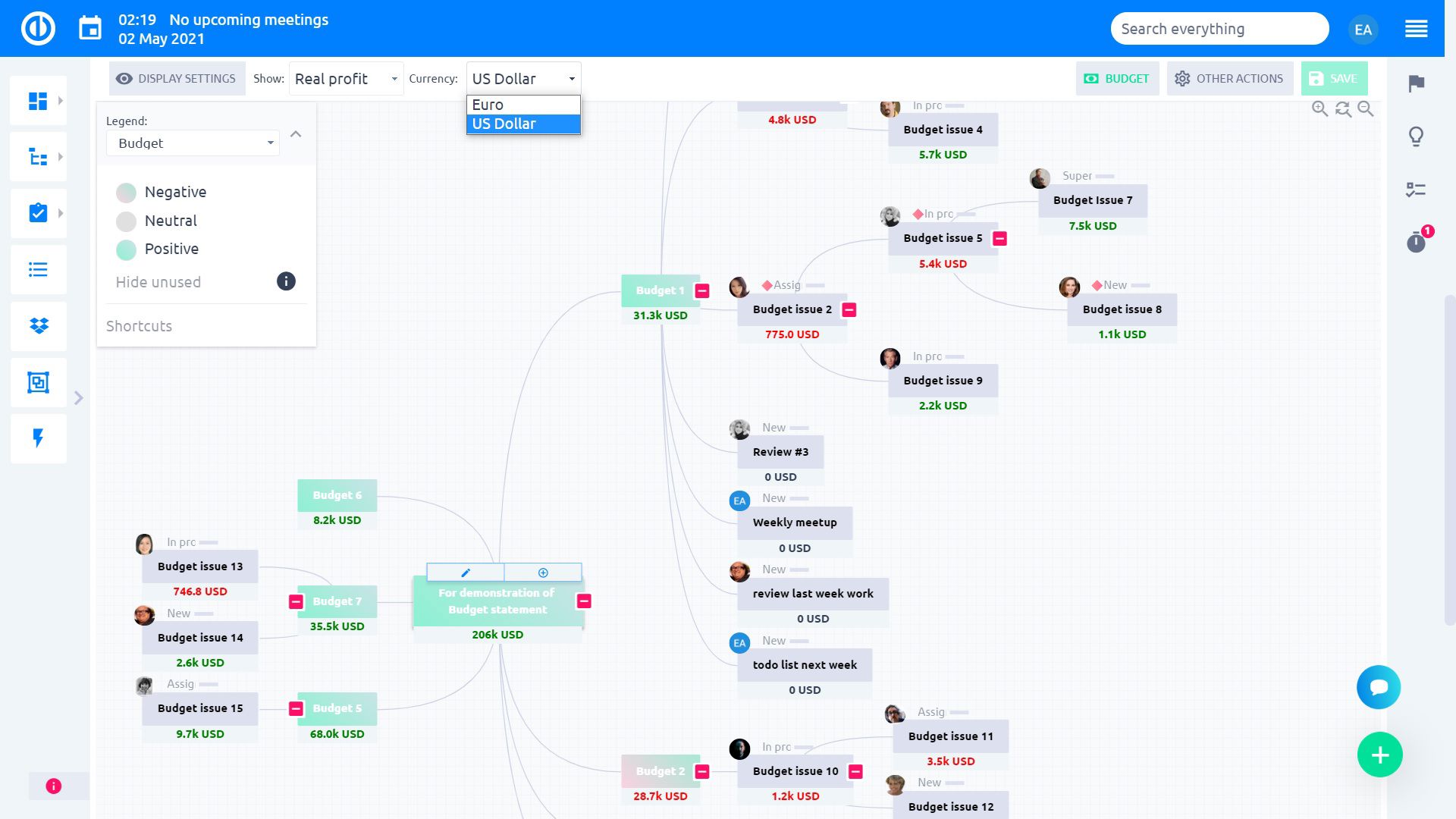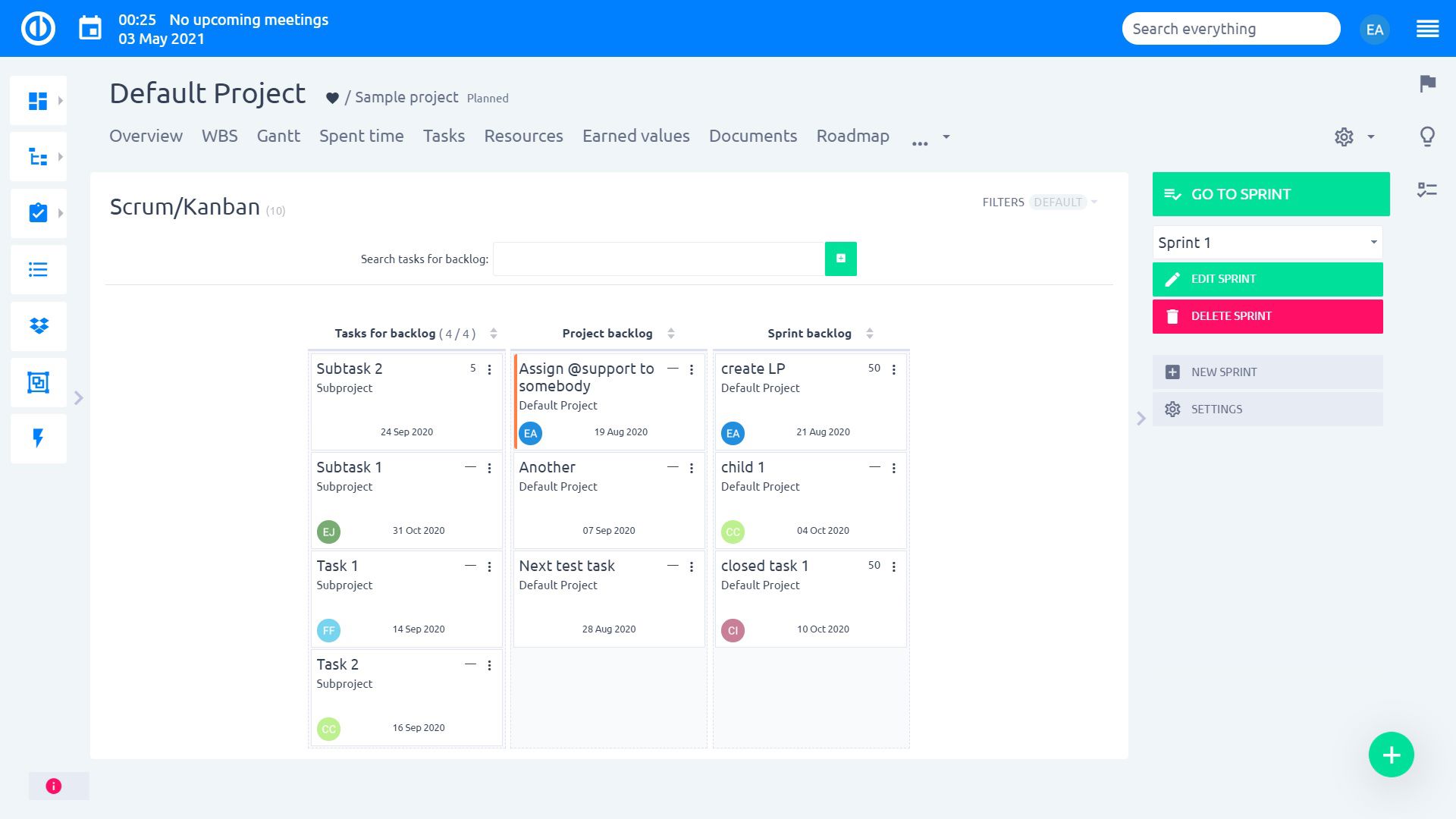 Agile improvements
New quick planner – create new tasks simply right from backlog
A search function available right from backlog
Smart sprint control – automatic comparison of planned time versus resource capacity
Intuitive drag & drop function in a Scrum Board
Resource Management Reservations
Custom reservations without assigning a specific task or project. Just by using drag and drop you can plan your (or your team) time – easy, simple and quick.
This feature has been developed as the most wanted one based on users feedback – plan and utilize your resources like never before.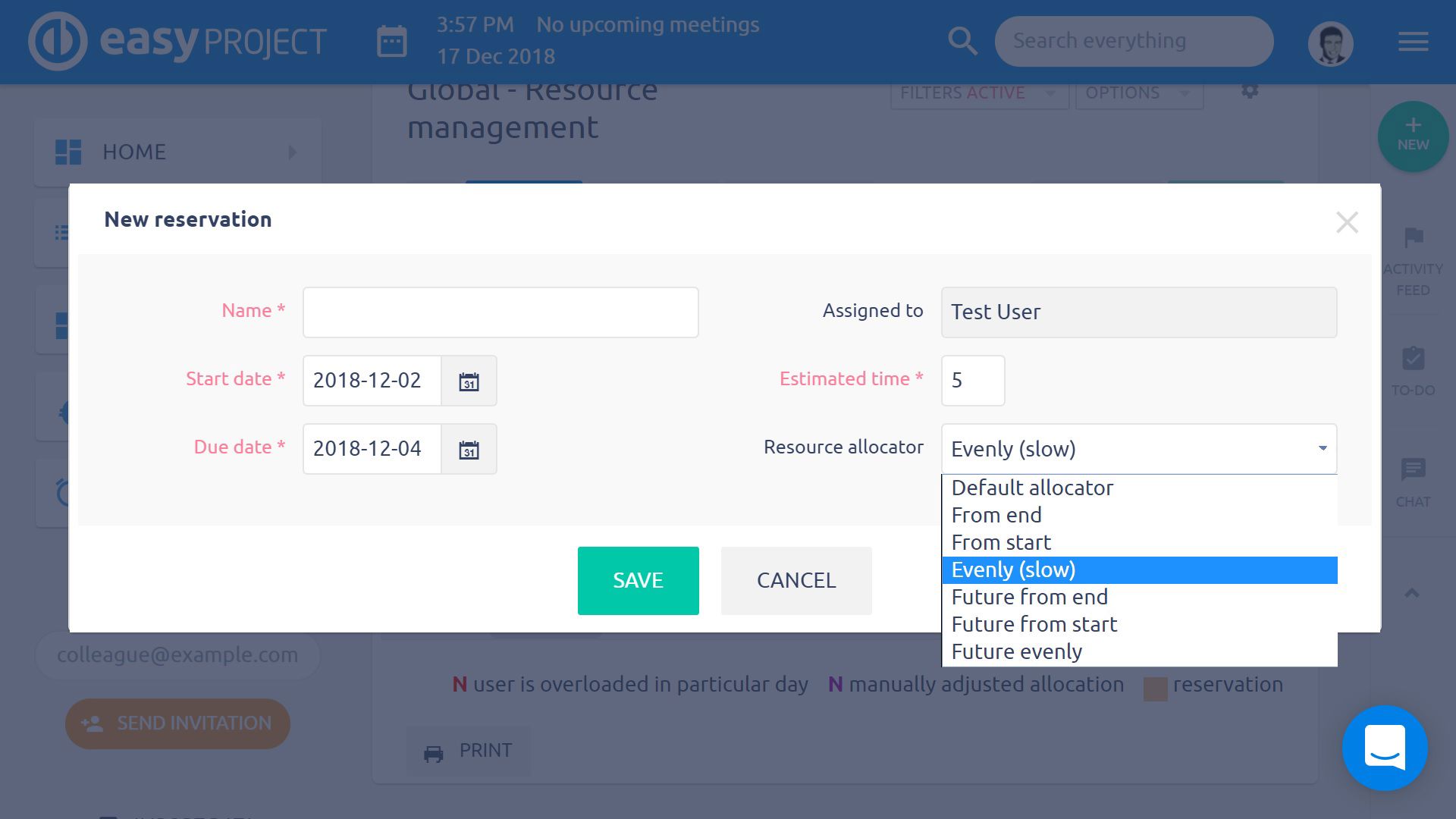 Compatible avec les standards IPMA & PMI
SHINE Consulting Ltd.- Détenteur de l'accréditation du Programme d'Entraînement à la Gestion de Projet "Project Management in Practice" (Standard international IPMA) et est aussi membre du PMI R.E.P Registered Education Provider. **Le logo du PMI Registered Education Provider est une marque déposée du Project Management Institute, Inc.
100% GDPR compliance
Easy Software takes personal data protection seriously. European regulation known as general Data Protection Regulation (GDPR) brings a number of challenges to all organizations and became one of the most resonated business topics.
Our mission is to provide Easy Project clients and basically all Project community with a reliable software which allows fulfilling all duties of Data Processors efficiently. Easy Project is 100% GDPR-ready from version 1.3 (May 2018).