FAQ
Alles über Easy Project Cloud
Mit Easy Cloud garantieren wir schnellen Service und eine sichere Speicherung Ihrer Daten.
Rechenzentren
Weltweite Rechenzentren sorgen für eine schnelle Performance und ein hohes Maß an Sicherheit.
OVH-Hosting in Europa & Kanada


Amazon AWS in Asien & Südamerika


Rechenzentren auf der ganzen Welt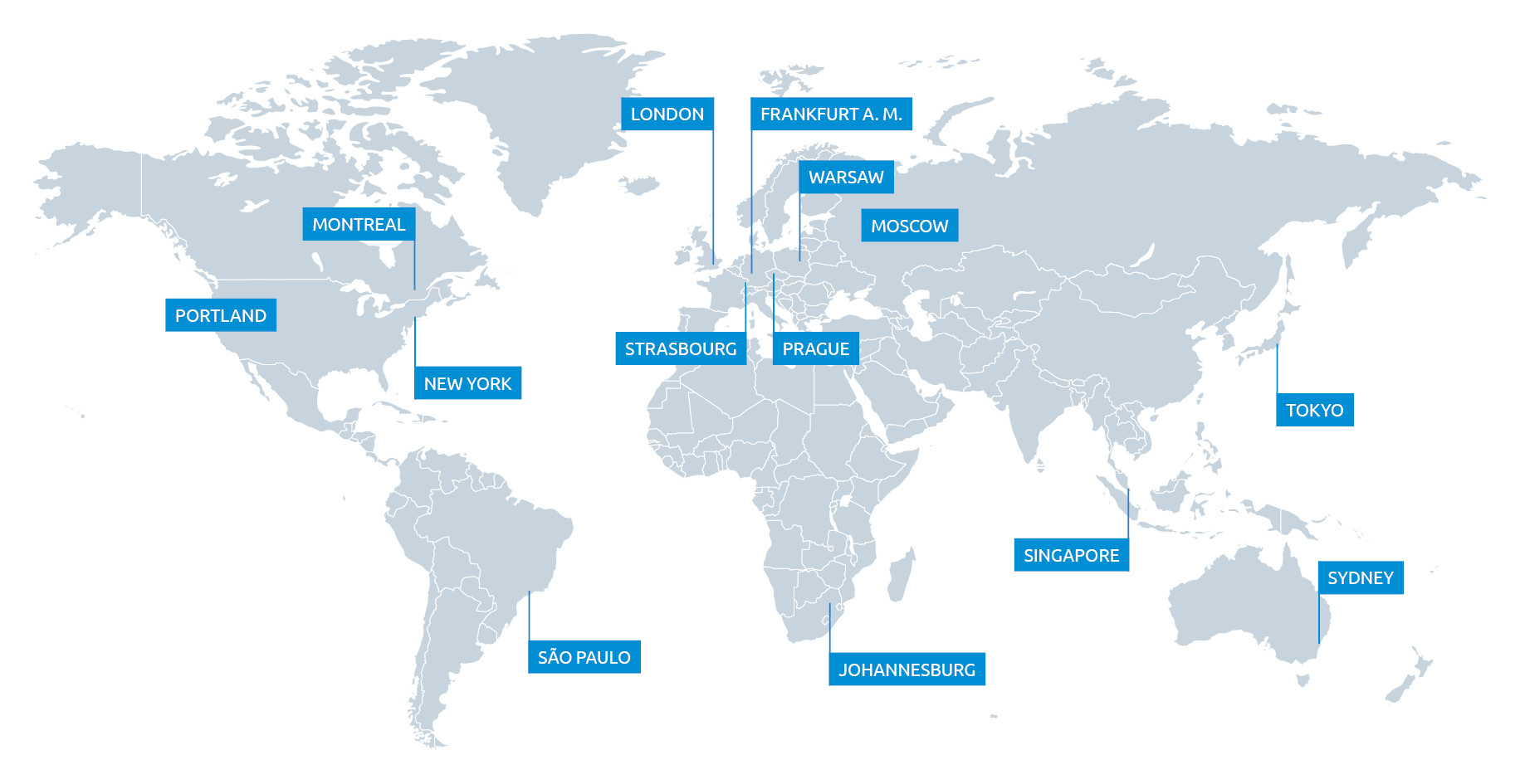 Datenschutz
Datenspeicherung auf Servern im Normalformat, mit der Möglichkeit der lokalen Verschlüsselung von Daten.
Die Daten werden ausschließlich, mit streng eingeschränktem Zugriff, auf dem Server gespeichert.
Geheimhaltungsvereinbarung und vollständige Datenoberfläche durch Serveradministratoren
Wiederherstellungsplan
Im Falle von Problemen hat Easy Cloud eine Reihe von Wiederherstellungsplänen, die kontinuierlich getestet und aktualisiert werden. Die Wiederherstellungspläne umfassen folgende Bereiche:
Fehlfunktion Server-Maschine
Anwendungsabsturz
Fehlfunktion Rechenzentrum
Unsichere Anmeldeinformationen
Backups
Speichern von Backups an verschiedenen geografischen Standorten, um ihre Sicherheit im Falle einer Naturkatastrophe, oder eines anderen Serverproblems zu gewährleisten.
Backups werden jeden Tag erstellt und für mindestens 3 Monate gespeichert.
Verschlüsselte Backup-Übertragung
Daten werden an verschiedenen Orten gespeichert
Der Backup-Erstellungsprozess und die gesicherten Daten sind aus Sicherheitsgründen nicht über den Server zugänglich.
All about Easy Project Server
The server solution is designed for your own server (you host the software). By purchasing this solution you obtain installable software + the source code. The server solution includes three months of free updates. Updates are available for download in the client zone, to which you obtain access after the purchase. Further updates are paid.
Virtualization – VMware, VirtualBox


The easiest way to deploy Easy Project is in our provided virtual machines preconfigured for optimal performance. VMware and VirtualBox compatible machines are provided without extra charge. For a minor fee, we can also provide a Hyper-V machine.
Easy server requirements check
Our applications are dependent on all sorts of systems, which is quite normal – we are living in an era of integrated technology. To keep the dependencies in order, we have devised a very simple tool that checks the important components on the server. The admin just runs a simple command, which results in a neat table listing the components and their status. Such information is valuable not only for the admin, but eventually also for our support staff that can provide better instructions for a fix if the customer turns to us.
Manual and guidelines
Server environment is a diverse jungle of ridiculous proportions. To keep all parts in a perfect sync requires tons of experience and continually refreshing your knowledge about new technologies. For the most crucial configurations and components related to our applications, we have published instruction manuals and guidelines that assist admins in regular server maintenance.
These include – installation manuals, ruby updating, server configurations, useful commands or common server errors, and more.
Limitations of server solution
Support flexibility
While we always try our very best to provide customers as much useful information and tools for smooth running of their self-hosted application, we cannot directly control their environment. That means we have no ability to perform fixes directly on the server, or we cannot look for the cause of various errors occurring on the server which leaves us only guessing when providing support.
Remote server support performed by our administrators is available as a paid service. Furthermore, the resolution time is always longer when compared to cloud solution – simply due to arrangements needed before access to client server can be provided. Which leads to next point:
Access restrictions and issues
In most instances when a customer asks for server support, they cannot provide direct access to the server, but rather a remote-controlling session via apps such as TeamViewer. It is better than having no access, but our experience show a significant decrease in flexibility and resolution time when using remote-controlling tools in comparison to direct (SSH) access – connection issues with the hosting computer, lagging, and loss of control when the customer uses the computer. It all adds up to 50% slower resolution time than with SSH access.
Scheduling
Demand for server admins is larger than supply that is a cold hard fact. Server support is no exception. For this simple reason, server support must be scheduled in advance, so that there is a sufficient time frame for complete resolution of the issue.
This is especially true if the only access option is via remote-controlling where the customer's admin must be present. If the customer provided us SSH access, this problem is a bit smaller – our admin starts the repair immediately when available and doesn't need to meet up with the customer's admin.
Bug report verification
It not far-fetched to say that every server environment is different. With so many configuration options, you would think it is impossible to have two identical servers. This is often the reason why we cannot simulate an in-house a specific behavior described by the customer which acts as a bug.
If a service required to run our application is configured differently as our recommendation, it is not necessarily wrong, but may cause issues in the application that are hard to trace back to that configuration.
Was sind die besten PM-Methoden, die wesentlich für Easy Project sind?
Das "eiserne Dreieck" des Projektmanagements liegt im Kern von Easy Project. Project Scope wird über WBS verwaltet, die Termine werden in Gantt durchgeführt und Ressourcen werden über den Ressourcen Masterplan verwaltet. Die Projekt Performance kann in Earned Value S-Kurven, das Risiko in RBS und die tägliche Arbeit in Kanban Boards beurteilt werden. Easy Project hat weitere Module für das Help Desk, die Finanzen und das CRM. DevOps und Business Intelligence sind in Kürze verfügbar.
Was kann mit Hilfe von Easy Project gemanagt werden?
Einzelprojekte, Projektportfolios, Programme, agile Teams, strategische Projekte, Produktentwicklung, Innovation, kleine oder große Teams, das ganze Unternehmen, DevOps, IT-Projekte, Kundenbeziehungen, Projektfinanzierungen und vieles mehr.
Für wen ist Easy Project entwickelt worden?
Easy Project ist für Projektmanager, Portfoliomanager, C-Level-Manager, Unternehmer und Freiberufler entwickelt worden, um Projekte und Teams problemlos zu managen, mit Hilfe der besten PM-Methoden zur Unterstützung von PM-Profis, Community und mit Hilfe einer fortlaufenden Projektmanagement-Ausbildung.
Wie importiere ich Daten in Easy Project?
Daten können in XML- und CSV-Formaten mit dem Easy Project Importer importiert werden (Teil von Easy Project)
Easy Project lässt sich dank der Rest API auch problemlos in andere Systeme integrieren
Weitere Informationen zur Integration von Easy Project finden Sie auf dieser Seite .
Ist ein Implementierungsdienst verfügbar?
Ja, für Professional, Team, Business und Enterprise Pläne steht eine professionelle Business-Implementierung zur Verfügung. Diese wird von zertifizierten und erfahrenen Projektleitern durchgeführt. Treffen Sie hier unser Implementierungsteam . Das Team wird Ihnen helfen.
Haben Sie ein Handbuch für Easy Project?
Was bedeuten "Server" und "Cloud"?
Server-Lösung
Die Server-Lösung ist für Ihren eigenen Server konzipiert (Sie hosten die Software). Mit dem Kauf dieser Lösung erhalten Sie installierbare Software + den Quellcode.
Cloud-Lösung
Die Cloud-Lösung wird an verschiedenen Standorten auf den Servern von Easy Software Ltd. gehostet. US-Kunden werden auf Amazon Cloud in Oregon gehostet. Mit dem Kauf dieser Lösung erhalten Sie das Recht, die Software für einen bestimmten Zeitraum in der Cloud zu verwenden. Easy Project in Cloud beinhaltet:
EP 2019 + ausgewählte Module & Plugins
Der Service beinhaltet Software-Updates - Ihr Easy Project ist immer auf dem neuesten Stand
Tägliche Backups, Speicherung von 14 Backups
SSL Schutz
1 Stunde Wiederherstellungsgarantie bei Ausfall
Warum soll ich mich für Easy Projct statt für ein anderes Projektmanagement-Tool entscheiden?
Im Folgenden sehen Sie die Basisfunktionen von Easy Project, im Vergleich zu anderen gängigen Projektmanagementlösungen.
| | Jira | MS Project | Asana | Easy Project |
| --- | --- | --- | --- | --- |
| Workflows | | | | |
| Agile | | | | |
| Kanban | | | | |
| Project Gantt | | | | |
| Portfolio Gantt | | | | |
| Earned Value Management | | | | |
| Ressourcenmanagement | | | | |
| TeamWork | | | | |
| Budgets | | | | |
| WBS | | | | |
Wie ist Easy Project Free Plan limitiert?
Easy Project Free plan Vollversion ist nur limitiert auf:
1 Nutzer
1 Projekt
2GB Speicherplatz
What plans does Easy Project offer?
Both cloud and server versions of Easy Project are offered in 3 subscription plans:
Essentials - includes all classic project management tools as Work management, Agile management, Time tracking, Portfolio management, Project controlling & reporting
Business - includes all Essential PM tools plus Resource Management and Finances
Platform - includes all Essential and Business PM tools plus CRM and Help Desk
Each subscription plan has a different feature set and different price per user/month..
How to integrate Easy Project with Zapier?
Einfaches Onboarding & Implementierung
8 vordefinierte Benutzerrollen, einsatzbereite
Dashboards, Funktionen, Berechtigungen
und Workflow.
Kostenlose Testversion starten