Plan Capacity of Your Machines in Resource Management
Easy Project combined with the Resource management plugin is an incredibly powerful tool that provides you also with a user-friendly and effective machines capacity planning solution.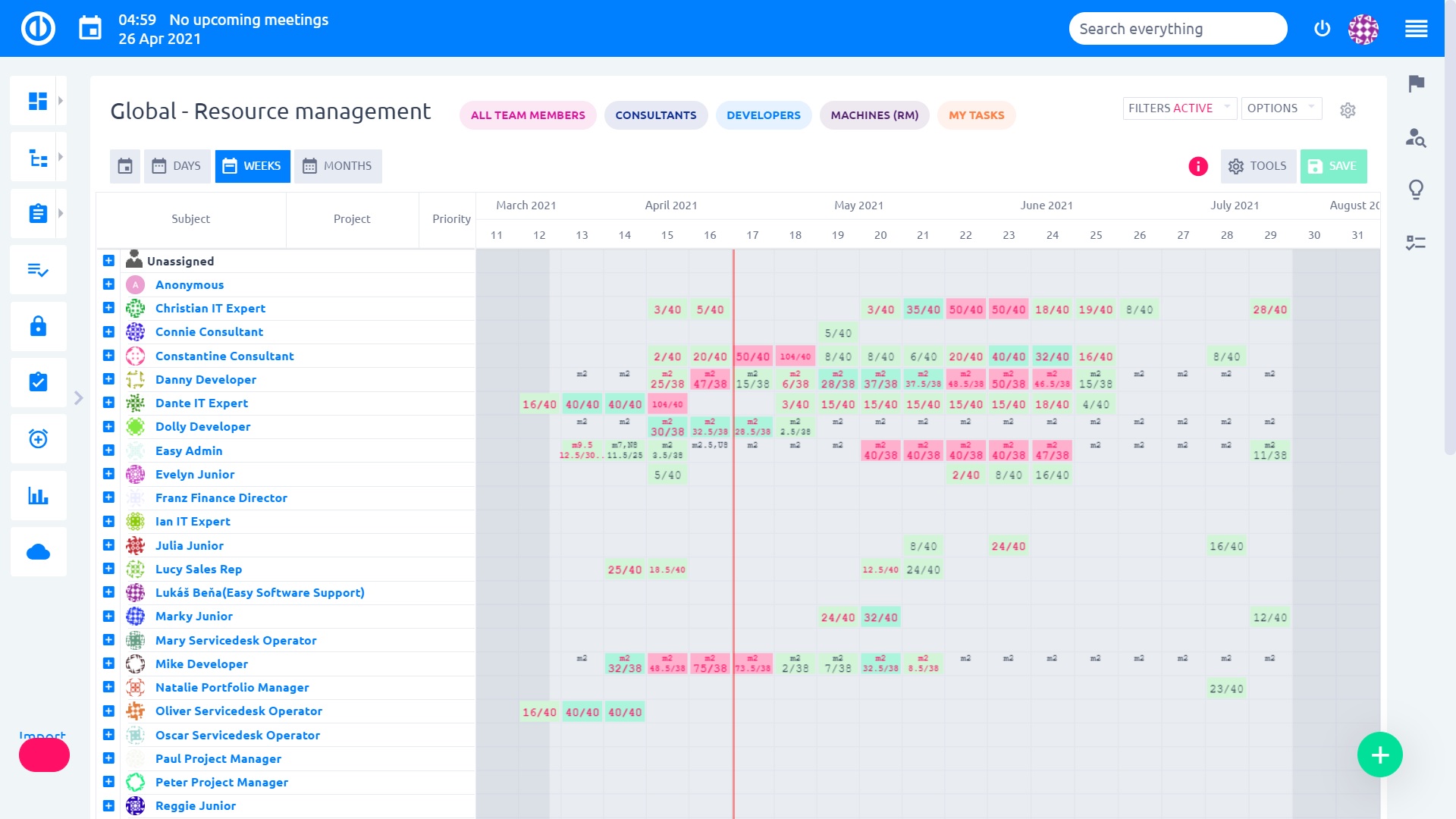 It is just as simple as defining your machines as user groups with specific per-day-production capacity and using trackers to define machine tasks. For the sake of simplicity, a Resource management tag – filter may be added to only display machines and respective tasks with a single click. This way you can simply differentiate machine tasks and machines in Resource management from standard users and user tasks. Resource management provides "Machines capacity planning" across one or many projects, since machines - user groups have been added to all or just particular projects.
Manage machines the same way as user groups (/groups)
Just a name is enough here
You can have as many machines as you want
You can add this groups just to particular projects
No active user accounts are taken for machines
/groups
Configure the per-day-capacity of the machines in Resource management settings
Machines can work weekends or not
Capacity may be defined in any units (usually pieces per day)
Each machine can have a different capacity
/easy_settings/easy_gantt_resources/edit?back_url=%2Feasy_gantt_resources%3Fset_filter%3D0
Configure "machine task" in trackers
/trackers
to be able to discern machine tasks from standard user tasks – can be easily filtered out for standard tasks stats – spent time / payroll / invoicing
Machine tasks (tracker) can be just in some projects
Configure Resource management filter for "Machine tasks"
/easy_gantt_resources?query_id=52
tracker = machine tasks
user selection = none of the standard users
groups selection = our machines from step 1
Benefits of using groups for machines resource management
Groups - machines can be loaded into any project
Can be easily displayed in the Resource management tag – 1 click to see "Machines Resource management"
Can have the custom-defined capacity per day (with weekends or not)
No "user licenses" are taken for machines
"Evenly" allocation should be used for "Machine Tasks" in Resource management to distribute desired capacity evenly by day capacity
Workarounds for machines capacity planning
Pieces of products to be done with particular "Machine tasks" is entered as "estimated time" on task detail
Produced pieces have to be entered by a manager as the spent time to particular tasks to keep plan up to date