Activity feed
The activity feed is a module that keeps you informed about the last activities on selected projects. An activity is considered any created or edited piece of information within the below-listed entities. On the contrary, a deleted/removed entity is not considered an activity and is, therefore, not shown in Activity feed.
Tasks
News
Documents
Files
Wiki edits
Messages
CRM cases
The activity feed shows the activities of all users, provided they concern you personally, are not created by you, and you haven't read them yet (failure to meet any of these conditions will cause the activity to disappear from the feed). You can select which projects and types of activities you are interested in. The necessary condition is that you must be a member of the project the activities of which you want to track. You can add Activity feed module on your easy pages such an personal homepage and project overview. Just click on "Personalize this page" button down the page and select the module from the list as shown on the picture.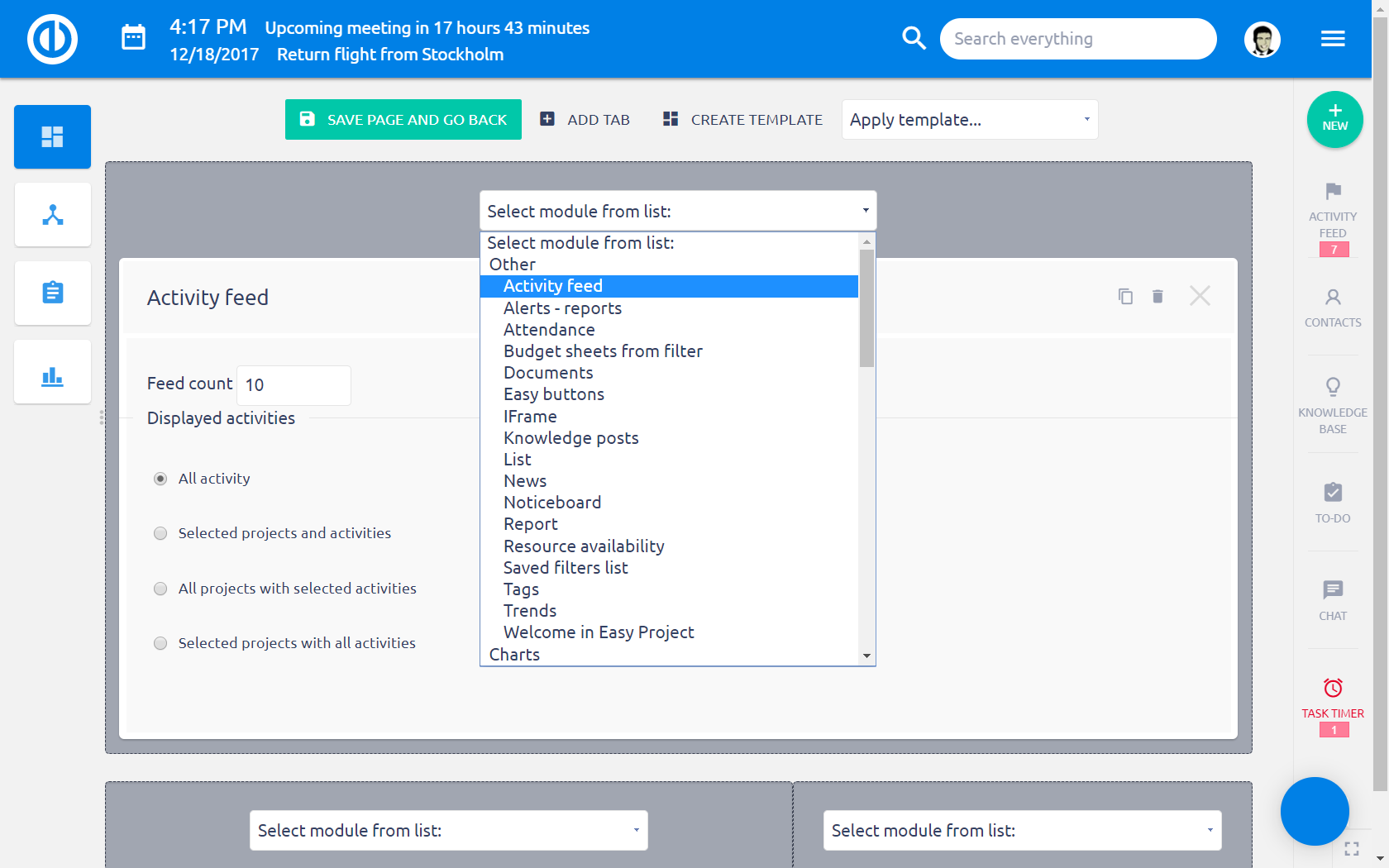 Now, after you selected the module to add, you have to set it up. The settings is really easy and quick as it only includes a few options:
Feed count - the number of feeds displayed (only activity from the current day is listed)
All activity - displays all activities on all projects you are a member of
Selected projects and activities - displays selected projects and selected types of activities you want to track (see picture below)
All projects with selected activities - displays selected types of activities on all projects you are a member of
Selected projects with all activities - displays all activities on selected projects you want to track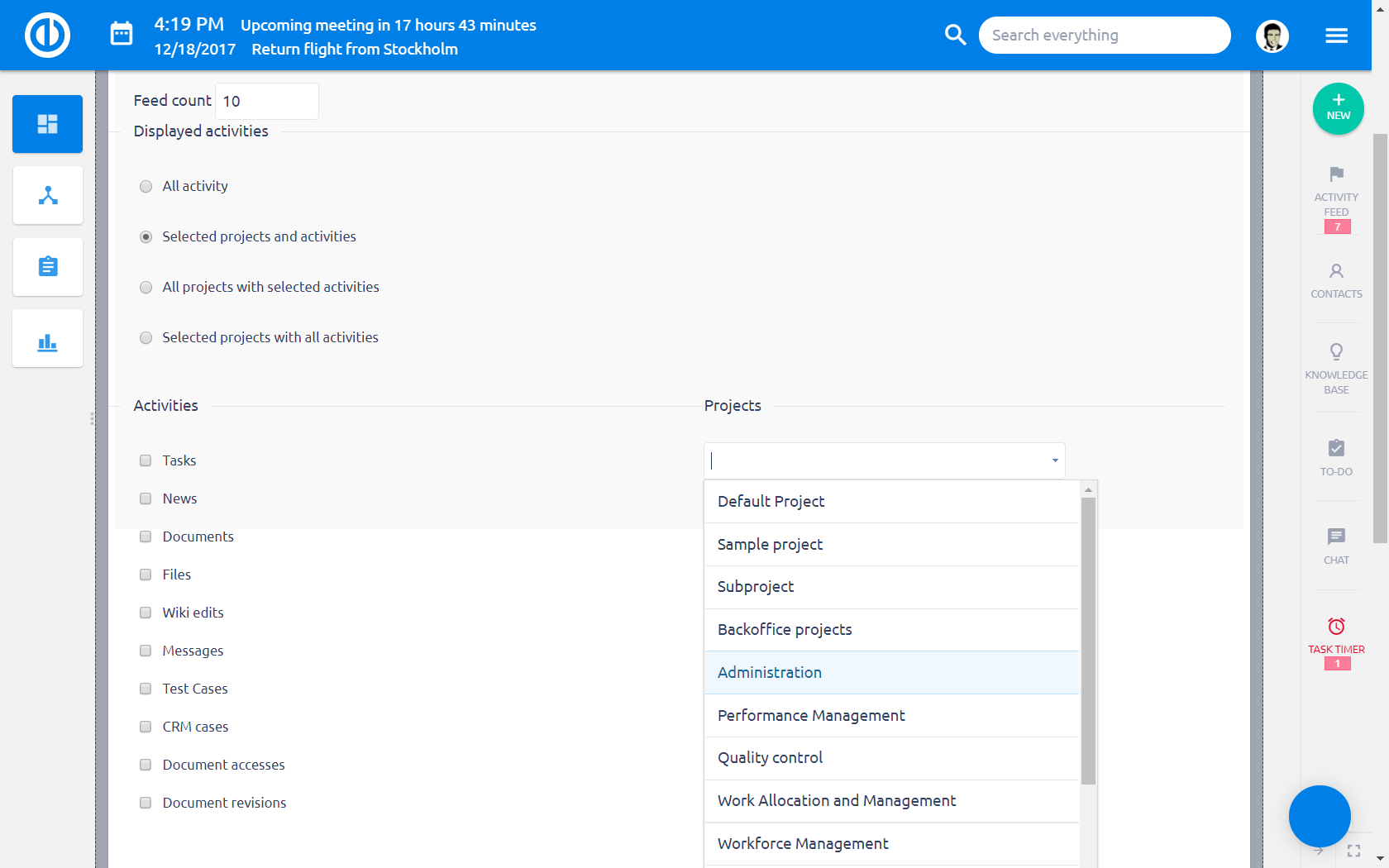 Now, if everything is set, just click on "Save page and go back" green button. When you go back to your personal homepage or project overview you can find the added module there. It might look like this.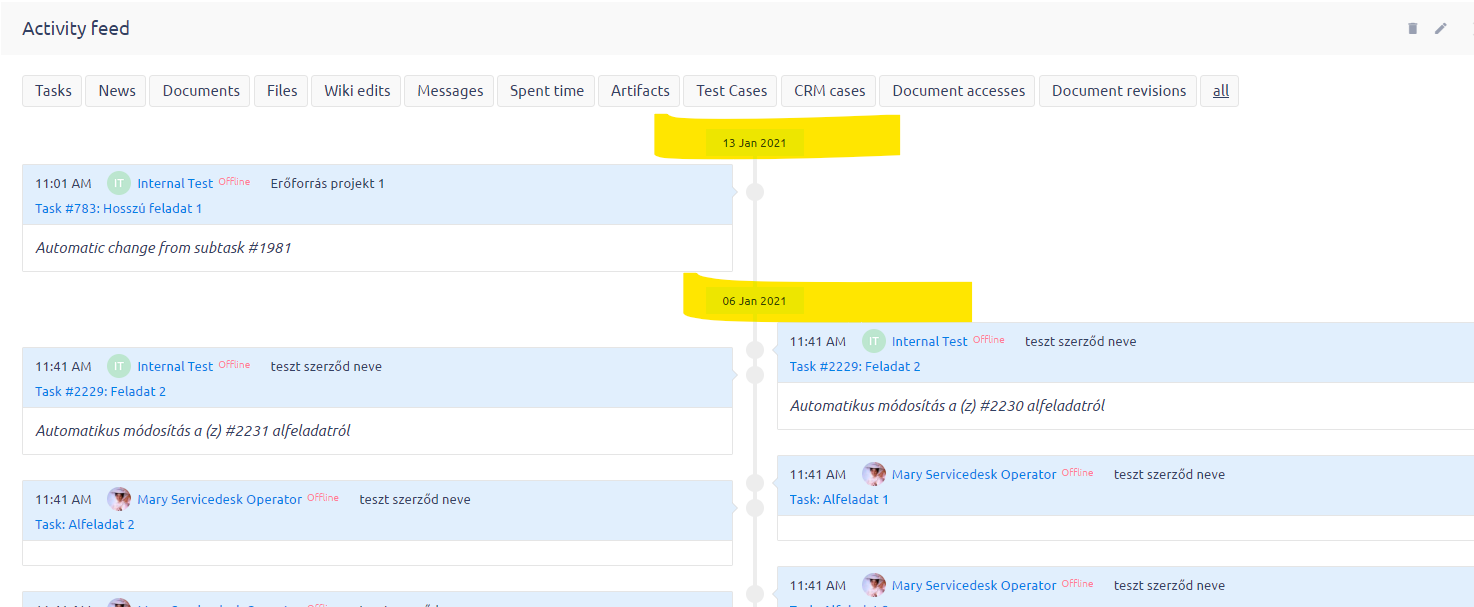 In the upper part of the module you find tabs with the types of activities so you can easily switch between them without the need to change the settings. If you need to change the settings, just click on the pencil icon in the upper right corner. The cross icon next to it will collapse the module so you can hide it when you don't need to see any activities.
After opening an Activity feed list from the sidebar menu, you can configure some options by clicking the eye icon just below the list, such as:
display feeds from the last X days
display feeds that have already been read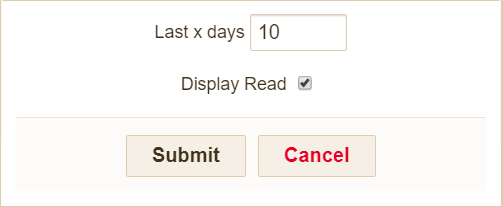 Corner situations
Activity feed normally shows the updates you have not seen. But there are cases when updates that you have seen also appear in Activity feed. Every time someone updates the task, it is marked as unseen for you and thereby also the feed activity history includes this task.