Export templates
How to use export templates
Overview
Typical use cases
Corner situations
Overview
Every time you see the below icon in the lower right corner of a page, you can print the page content using a print template.

After clicking on the icon, you are prompted to choose a template to export.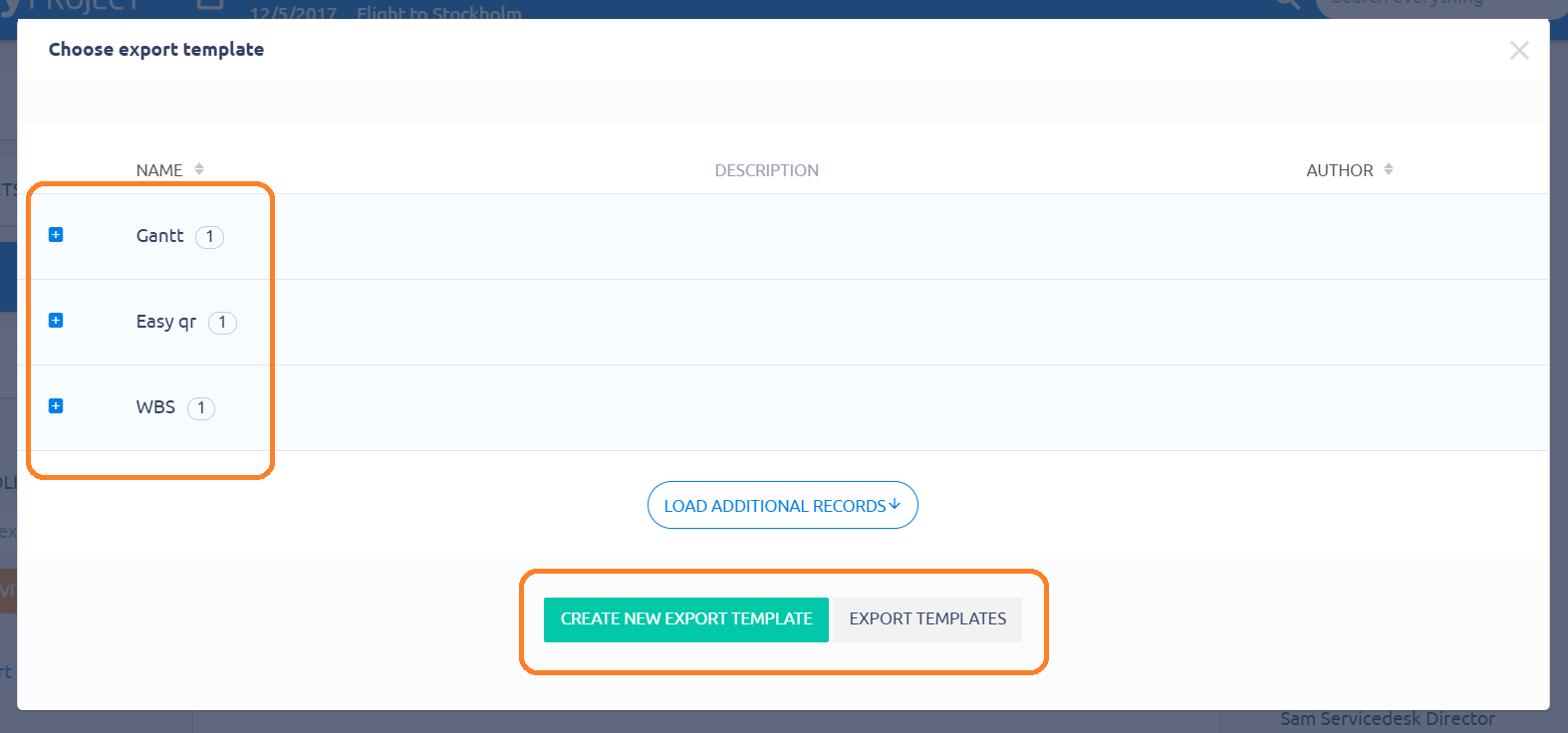 Moreover, you can see there are 2 additional buttons:
Create export template enables you to create a new printable template
Export templates show you the list of all print templates you have already created. You can access this list also from another destination: More > Administration > Printable templates. Here you can edit or delete the created templates.
Now we have to select one template to be used for print the page content. To do it, just browse through the list of templates and then click on the name of any or "Preview and print" button on the right side of the particular template.

After clicking on it, you will see a print preview such as the example illustrated below.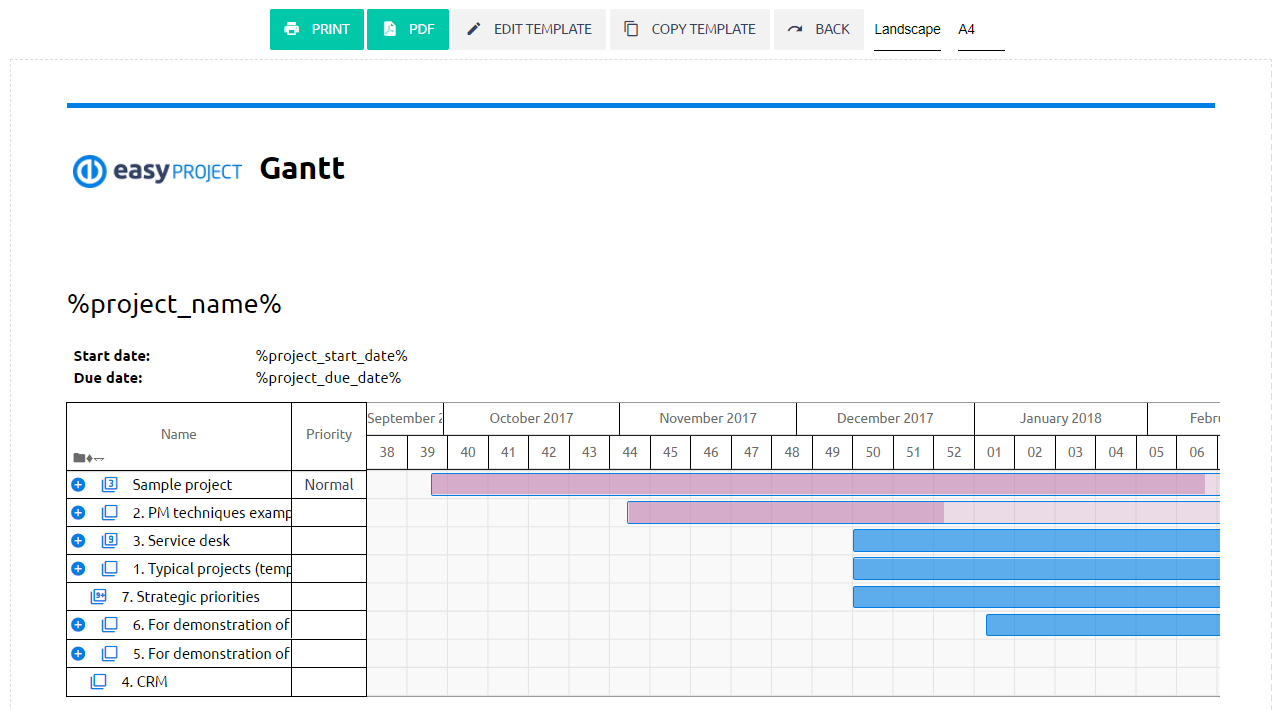 In the top menu, there are a few more options:
Print - enables you to select a printer and print; you can use this button for selecting an external PDF printer as well
PDF - saves the content into PDF file
Save to documents - saves the content into your documents folder within a chosen project
Edit template - enables you to edit the printable template
Copy template - copies the template under the new name
Portrait/landscape - paper orientation settings
A4/A3 - paper size settings
So, that's it. Yet let's take a short look on how to create/edit a printable template. The editing view looks like this.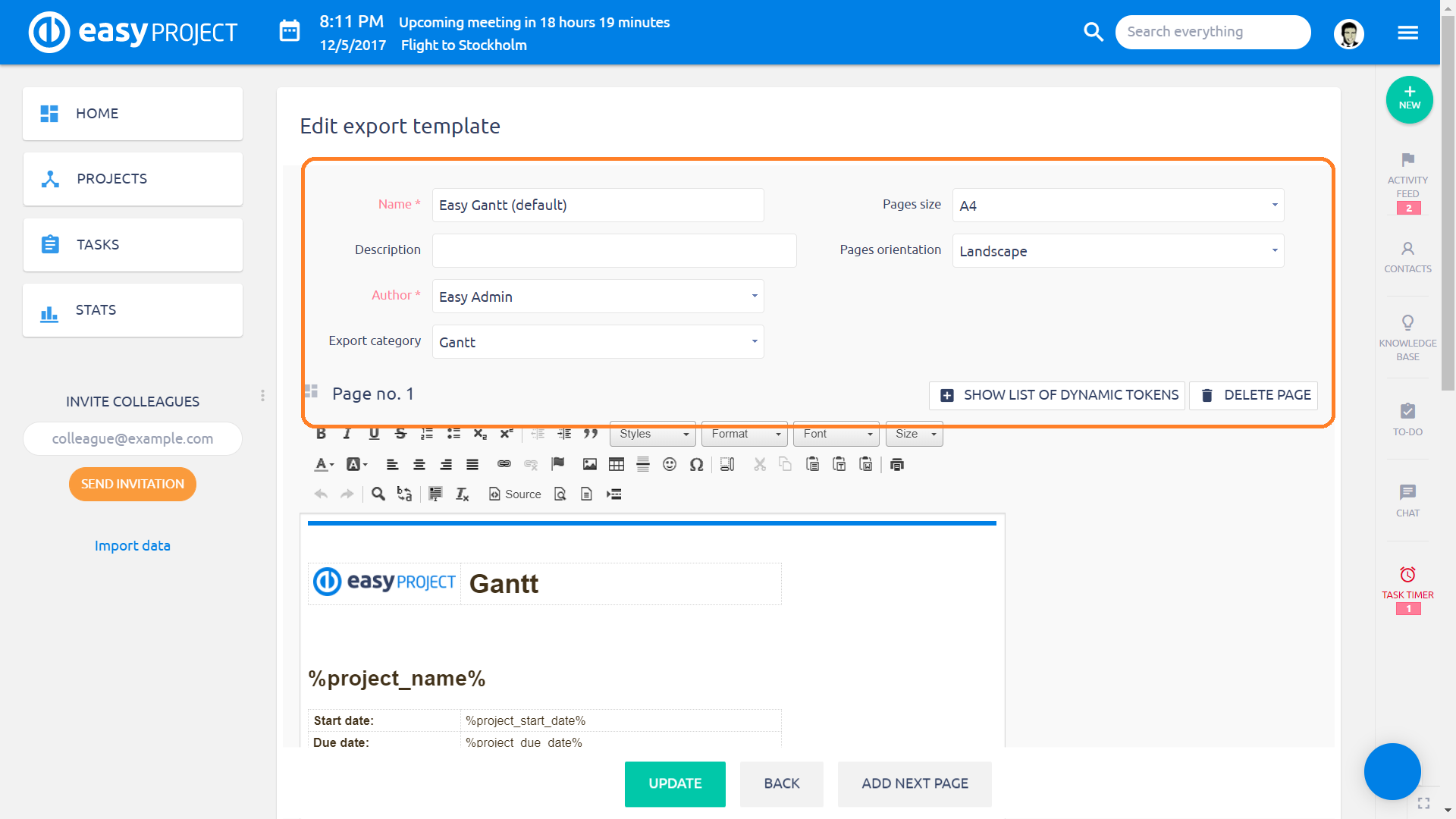 On the upper side, you have to fill in some basic information fields such as name, description, author, category, page size and page orientation. Then, there is a standard WYSIWYG editor where you can create your template. In order to fill in the template with real data, you have to use one or more dynamic tokens from the list on the right side. The list of tokens includes short descriptions so you know which one will show what data. It seems like this.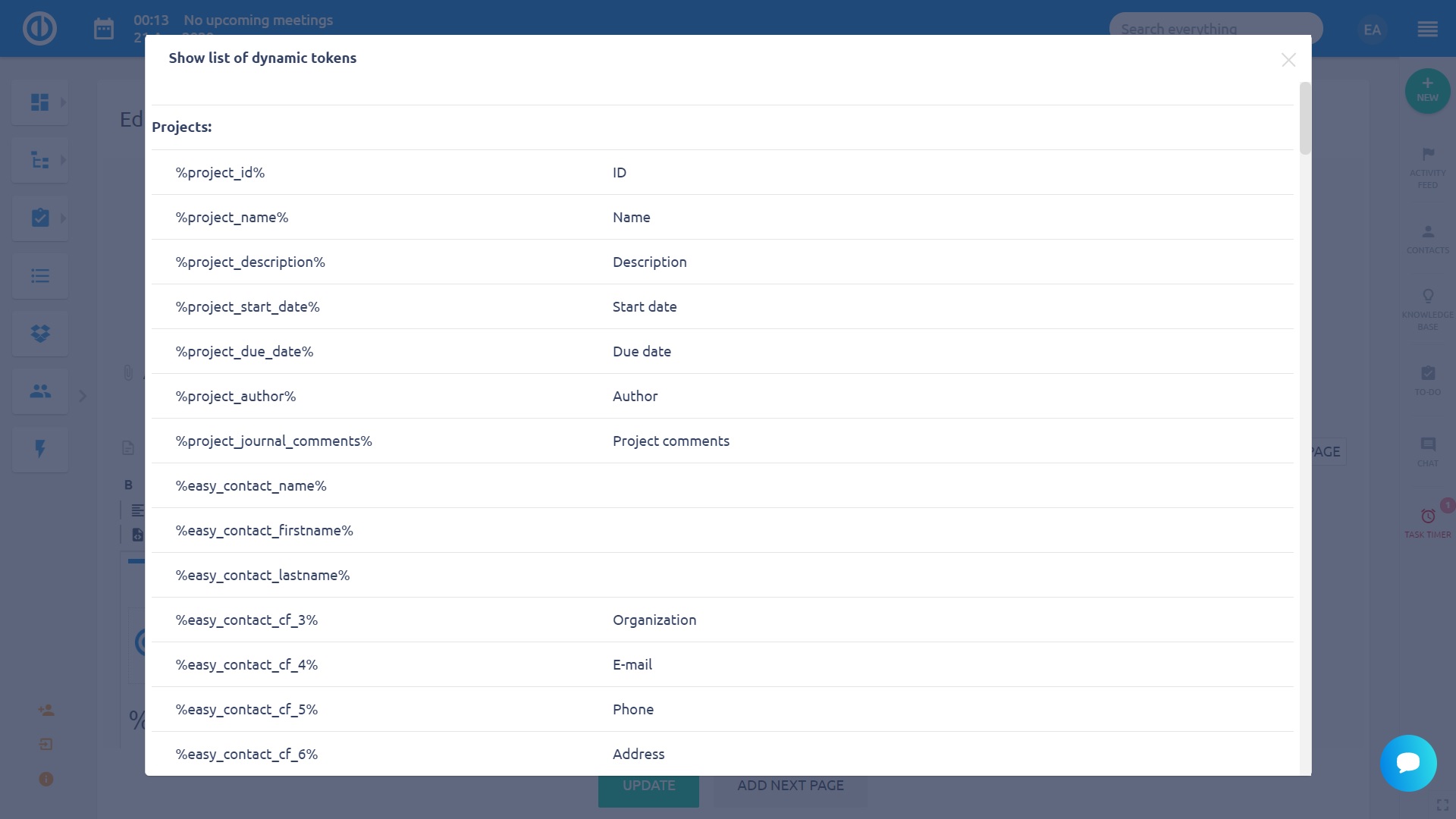 If you want to delete the template, just click on "Delete page" button next to it. When you are finished with the template, click on "Update" green button down the page. By clicking on "Back" button you get onto the previous page. By clicking on "Add next page" button you can add another page into the printable template in order to make it different from the first page.
Typical use cases
When exporting issues, orders, customers, protocols or leads, you will be asked to select an export template. This template determines what fields get exported as well as the design of an exported content. Export templates have various practical uses such as following.
You can export lists of virtually any data entity in Easy Project represented as a set of items such as tasks, projects, CRM cases, contacts, time logs, attendance records etc. Provide your lists with unique branding by adding company logo and colors, customize the type and size of fonts. Choose the properties that you want to include in your exported list. You have the option to incorporate all of the properties onto your list or just the selected ones.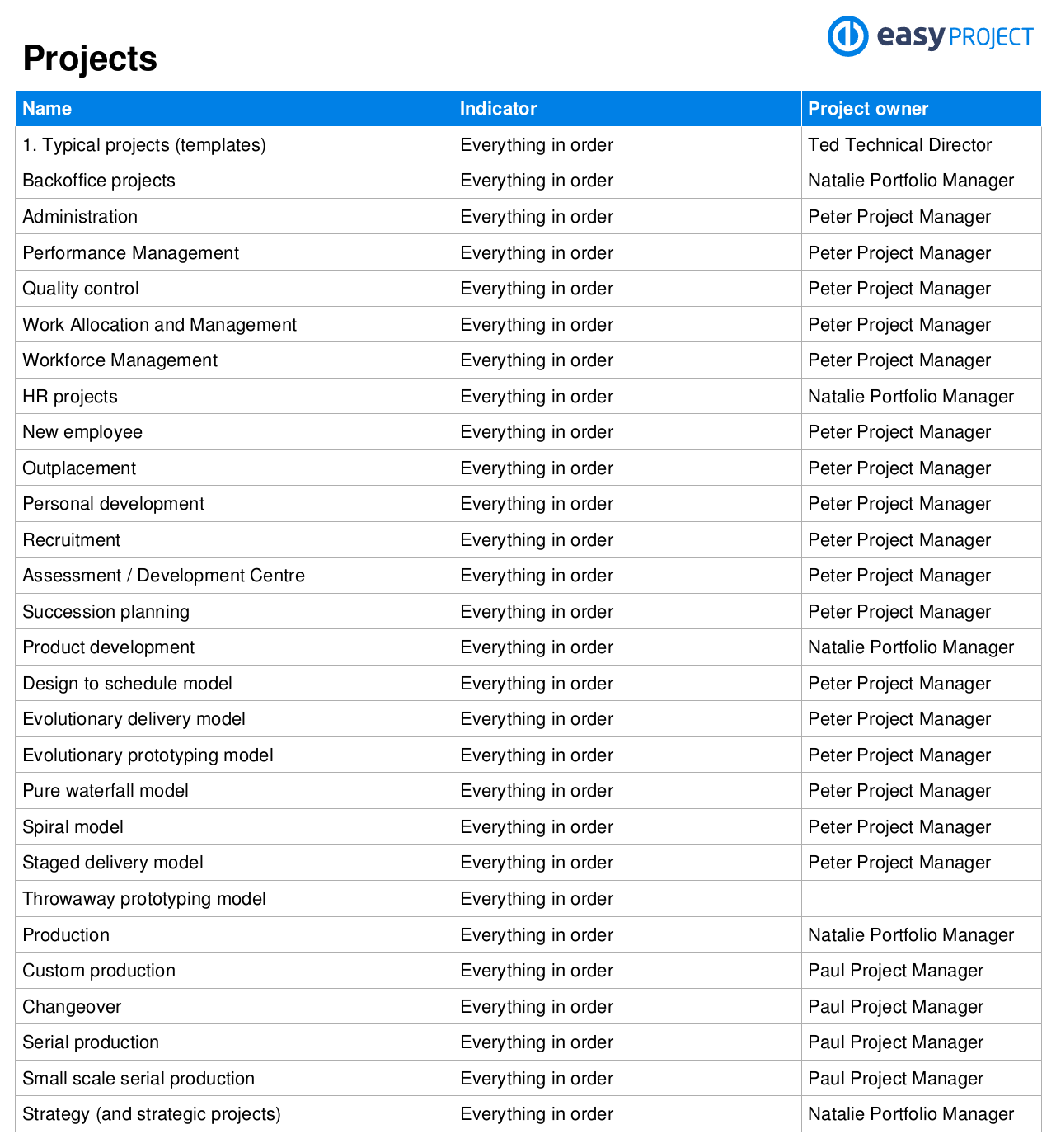 Export templates help you create great-looking visualizations made up of your own graphs, charts, and key metrics. Design your reports using full-fledged HTML editor and dynamic tokens allowing you to easily add, mix and match various data (such as images, tables, numbers, and text) in your reports. If you're using our Finance Management features, you can easily see how your receivables are performing by tracking their statuses, submissions, and conversion rates. After designing your report, you can then share them with public or provide access to trusted eyes only.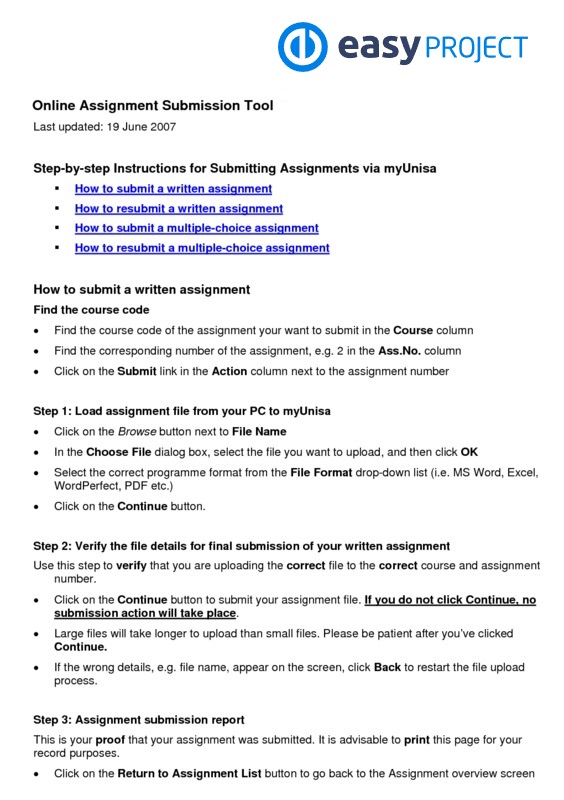 Contracts and service protocols
Another great opportunity on how to benefit from export templates is contracts and service protocols. As for the contracts, you just have to create a background text while all the variables are automatically filled in from the respective entities, such as contacts, CRM cases, projects and others. Just as easily you can make service protocols with the data saved by a competent sales person and retrieved from tasks, orders, contacts, and CRM.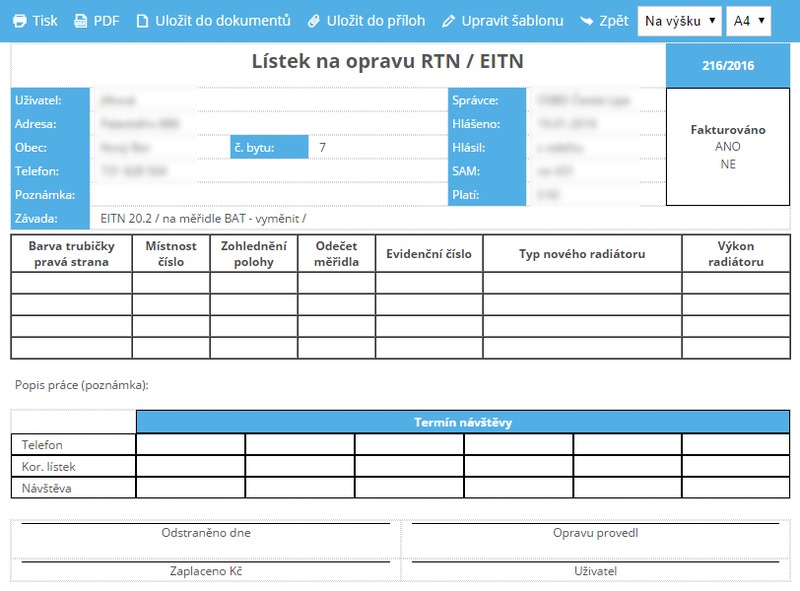 In a nutshell, export templates in Easy Project are not just for printing and saving exports, but a great tool to create and share perfectly customized outputs for most business needs.
Corner situations
Export templates only work with HTML text formatting (CKeditor). Administration >> Settings >> General

If you are using other text formatting options, the resulting exports will probably not look as expected. HTML text editing is a requirement for Export templates.
Only an output list can be exported, other formats as report, tiles or chart are not exportable. Therefore, export to CSV, PDF, XLSX, and others always contain a list of items.