How Businesses Should Prepare Their Workers for Remote Work in This Era of Social Distancing
When COVID-19 reached a pandemic status, companies in numerous industries sent millions of employees to work from home. The coronavirus hasn't made a big announcement, and in most cases, companies have had little time to prepare. Right now, leaders are struggling to lead virtual teams and many are experiencing such a dynamic for the first time.
If you are a company owner or executive at this time, you must understand the effect of remote working on your employees. Pressurized conditions, uncertainty, and a general sense of dislocation make it challenging to maintain the same level of productivity that staff members have in the office. You need to reset your expectations and adapt your management style to the 'new normal'.
To help you and your company, here are our best recommendations for supporting your employees as they work from home.
1. Re-evaluate expectations
Most teams are accustomed to synchronous and standardized work. They work together in the same office space and under the same working conditions. They also have the same schedule, and when they need help, clarification, or approval, their managers are only a few short steps away.
However, remote working calls for a shift in mindset. Companies must help their employees shift as quickly as possible to asynchronous work and personalization. As a manager, you need to reset expectations for how long tasks take and compromise on unnecessary perfection. Offer more flexibility and focus on the results. That way, team members can feel the relief of accomplishing their responsibilities without feeling your breath down their necks.
2. Stay in touch
According to sociometric research, shorter communication cycle periods are critical in maintaining morale and engagement. So, if you had not invested in virtual interaction tools, now is the time to give them the seriousness they deserve.
A software solution like Easy Project offers an instant messaging feature that easily integrates into your staff's computer and smartphone platforms so that you can stay in regular contact with them.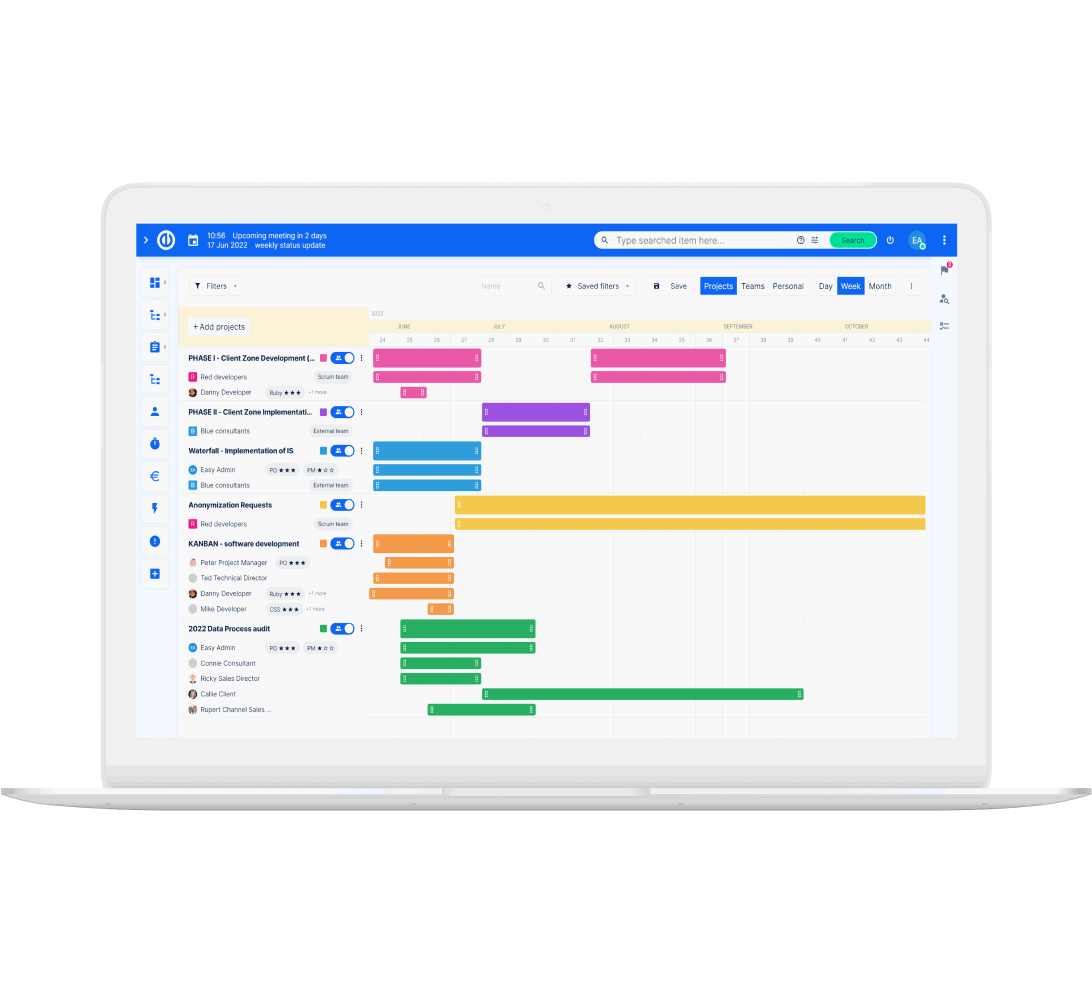 Efficient working from home? Easy.
Get all powerful tools for perfect project planning, management, and control in one software
3. Insist on continuous learning
Employee development does not have to stop when working remotely. In addition to adding value to your staff, it also fosters an opportunity for some much-needed interaction.
Lengthy training sessions might be impractical, but micro-learning can be very effective. You can focus on sharing a short lesson on a single topic every day that covers a specific tool, skill, or behavior. Consider adopting a management tool that enables you to track learning activities with interactive dashboards. You can even rotate the delivery of these learning sessions among team members and allow them to suggest their topics.
4. Offer more support
When everyone is working from home, attending to individual needs can quickly exhaust the capacity of managers. Complicating the situation further is the fact that reading emotional cues is a lot more difficult without face-to-face interaction.
To reduce the managerial burden, you can organize your team into pairs. Assign each individual as a peer coach of their assigned colleague. Ask them to check in daily with each other and report on their well-being. With this structure, you can create a new layer of mutual support that guards against emotional isolation.
Meanwhile, you can shift your search for emotional cues from non-verbal data and body language to proxy indicators like text, voice, and video communication. Changing patterns of email tones, for instance, can help you identify early that an employee may need additional support. The right attendance management solution can also enable you to determine when an employee skips a virtual meeting so that you can reach out and address the potential problem.
5. Continuously monitor stress levels
COVID-19 has caused a lot of stress to both organizations and the individuals that work for them. Lockdowns, social distancing rules, and shelter-in-place measures have denied people the chance to connect and let out their frustrations. Therefore, as a company executive, the well-being of your team must be your top priority.
Consider monitoring the team's stress levels by periodically asking questions about their well-being. While you may have already gotten the impression that an employee is stressed, it pays to get quantitative responses.
Humans are generally social creatures that cherish a sense of belonging. Now more than ever, it is essential to keep team members feeling included. By adopting strategies and embracing tools that foster productivity, teamwork, learning, and support, you allow your employees to continue performing and contributing, even in these troubling times.