Key Features Overview: How Asset & Configuration Management Helps Businesses
It's clear that businesses are looking for ways to make the transition from manual processes, such as tracking assets and configurations, to automated systems. Easy Project Asset & Configuration Add-on offers a comprehensive solution to meet your business needs — enabling companies of all sizes to build an efficient configuration management system.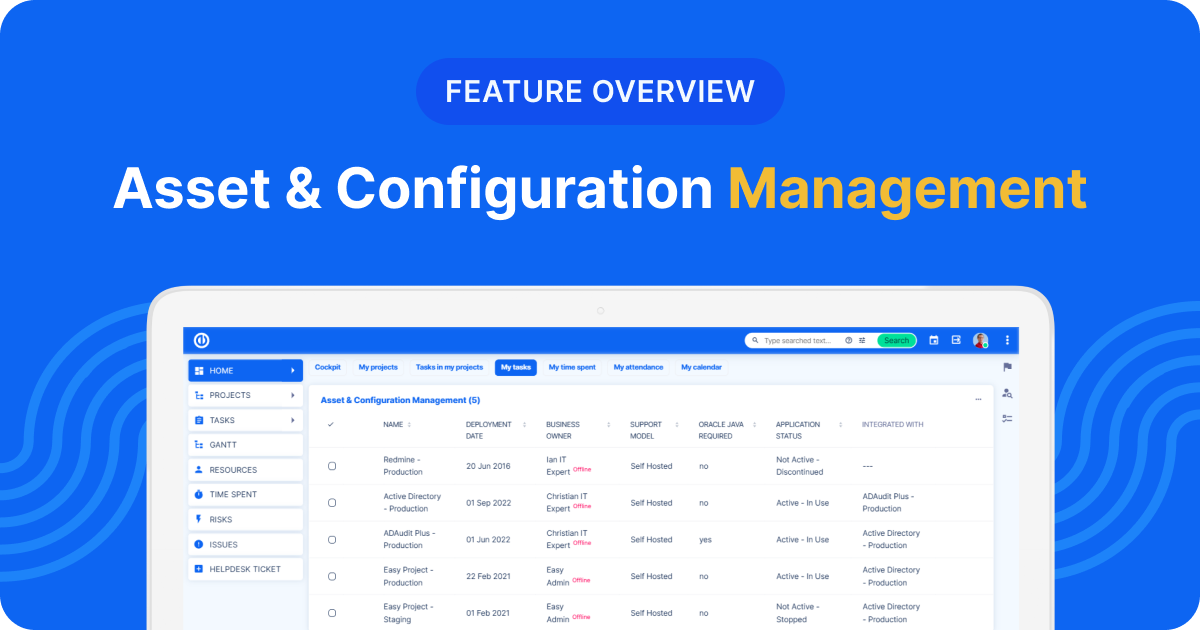 Introduction of new features
The Asset & Configuration Management is the perfect tool to give you an edge when it comes to designing and creating custom data tables. With a few clicks, users can easily extend the functionality of Easy Project. By utilizing the system's custom fields, these tables can be tailored to efficiently organize and store necessary information. The add-on also allows users to connect their tables to various elements within the system, such as projects, tasks, users, and other entities.
Let's grab a cup of coffee and get into a few examples.
Make organizing complicated configurations simpler with custom data types
Custom data types is a key feature that allows you to divide your data based on specific focus fields or cases. Here is an example.
A company wants to divide their data types based on the different focus fields they have - Human Resources, Warehouse Management, Finance Management, Asset Management, and Data Management. Thanks to the ACM add-on it is possible. We will create a custom data type for each group thus we effectively provide a better overall experience when organizing, searching and managing the data. What's even more amazing is that each of these fields can then be further divided into smaller details with custom tables and pinpoint accuracy when it comes to tracking and reporting on particular assets or configurations.
Streamline processes with custom tables and fields
One of the vital feature of ACM is the ability to create custom tables and extend their functionality by adding your own data fields, allowing for extremely customizable data management. Take a look at the example of this feature.
Let's say you want to keep track of your office computers - you can create a custom table specifically for this purpose, allowing you to store all the key information such as model name and number, year of purchase, serial numbers etc. You can connect each computer with the Easy Project user too. Or rather with its maintainer. This is especially useful when it comes to warranty expiration dates because you can alert specific users when their warranty is approaching its end, allowing them to take the necessary steps before it's too late. Do you already have ideas on how your business could benefit from this? Great!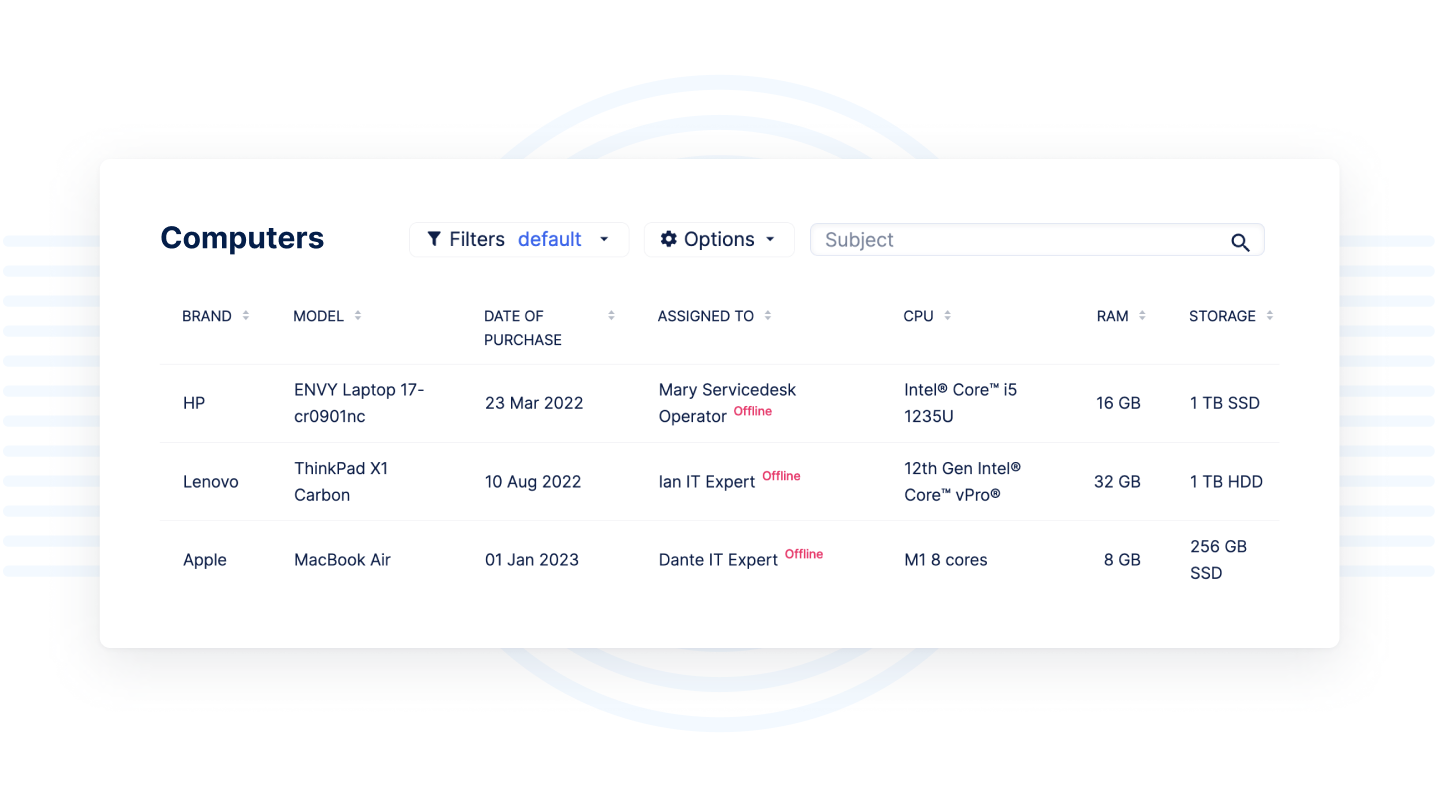 Show data where you need it by linking them to projects and tasks
If you're a business owner, or someone who needs to keep track of data, managing everything in one place can be challenging. By having the right tool you can easily show your data exactly where you need it - Easy Project provides that by linking data to specific projects or tasks. This way, you'll save valuable time and energy trying to remember which data goes where when all your important information is connected. Let's continue with another ITAM example.
Imagine that we have already created a custom tables that have all the necessary information about the servers, applications and software used in the company. Now, what about the software updates? And what if we need to ensure that updates happen on a bigger scale?
We start with interlinking everything together. Easy Project will help us with that so we are able to connect applications with servers and software. This way we have a solution for organizing our assets. Great. Now the updates. Similarly, this can be done by linking the data to tasks with a tracker change. This allows technicians to manage routine updates with ease! Assets are organized and we ensure that when the updates have to happen, they will. This technique helps automate tedious manual processes so that your team can stay on top of projects more efficiently while avoiding human errors along the way.
Furthermore, the table also clearly shows who is responsible for offering application support emphasizing the importance of linking data to tasks.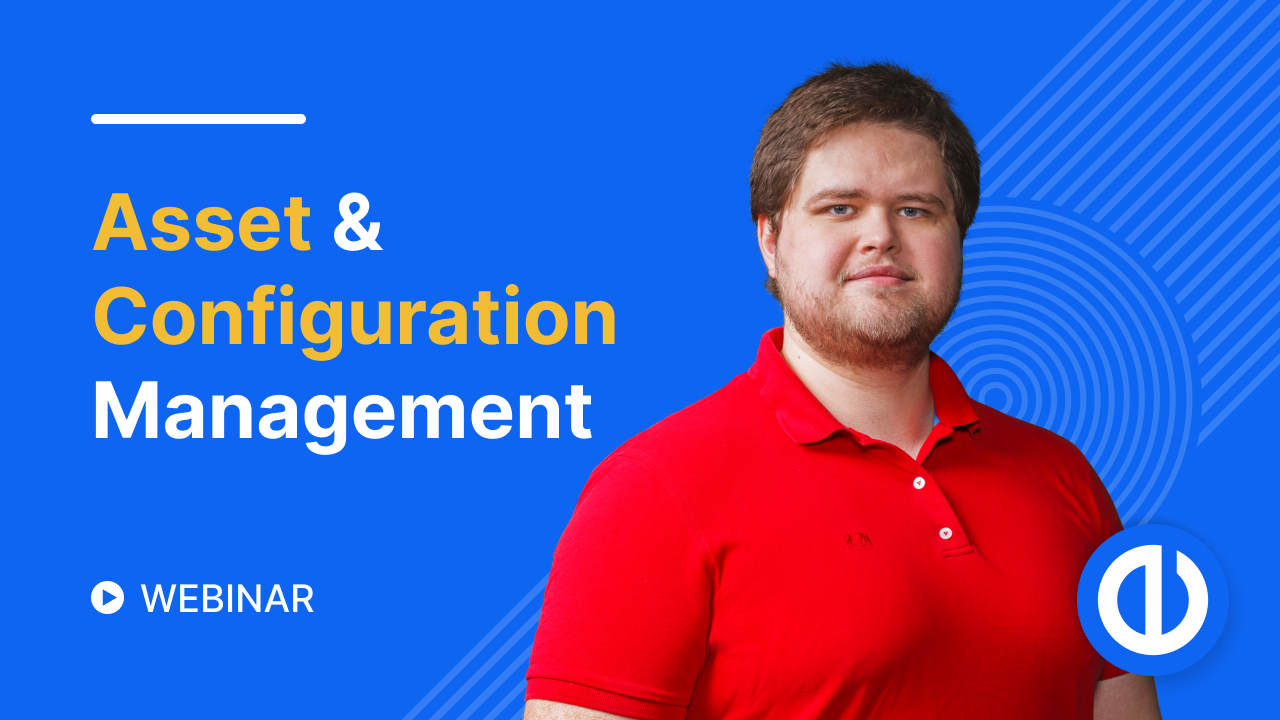 Watch a webinar recording
If you want to dig a bit deeper into use cases that can be solved with Asset & Configuration Management we recommend you to watch this webinar recording. Daniil Kharatyan, our lead consultant for ACM add-on will explain you all use cases in more detail in the Easy Project intefrace.
Track, audit, and view all assets in one centralized location
Having all of your assets in one centralized location makes it simpler to track and audit them. With predefined filters, or the option to customize your own, you have complete control over which data is displayed and how it appears.
Here is an example based on the IT needs. Imagine a customizable page where users can see a dashboard containing all of the data and information they need for their day-to-day work – from lists of computers in use and bar charts of computers by brand to pie charts tracking monitors by panel type. All of this is possible in Easy Project. With this efficient method for tracking and viewing assets, you can quickly get a clear view of everything related to those assets wherever you need it in one place!
Secure access with permission assignment
Another necessary feature is permission level assignment. Don't worry, we have implemented it too.
This feature allows the manager to assign different roles with varying levels of visibility and editing permissions, enabling specific staff members to have control over particular aspects of IT management. A simple real life example is as follows.
For instance, a junior employee might only be able to view resources while a Senior Architect might be given control over creating, modifying and deleting resources. This ensures that the right employees have access to the right information at any given time thus making IT operations much smoother and more efficient.
Conclusion

The Asset & Configuration management add-on is a powerful and versatile addition to Easy Project. It can be used to solve all kinds of use cases.
The ACM simplifies asset management, allowing you to keep track of all the key information related to your assets. Thanks to this tool, it's easy to link data with tasks for automated updates and even customize a dashboard page that contains everything users need for their day-to-day work. This helps ensure that everyone has access to the most up-to-date information at any given time without having to search through multiple sources. Additionally it allows you to solve your cases without coding experience.
By taking advantage of these features, you are able to save valuable time and energy while improving accuracy across projects!
All-in-one software for a modern project manager? Easy.
Get all powerful tools for perfect project planning, management, and control in one software.