Webinar Recording: HelpDesk 2019 for Easy Project Management
Try the integrated Help Desk solution by Easy Project for improved customer care and smoother processing. There are two basic ways of creating tickets – from e-mail or from a simplified user interface. Tickets are stored in projects where you can define SLAs, pre-paid hours, transfer 'unused' hours, and easily generate reports.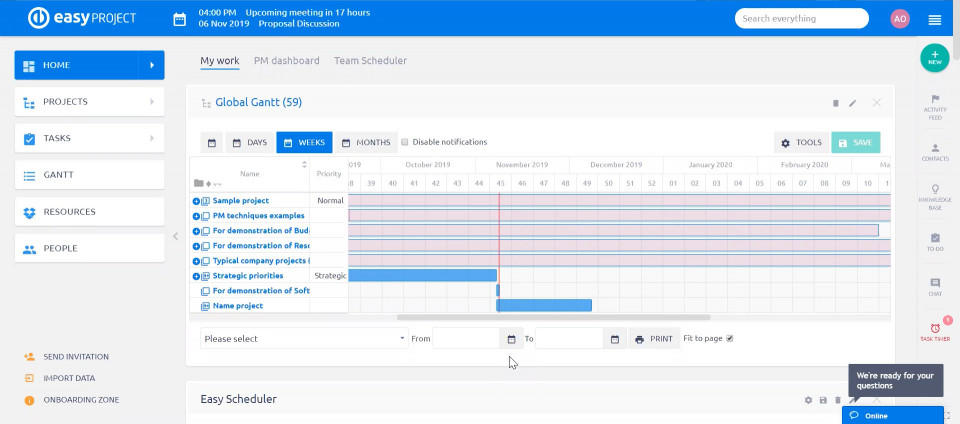 When customers call for support, they want quick, efficient resolutions to their problems from the customer service team. Whether you are part of the help desk or tech support, how you respond and manage their issue has an impact on your success. A positive customer care experience increases the likelihood of repeat business.
Perhaps your organization prefers to use the term service desk over help desk. Either way, it doesn't matter. It matters how you perform. This webinar recording will give you some tips on how to excel to become the best HelpDesk technician.
Play Webinar Recording
OR
Try It Free
Key features:
Tickets from e-mail or simplified user interface
Sorting of tickets into projects according to customer/products or any other criteria
Automated e-mail notifications for clients during ticket processing
Definition of SLA – time to response, time to solve, proprieties, pre-paid hours
Reports per project or client + overall stats of ticket processing
Customizable Help Desk statistics
New in 2019:
SLA reports - average first response, failed SLAs, success ratio, etc.
Ticket performance monitoring by the operator (ticket owner)
Quicker email replies from the ticket
Automatic email follow-ups from ticket
New dashboard for Help Desk managers
New dashboard for Help Desk operators
New preset dashboards with advanced statistics