Webinar Recording: Resource Management 2019 for Easy Project Management
Resource management made easy and visual with Easy Project 2019. It is a tool for professional planning and assignment of work. Managers plan work on projects with regard to the real-time capacities of workers and estimated time for task realization. Watch the webinar recording (below) to learn more.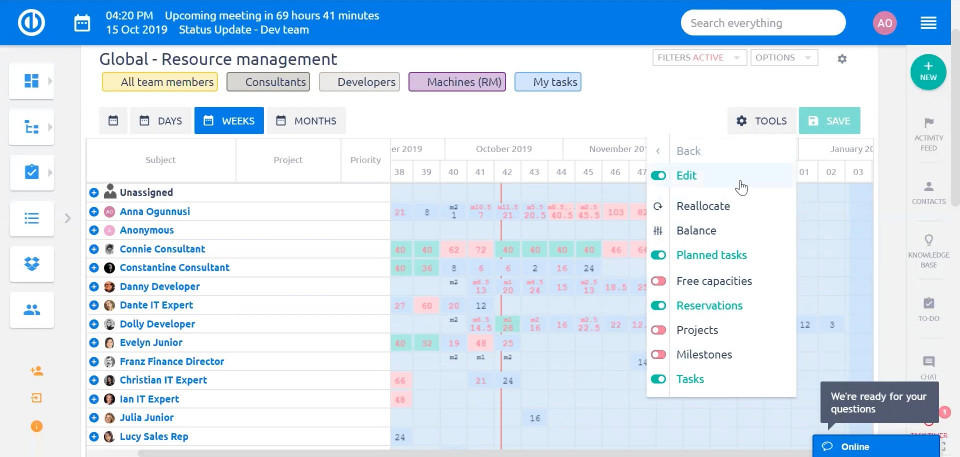 Resource management allows managers to balance the workload of the people while keeping schedules of the projects. You can easily look at how are your people utilized in the future - whether and when they are overloaded or when they are available for unassigned tasks.
Watch our webinar recording to learn how to make the most out of the Easy Project Resource Management to plan capacities, estimate time and cost, and make resource management transparent and visual.
Play Webinar Recording
OR
Try It Free

What's new in Resource management 2019
The most wanted new features of Resource management 2019 include:
Resource reservations - Custom reservations without assigning a specific task or project. Just by using drag and drop you can plan your (or your team) time – easy, simple and quick. This feature has been developed as the most wanted one based on users feedback – plan and utilize your resources like never before.
Reservations on a project - Just as easily, you can make user's capacity reservations devoted to a specific project and its tasks. Therefore, project delivery can be assured with much higher reliability compared to reservations without assigning a specific task or project. Reservations make resources planning easy as never before.
% reservations of user's capacity - Enable hours reservation on users. No tasks can be allocated inside the reserved hours until the reservation is canceled. You can delete or edit your reservation by right-clicking on it.
Resource Balancer - Use Resource Management to easily redistribute all allocated hours of all visible user-assigned tasks based on the user's free capacity.
Improved resources reporting - Moreover, planned resources can be easily reported in various graphs and charts - trends, gauges, pie charts, bar charts or time series charts. Basically, you can watch allocations in all types of charts.
To learn more about news in 2019 version, just watch the video tutorial below plus try out the feature on your own with our 30-day free trial.
Resources - allocated, employees' skills - utilized
Tired of overloaded workers constantly causing project delays? Get your resources under control with Easy Resource Management both on the project and global level.
The uniqueness of this Project Resource management feature by Easy is in visual planning across the projects with regard to real-time capacities and competencies of workers and drag & drop user interface.
Managers save time thanks to easy-to-use work planning. All the work is optimally planned and the workload of the people is balanced. Managers are well aware of people's workload.