Webinar Recording: Scheduler for Easy Project Management
Have control over your tasks, meetings, attendance, CRM activities, and resources on a single calendar screen. Watch our webinar recording (below) to find out how Scheduler can make your work easier.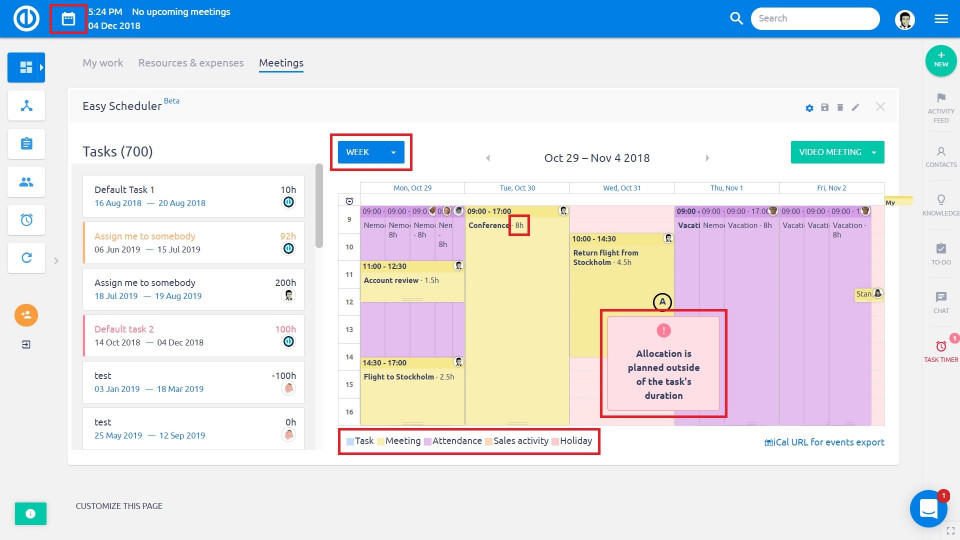 What is Easy Project Scheduler
Scheduler feature is a drag-and-drop calendar that shows all meetings, to-dos, planned resources, attendance, and spent time entries. It's quickly becoming the most used feature by our clients because it gives an ultimate and instant overview of what is going on to both regular workers and managers. It is accessible directly from the More menu or can be added to any personal dashboard, such as your homepage.
This all-purpose drag-and-drop calendar allows you to allocate your tasks while taking estimated time into account. Tasks can be easily distributed thanks to a drag & drop feature. When you change your expectation about the estimated time, just drag the bottom part and modify it as you wish.
Key features:
All-purpose drag-and-drop calendar
Quick task allocation and update
Personal and managerial view with different permissions
Can be added to any personal dashboard
The Agenda view shows the journal of all planned activities
How can Easy Project Scheduler make my work easier
Scheduler feature makes daily working much easier for both project workers and managers. Managers can use it as a tool for task allocation of teams and subordinates. Workers, on the other hand, have a great overview of what tasks they are required to complete at which timeframe.
If there are not enough free working hours left for the task's estimated time in a day, the remaining time will automatically allocate to the closest future free time slots. Any user's action with tasks is saved automatically.
Moreover, you can quickly establish a video and audio conference via Zoom integration using the "Video meeting" button on the right side. This might be extremely useful when you need to discuss the task allocations with your colleagues simultaneously with doing so.
Who can benefit from Easy Project Scheduler
Scheduler feature is useful for any company looking for a tool that gives an instant overview of what work needs to be performed, which resources of the organization will perform the work and the timeframes in which that work needs to be performed. The new Scheduler feature reflects all of the work associated with delivering projects on time.
You can easily switch between personal and managerial views of the Scheduler with different permissions. If you are the Manager, you can simply select any user and assign task using drag and drop and thus use Scheduler to optimally allocate resources of your team. In Personal view, you can use Scheduler to plan tasks in your own calendar only, not for any other users.