Release notes for version: 09.01
Please read before upgrading to platform version 9.1.0
Recommended Ruby version: 2.6
Help desk - recalculate due date based on current SLA
A long requested feature in Help desk is now ready. Due date of tickets is now always respecting SLA on the ticket. Previously due date was only set when ticket was created and never reset when ticket was updated (changed priority/tracker, customer response).
If SLA is suspended (waiting for customer reply) due date remains in the last value.
Closed parent task with open subtasks
If the task type has this setting enabled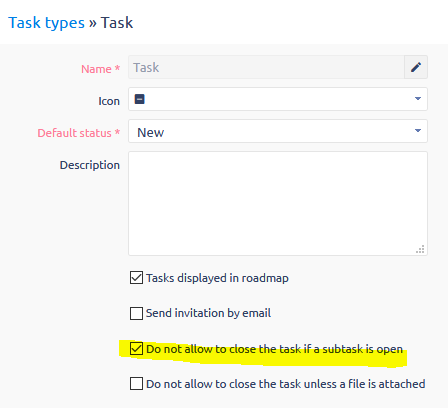 It will not be possible to add an open subtask to it. Such attempt will result in error message.
The parent task you selected is closed and doesn't allow to have any open subtasks. Please first reopen the parent task, or choose a different one
We recommend that you verify this setting in all your task types and possibly disable it unless absolutely necessary.
Admin vs partial admin
Previously
It was possible to enable both options Administrator and Partial administrator on a single user.
Now
If you enable Administrator option, the partial admin option will disappear.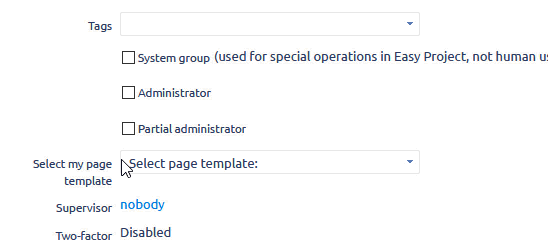 Contacts - drag and drop replaced by button
Previously
Go to project / task, search contact in sidebar, assign it to project / task via drag and drop.
This was problematic for working with touchpad, but even more in touch screens.
Now
Button instead of dragging, which is a quicker way for all devices.
The button only shows when you are on a page where contacts can be assigned. After clicking, the contact will be assigned to the entity, but will be shown only after refresh of page. This allows to assign more contacts to an entity quickly without a page refresh after each one.
Resource management - vacations and meetings abbreviations
In resource management you can find not only task hourly allocations, but also meetings and vacations (that also determine users' availability).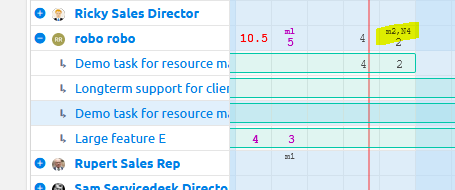 Meetings and holidays are shown with a single letter. Here are the explanations of the letters in each of the supported languages.
| | | | | | | |
| --- | --- | --- | --- | --- | --- | --- |
| EN | meaning | DE | FR | ES | IT | RU |
| m | meeting | M | r | R | R | с |
| H | public holiday (from calendar) | F | F | V | F | П |
| N | non-working day (absence logged in attendance) | NA (Nicht-arbeitend | N (non-travaillé) | F | N | н |
| U | absence before approval (unapproved) | NG (Nicht genehmigt | NA (non approuvé) | NA | NA | У |