Resource Management
With Easy Project Resource Management, you can identify user expertise, make sure that all workers are optimally loaded, and guarantee that all resources are utilized efficiently. Thanks to its integration with Easy Gantt and attendance management, assignment of tasks are performed on a defined timeline, and vacations are taken into account.
Resource Management Master Plan
Efficient utilization of resources across all projects and an instant overview of under-resourced projects are easy with the Resource Master Plan. Tasks can be assigned according to employee expertise while keeping each person's workload balanced.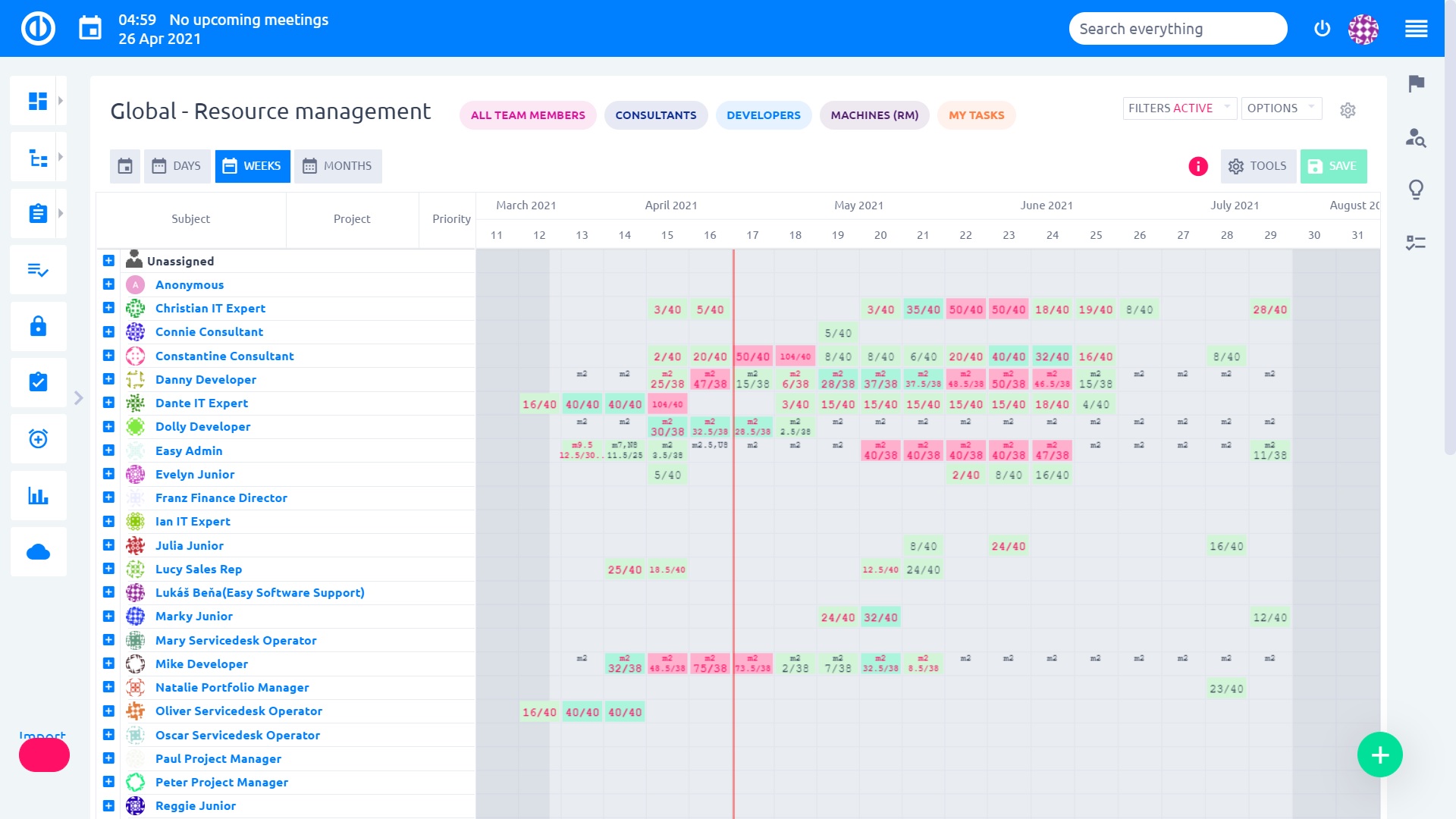 Key features:
Daily/weekly/monthly views
Competency & department filtering
Overview of problems - overdue tasks, hour allocation issues
Display of cash flows and milestones
Colour coding for tasks/projects with problems
Resource reports – get a clearer overview of your capacities thanks to new visual stacked charts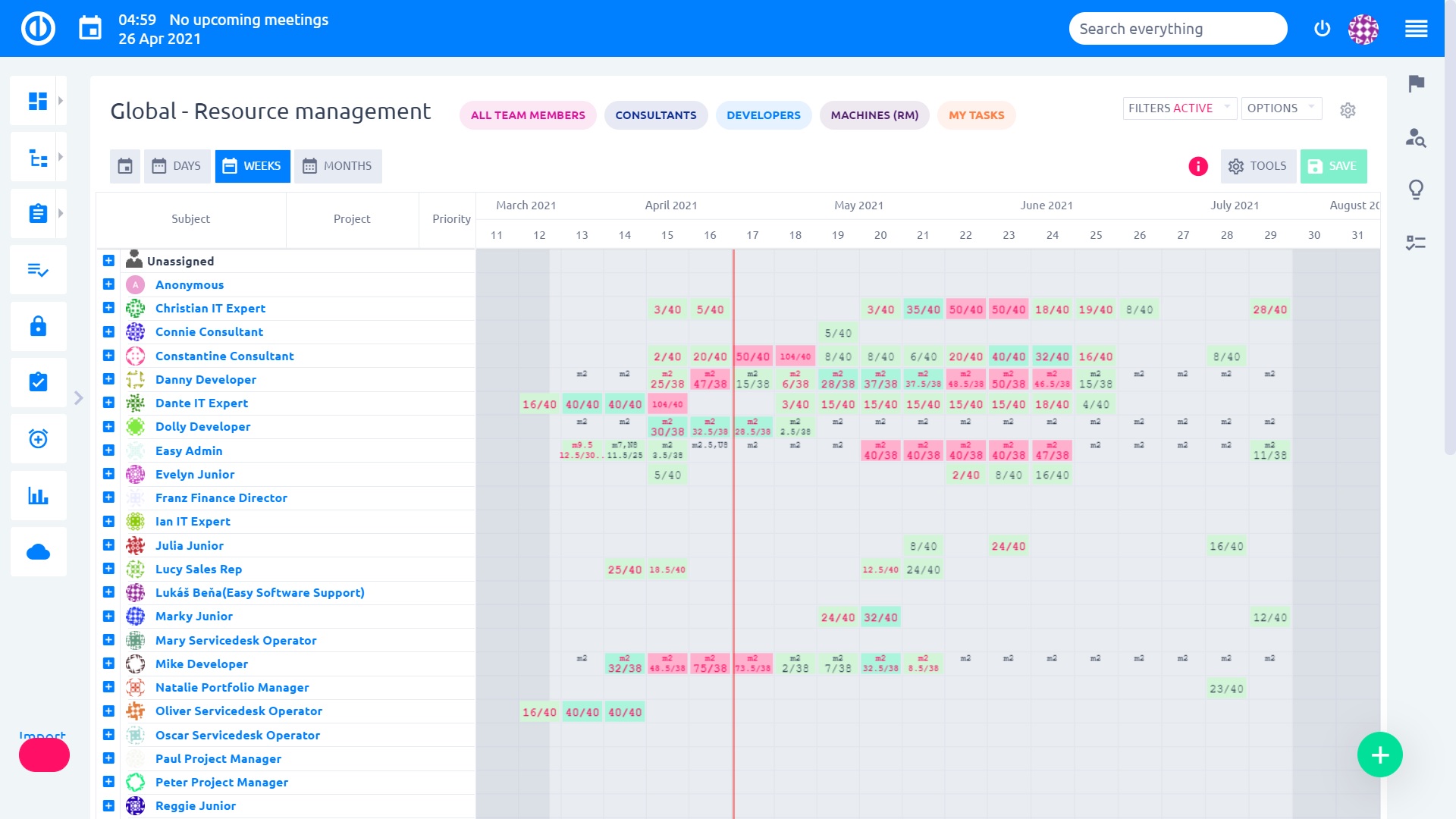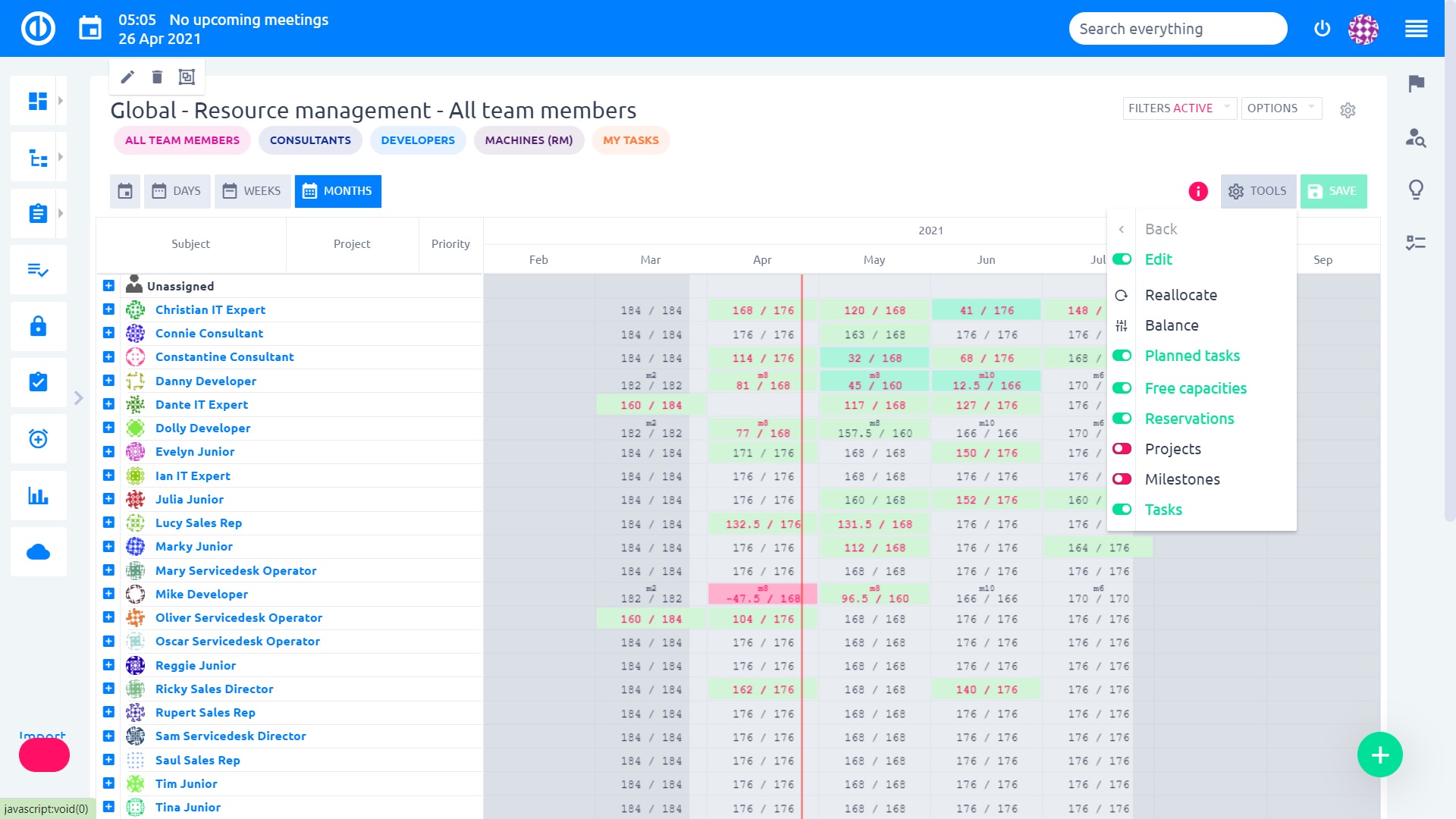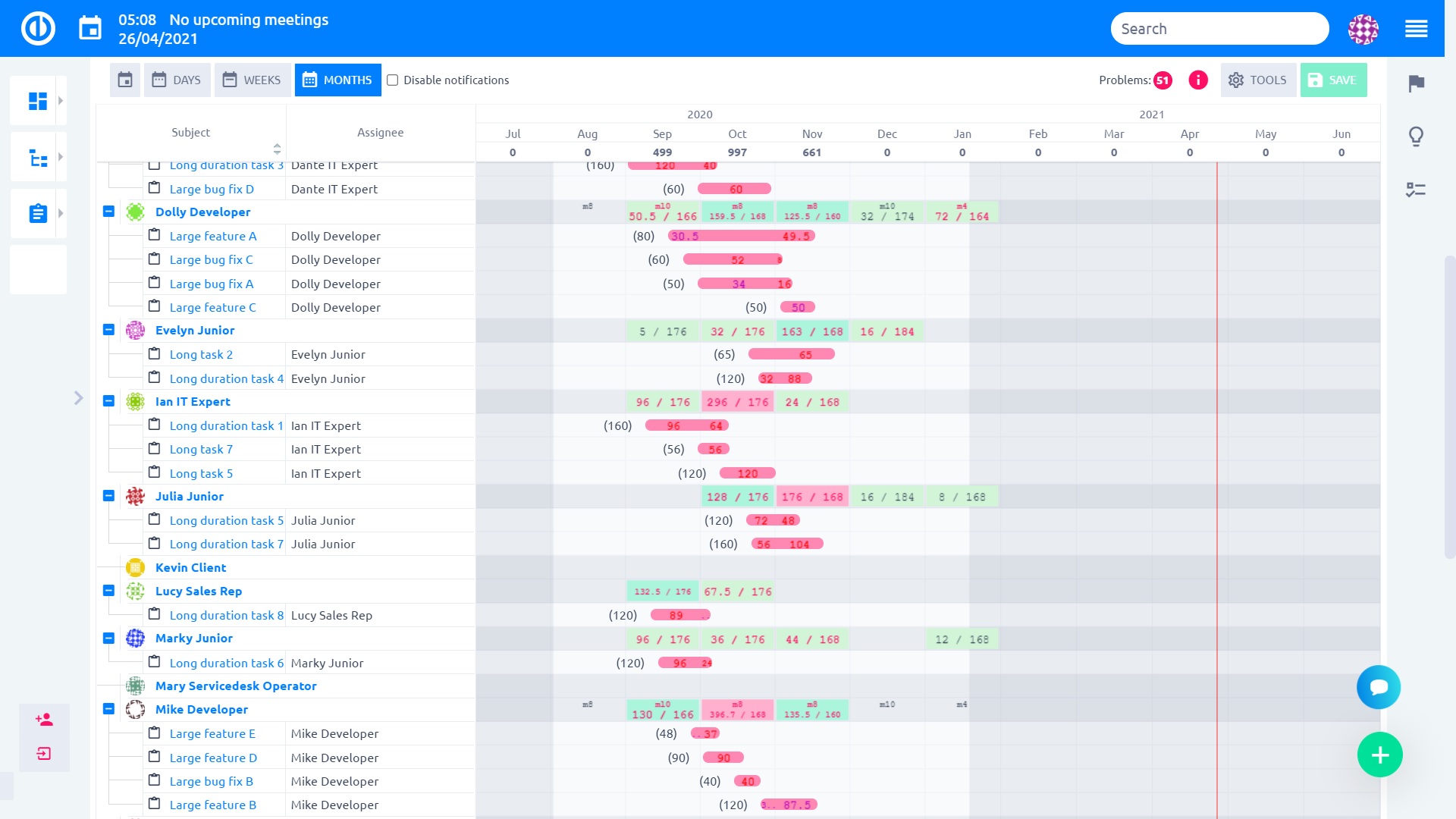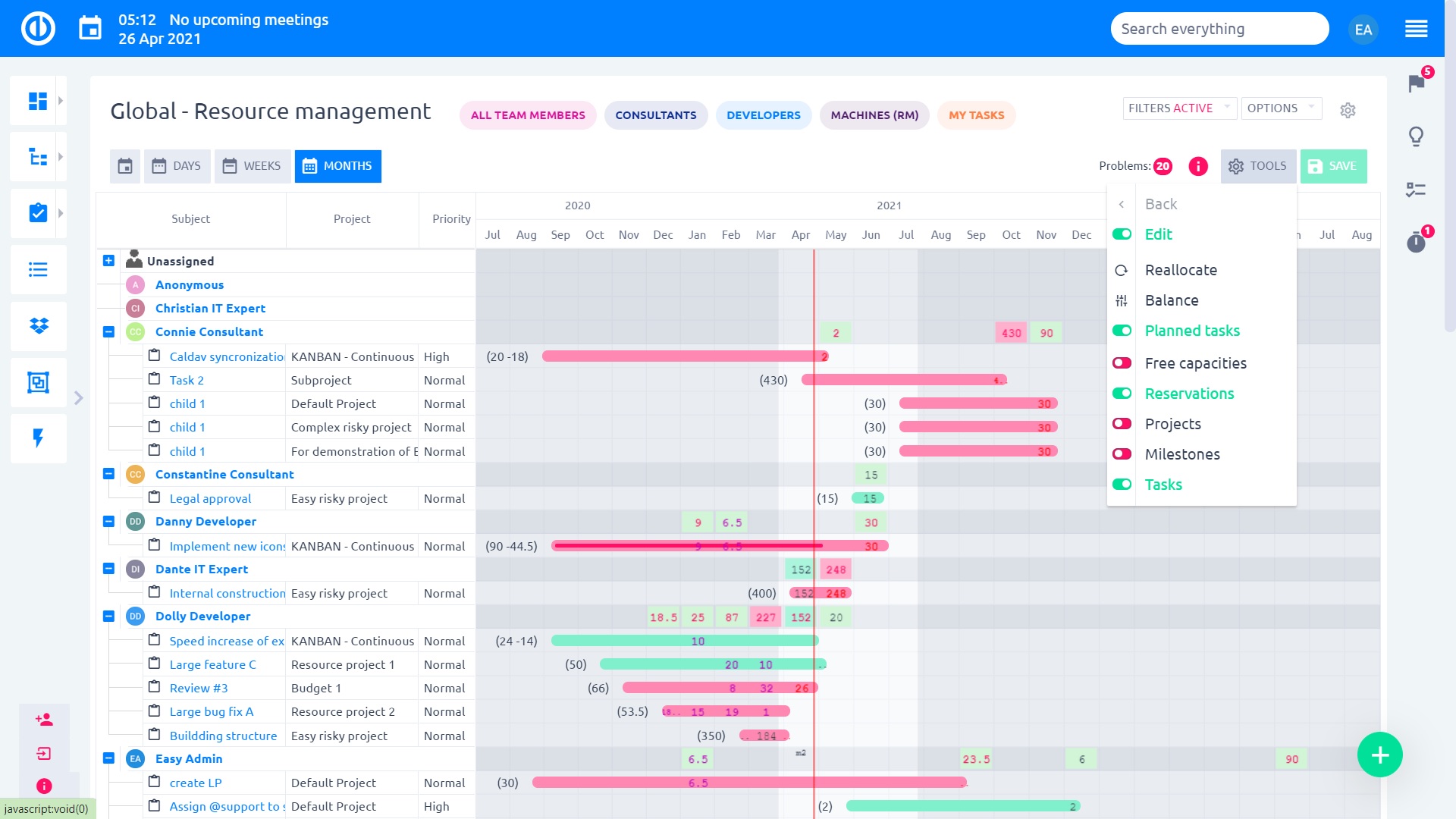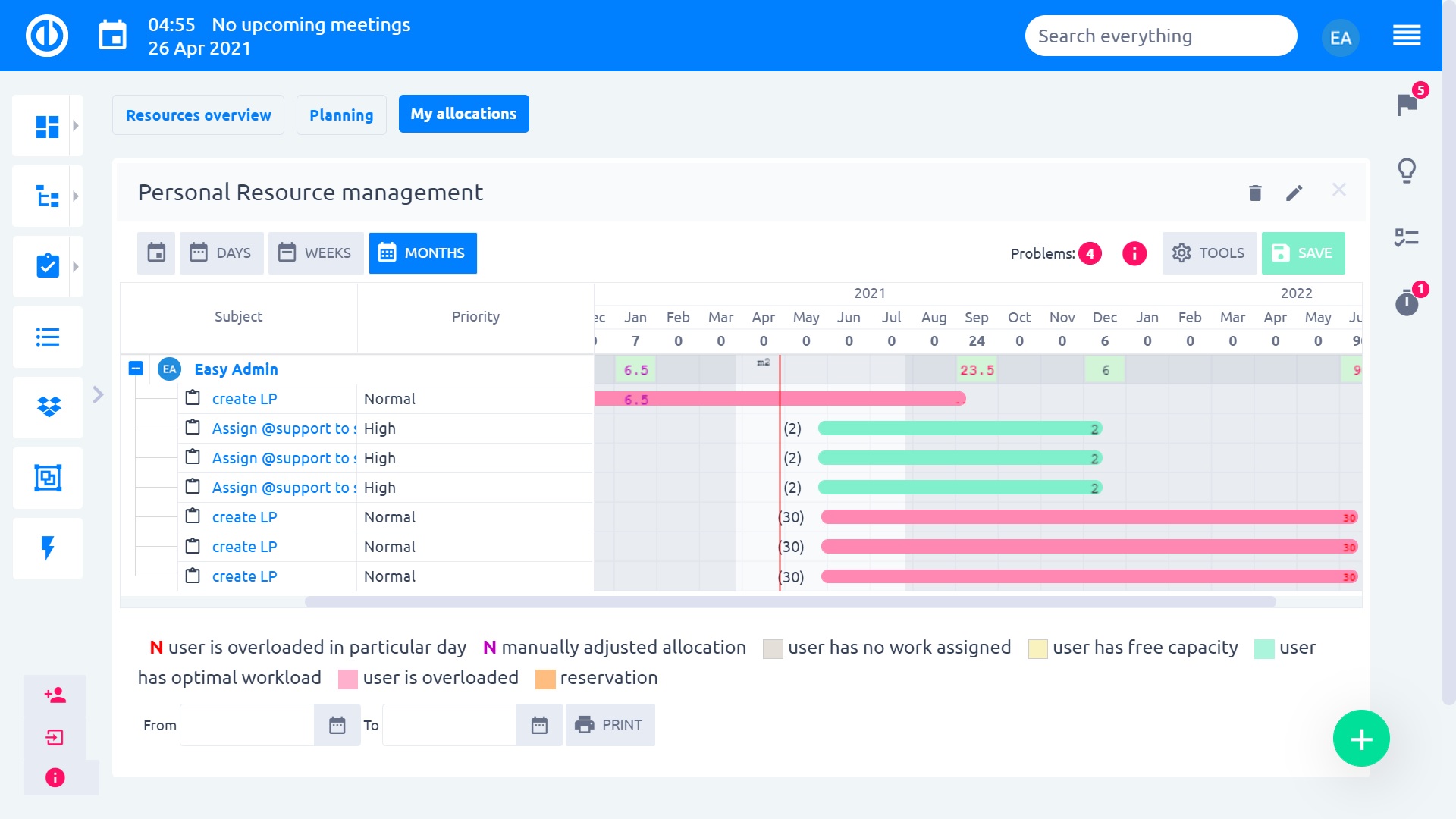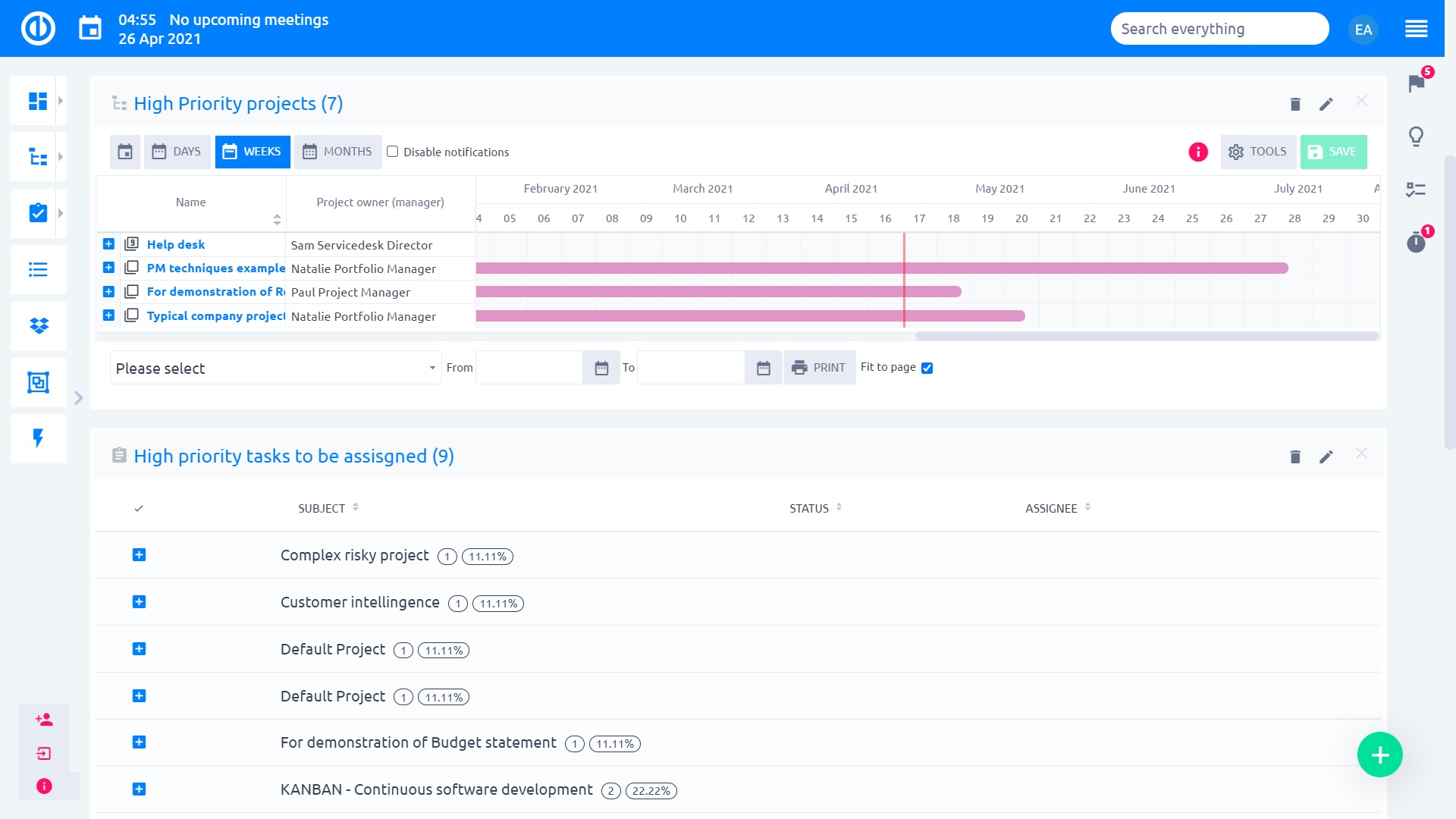 Competency Management
Using Competency Management, you can identify the full capabilities of your company, determine the competencies of your workers, and consequently effectively utilize available competencies by giving clearly granulated projects and setting project plans.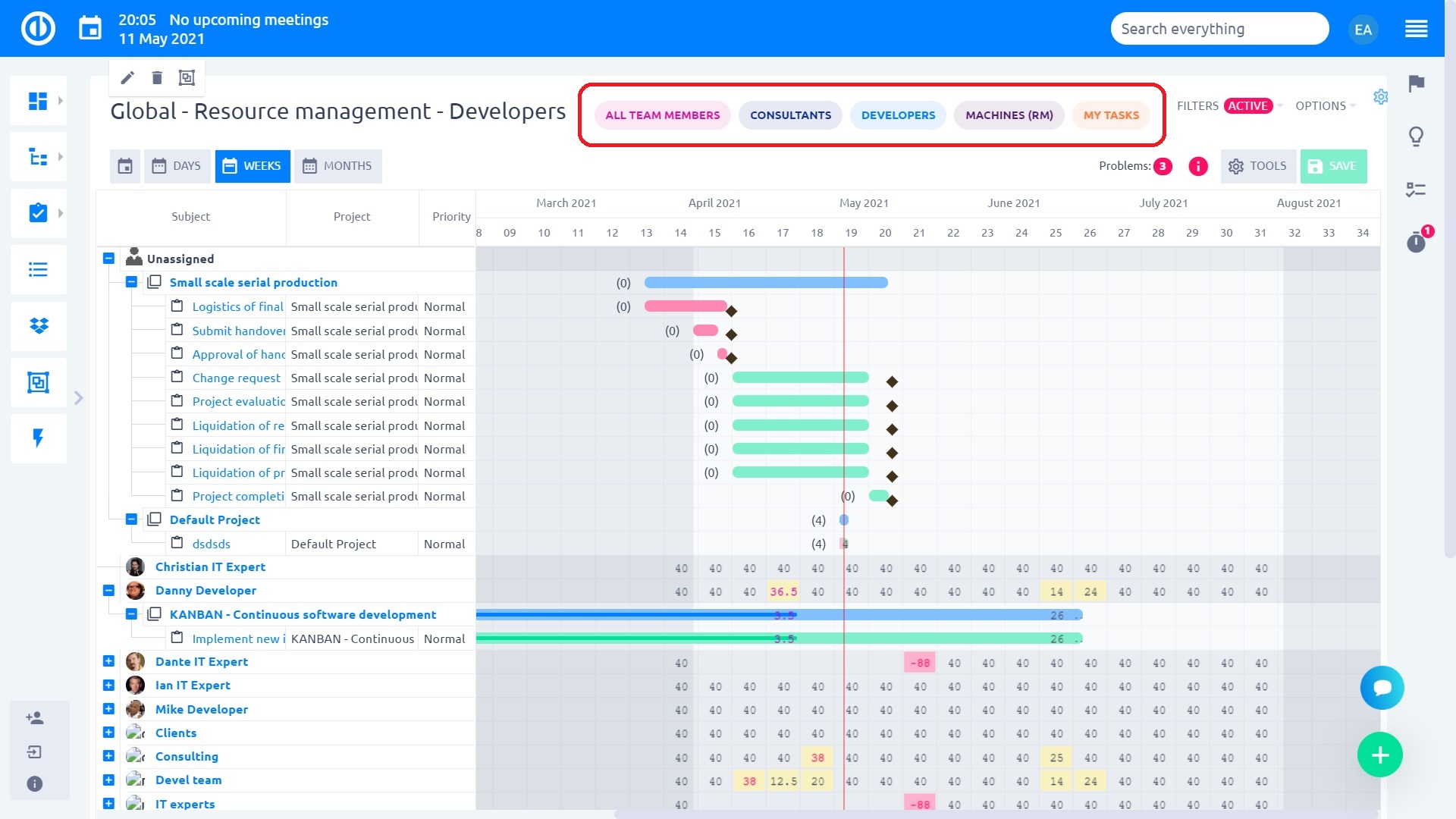 Key features:
Displays tasks of the workers in time with their total workload
Task updates and assignment using a drag & drop feature
Integration with attendance – planned vacations, holidays are taken into account in workers' capacities
Integration with meeting calendar – planned meetings are taken into account in workers' capacities
Competency planning by teams and trackers - filter only certain type of work with the respective teams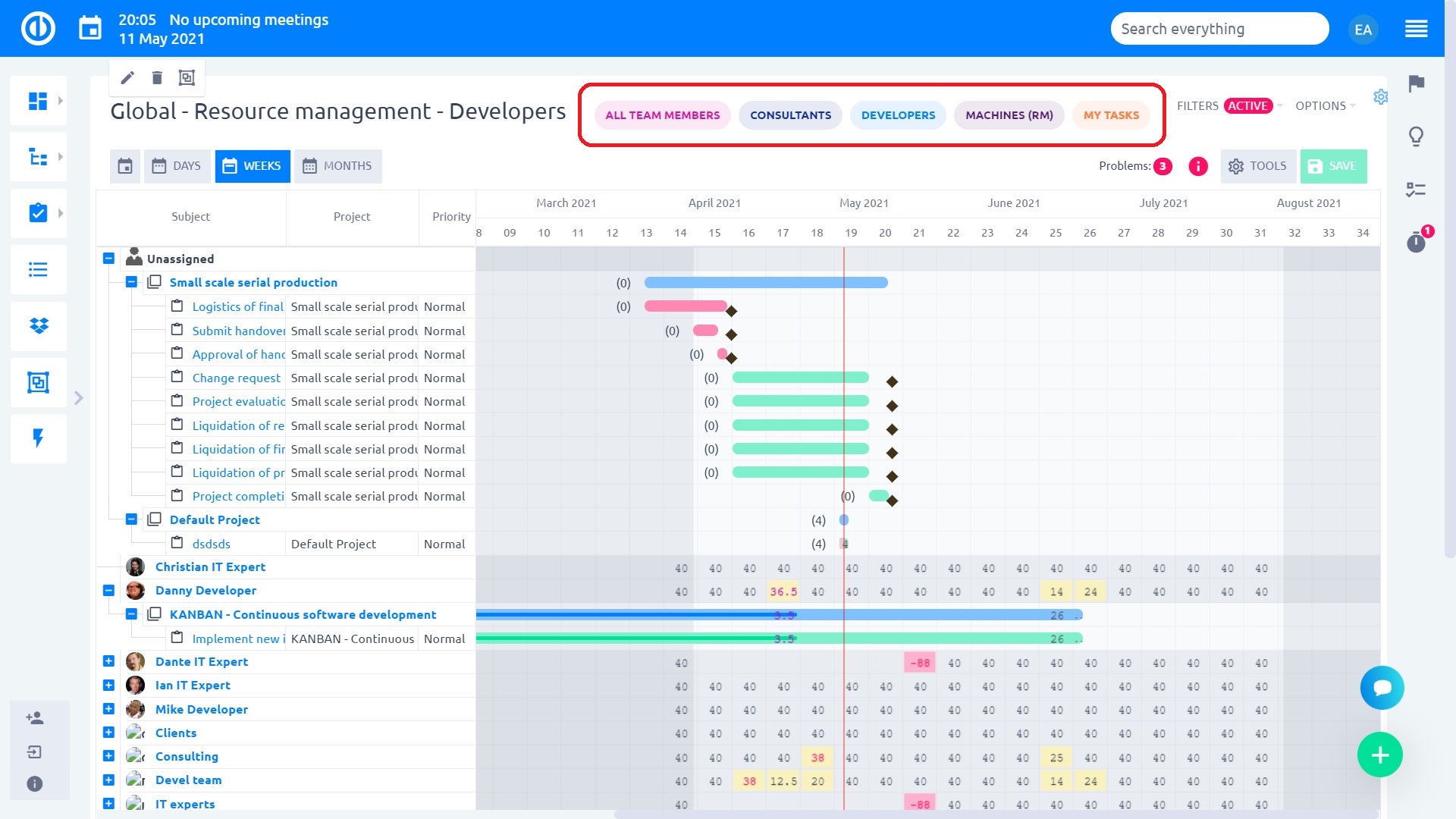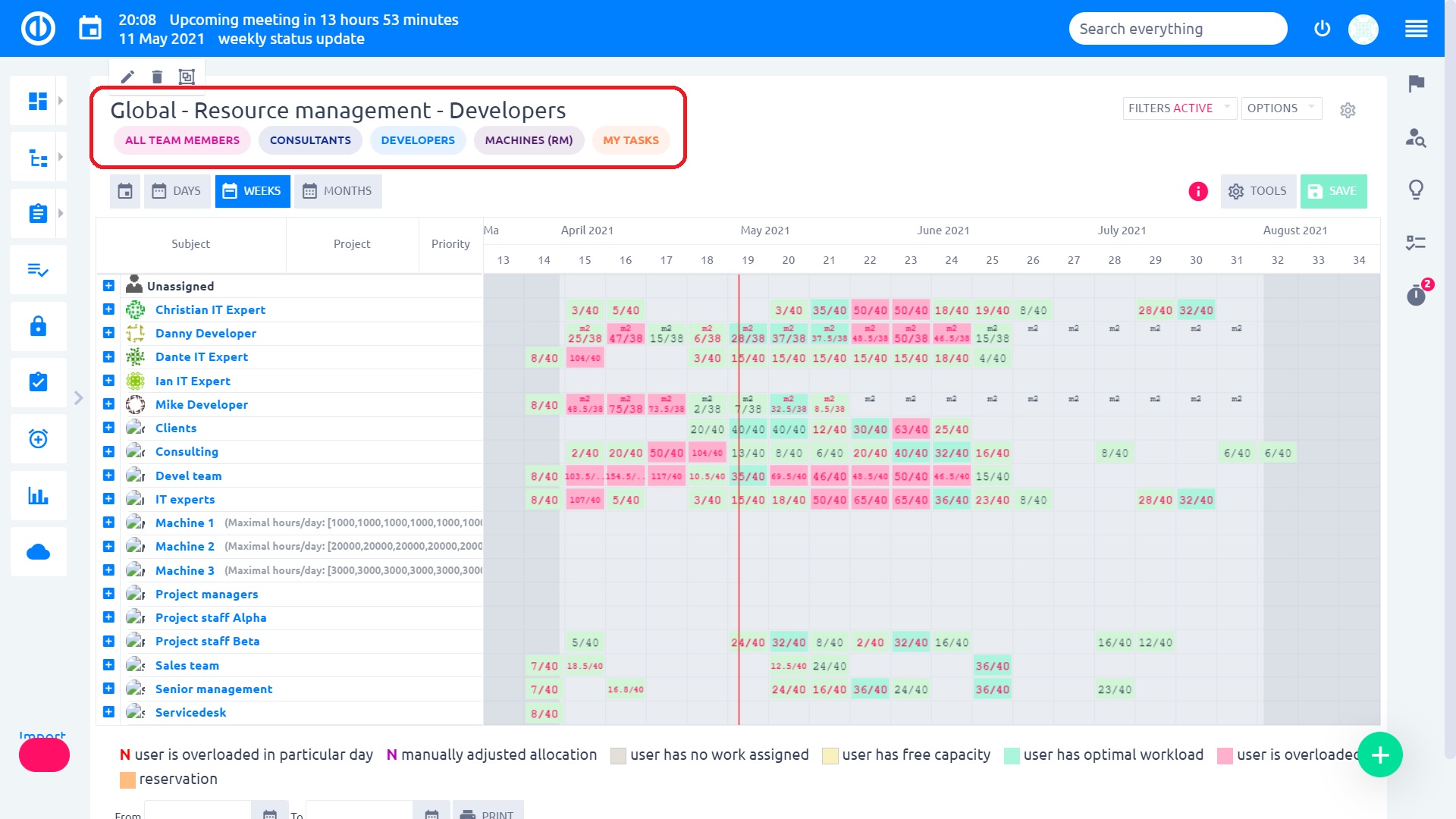 Attendance Dashboard
This dashboard gives you a snapshot of when your employees and/or colleagues are present at your business office, home office, have break or are absent. It allows you to easily create custom reports for the Finance office's budgeting needs.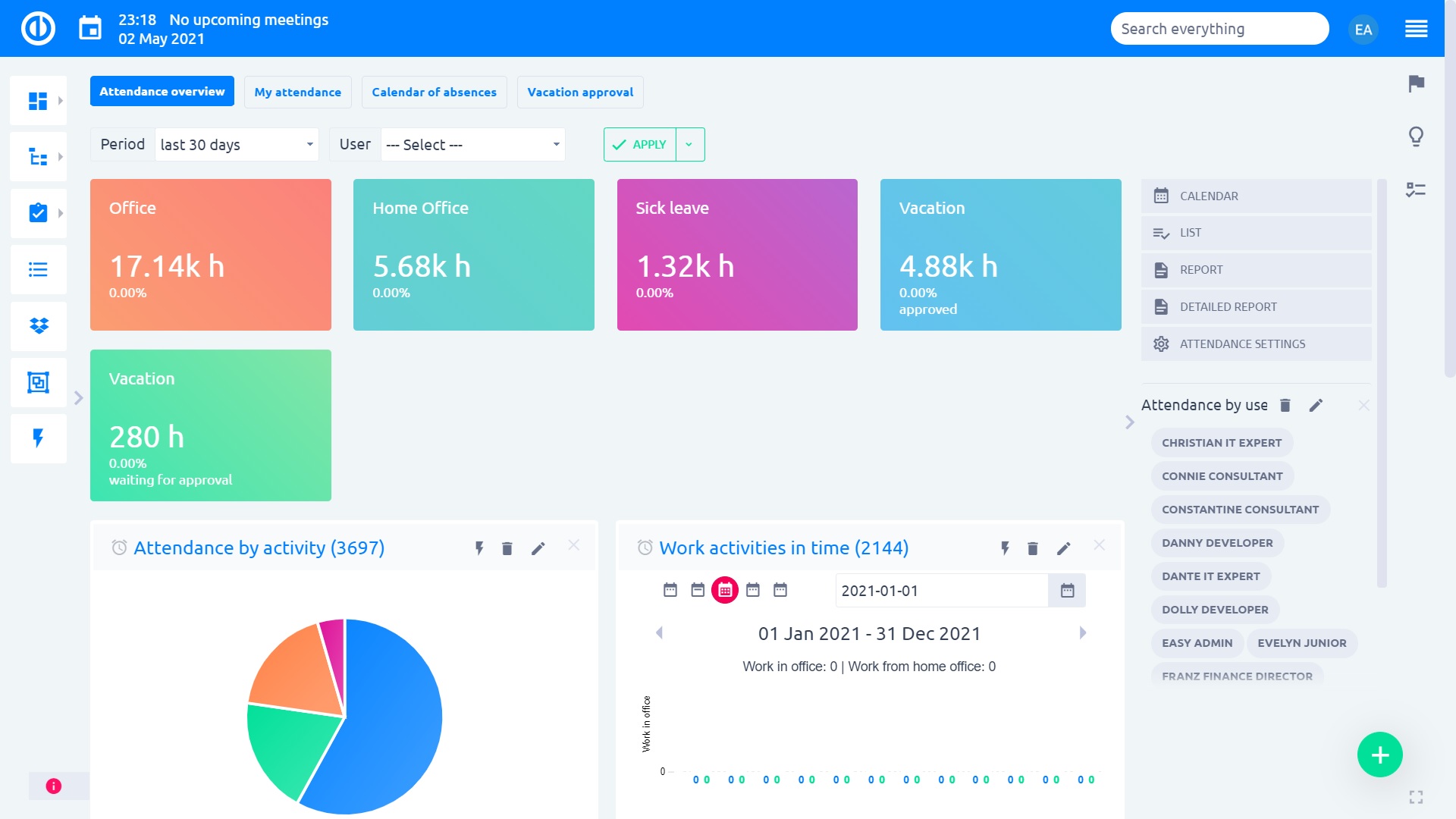 Key features:
See right who is clocked in/out, on break, or is absent
Receive an alert about missing attendances, exceptions, or any other customized notification
Review scheduled vs. actual hours worked to predict operational needs
Review and approve vacation requests
May serve as your central workspace for attendance management
Customize the information featured on the dashboard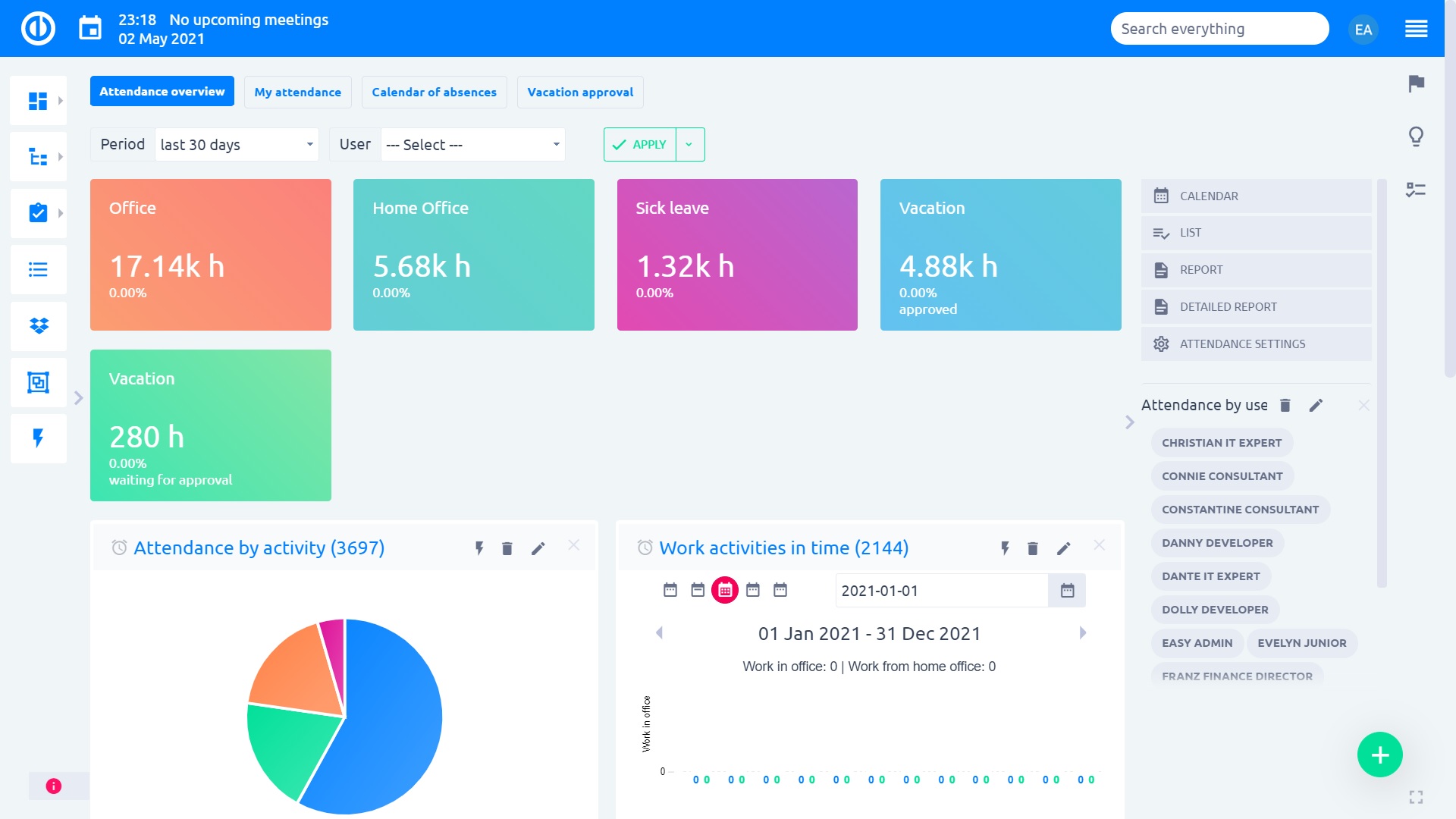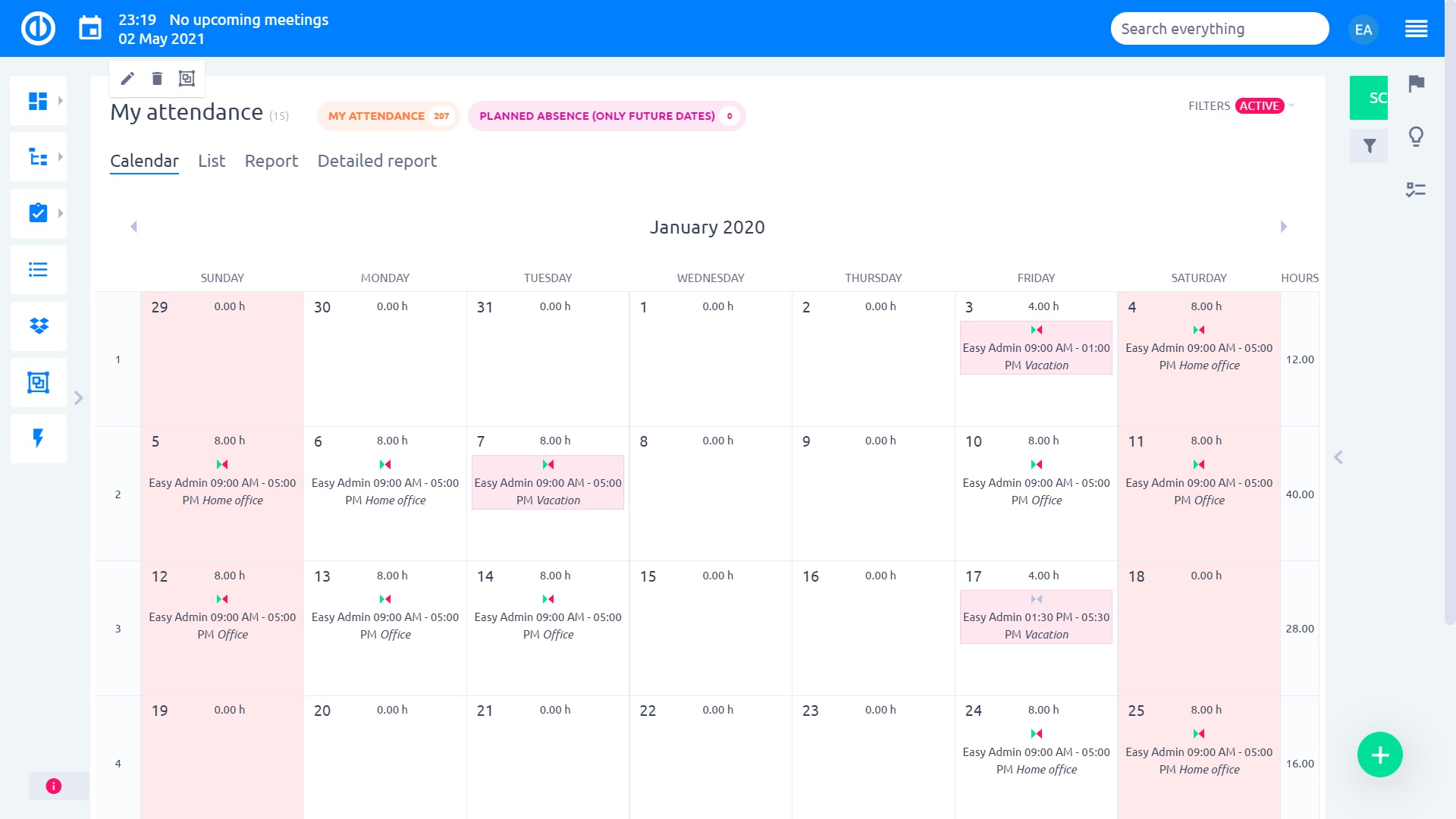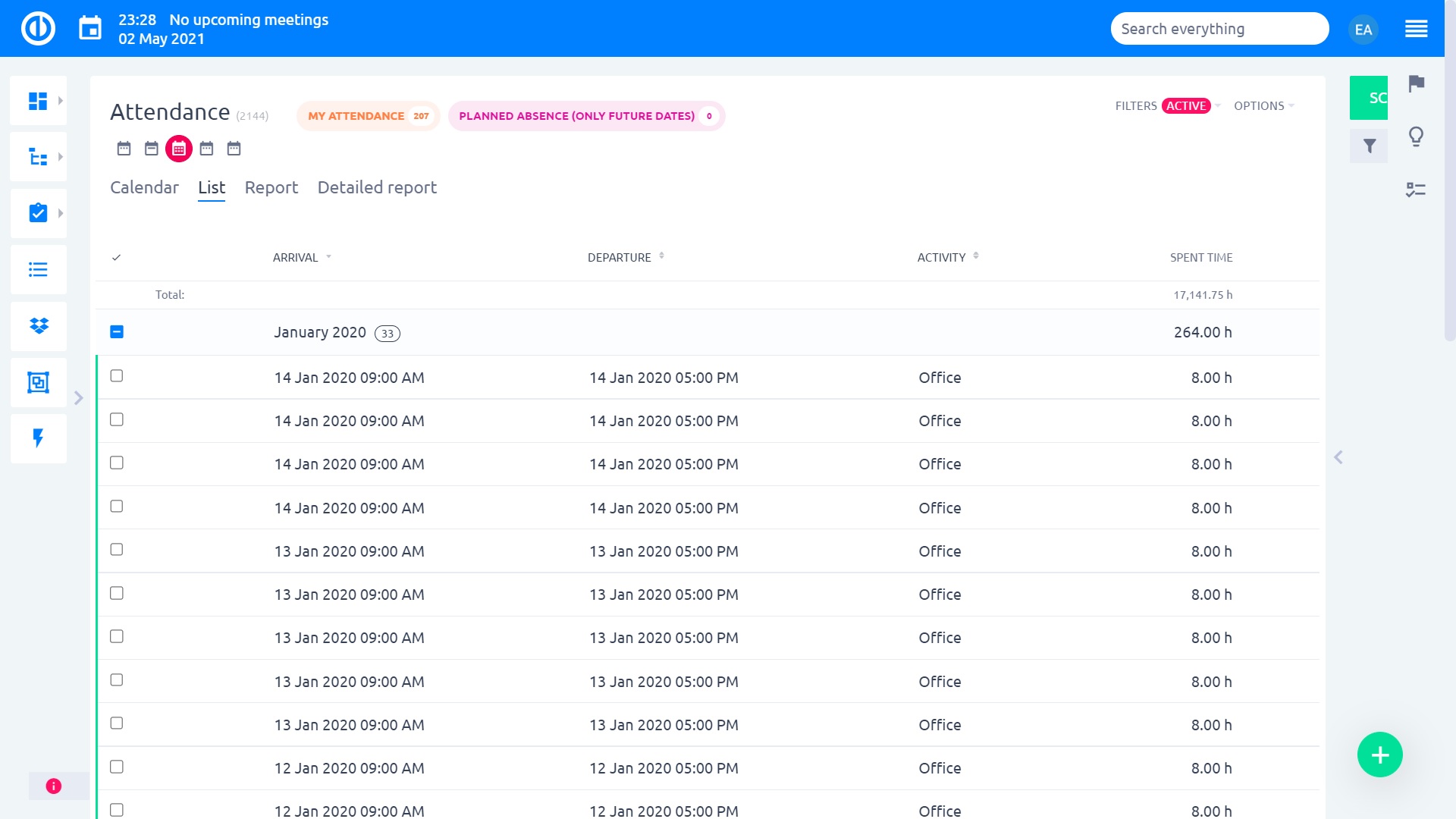 Scheduler
With Scheduler, you can plan and assign tasks for yourself or for other users directly on your calendar. You will immediately find out when a user is busy with other scheduled events such as meetings, business activities or other assigned tasks. It also shows the attendance of users, making it impossible to plan assignments during their absence.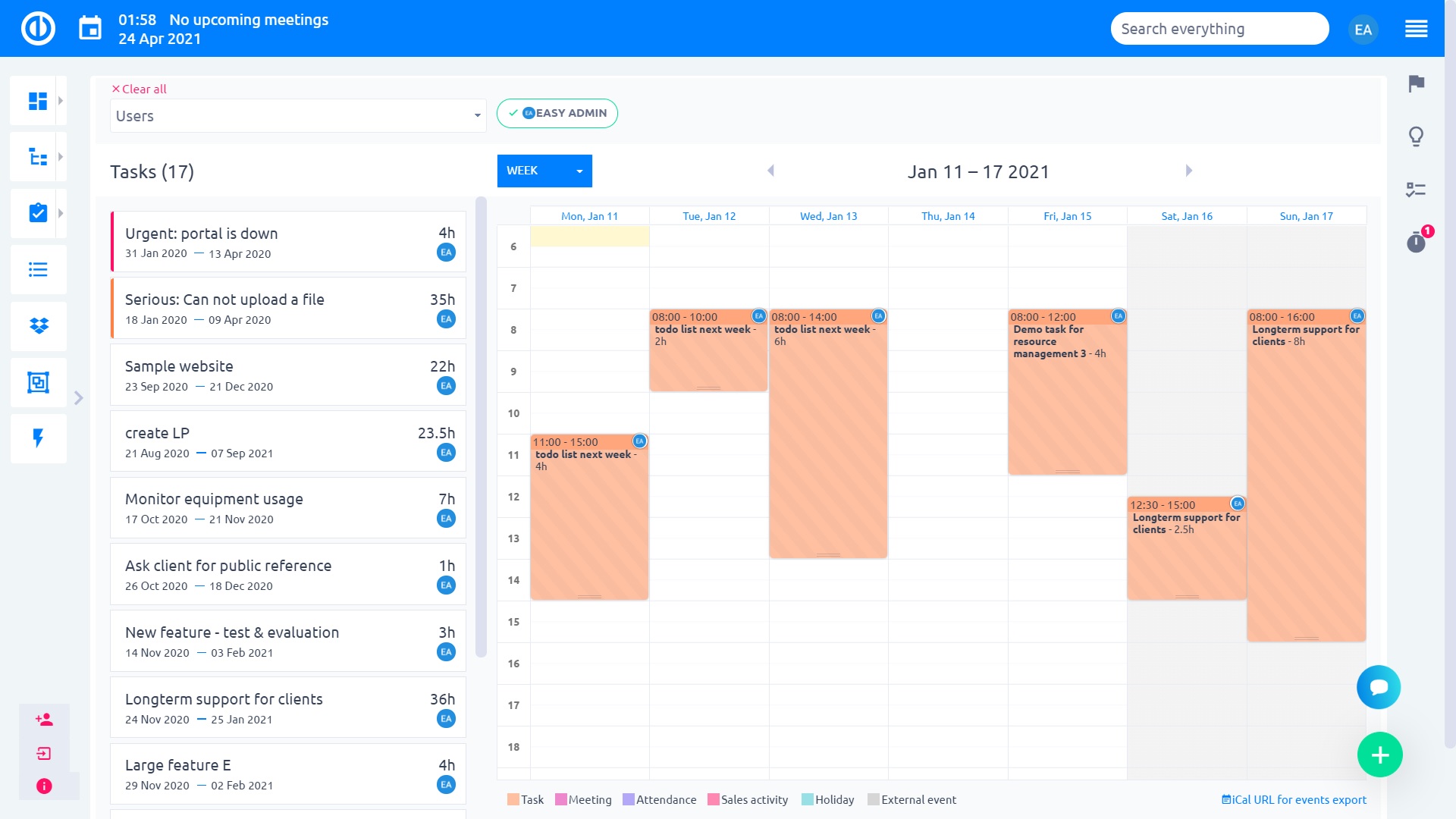 Key features:
All-purpose drag-and-drop calendar
Quick task allocation and update
Personal and managerial view with different permissions
Can be added to any personal dashboard
Advanced filters and search
The journal of all planned activities (Agenda view)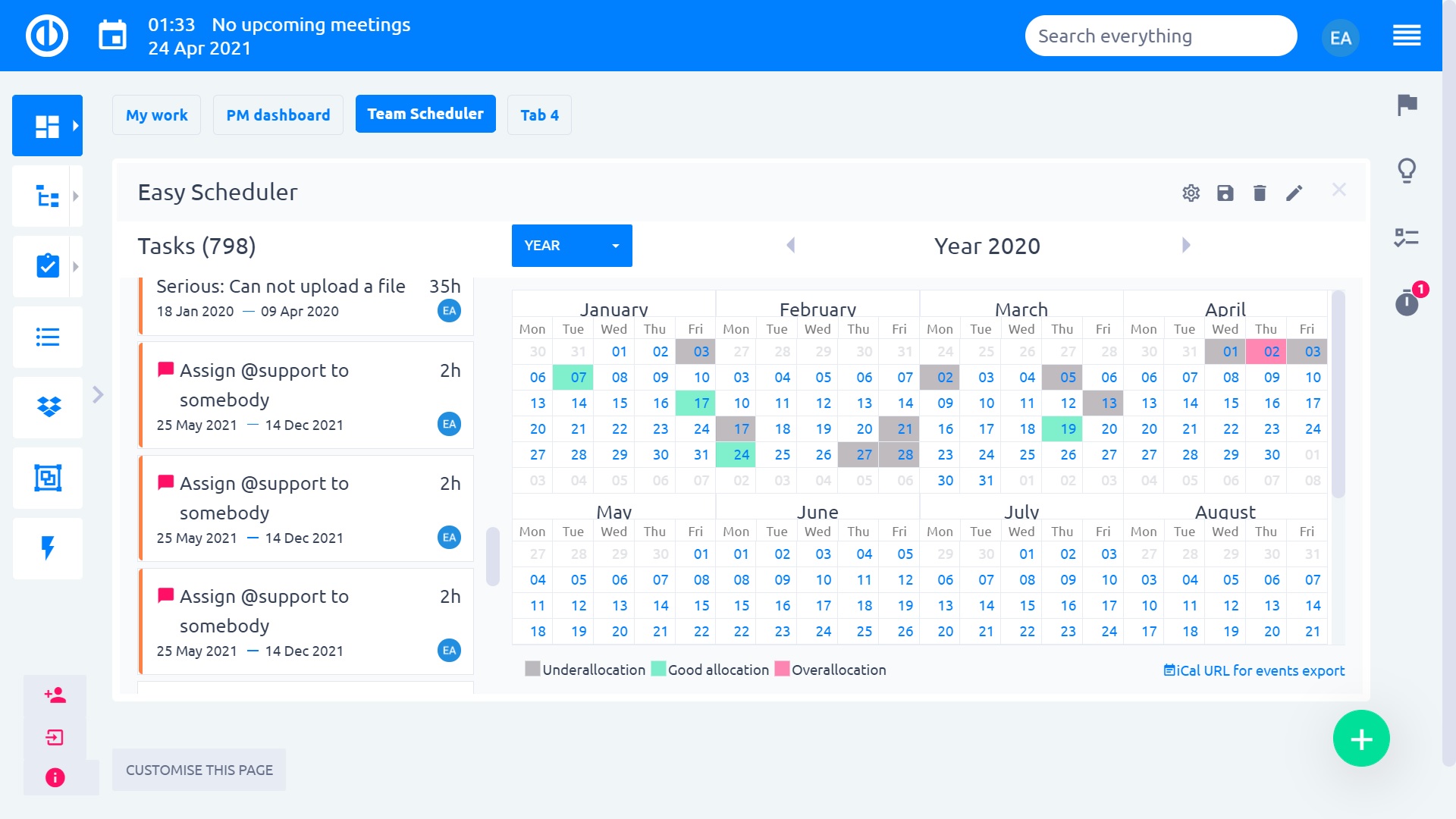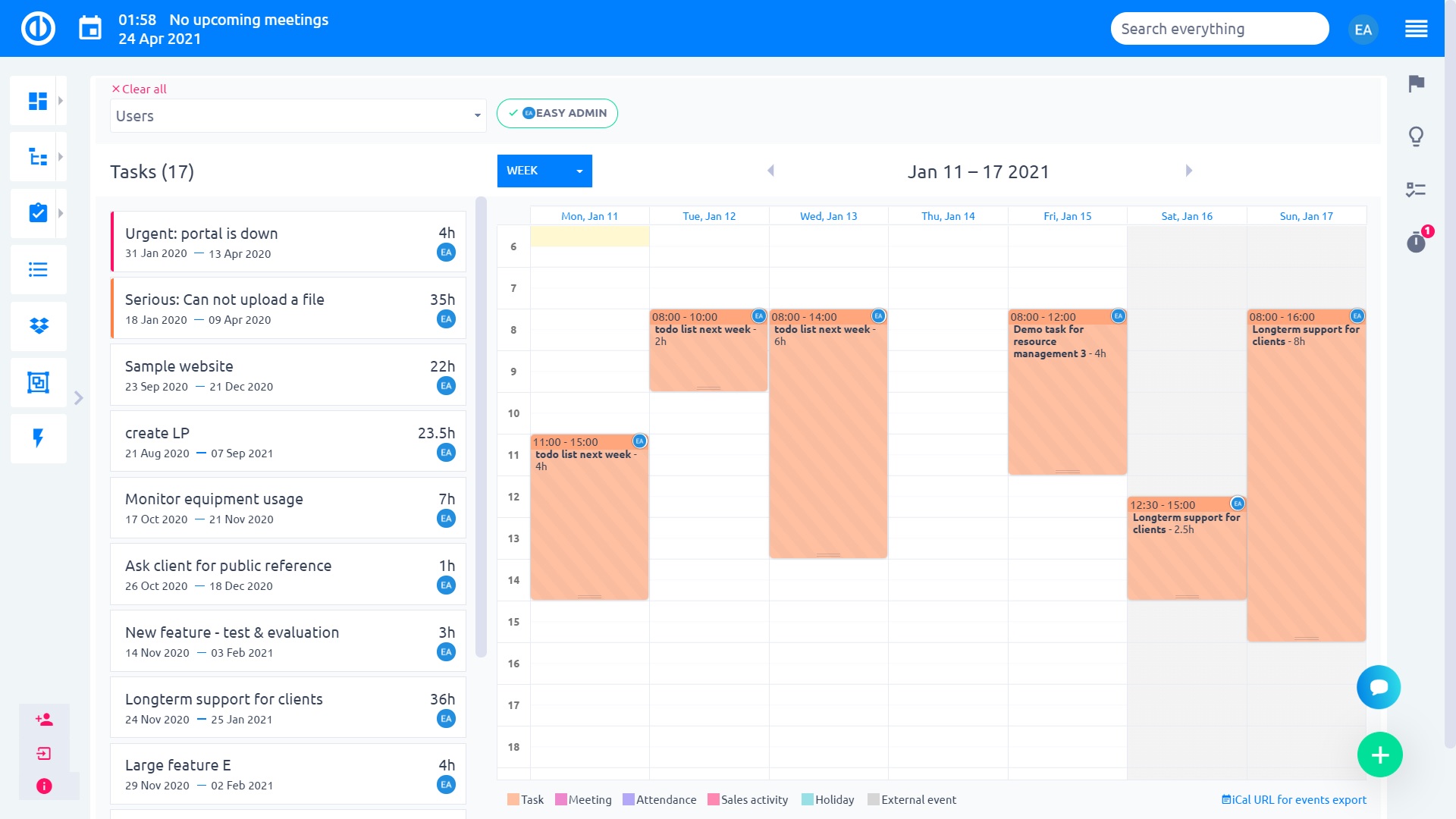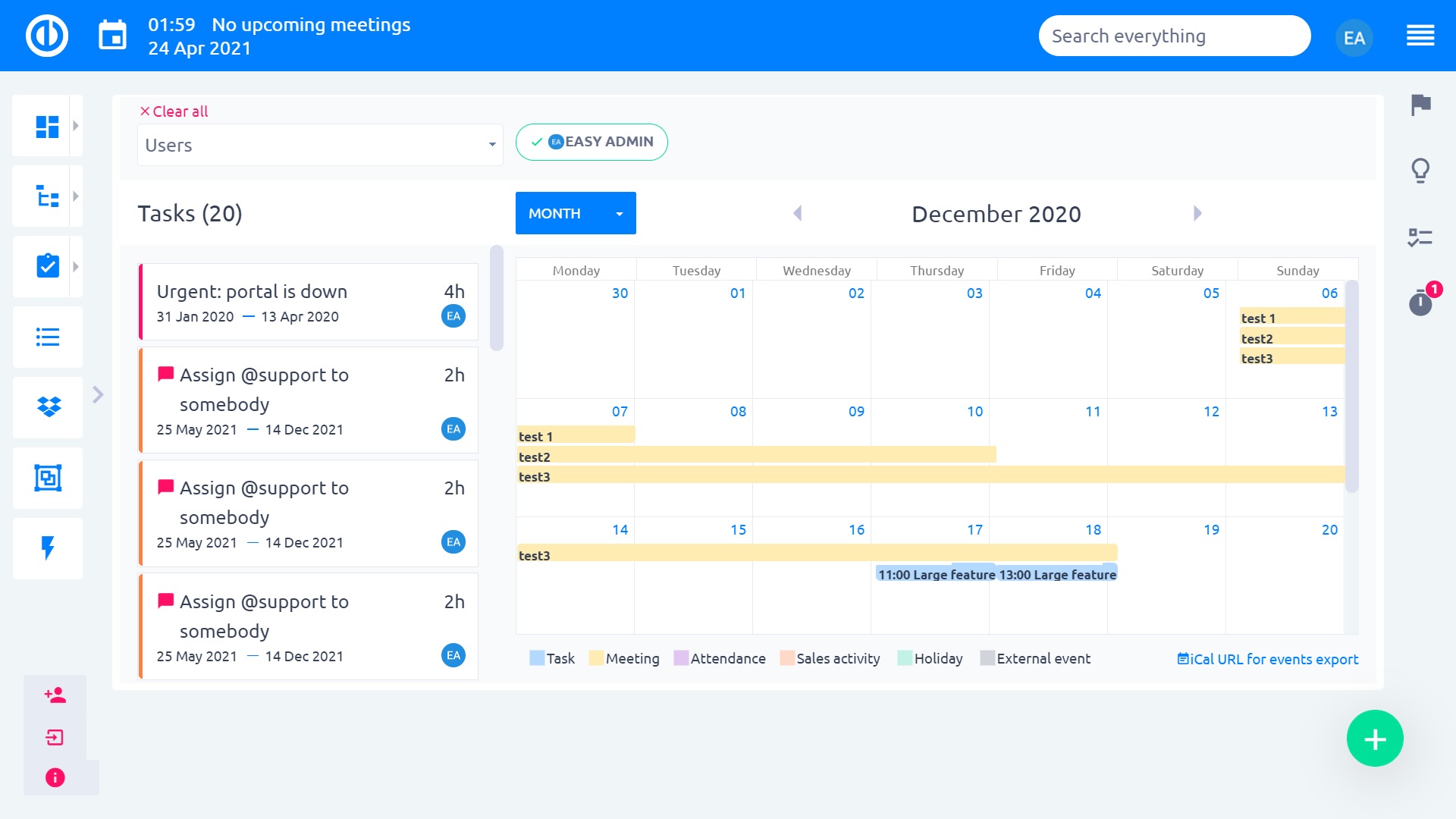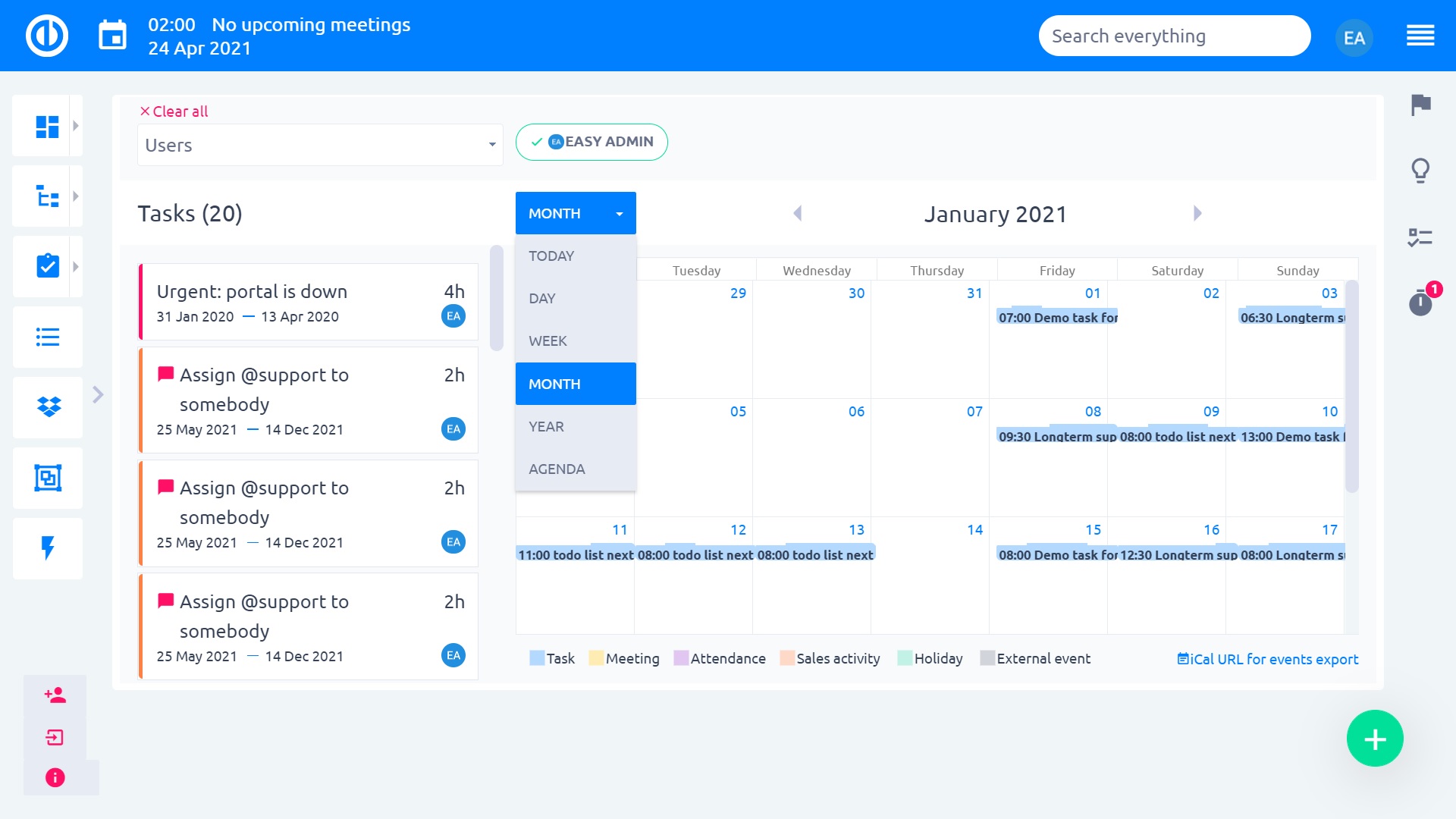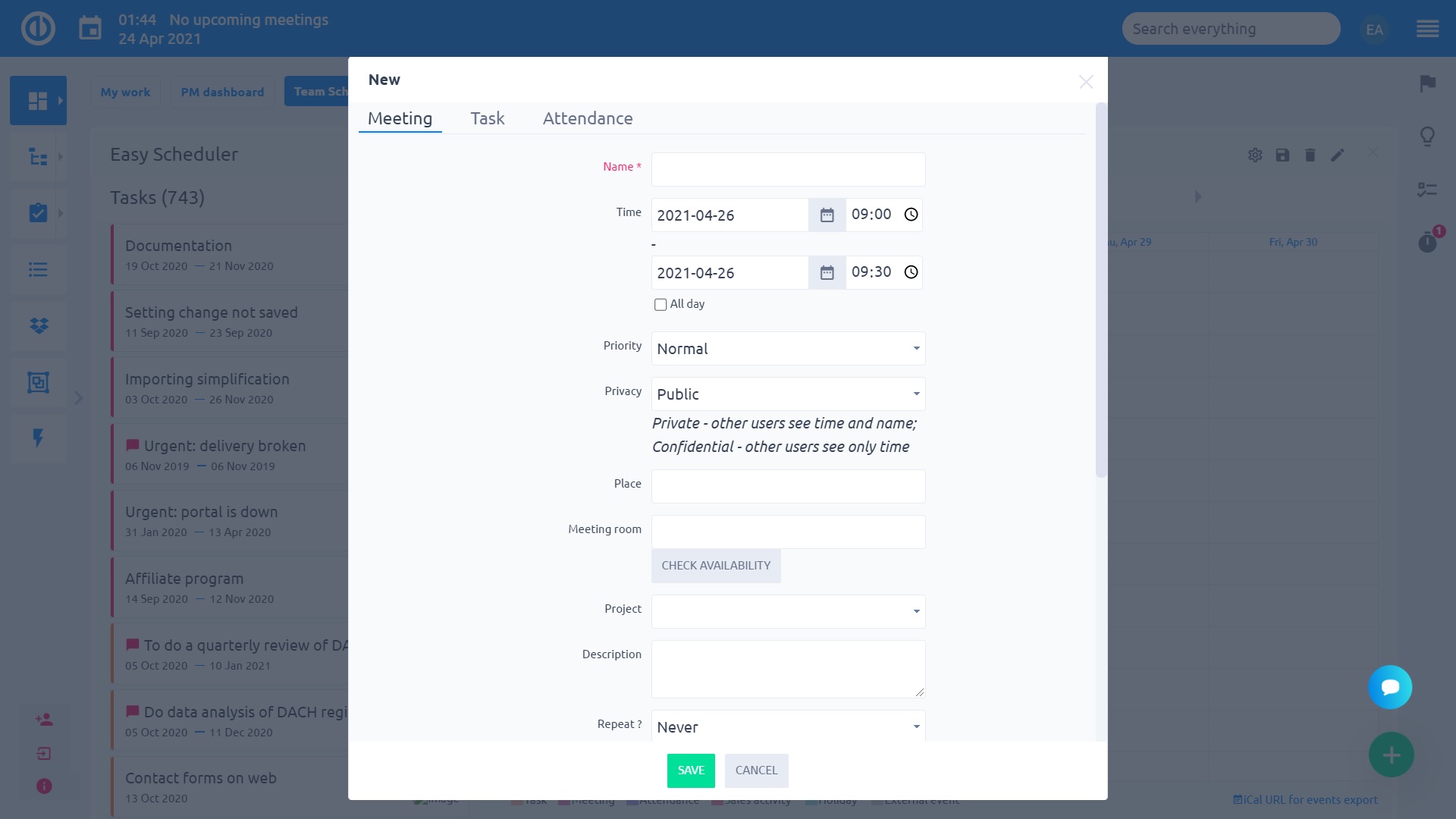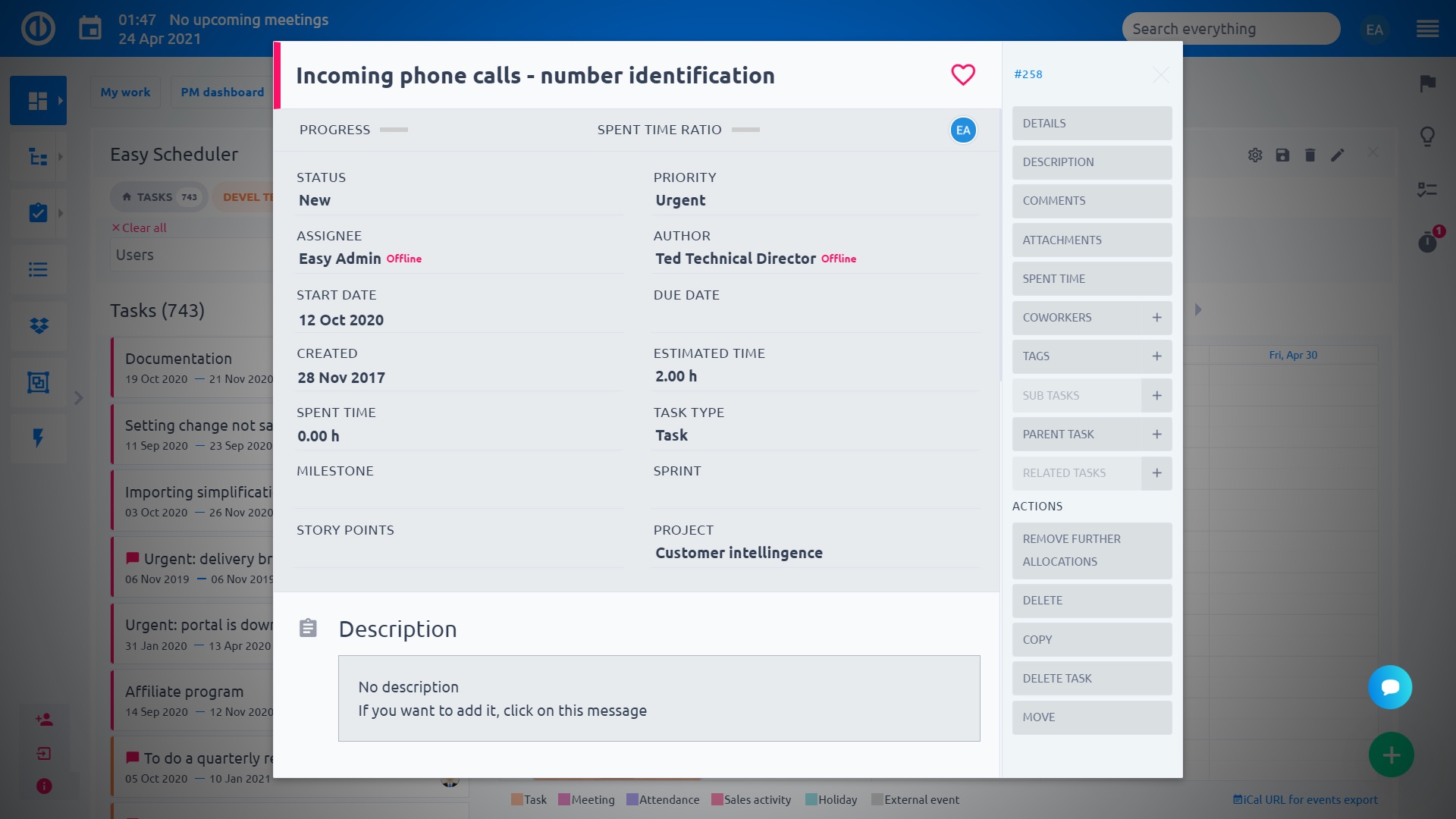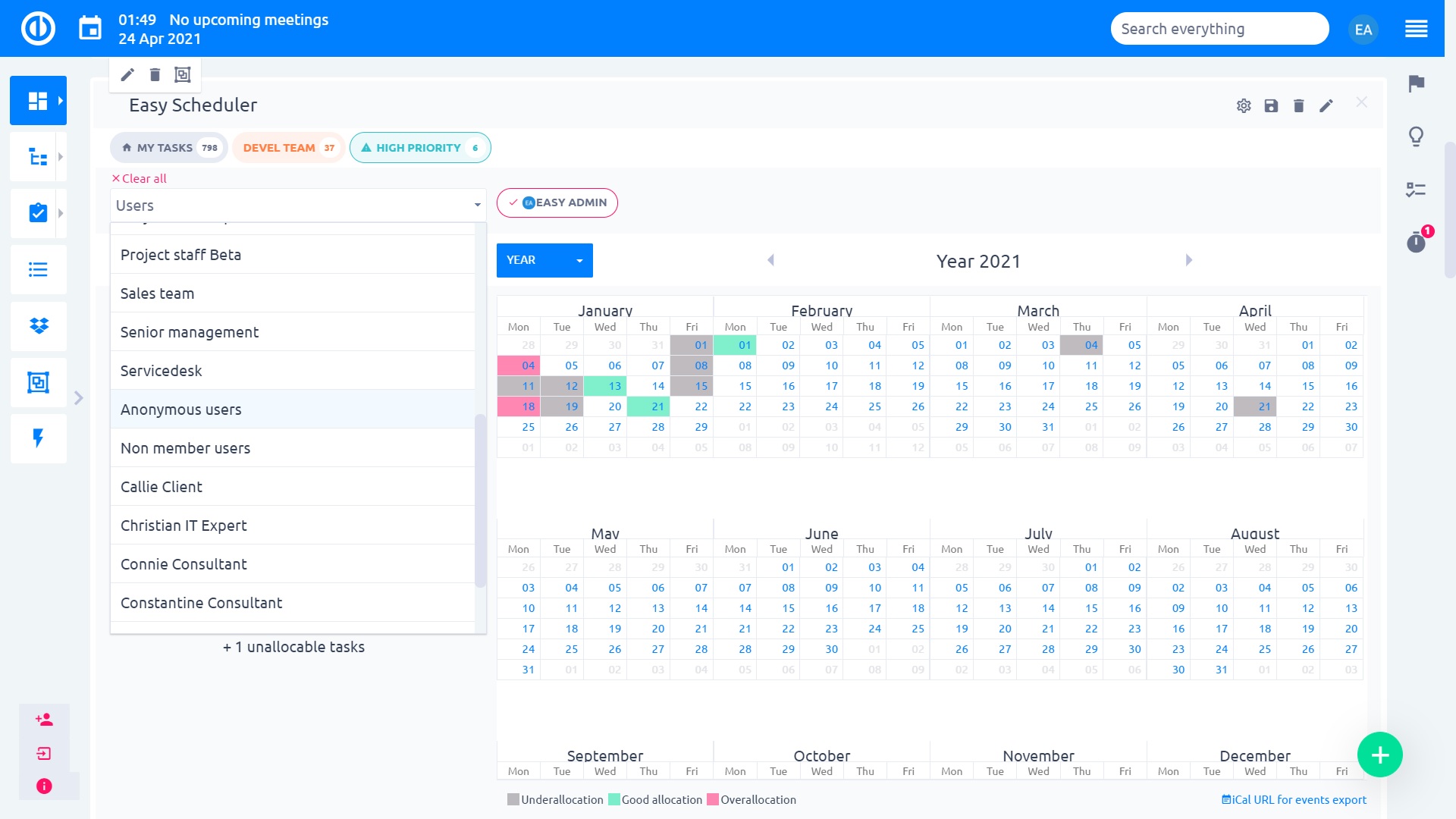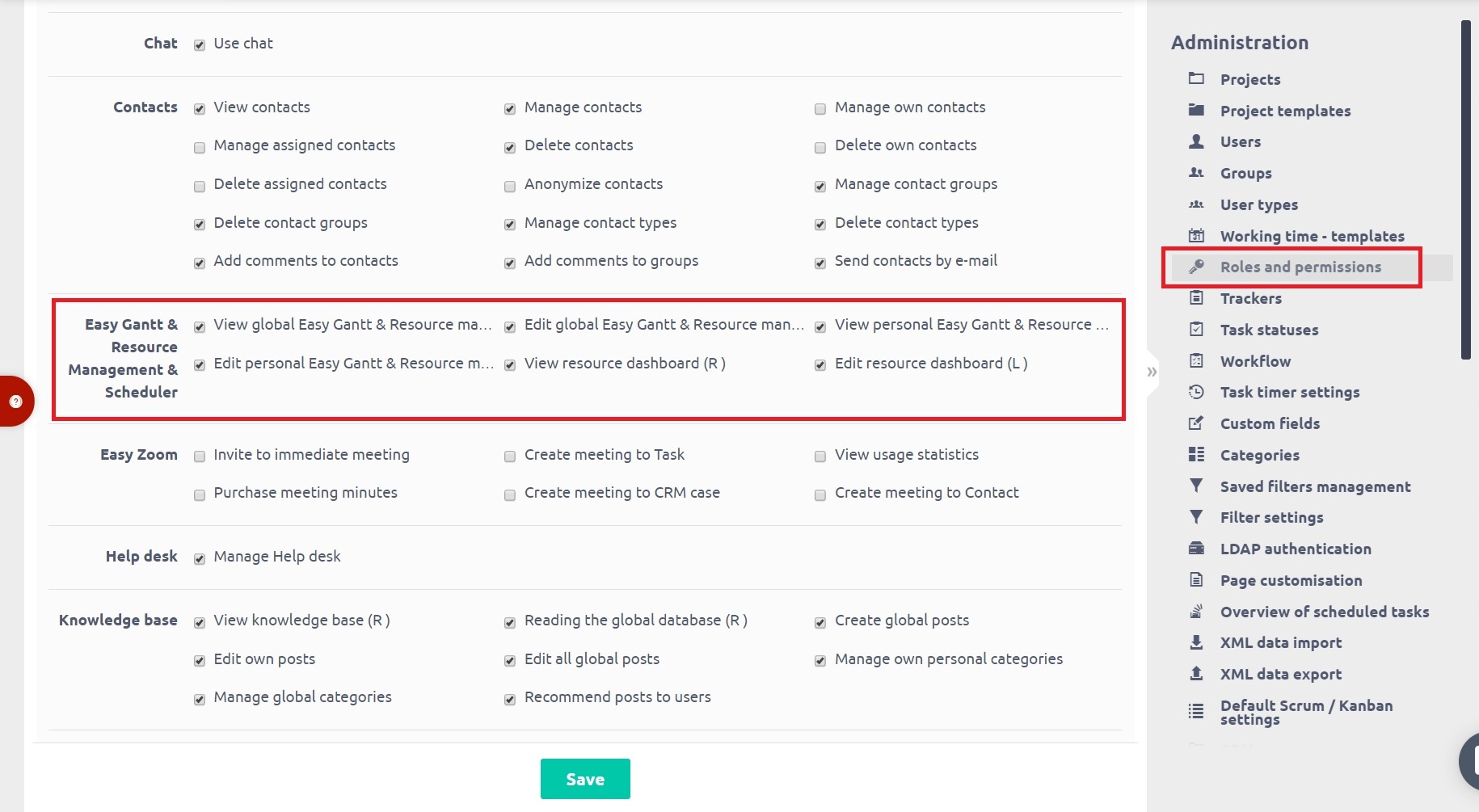 Attendance Management for vacation approval requests
Efficient time utilization can be jeopardized by employees' irregular attendance. With the Attendance Management system, workers can log and plan their attendance, and managers can access the attendance plans and statistics of all users.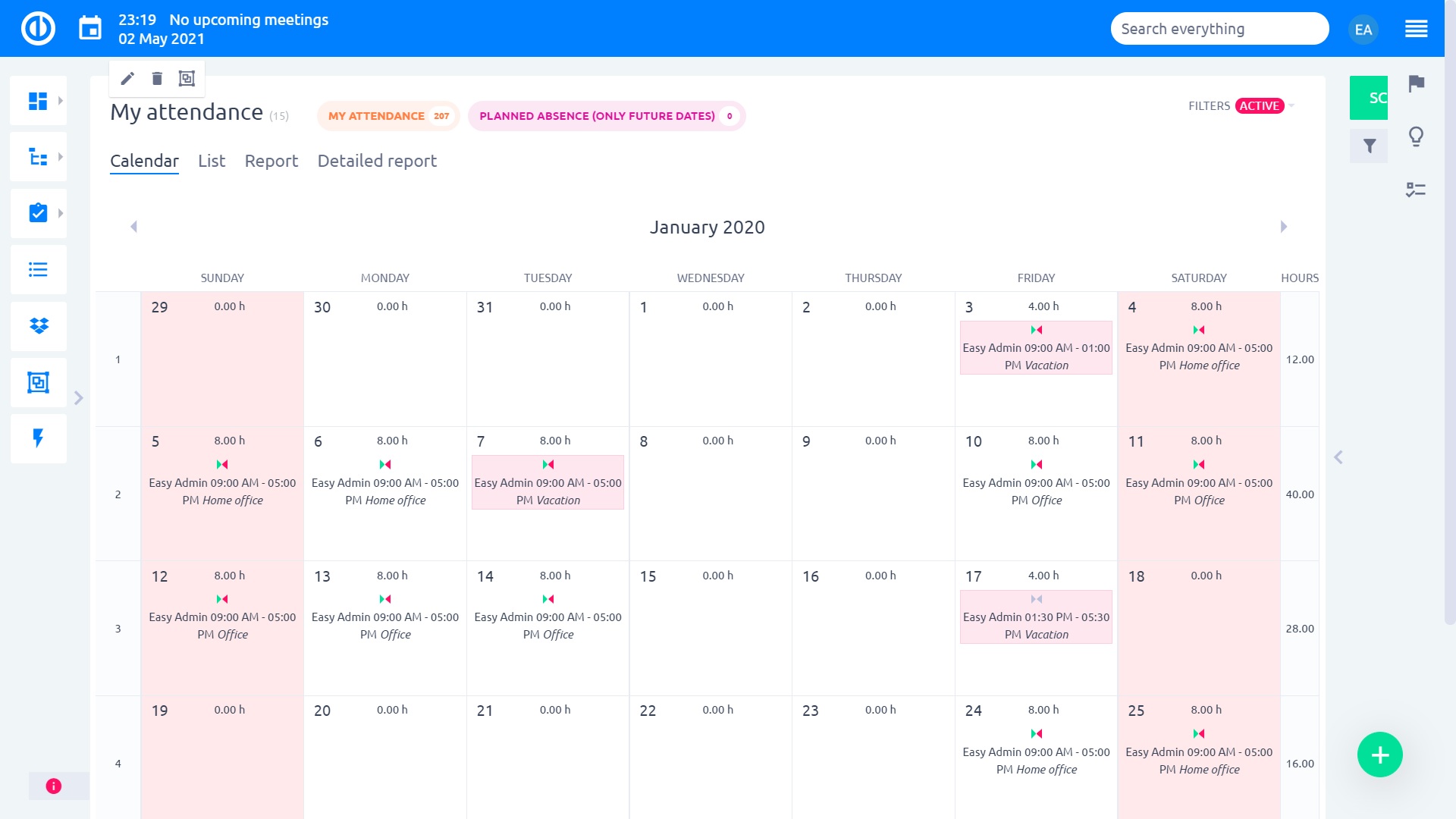 Key features:
Attendance logging using a personal calendar (office, sick leave, vacation, home office, etc.)
Planning of future attendance in a calendar
Vacation (leave) approvals from managers
Automated attendance logging by accessing Easy Project from defined IP address
Integration with Resource Management – planned attendance is taken into account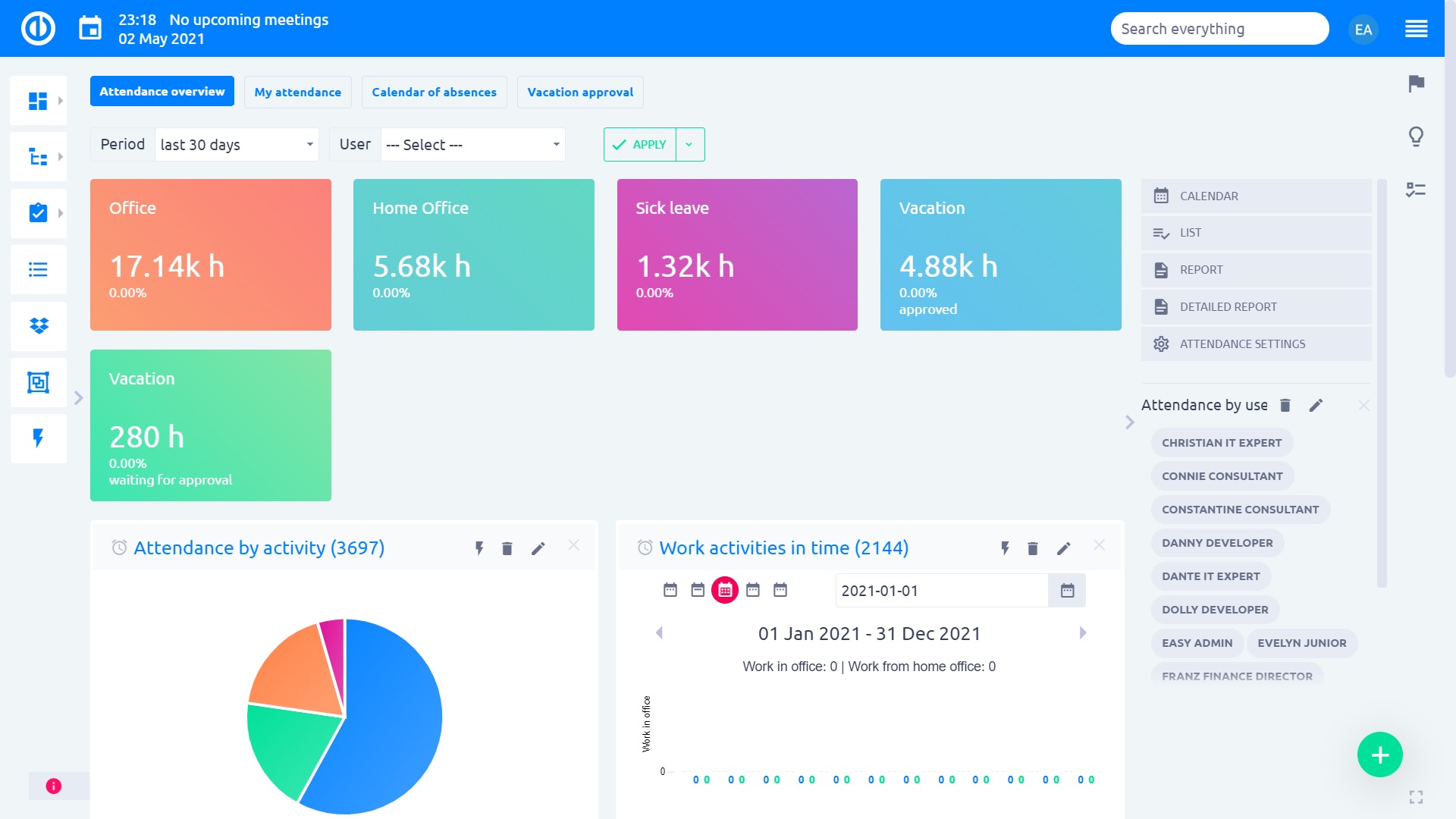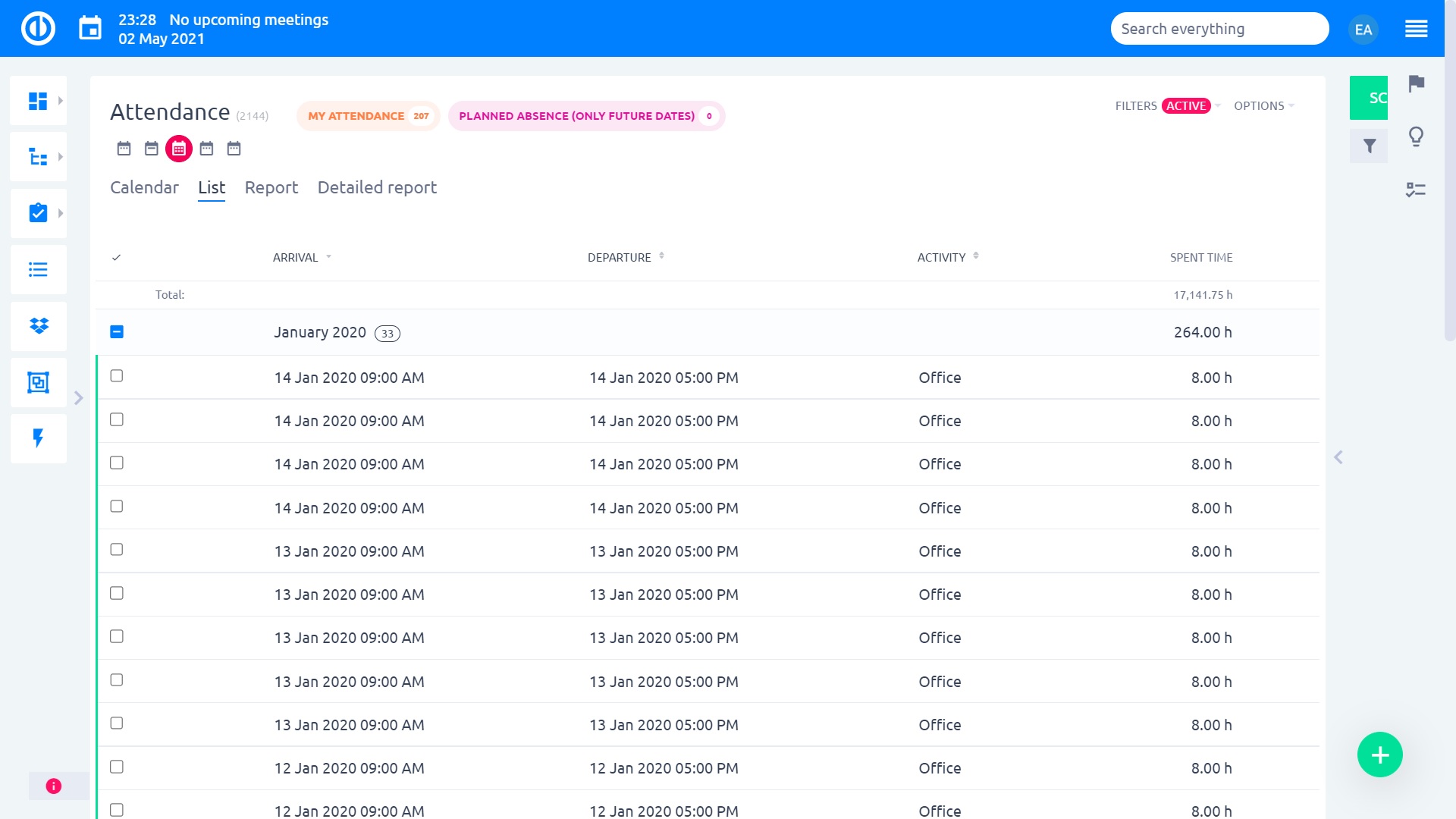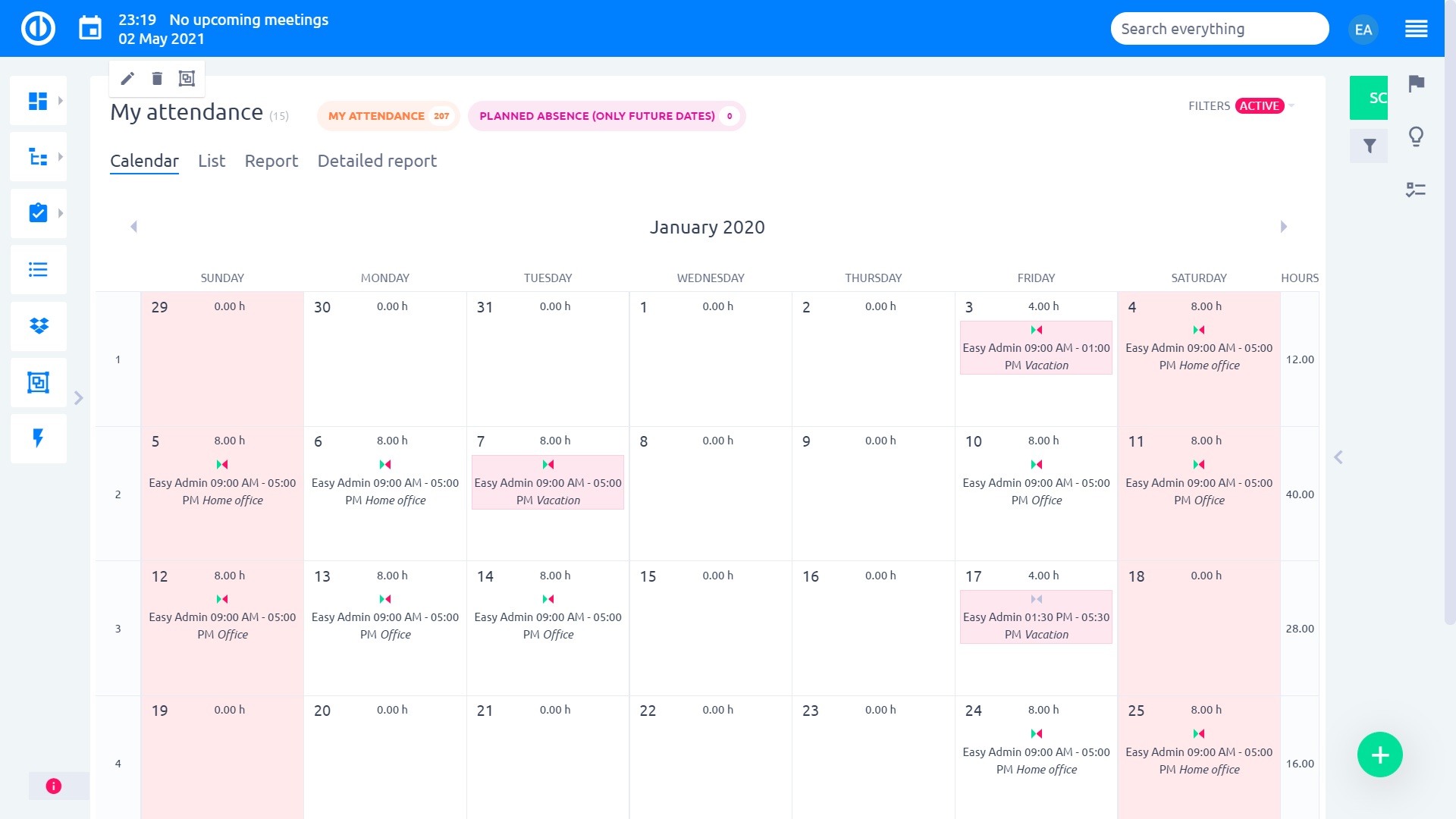 Resource Dashboard
The Resource Dashboard shows you the most/least loaded users, task types with the most hours allocated, and diagrams with visualized workers' time utilization. You also get an overview of the total hours allocated and control over any discrepancies in allocation.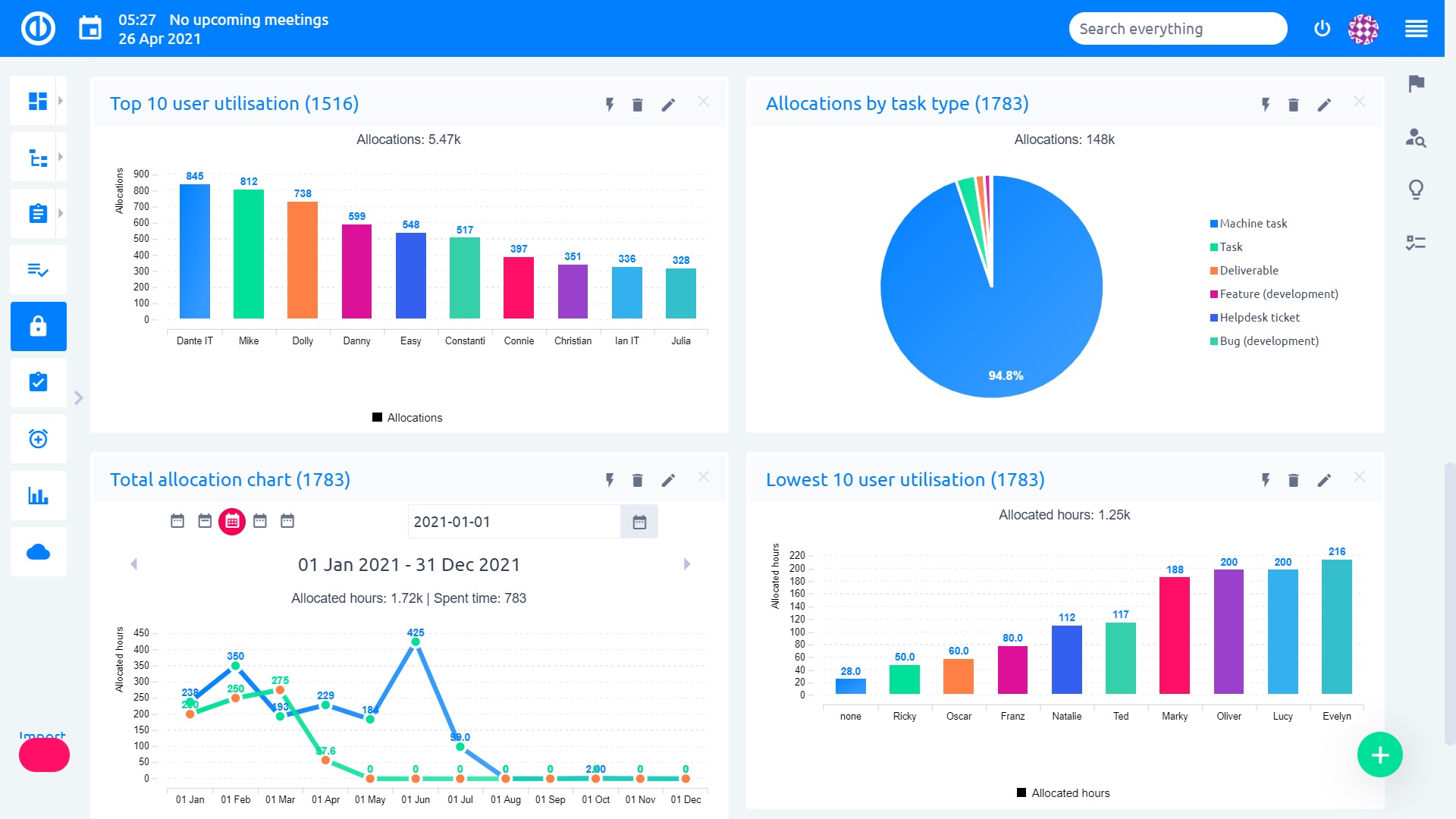 Key Features:
Lists of most and least utilized users
User utilization Gauge diagram according to allocated hours
Working hours utilization of a group of users
Pie chart for task type allocations - hours allocated for different types of jobs
Total allocated hours for both: spent time and hours allocated in the future