Meet the New Easy Project 12 (Feature Overview)
New Agile Resource Management from the top-level perspective, more intuitive and convenient forms, faster and clearer Dynamic Filters, support for modern technologies, and a modified user interface.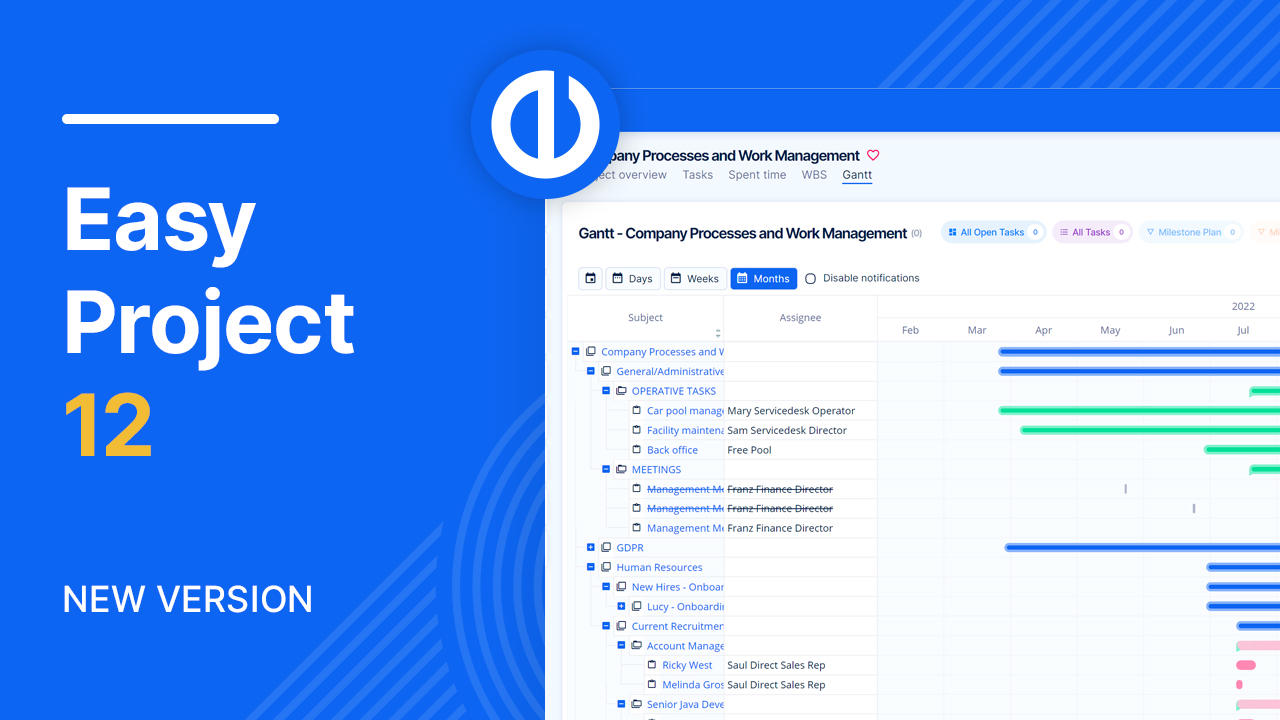 You'll find all of this in the new Easy Project 12. Read on to learn more about all the new features that will undoubtedly improve the way you manage your projects today.
or watch the webinar recording
In recent years, Easy Project has become the perfect tool for managing tasks, projects, and even entire companies. This PM solution is trusted by top players in various industries around the world as well as mid-sized companies and teams. Don't miss the opportunity to make your work easier and smarter by upgrading to Easy Project 12 with tons of new features. A strong advantage of this solution is its adaptability, i.e. the ability to adapt to the needs of teams of different sizes working in various fields of business, and even users with visual impairments.
Agile Resource Management from the top-level perspective
Can you imagine combining the best of classic resource management and agile project management in a single tool? We do. That's why we present a brand new module for clearly assigning teams and users to projects from the top-level perspective – Agile Resource Management including built-in skills management. It is an easy-to-use visual tool that is an alternative to classic resource management and is an ideal helper if you are dealing with more than 10 projects at once.
To maximize clarity and simplicity, this tool uses only basic dimensions (project, teams, workers, time). Skills management helps allocate specialists and experts to work that makes the best use of their skills. Keep project, team, and people collaboration harmony at your fingertips. Manage your resources in an agile way.
This module represents a new level of optimization of your resources and thus the overall efficiency of your project management. The combination of all these benefits consequently means less stress, better relationships, fewer conflicts, a better atmosphere at the workplace, and ultimately better delivery for the end customer.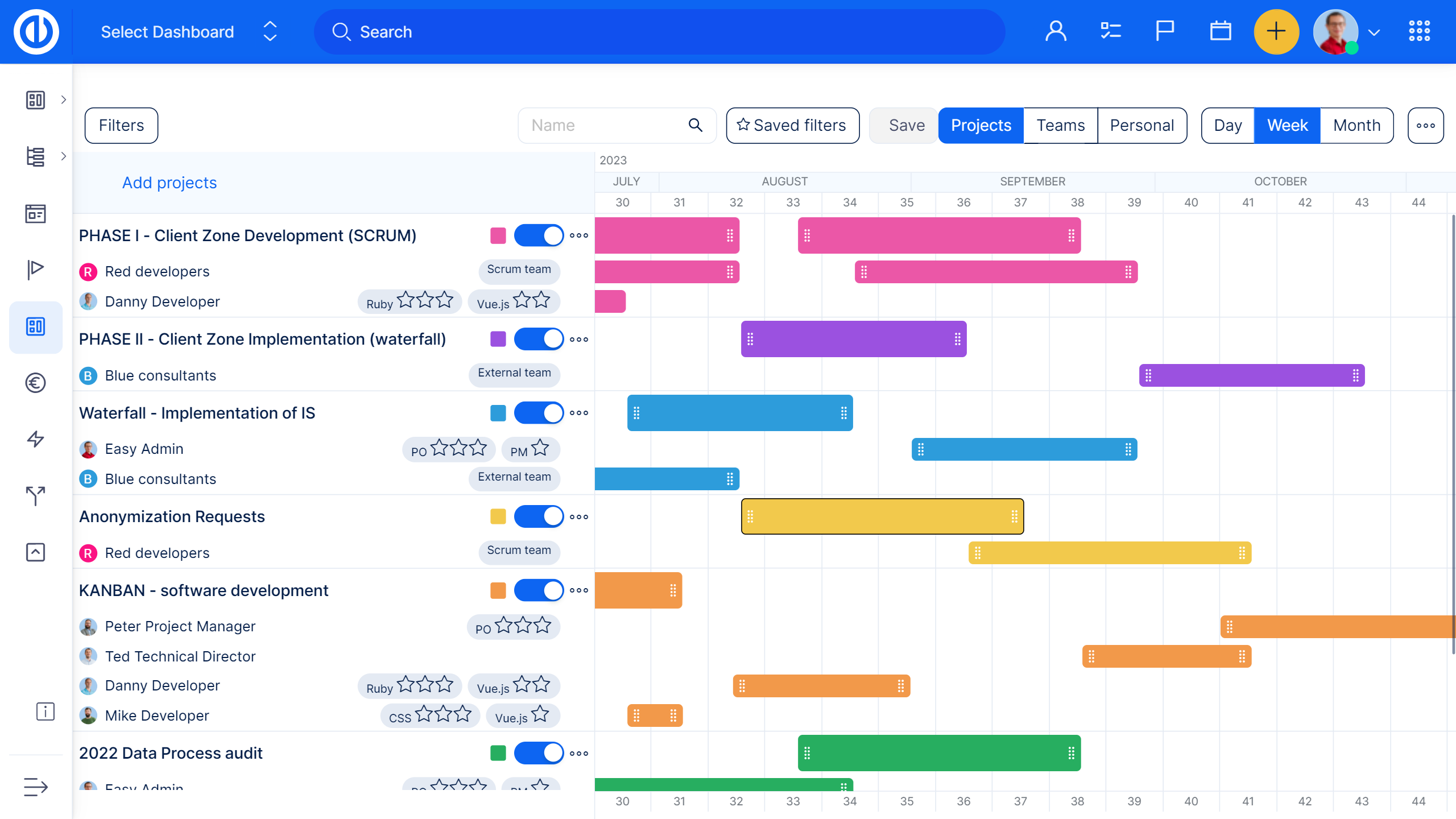 Agile Resource Management
More intuitive and convenient forms
We've modified the 3 most used forms in Easy Project – new task, update task, and spent time entry. These adjustments include hierarchically ordered fields that are better and more clearly arranged, thus simplifying your work routine. The original three different forms have been replaced by one basic form in one column, so you can find all the information you need in one place.
In a similar vein, we have also improved the form for adding coworkers to a task, reporting spent time, and lightning-fast adding of attachments by dragging the file to the appropriate field in the task (drag-and-drop). The redesigned forms also include a new navigation module on the right side, with the help of which you can quickly navigate to the required block of data. Working with tasks is thus generally faster and clearer than before.
Faster and clearer Dynamic Filters
Another improvement concerns the feature known as Dynamic Filters, which you can newly find in the list of users. It includes comprehensive management of saved and default filters, a new button to evenly adjust the column width, show/hide the title, colored cells, and a few other news.
The biggest added value of Dynamic Filters is their rich filtering configuration, which you can easily save and reuse later at any time without the need for repeated manual settings. You can assign your own color to the selected fields and thus visually distinguish them from the others. People in the team can be filtered according to any attributes, which greatly facilitates the work of resource or HR managers, for instance. The same can be done with leads or clients, which for a change will be appreciated by business consultants and customer support staff.
And the best thing is their dynamism when the filtered results are displayed in real time already while entering the required filtering criteria. It only takes two clicks to change any filter and you can see the updated results immediately. In addition to these improvements, the new filters are also more user-friendly, for example in that you always see long texts in their entirety. If you don't like Dynamic Filters, you still have the option to switch to the older static filters.
Dynamic Filters
Built on modern technologies
We consider upgrading all Easy Project components to the latest versions as our long-term commitment. Thanks to state-of-the-art technologies such as support for Ruby 3, Vite.js, Vue 3, the new version of our project management software is not only faster but also more secure against potential data leaks.
A fresh rebranding of the user interface
Along with the new version 12 comes a graphical refresh in the form of a change in the shade of blue and the font. The newly used font has been carefully crafted and designed for computer screens. The user interface of the application itself has also been completely redesigned to improve the user experience.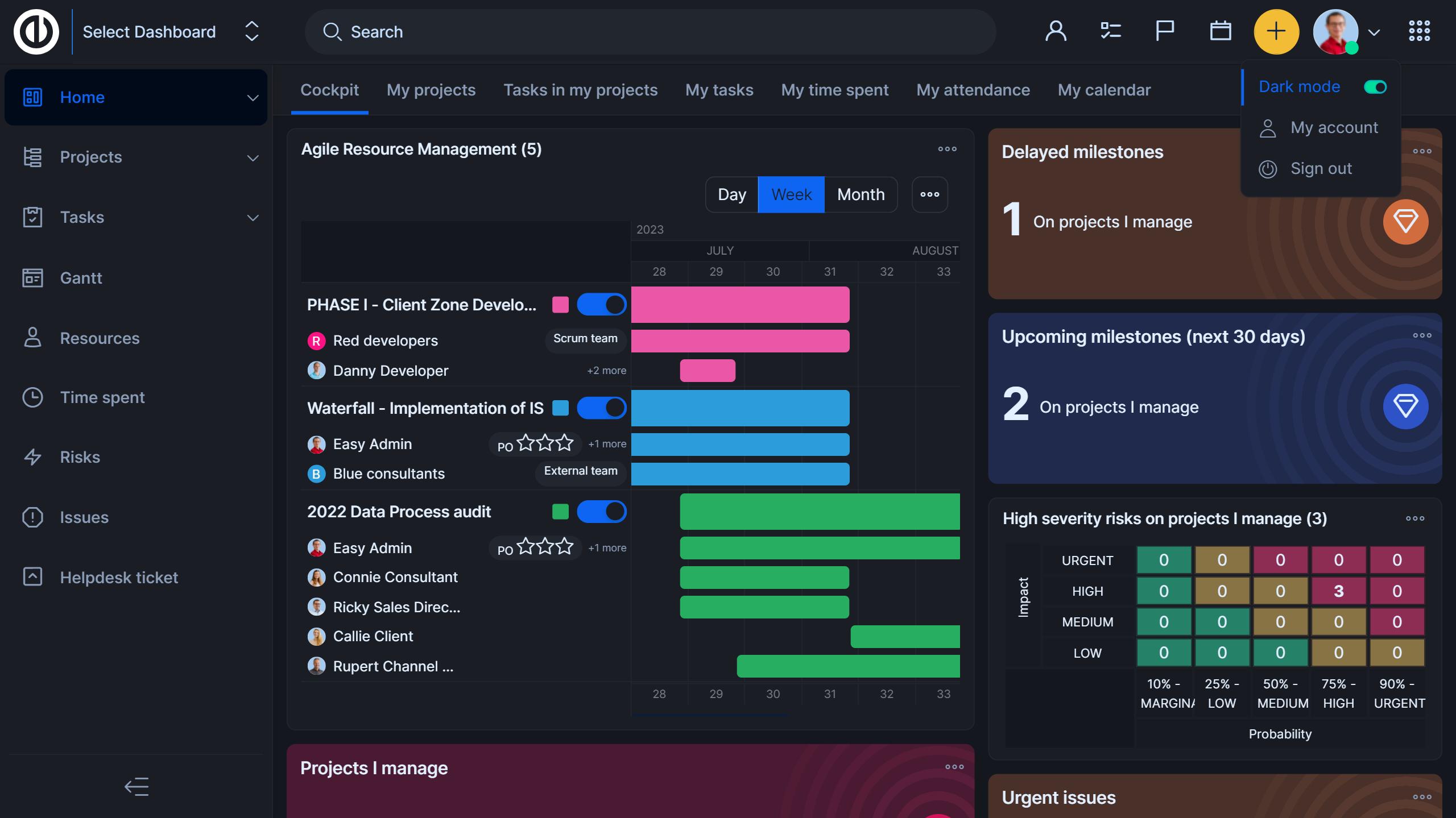 Dark theme
Conclusion
As you can see for yourself from this introduction to the new version or straight from your own experience with the free 30-day trial version, there are really a lot of changes, and some of them you won't miss at first glance. If you have any questions or doubts about the upgrade, please do not hesitate to contact our customer support specialists. We recommend reading the full changelog before upgrading.
All-in-one software for a modern project manager? Easy.
Get all powerful tools for perfect project planning, management, and control in one software.