Custom pages
How to use Custom pages (Pages customization)
Custom pages allow you to create your fully personalized templates for a homepage, project overview page and CRM overview page in Easy Project.
Table of contents
Roles and permissions
How to use the feature
Alternative ways to apply a page template
Built-in pages
Corner situations
Roles and permissions
Only administrator and partial administrator for "Pages customization" area are allowed manage the feature in terms of creating or editing page templates and applying them to user accounts. This permission can be given to a user on his user account (see below).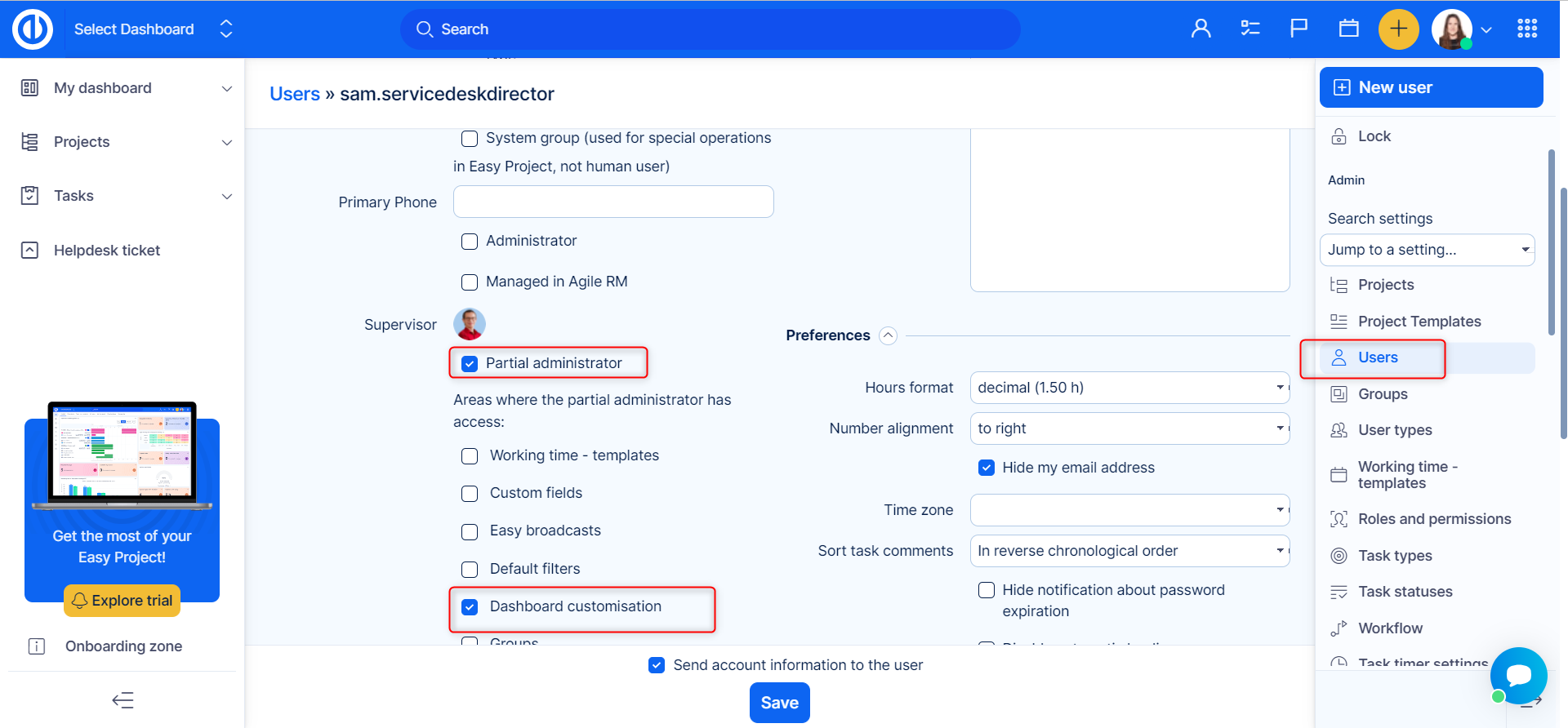 If a user is given the permission "Edit personal homepage", he can edit his homepage himself but it doesn't mean he can do so for other users.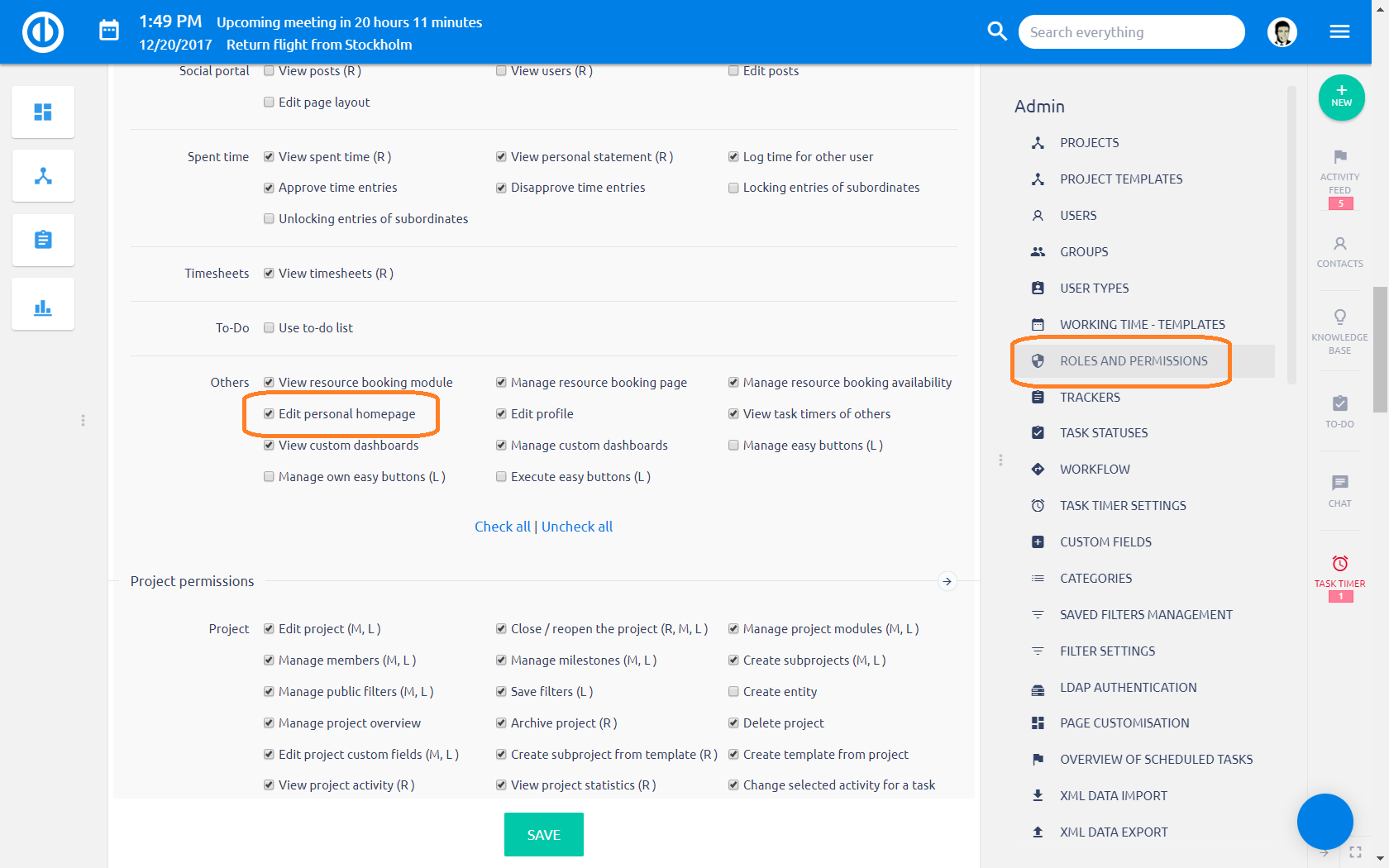 How to use the feature
Go to More > Administration > Pages customization. On the main page, you see a list of templates for My page (your personalized homepage), Project - homepage, and CRM project overview. To start working with templates, select one of these entities and click on the green button "Templates overview" on the left side.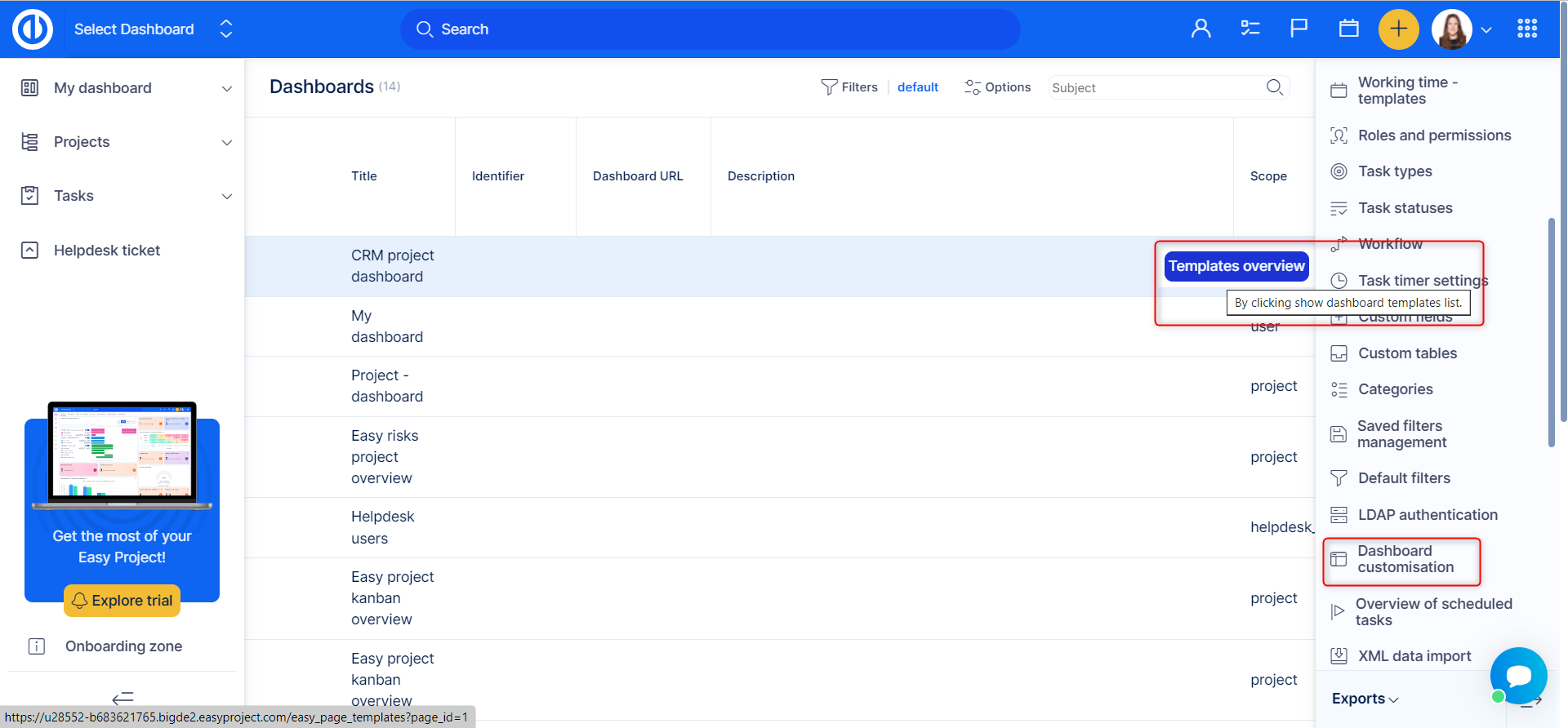 You can have an unlimited number of page templates for one entity as shown below. Each template can be recognized by its name and description. In our example, we used names according to various user roles, such as project manager, worker, client etc. You can also fill in a description for a template. To add a new template, just click on the particular green button in the upper right corner. As you see, each template has a few options on the right side of the list.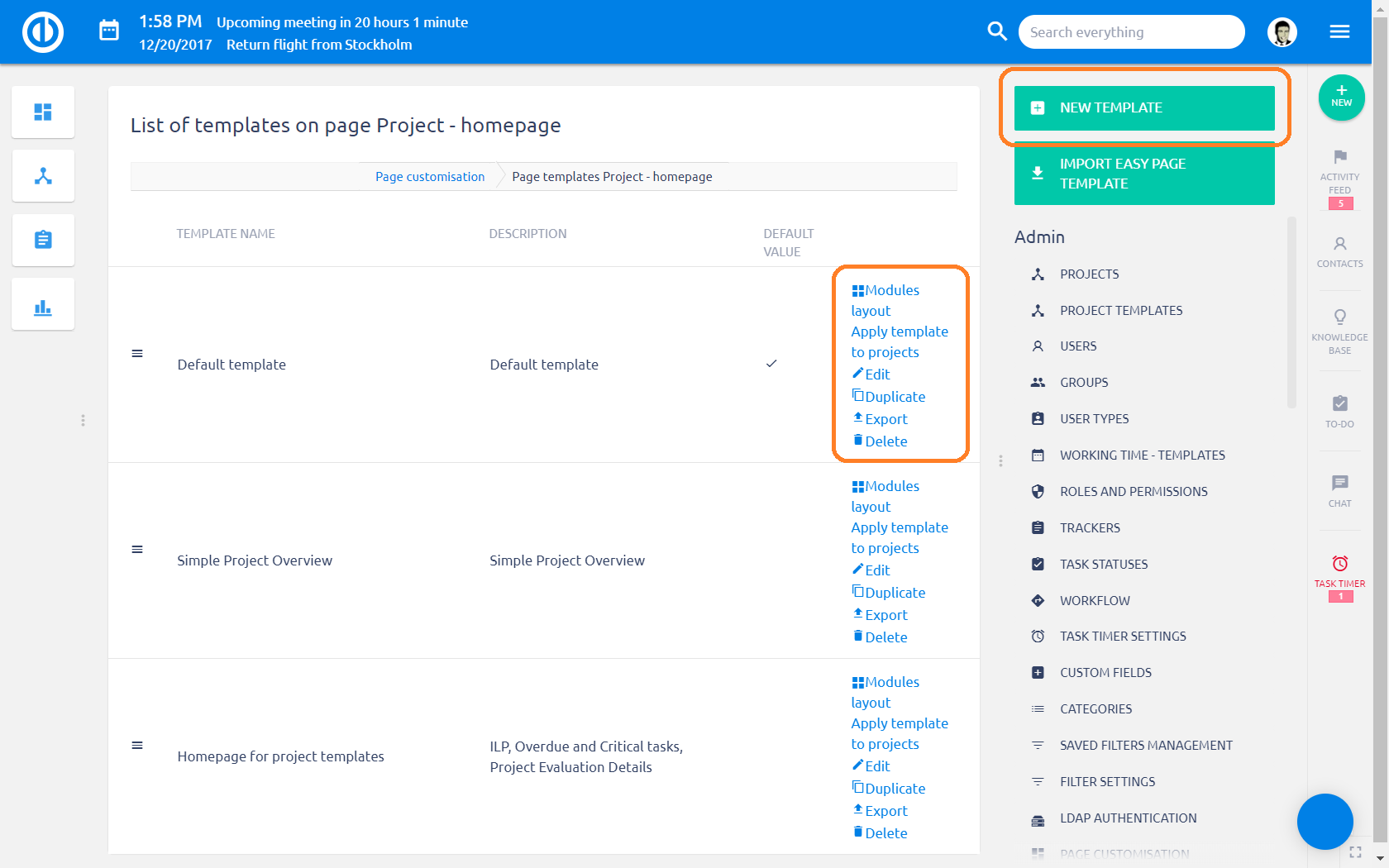 Modules layout - Allows you to add/remove modules from the template, the process in the same as in the standard page personalization/customization.
Apply template to users - Allows you to select particular users or user groups to apply the selected template to. Please note that applying a template to a user account will overwrite all custom changes on the page the user made on his own before.
Edit - Allows you to change the basic template's attributes such as template name, description, and default value.
Duplicate - Allows you to create a copy of a template.
Delete - Allows you to delete a template.
Alternative ways to apply a page template
In addition to the standard procedure as described above, the template and can also be applied and/or updated directly from the particular user's account. Just open "My page" tab, click on the red "Rearrange page by a page template" button, select the template and save (see below).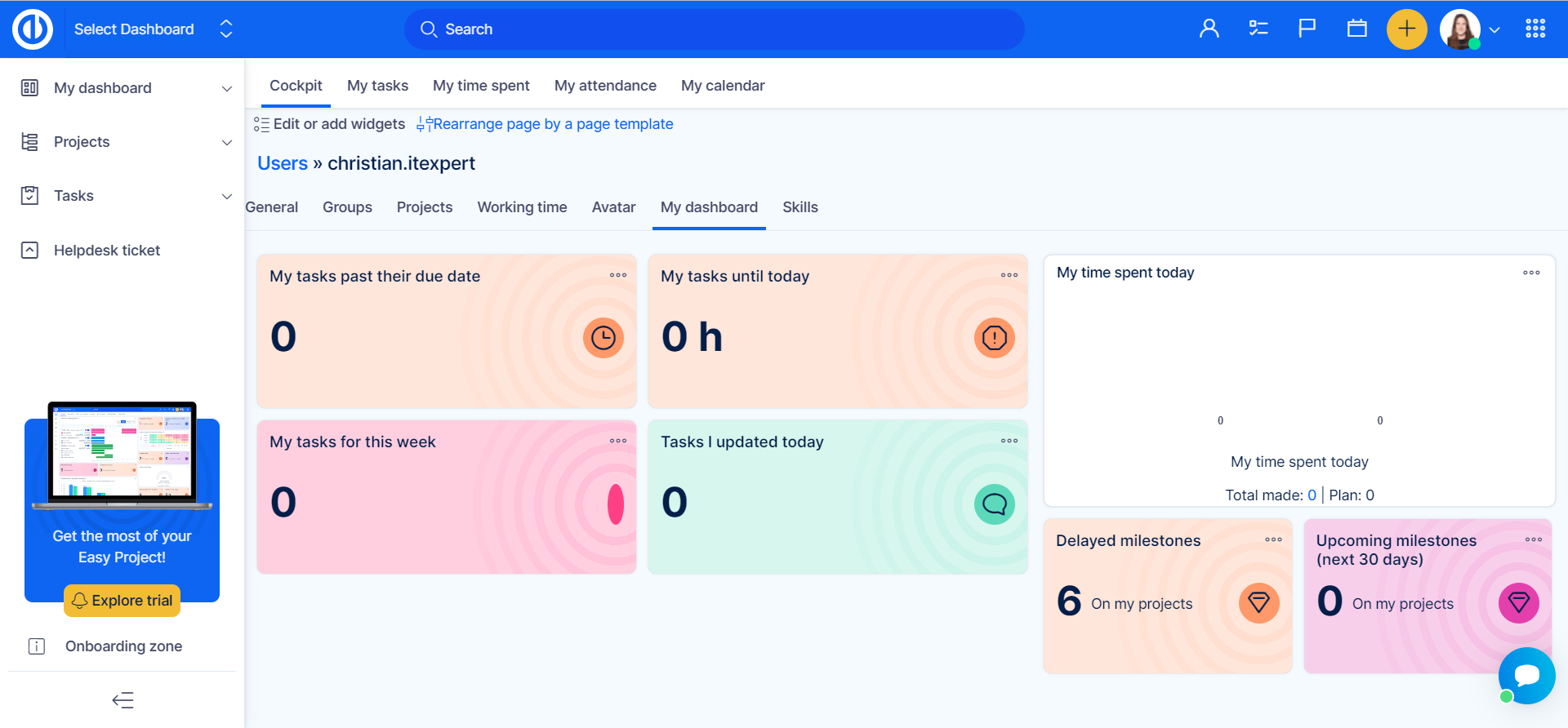 Moreover, in More > Administration > User types > Default template for my page, you can simply link a custom page with a particular user type so each newly created user account of that user type will have this custom page predefined by default (see below).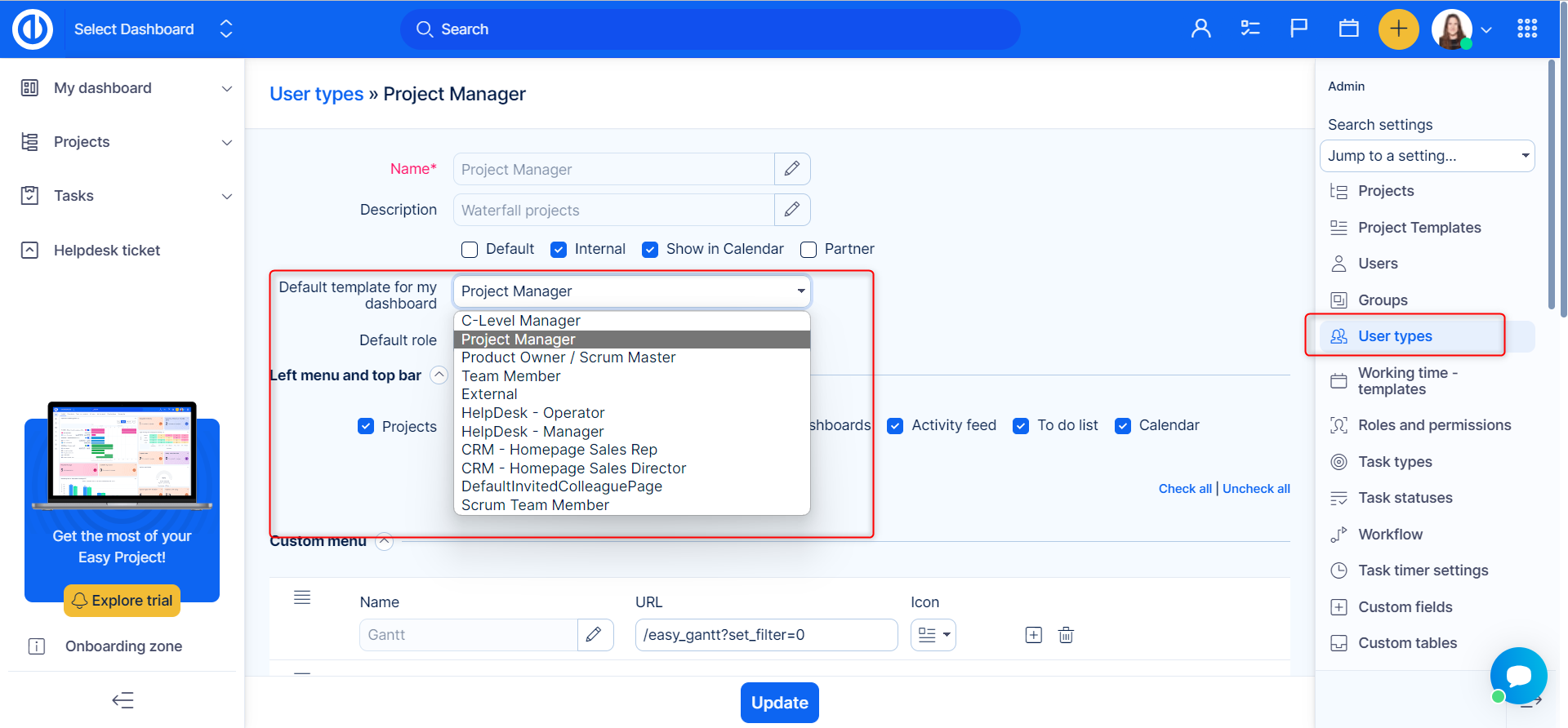 Also, any user with the permission "Edit personal homepage" can apply a page template for himself by selecting one from the drop-page menu in the page personalization view. Moreover, having the partial admin rights at least, he can create a new template out of his current page configuration by clicking on the "Create template" button (see below).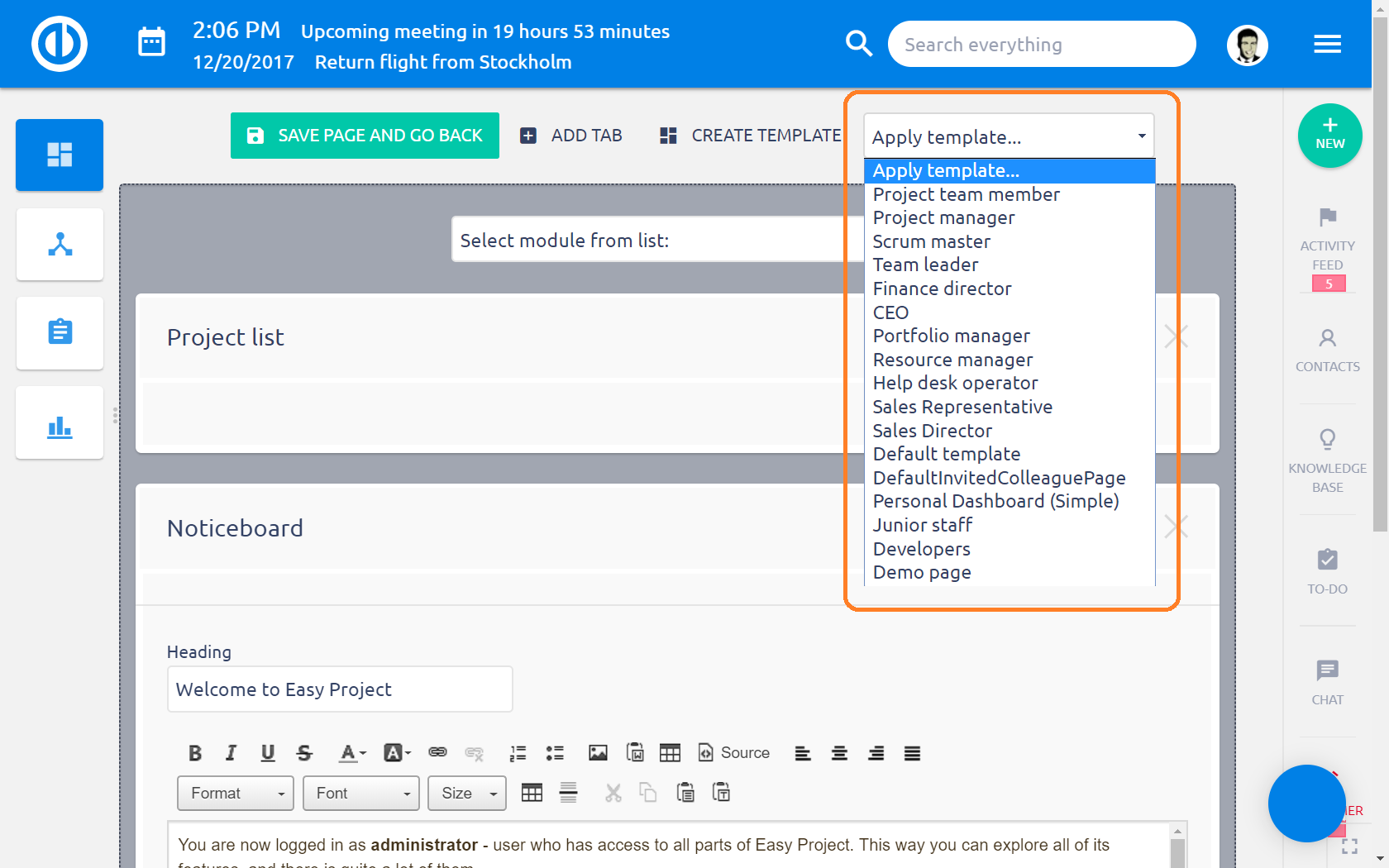 Built-in pages
Built-in pages can be found in Administration → Page customisation → Built-in pages (in the right sidebar menu). It is a place where you can find an overview of dashboards that are associated with a certain functionality, e.g. Budgets - portfolio overview, Help desk - dashboard, etc. For each kind of overview, one or more templates can be shared with or downloaded from Community using the import/export option.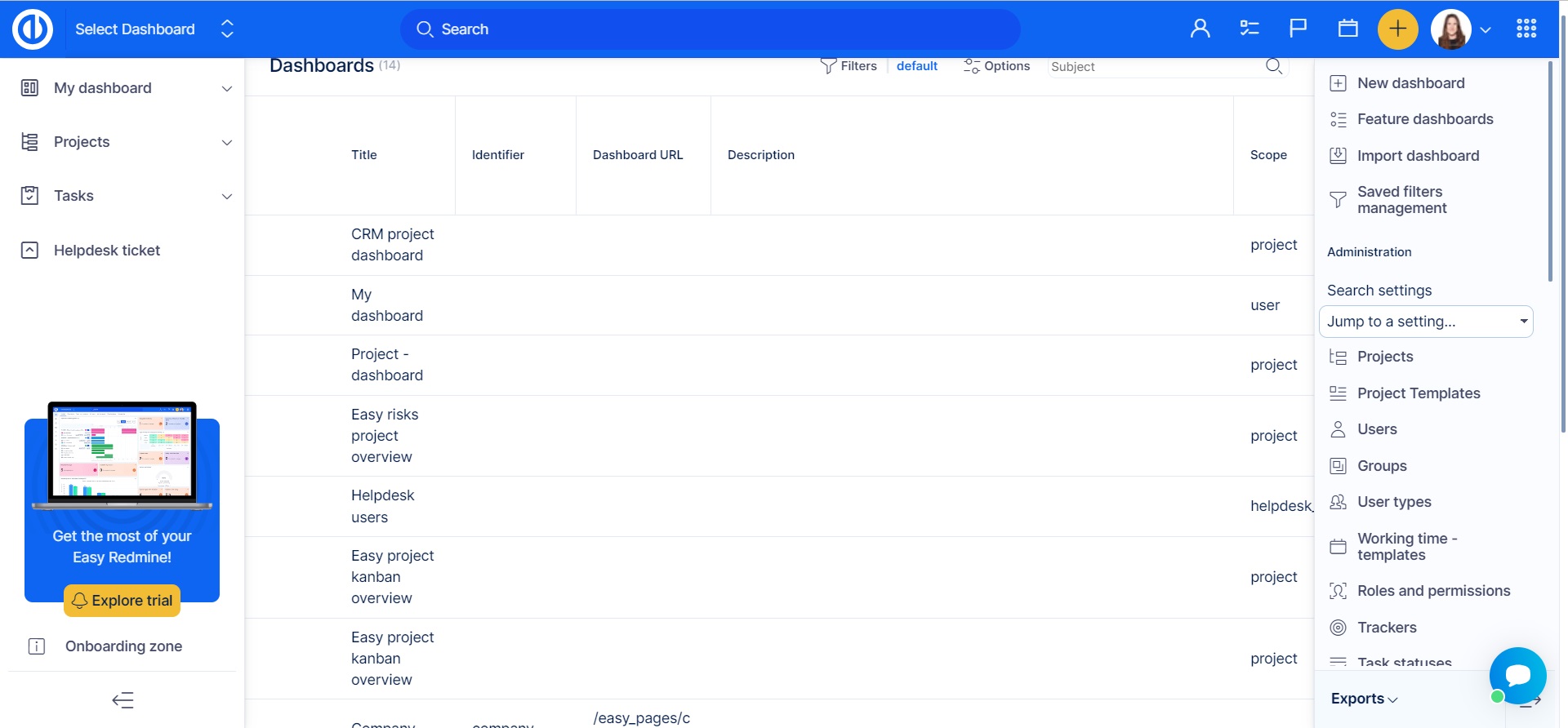 Corner situations
After editing a template, it must be applied again to the particular user in order to make the change appear (it will not appear automatically).