Top 4 Benefits of the New Easy Project 11 for Project Managers
Project management is a tough game, right? You are being attacked by questions, complaints, and deadlines from all around. Therefore, you need a good partner on your side – a powerful project management software with all tools you need to master your project.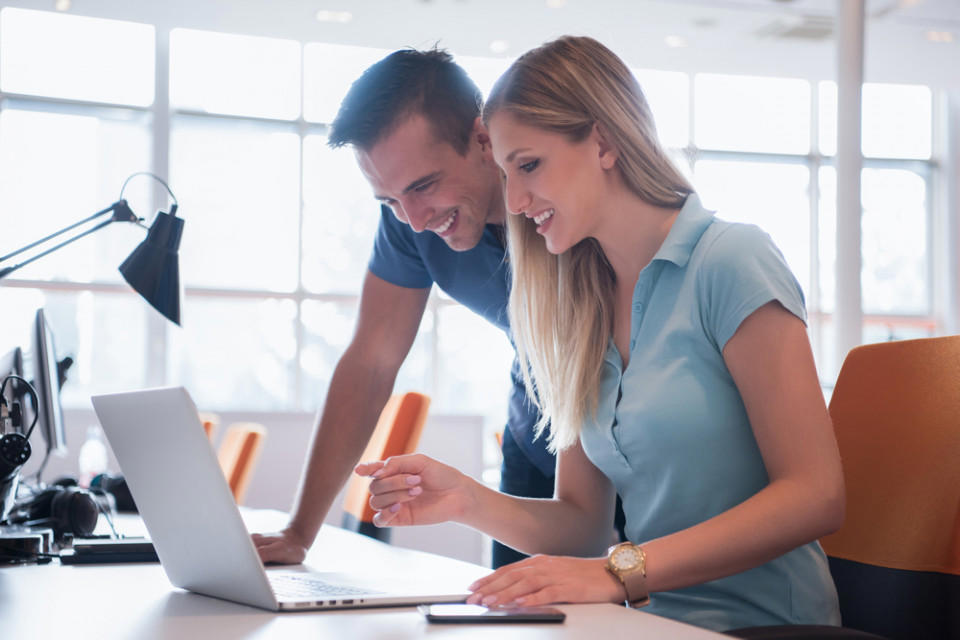 Managing a project sometimes feels like you need more and more tools, but that usually only leads to chaos. The smartest solution is to have all the necessary equipment under one roof – just like in the new Easy Project 11. See which 4 benefits it brings you when managing your projects!
1. Working in peace with connected tools
There are many different tools for cooperation. And that is the problem. Let's say you have 6 people working on your project and three to four tools you work with (chatting tool, sheets tool, budgets tool, time tracker, etc.). It leads to distracting the attention of your team and fragmented communication – at the end of the day, you find your colleagues losing time switching through a carnival of different interfaces.
To help your team concentrate on delivering the work, working with one tool that rules them all helps. How? Having everything in one place minimizes the time spent searching through chats and excel sheets. As Filip, our CEO likes to say: "Tools in Easy Project are like neighbors without fences." With Easy Project 11 you can lead your project from A to Z:
Brainstorming in WBS mind maps and directly creating and assigning new tasks
↓
Automatic creation of the Gantt Chart based on the WBS.
You see the sequence of steps that need to be taken within the project.
↓
Dedicating necessary resources with the Resource Management tool
↓
Day-to-day execution of tasks in your project, served by personal tasks list or Kanban/Scrum board
2. A little less conversation, a little more action
It is all about getting more control in less time. Being notified about every step taken on the project leads to micromanagement. And that is where you do not want to be! But with the smart notifications, you will receive a regular overview of the steps taken on the project instead of having your inbox filled with constant notifications.
With personal dashboards, you can customize your "priority matrix", so you see everything important at the first glimpse. Which tasks are running smoothly? Which ones are in danger? The combination of smart notifications and your personal dashboard answers you immediately.
3. Ability to work on the go
Sometimes you just need to quickly check your projects' status or comment on a task, but… You are nowhere to your laptop! No worries – with the Easy Project native mobile app we have introduced, you will secure the progress of your projects from wherever.
The app runs on both Android and iOS and provides you with everything you need to do basic, but important tasks on the go: Task Management, Project Overview, and Time Tracker.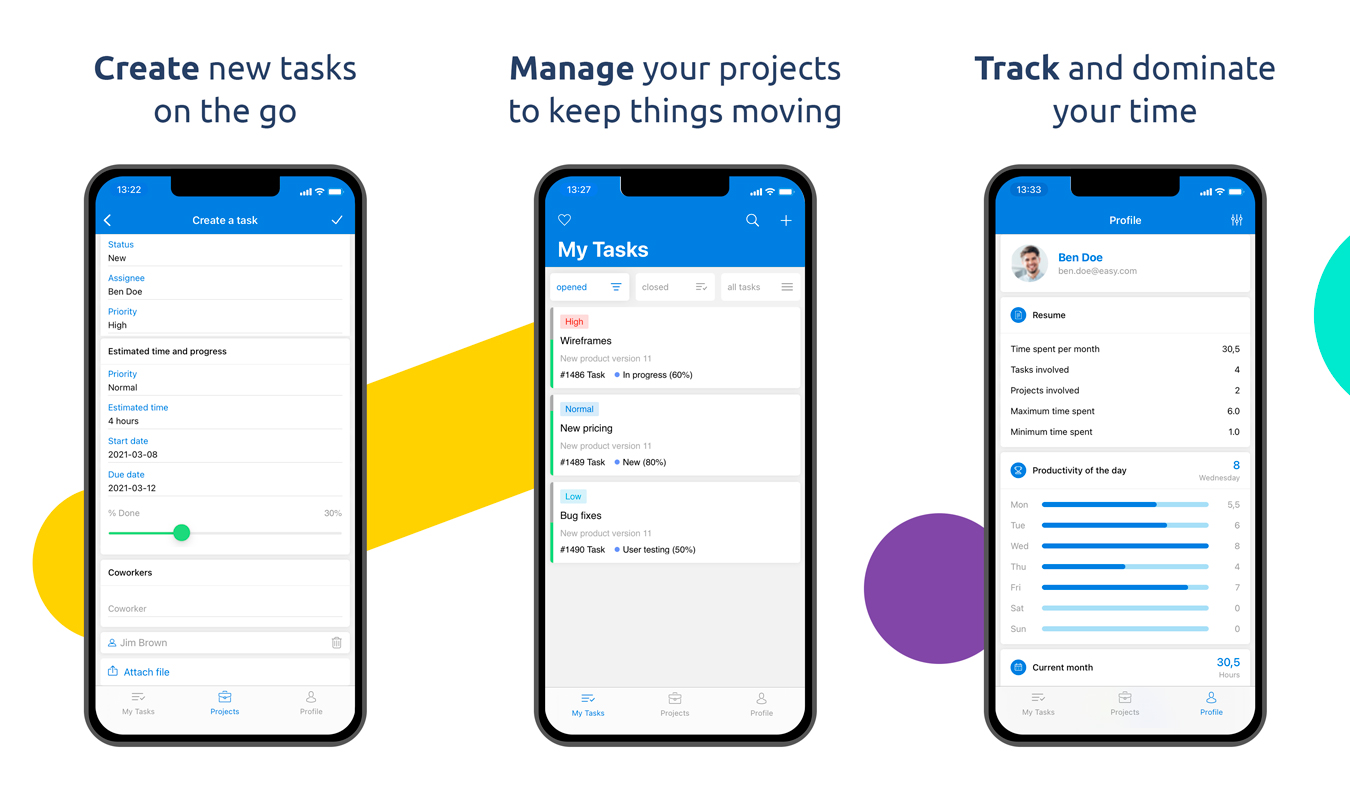 Easy Project mobile app
"A modern project manager needs to work smartly
and be mobile – that's what we had in mind when
we created the newest version of Easy Project."
4. Cooperation without borders
Working with a remote team gets much easier when your PM software is ready for it. Easy Project 11 works perfectly for remote, office teams, and combined teams. We have been prepared for remote work long before COVID-19, and the newest version of Easy Project benefits from all our knowledge.
It makes no difference if your freelancers (or stakeholders) are miles, countries, or even continents away. Easy Project 11 is a place where you all meet. And not only in the Time tracker! To make it easy for all members to see how the project is doing, share the WBS mindmaps and Gantt chart with everyone on the team. Thanks to the maps, it will be easier for everyone to understand the interrelationship of individual tasks and Gantt will provide them with an overview of the time sequence of work on the project.
In conclusion
Nowadays a project manager needs PM software. A tool to make his work faster, clear, and mobile – and therefore more effective and enjoyable. With the newest version of Easy Project – Easy Project 11, you can rely on all the phases of project management, and so can your team. No matter where your team members reside or how big your project is. Let us know about your special needs and we create the pack of the best features for your next project.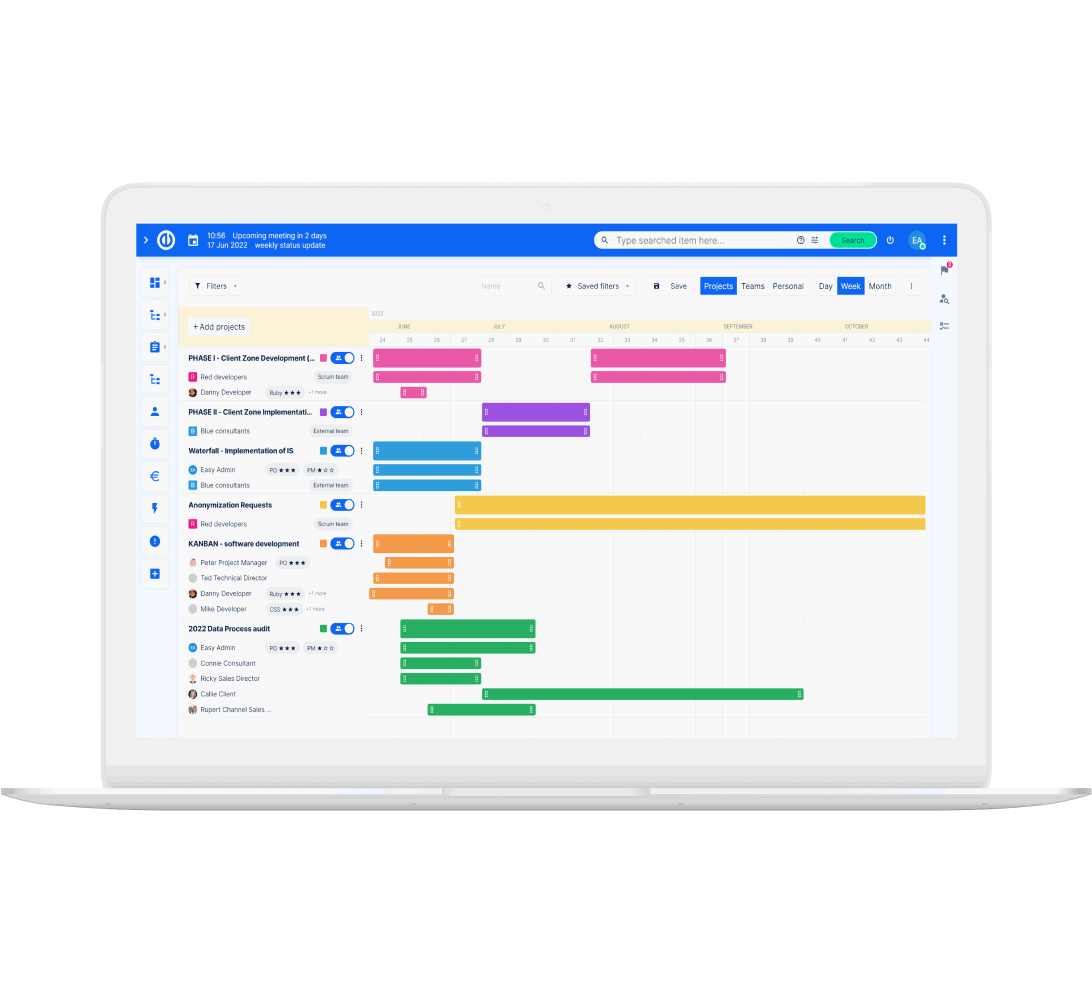 All-in-one software for a modern project manager? Easy.
Get all powerful tools for perfect project planning, management, and control in one software.