Finance management
Cost definition is a crucial part of project conceptualization, and it can be easily performed with Project Budgets. Thanks to the integration with CRM and timesheets, you can create quotes, invoices, and payroll sheets and send them to your client in a PDF format.
Budgets Statement Dashboard
Budgets Statement Dashboard is an interface for the financial managers and analysts to quickly view the significance of budgeting and forecasting data at a glance. Create budget and forecast plans. See projects with the highest revenues, total costs, and profits. Control plan fulfillment of your profit or compare any financial data with the previous period.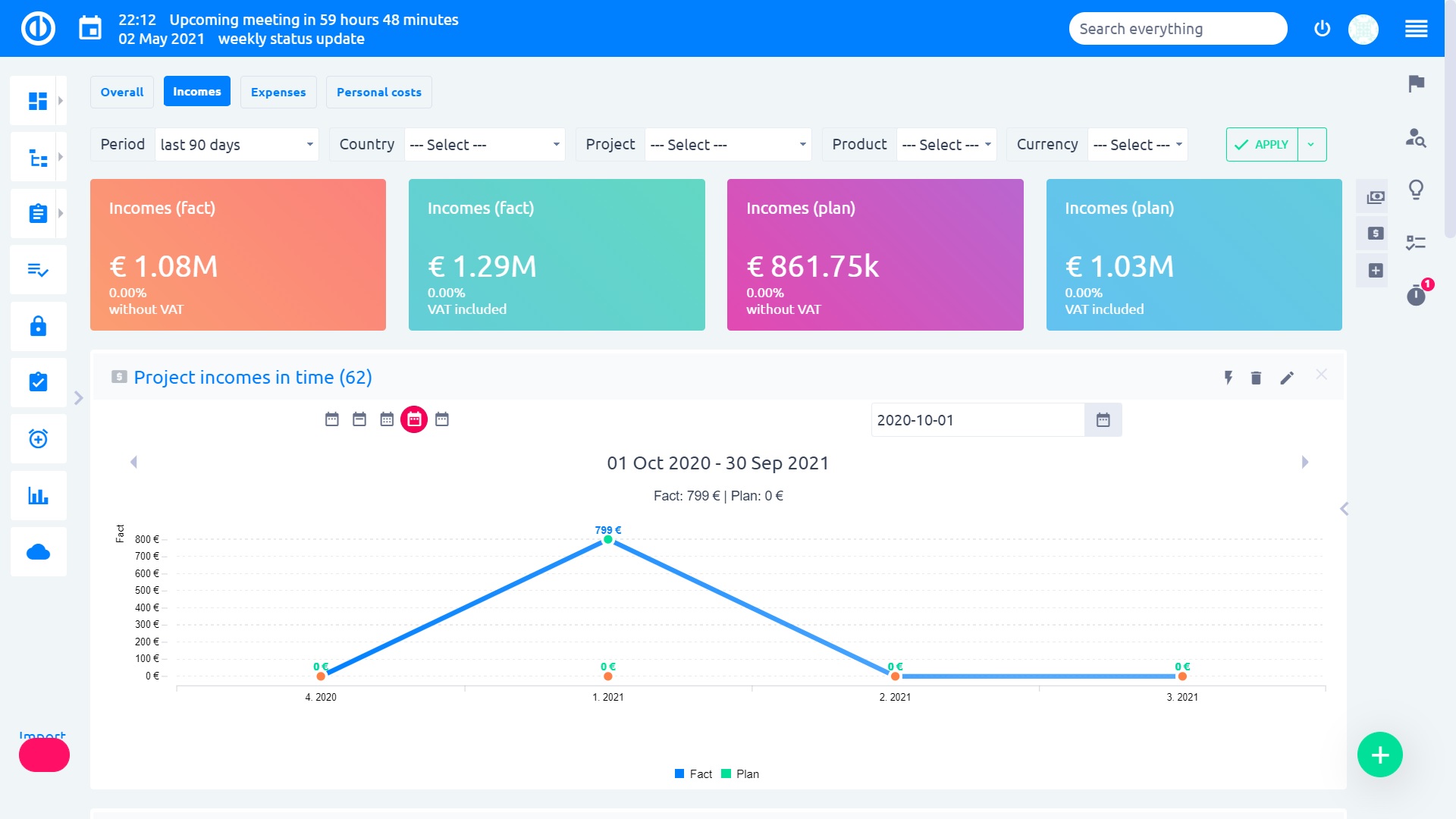 Key features:
Shows the expenses that have been planned for a defined time period
Displays the difference between planned and real budgets over a time period
Lists the departments with the highest budget for a defined time period
Shows the trend of the budget over a time period
May serve as your central workspace for budget management
Customize the information featured on the dashboard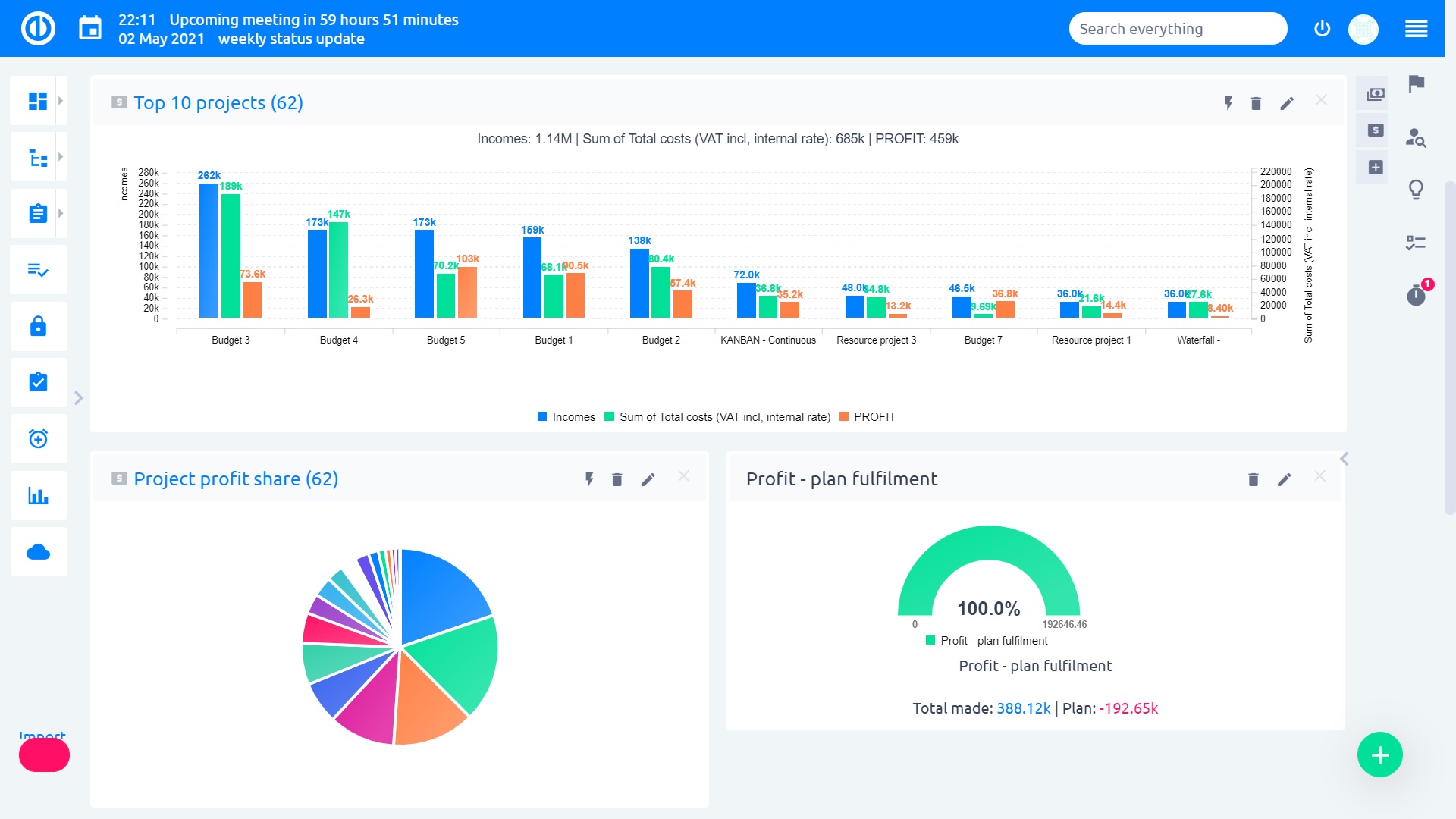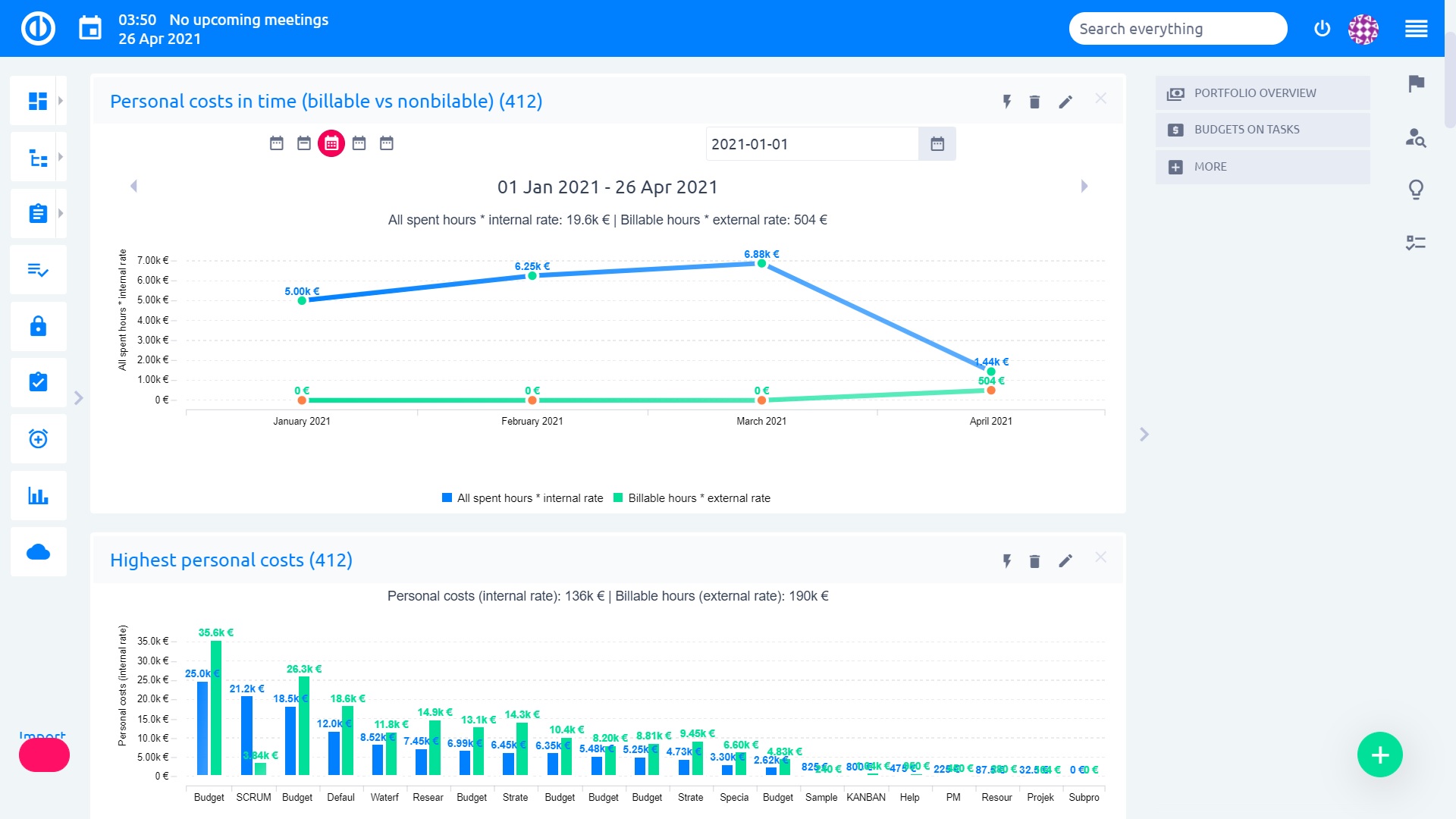 Payroll and Invoicing Dashboard
Tracking payroll and invoicing operations is a high priority for any business. Understand you payroll and invoicing sheets at a glance. See which invoices have been paid, are due or overdue - so you know what money you're owed and who you need to chase up.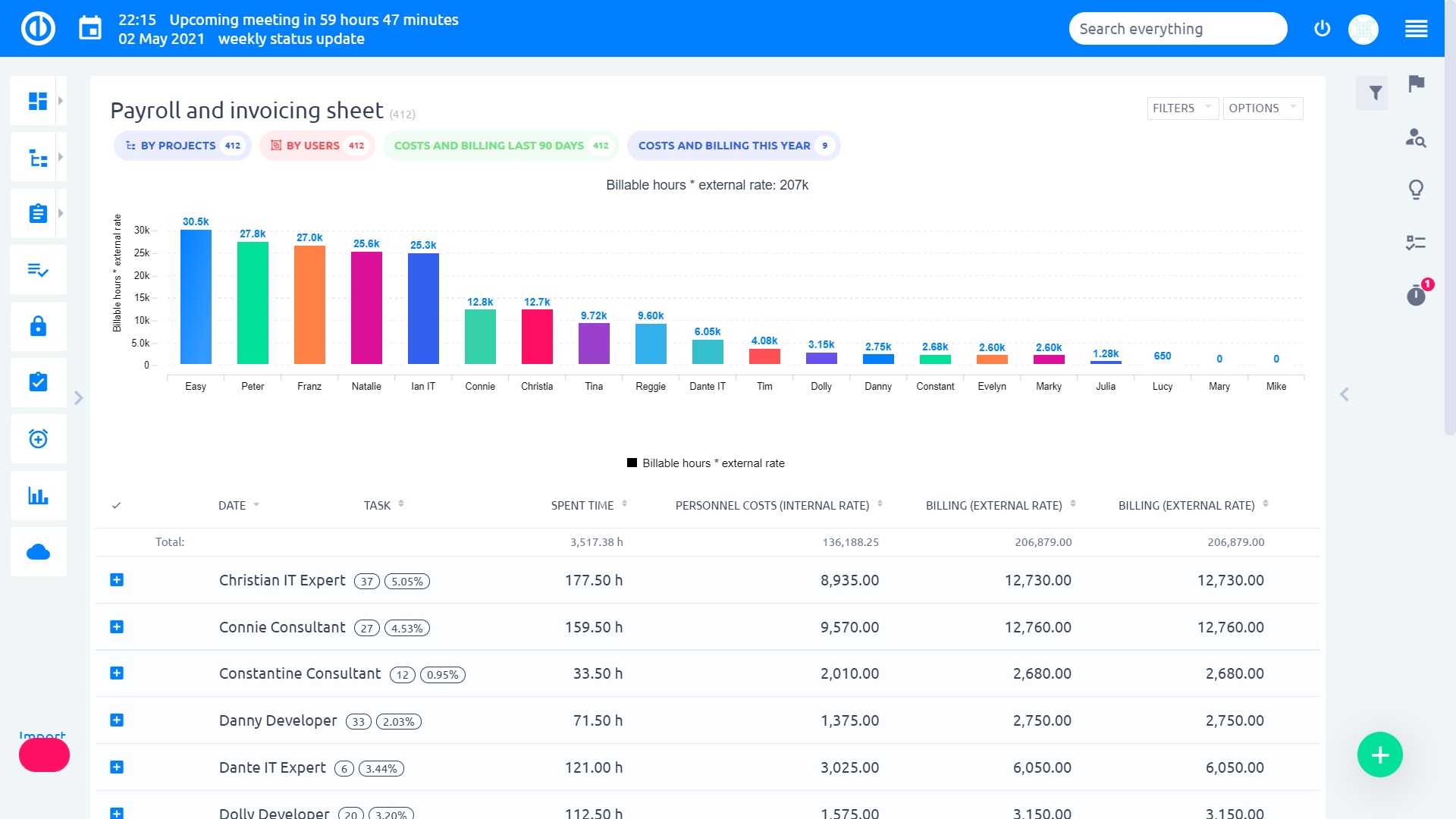 Key features:
Track payroll and invoicing operations at a glance
See what money you're owed and who you need to chase up
Stay on top of your billing at all times
May serve as your central workspace for payroll and invoicing management
Customize the information featured on the dashboard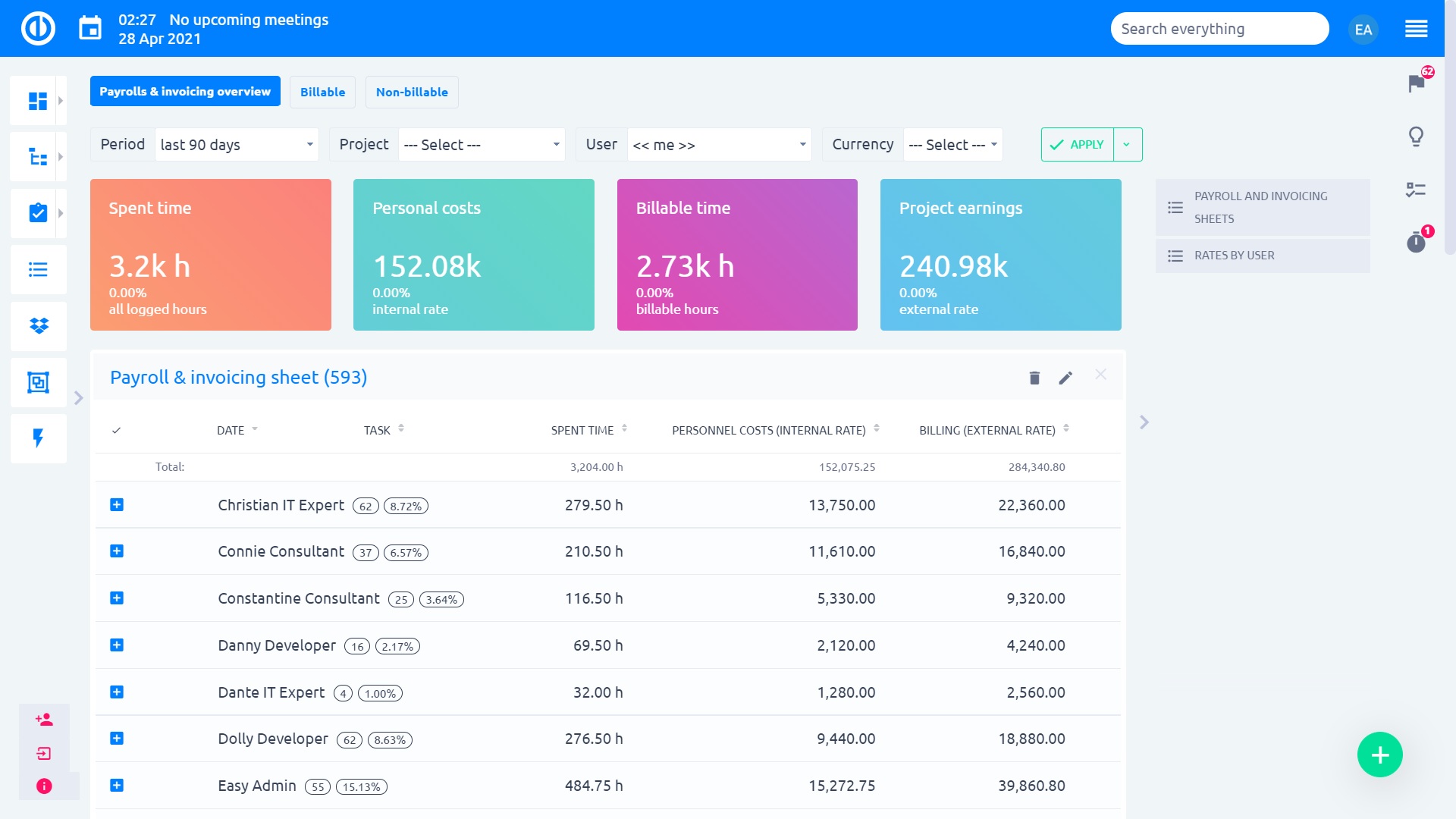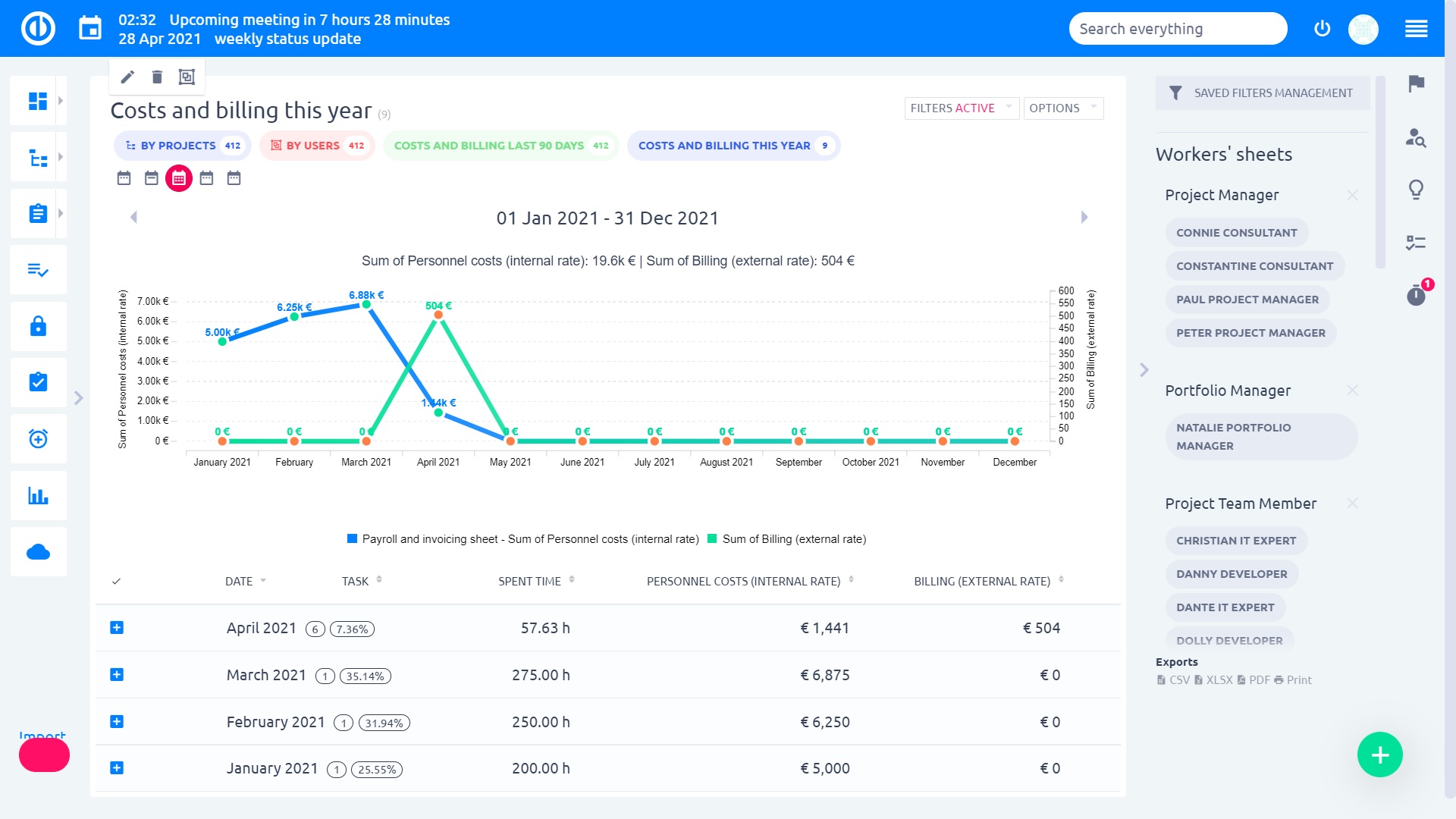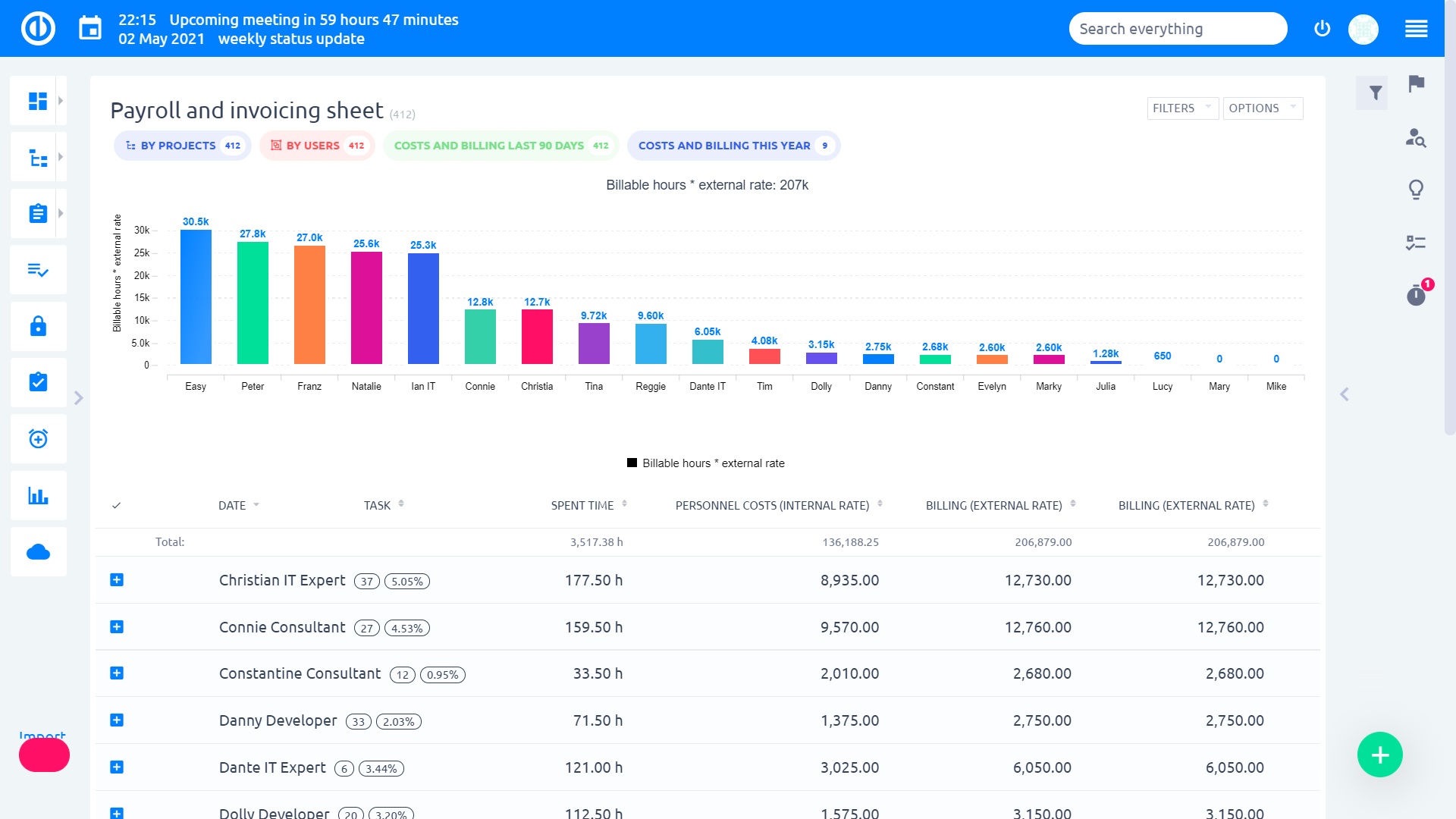 Finance Dashboard
Reporting of financial operations is an integral part of financial management that helps in reporting the financial aspects of a business service to various stakeholders in the organization that consumed this service such as the business unit heads, department heads, or account heads.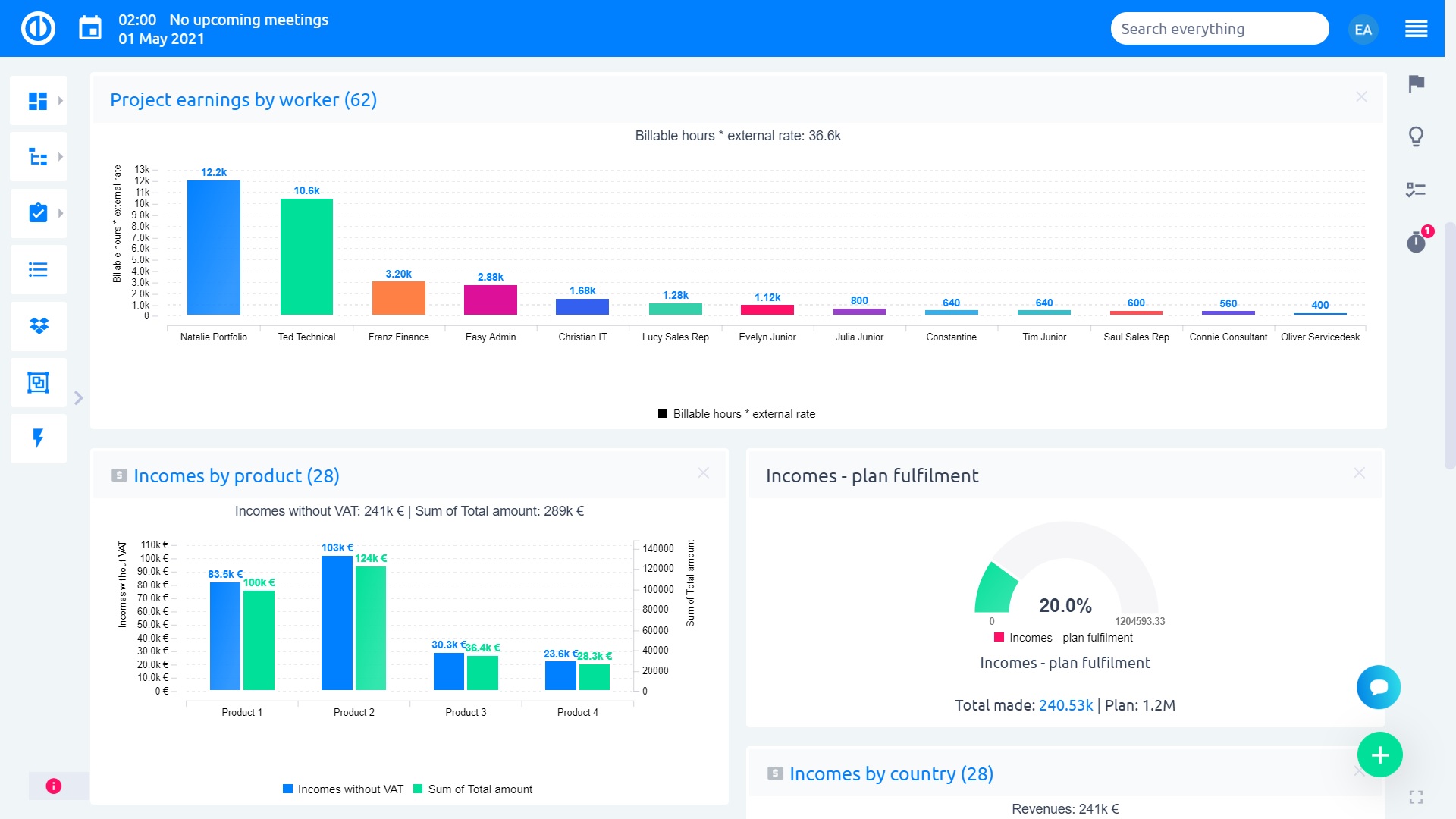 Key features:
Continuous tracking of all aspects of financial performance over a time period
Common financial KPIs like incomes, earnings, costs, expenses, etc.
Shows the difference between the total charges and total costs for a defined time period
The heads-up information, right at your fingertips, can be further utilized to reveal trends over a time period
May serve as your central workspace for finance management
Customize the information featured on the dashboard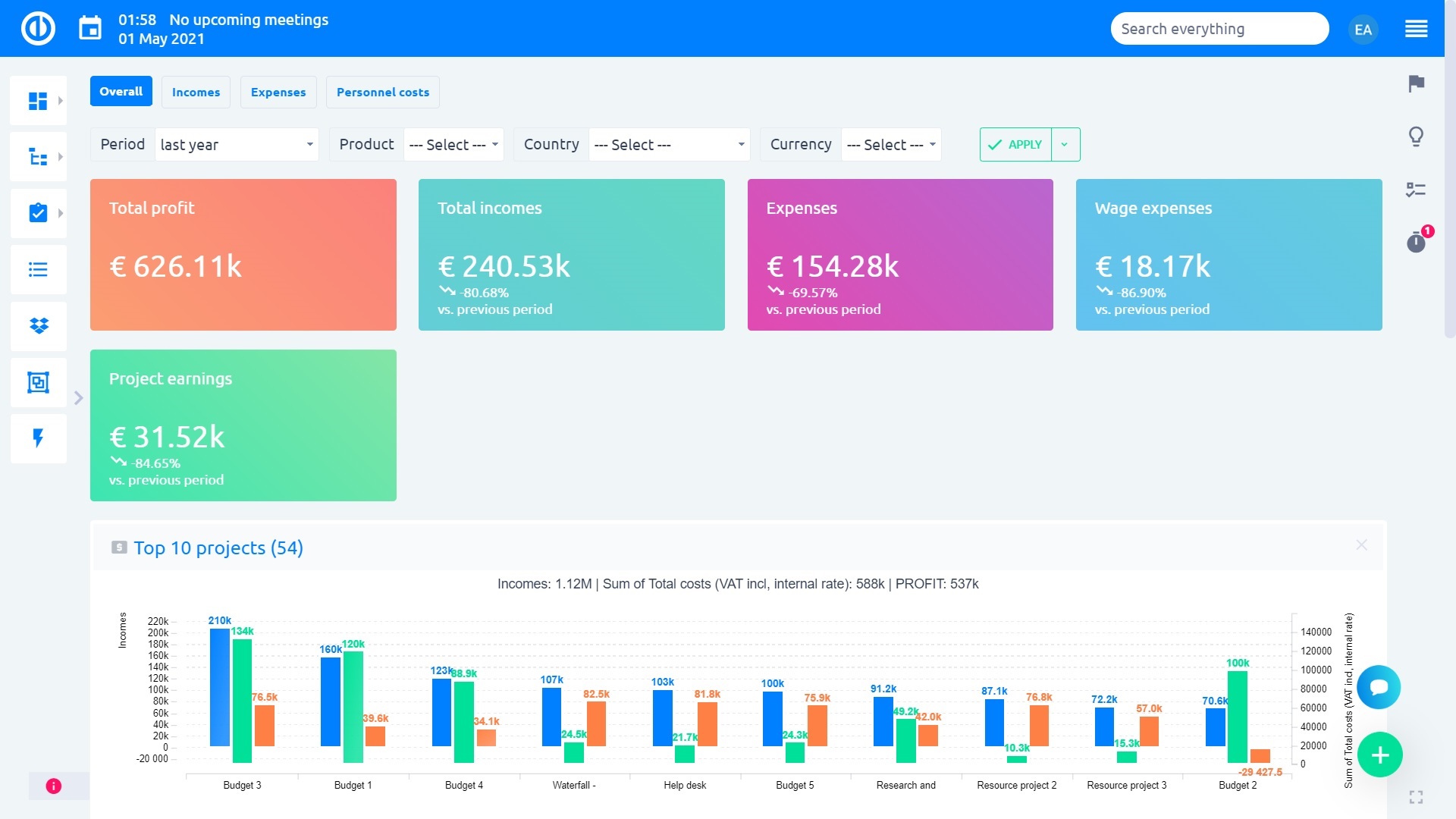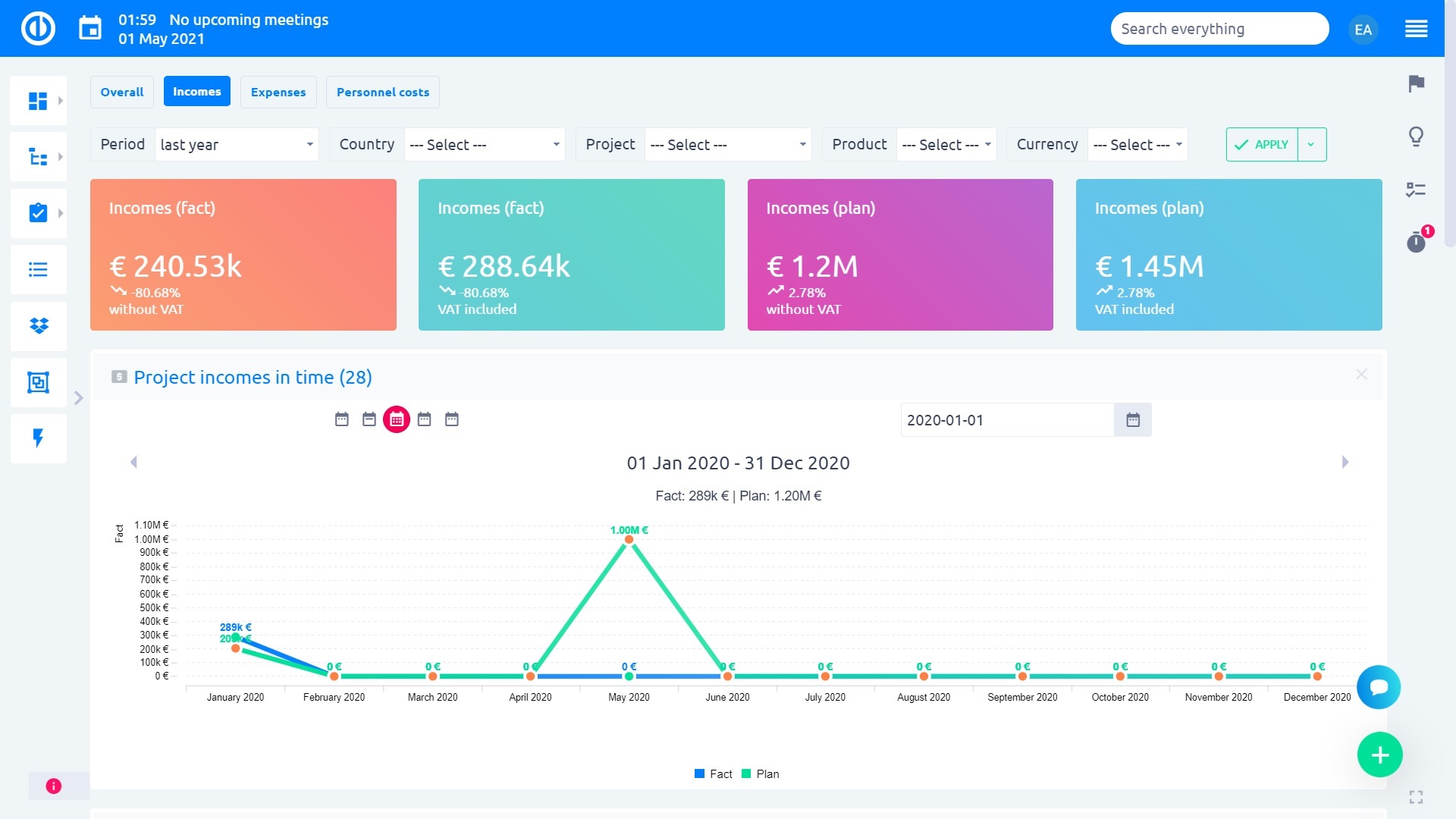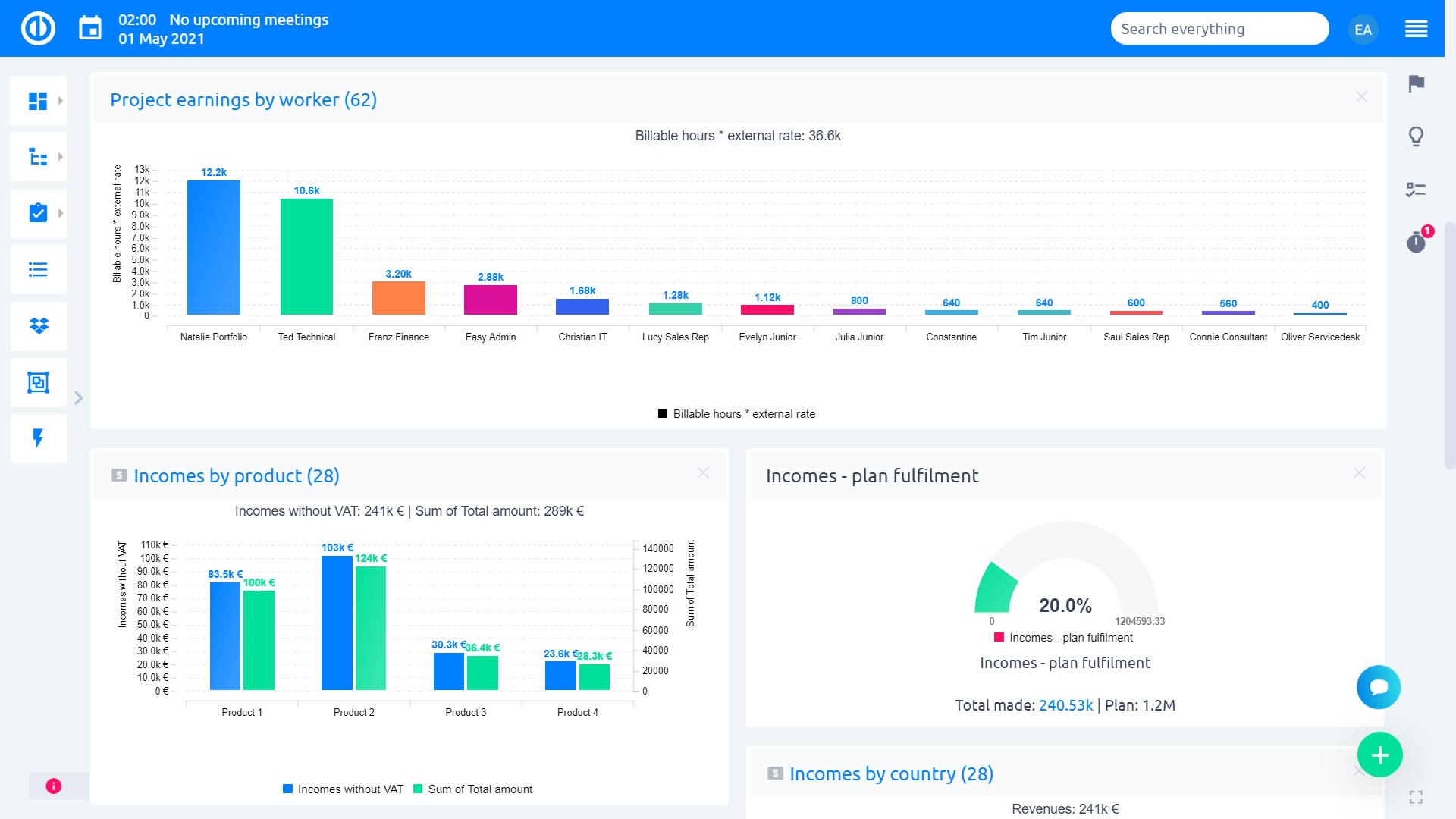 CBS – Cost Breakdown Structure
Cost Breakdown Structure (CBS) represents a breakdown of the costs of the various components of the Work Breakdown Structure (WBS) including all works or services done by the subcontractors. It is used to continuously compare the actual costs with the budget, and integrate to the cost control system.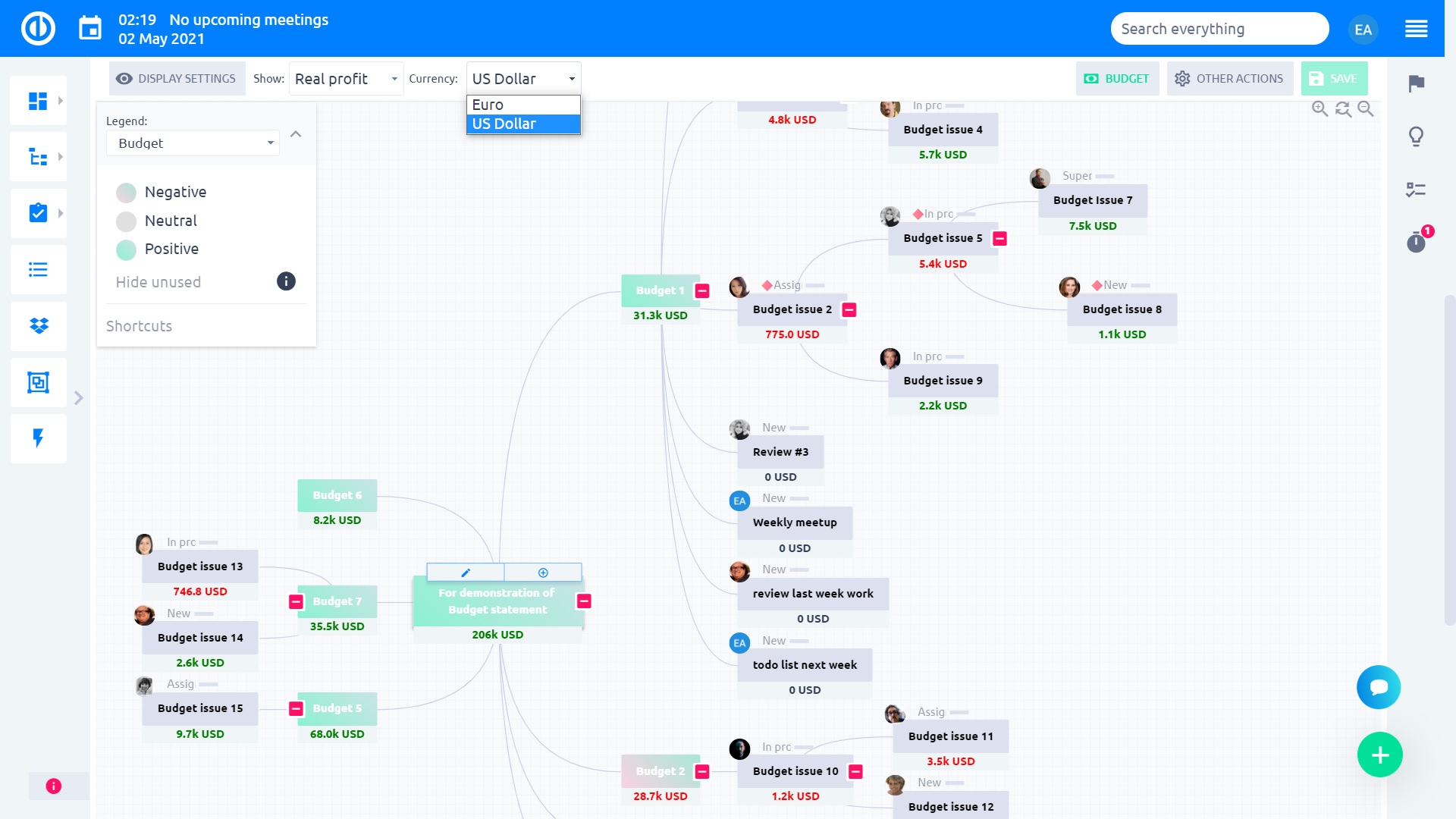 Key features:
An overall visual insight of project finances in a mind map
Work breakdown structure (WBS) and cost breakdown structure (CBS) integrated together
A new income/expense can be created directly from the mind map
Customizable legend and currencies
Print (or export to PDF) the mind map including budgets for each project and task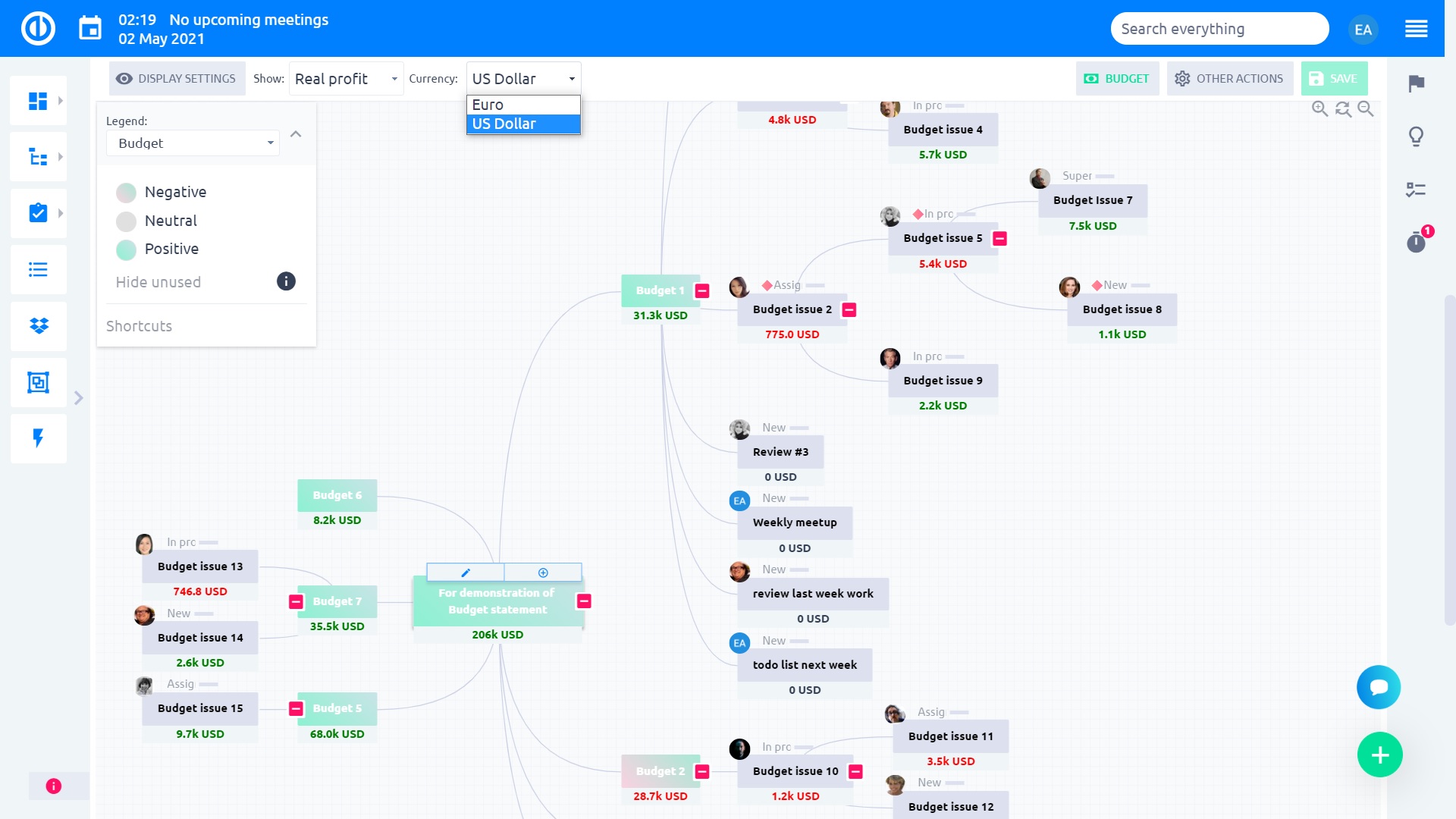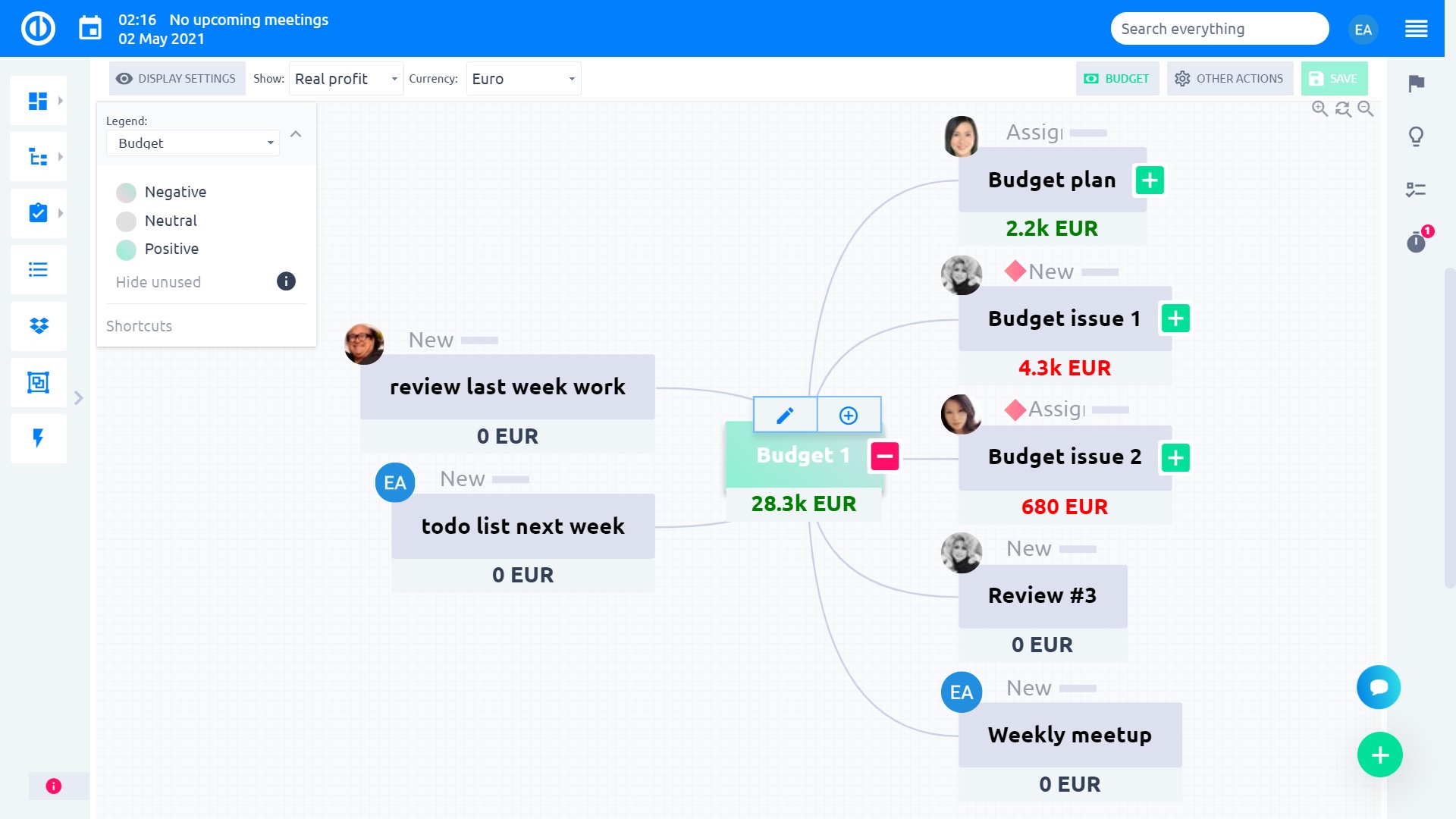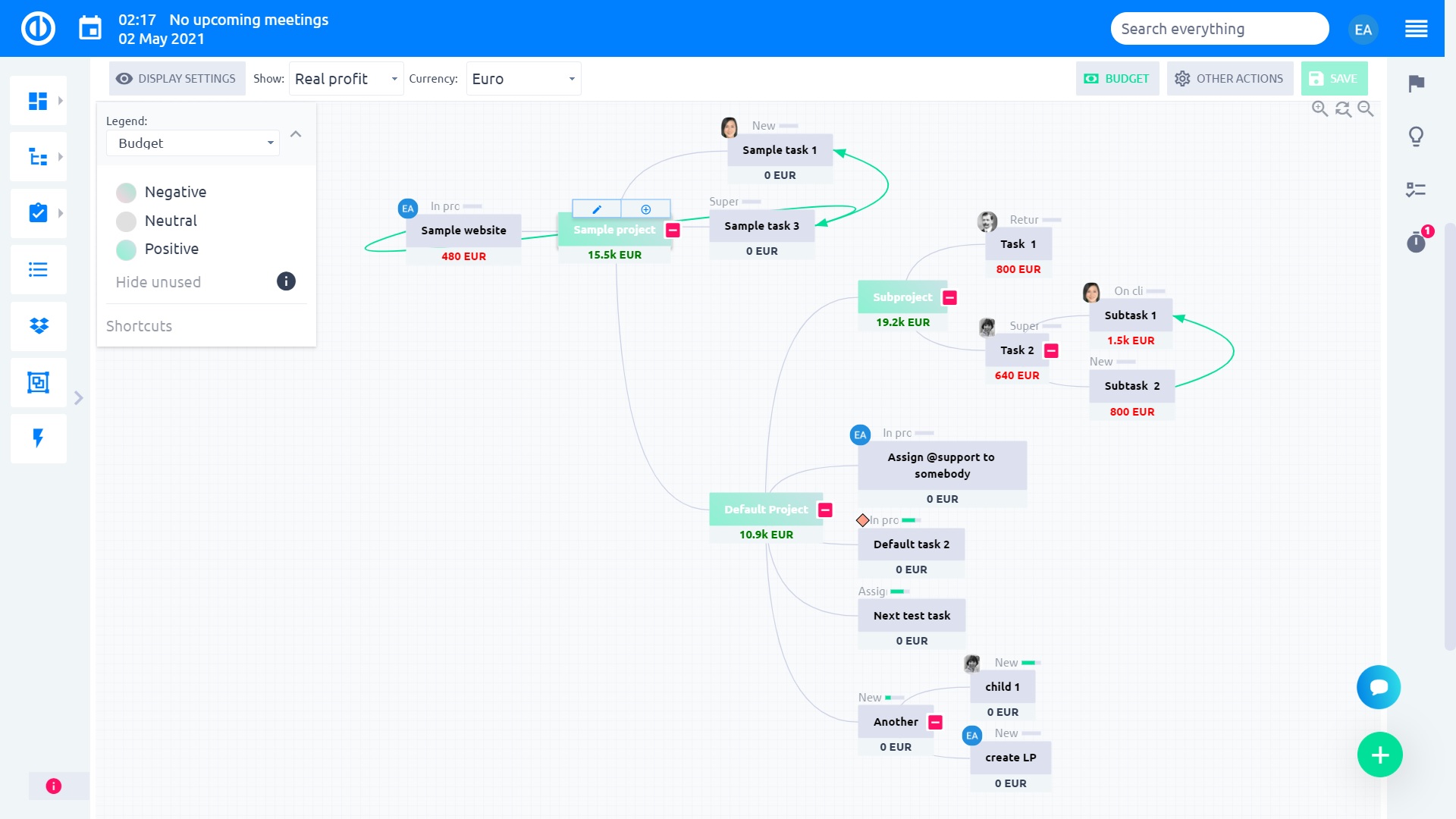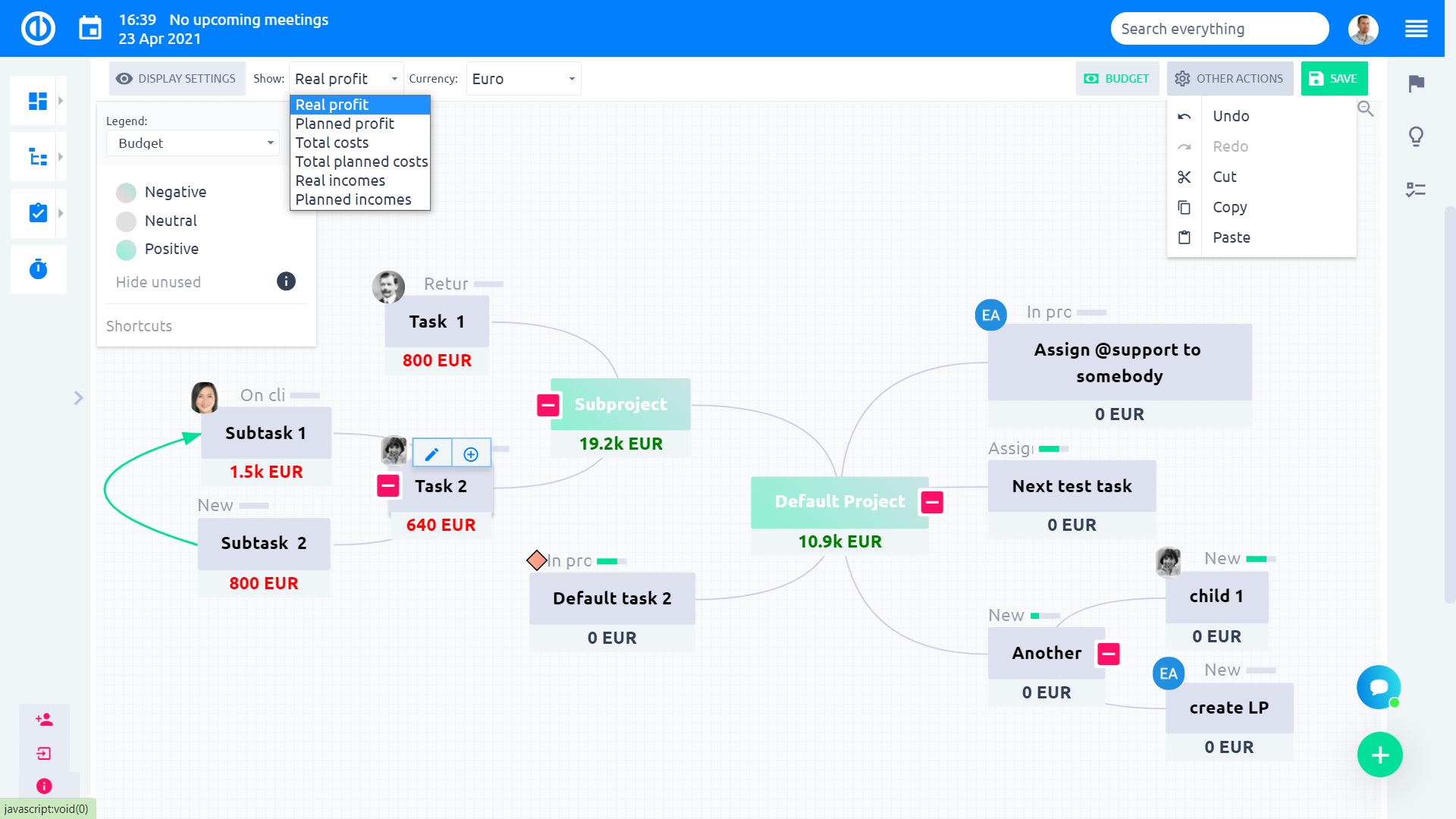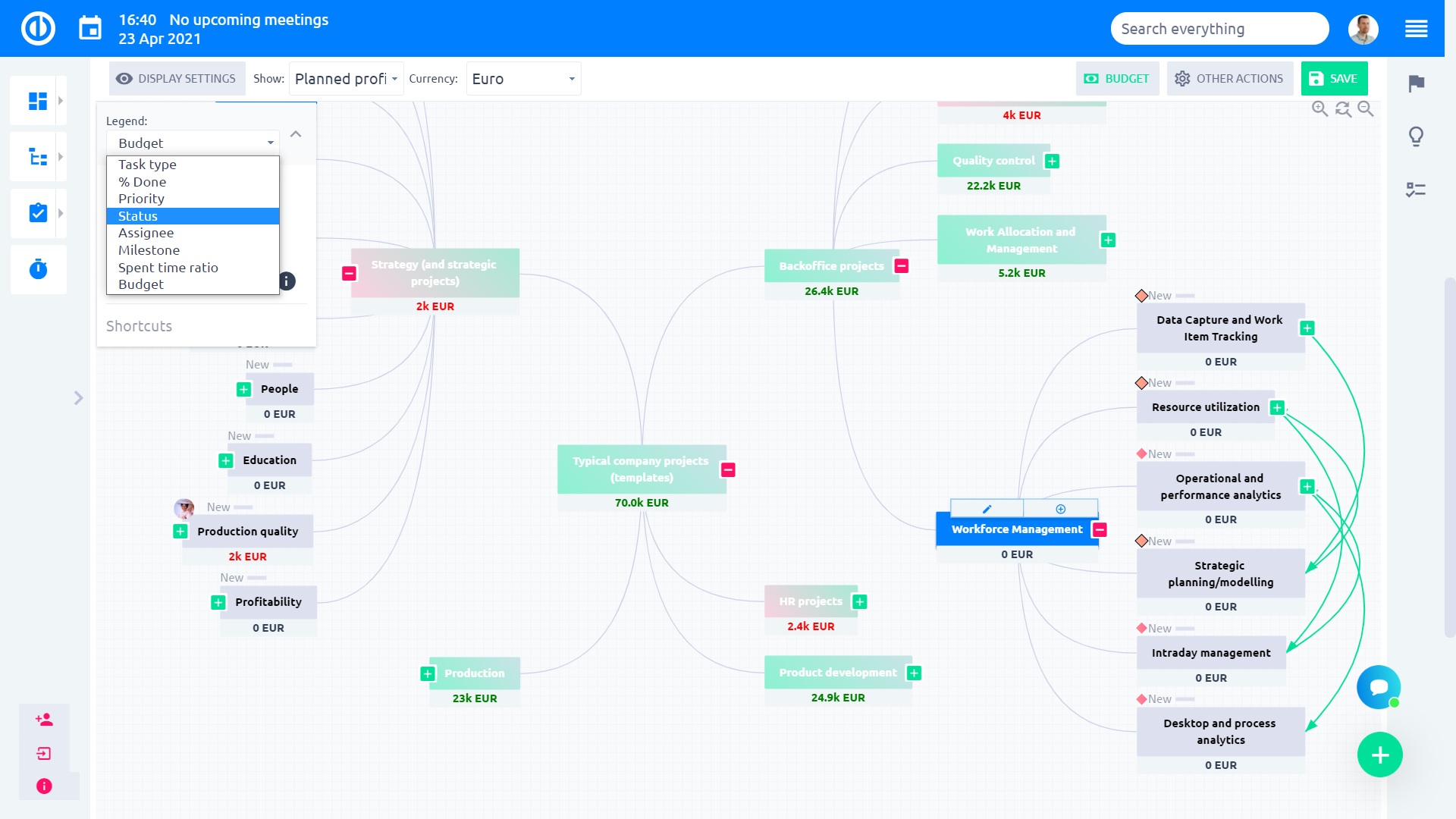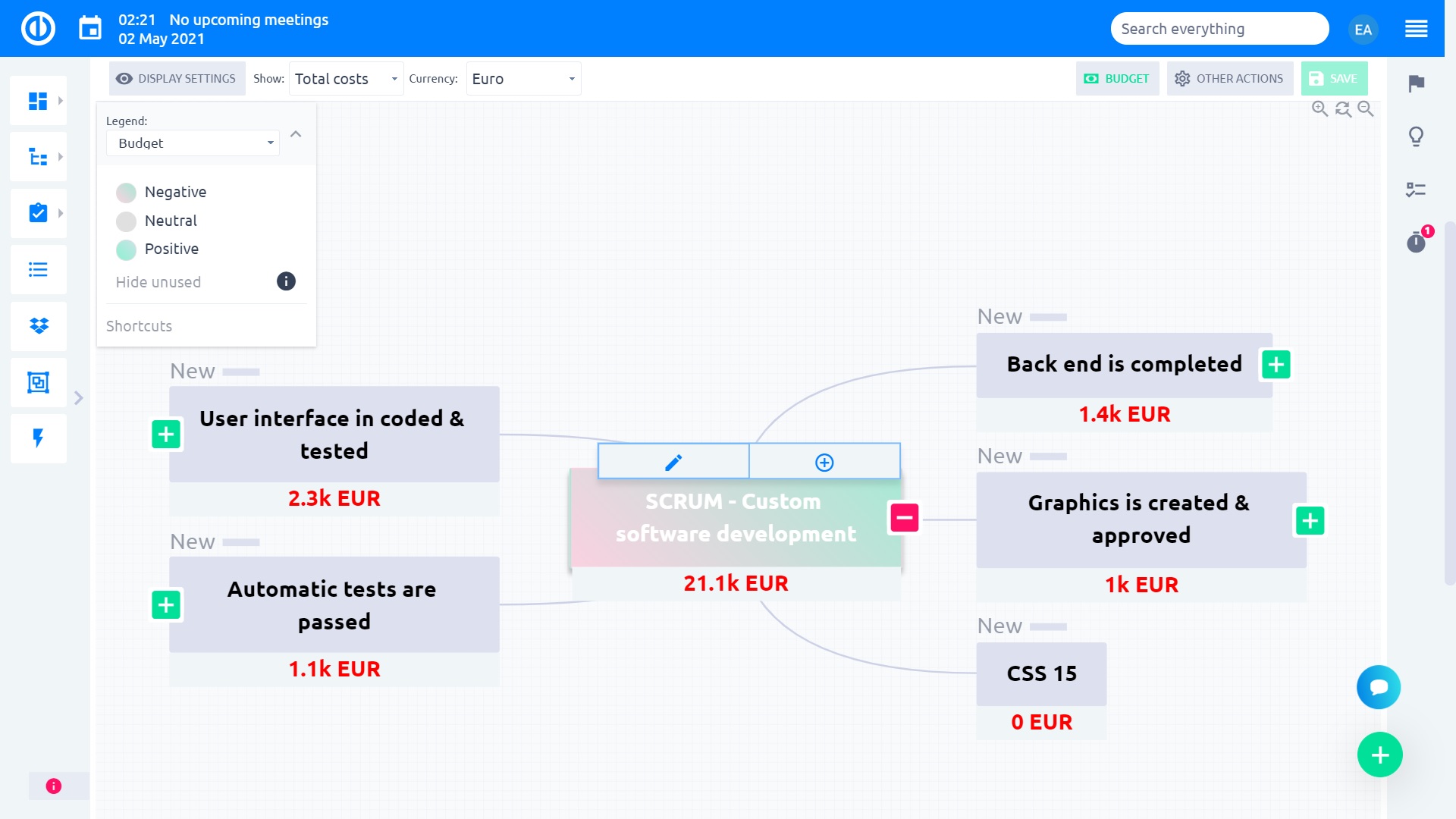 Project budgets for expense planning
Cost planning is a key to successful project management. Easy Project allows you to create project budgets and compare them to real spending. You can monitor revenues, costs, payroll costs and overall project profitability.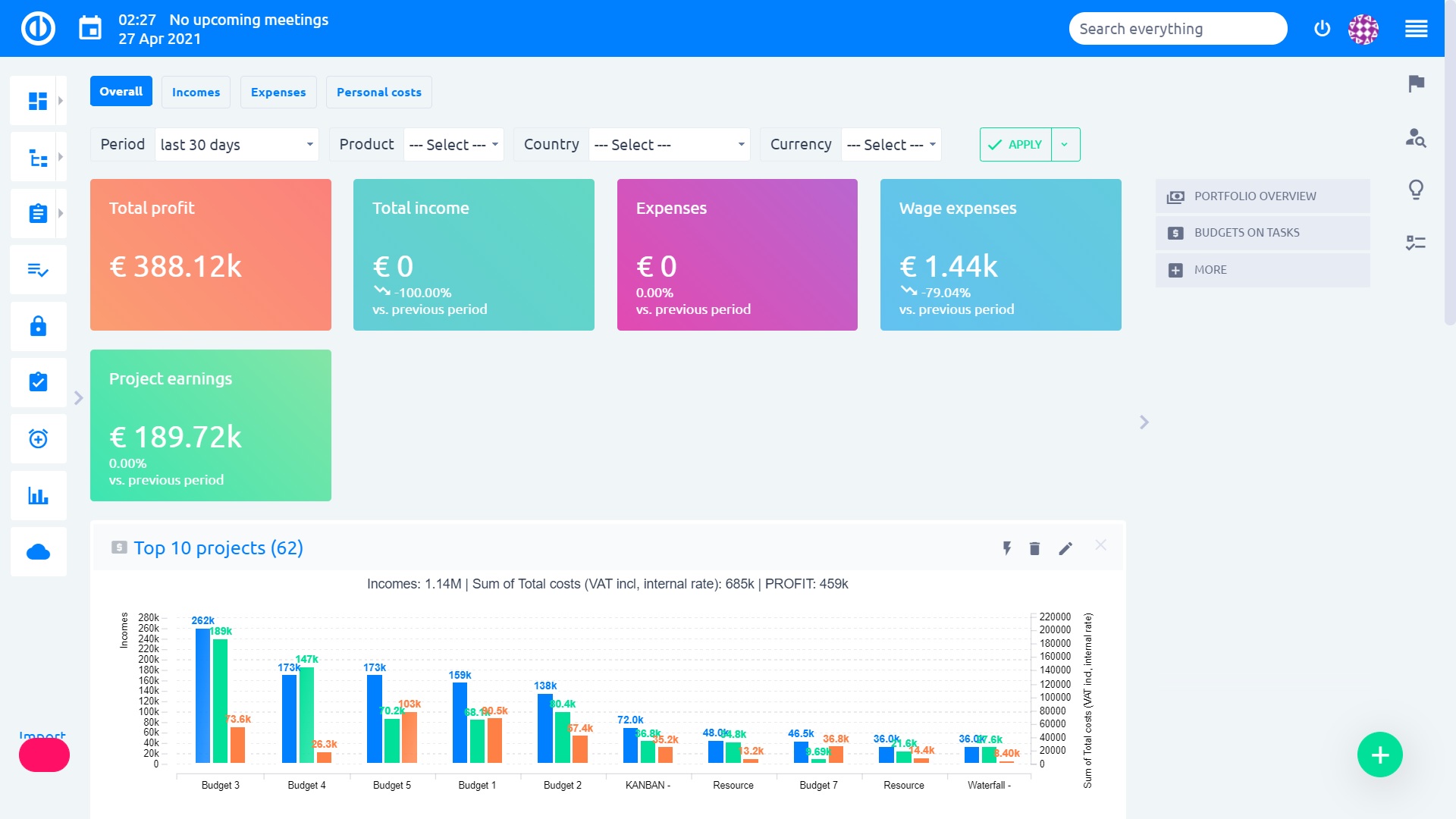 Key features:
Project budget plan versus current budget
Monitoring of revenues, costs, payroll costs and profit, travel costs and travel costs reimbursements
Payroll costs derived from time spent multiplied by hourly rates
Definition of hourly rates by roles, activities, and members of the project team
Financial statements over the whole project portfolio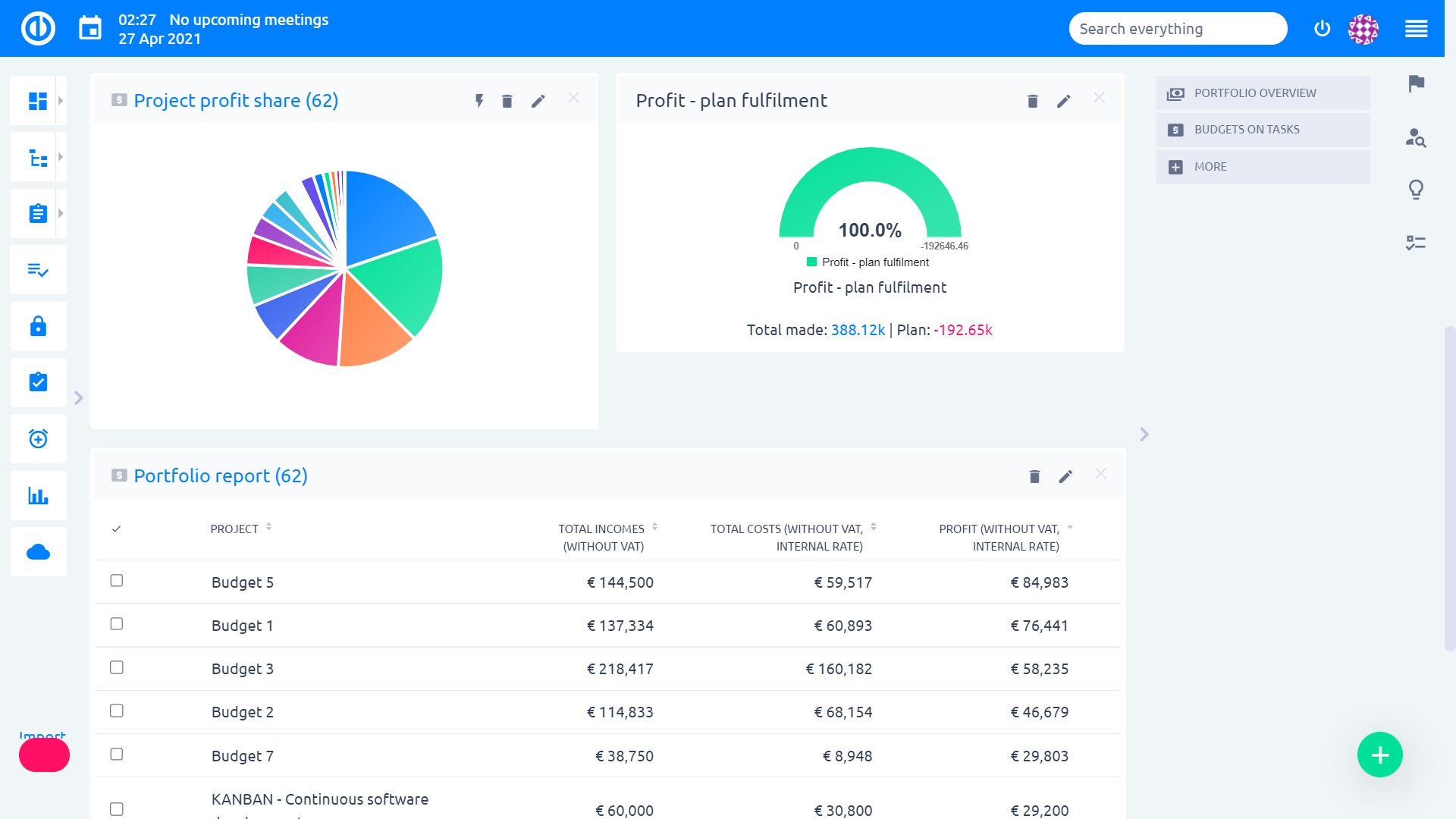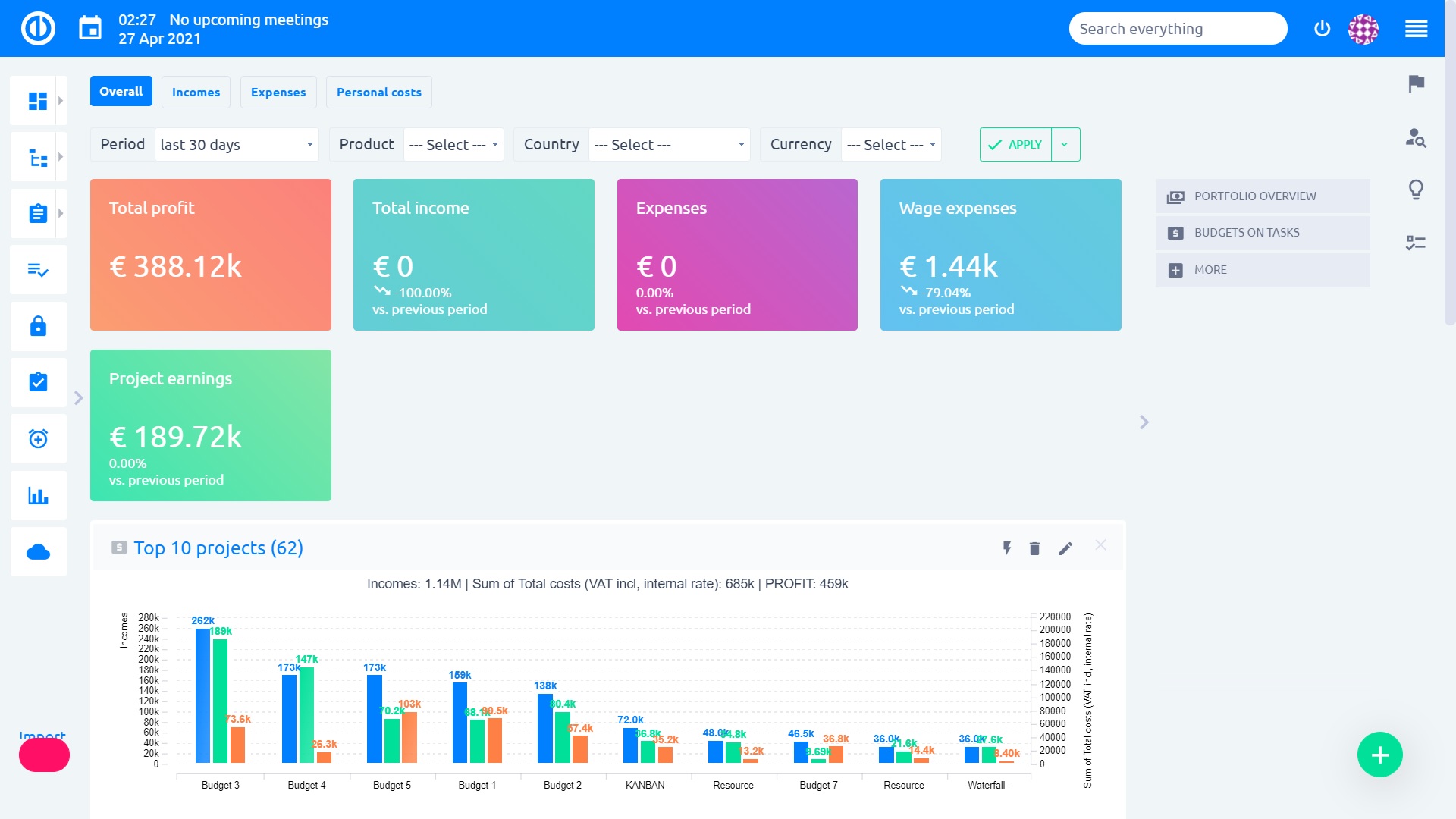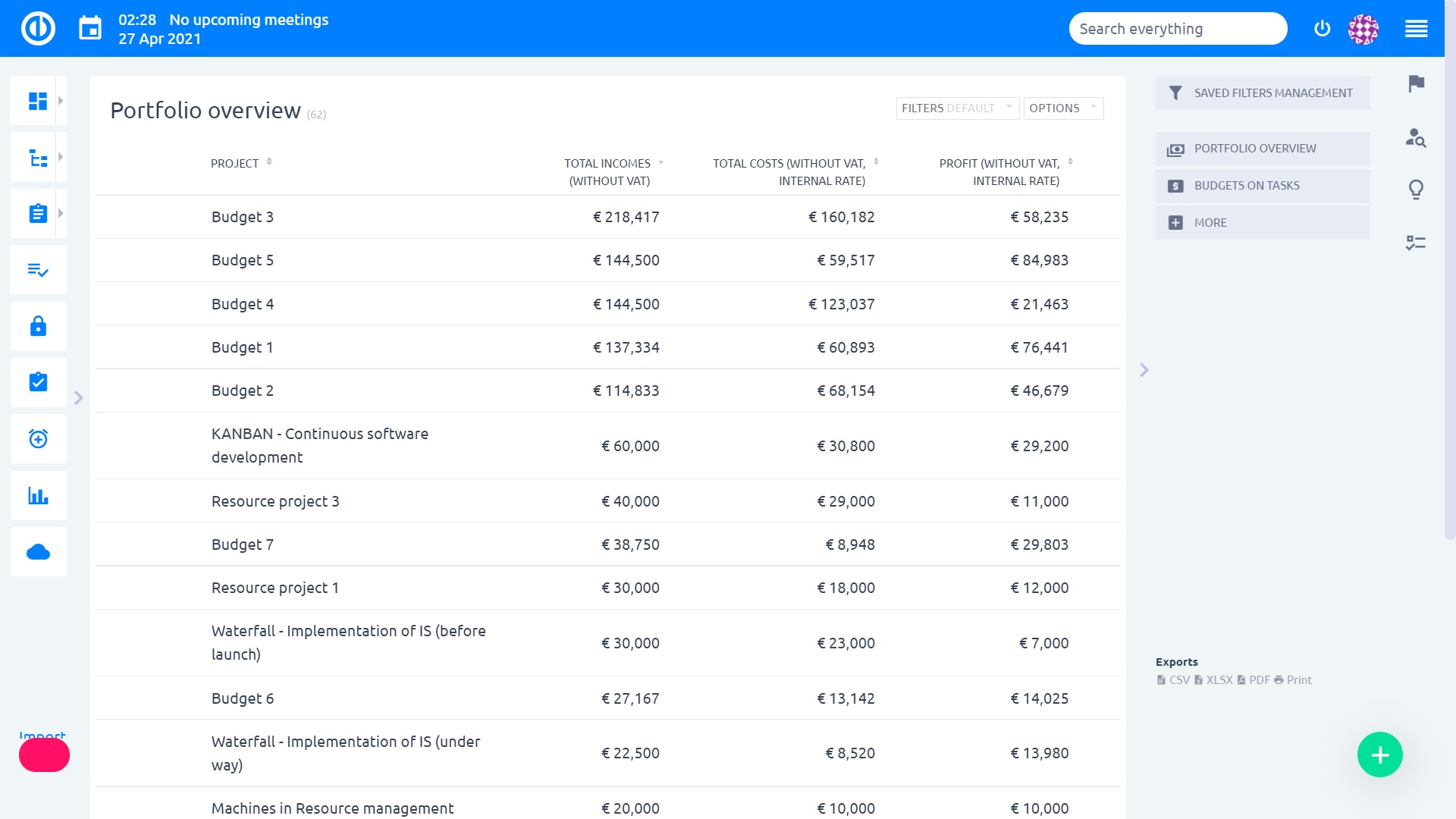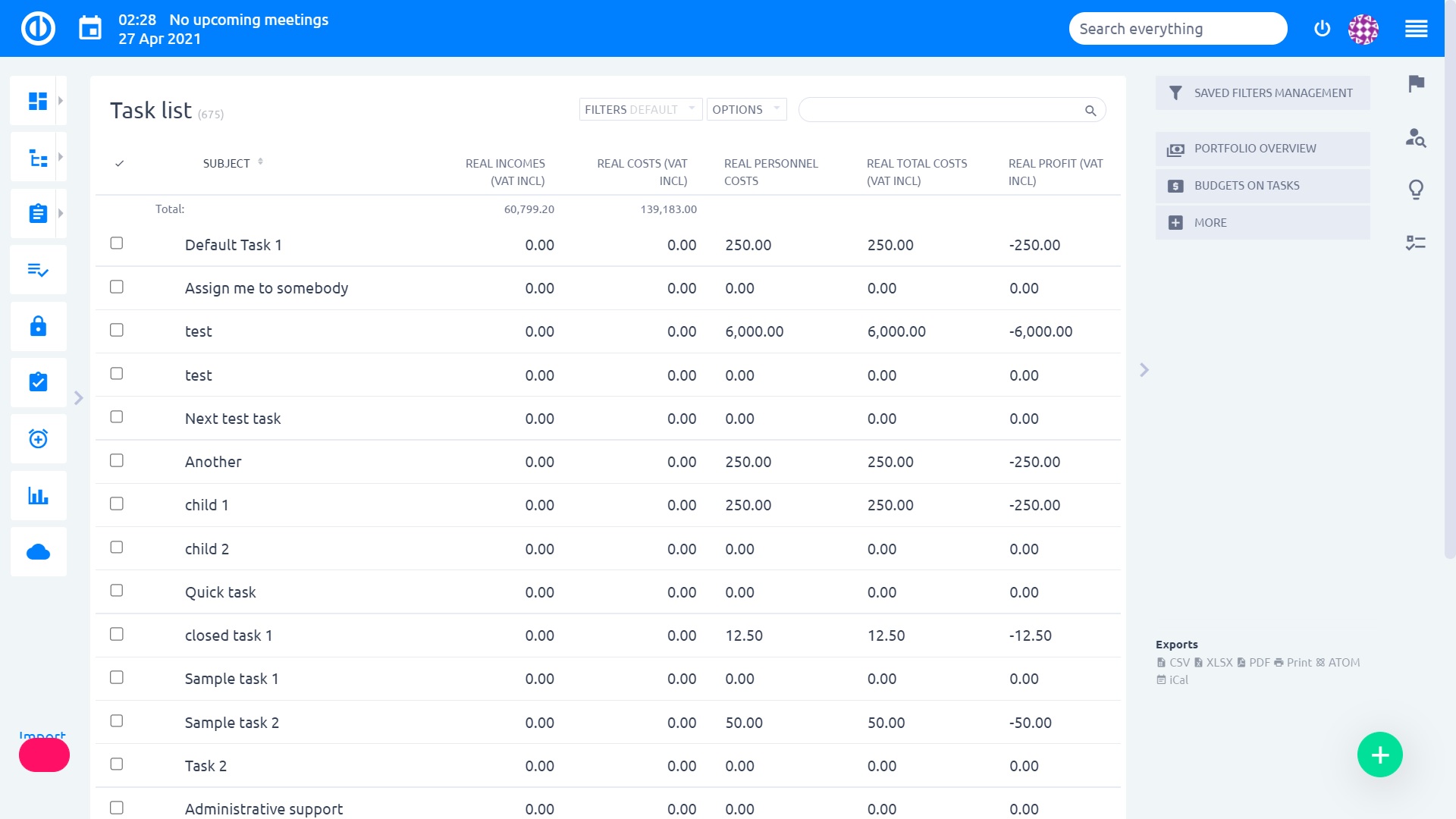 Cash flow in Gantt chart
To see cash flow in both project and global Easy Gantt, just select Cash flow under the Tools menu. Of course, Cash flow feature is only available when Money plugin is installed in Easy Project. Clicking on it adds a new horizontal line to the timeline. This line shows numbers representing the balances of planned incomes and expenses per selected period (day, week, month).
Key features:
Shows cash-flow balances straight in the Gantt chart
Money module is required to see and edit these balances
Balances per individual projects are shown in the respective project bars
It shows details per subprojects as well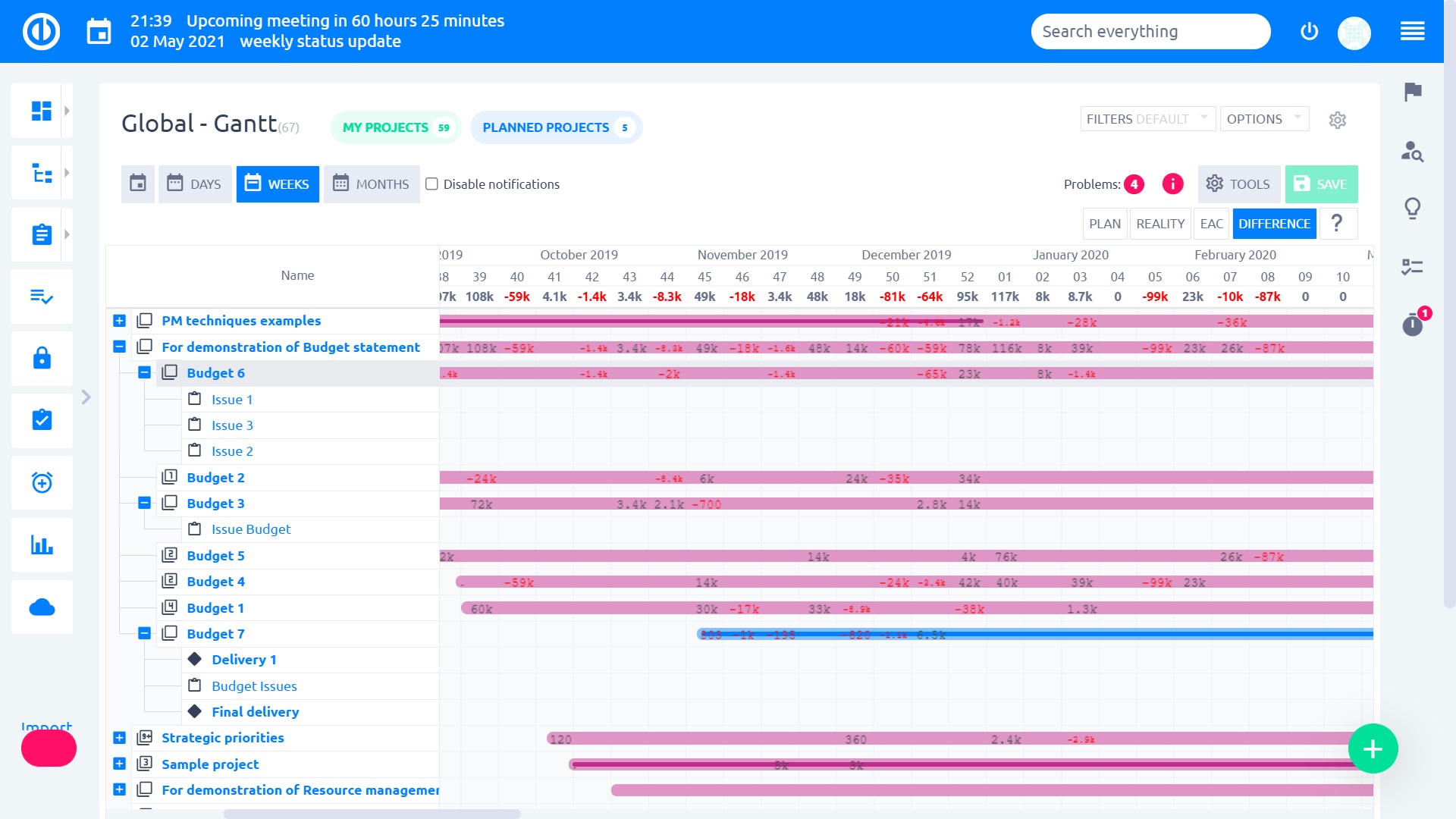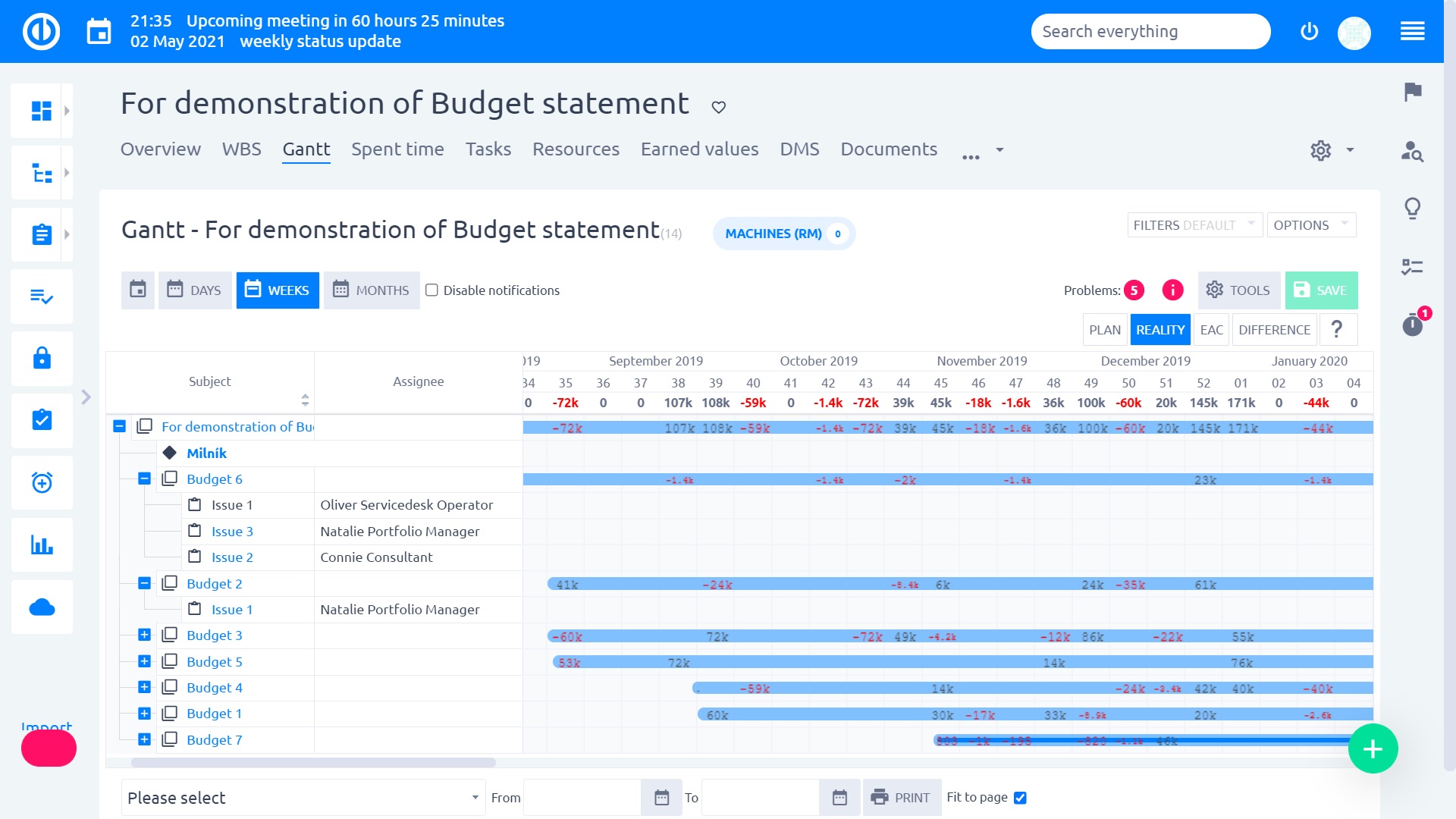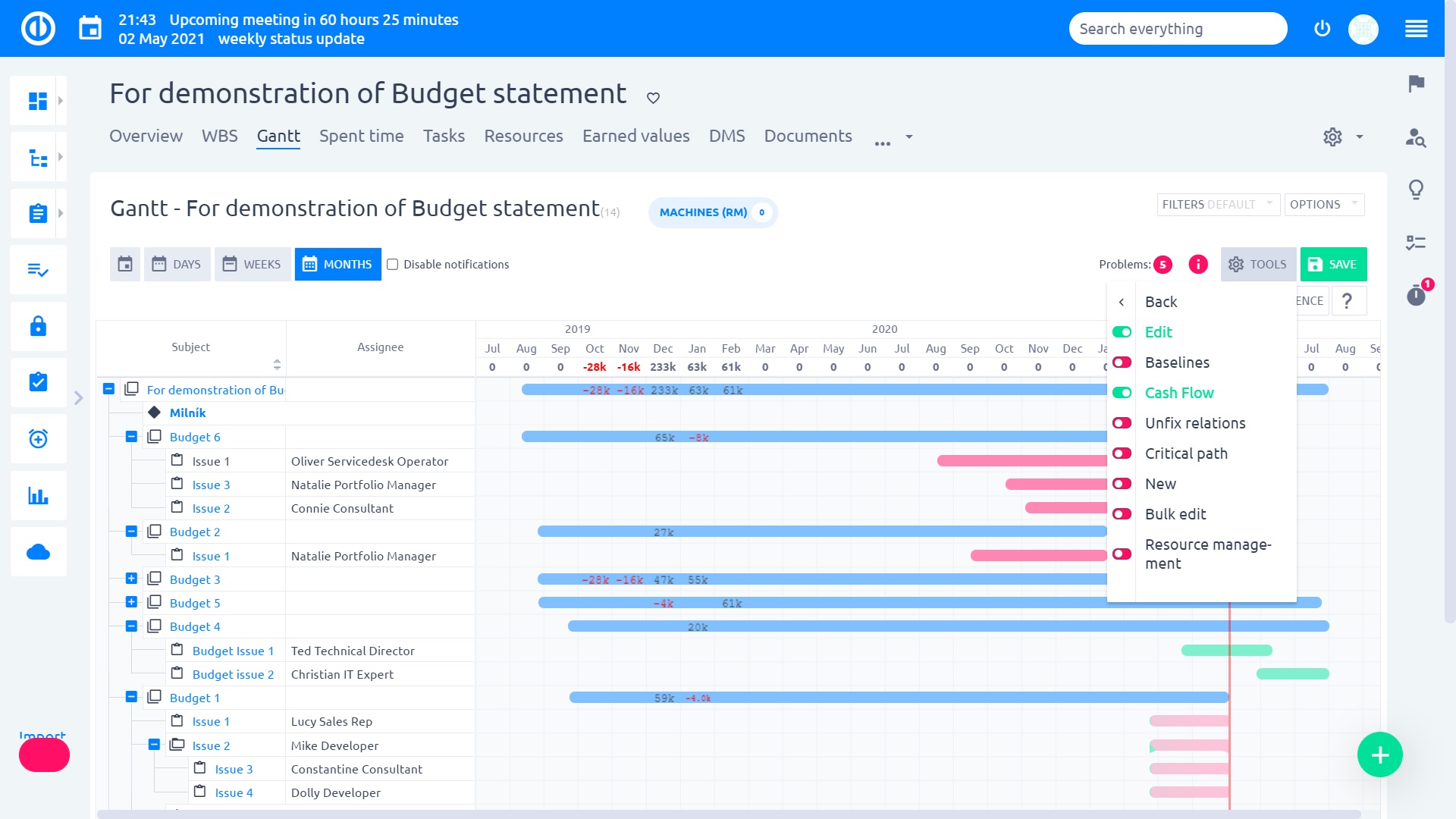 Payroll & invoicing sheets based on timesheets
By combining information from timesheets and internal/external rates, you can create invoicing and payroll sheets within Easy Project, which can then be sent directly to the client thanks to integration with CRM and Contacts.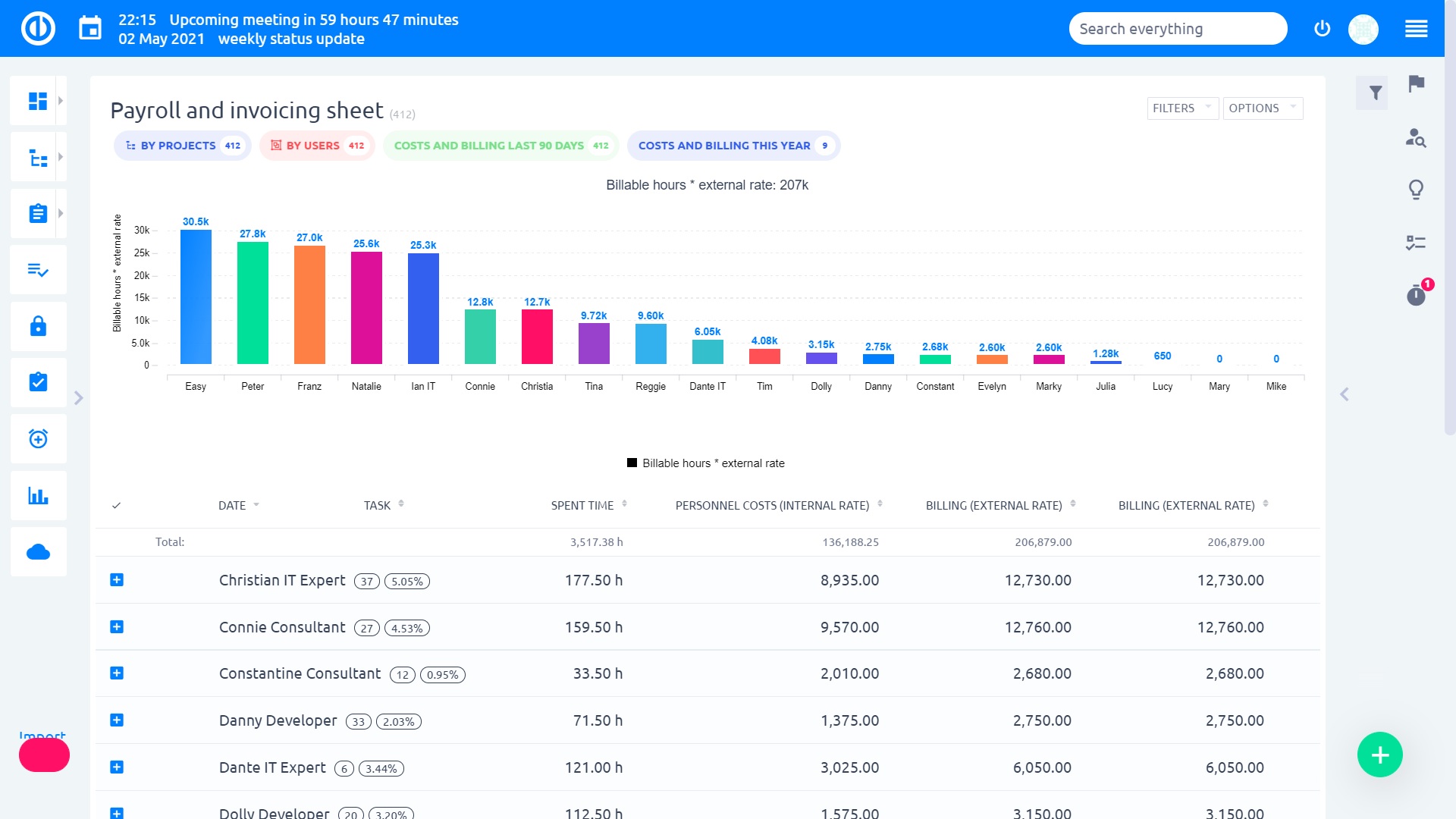 Key features:
Timesheets multiplied by internal and external hourly rates
Payroll sheets by users
Invoicing sheets by projects
Complex filtering and settings
Integration with CRM and Contacts - complete invoicing solution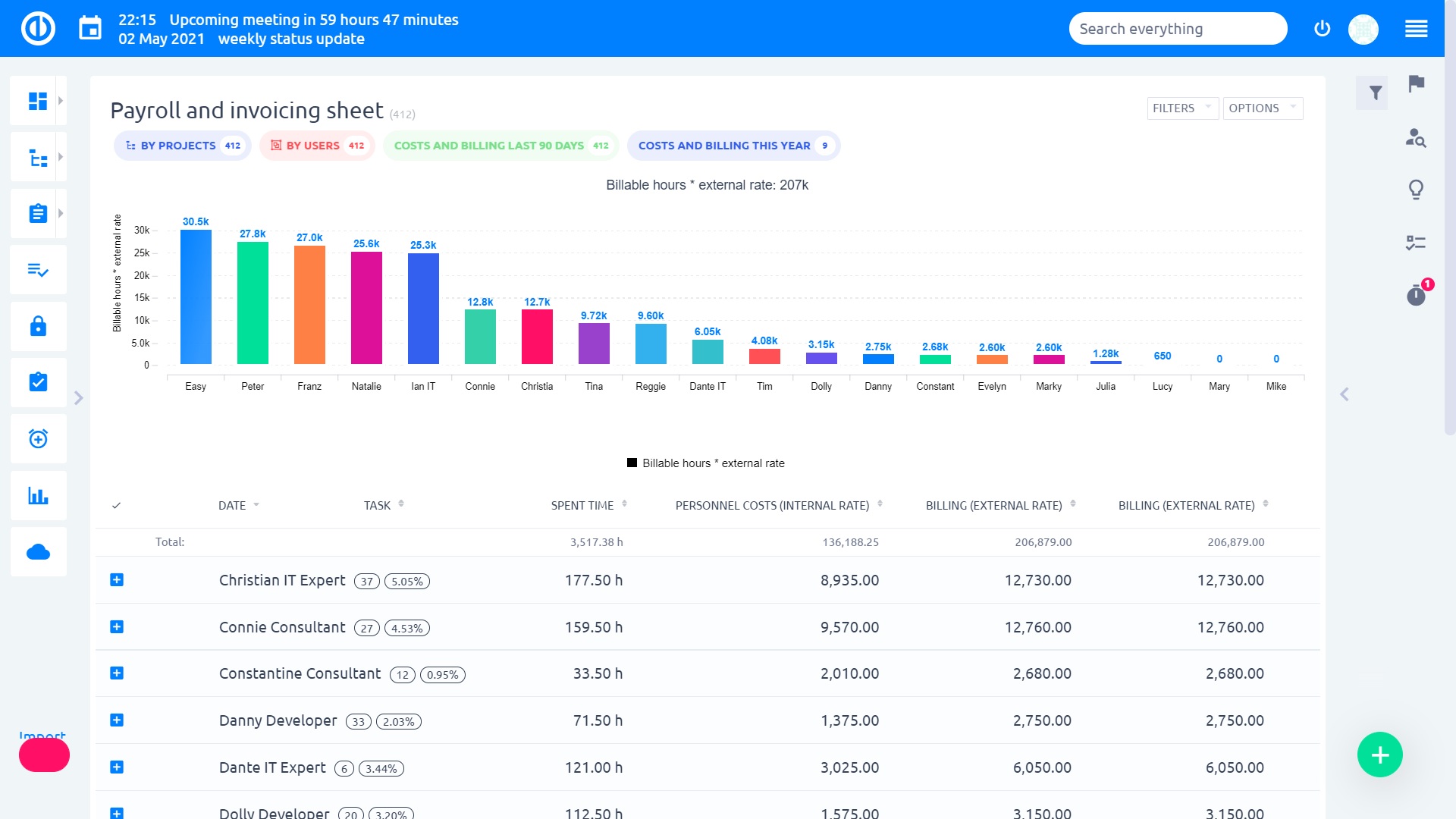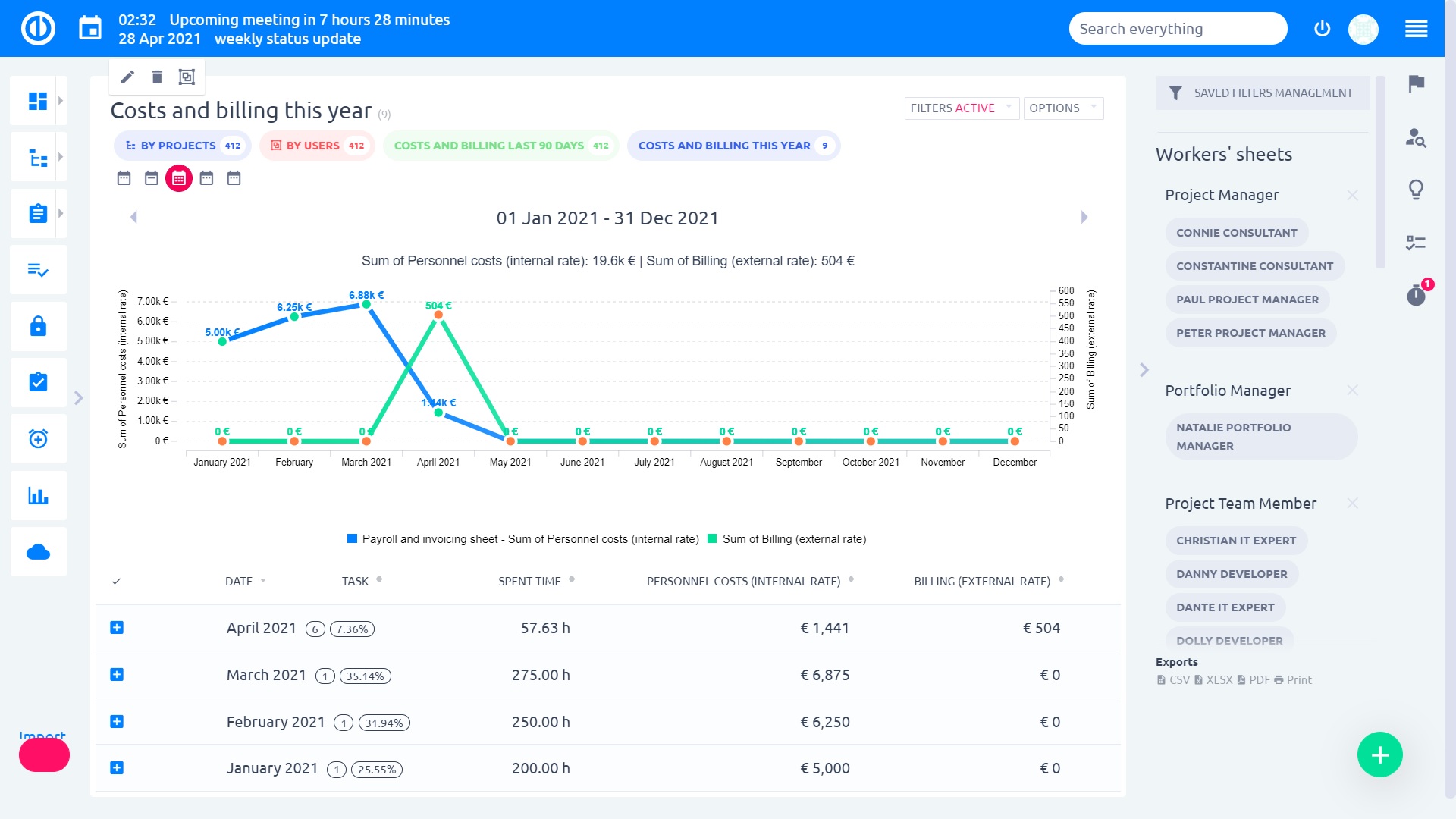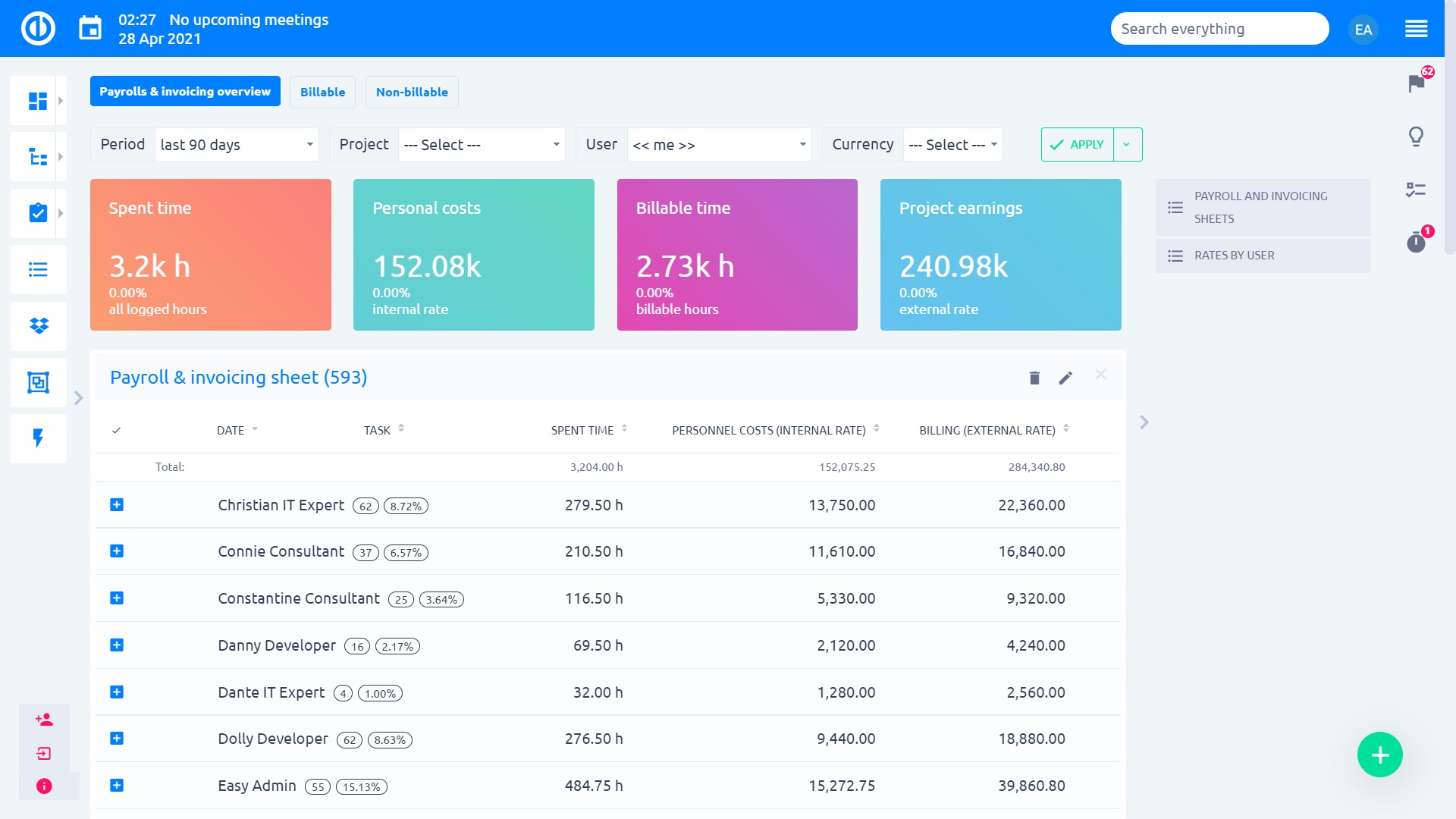 Financial data integration via Zapier
Are you interested in how to connect Easy Project with XERO and other accounting systems? Simply thanks to Zapier platform, which gives you integration allow you almost real-time finance controlling of your project budgets. Read more in this article.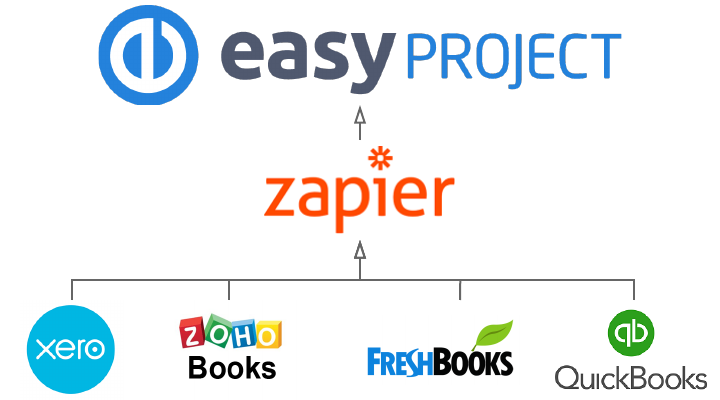 Key features:
How to get financial data for Easy Project budget
Why is integration solution important
How Zapier technology works
What are benefits of Zapier integration
The case study of integrated accounting system XERO
Other accounting systems possible integrations via Zapier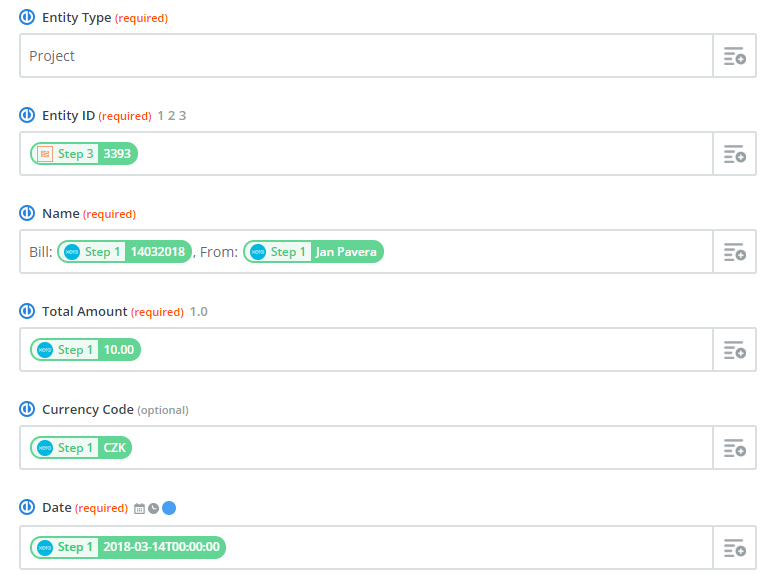 Get Easy Project Business just for € 12
4 predefined role levels, ready to use
dashboards, features, permissions
and workflow.
Try It Free