Project Management Features of Easy Project
Easy Project is a tool for every project management phase. Use WBS to break down the main project elements and define the items to be delivered. You can schedule tasks in Easy Gantt in just a few clicks. Use the Resource Management tool to easily assign tasks to your colleagues. Use task tracking to track implementation, review performance indicators in the Gantt Chart. After completing the project, evaluate the performance with reporting tools to filter out any weaknesses and opportunities for further development.

Gantt chart for easy project planning
Tired of overdue tasks and clumsy Excel spreadsheets? Try a Gantt chart, it will visualize your projects and make planning easier so the process runs faster, is more synchronized, and stays easily communicable.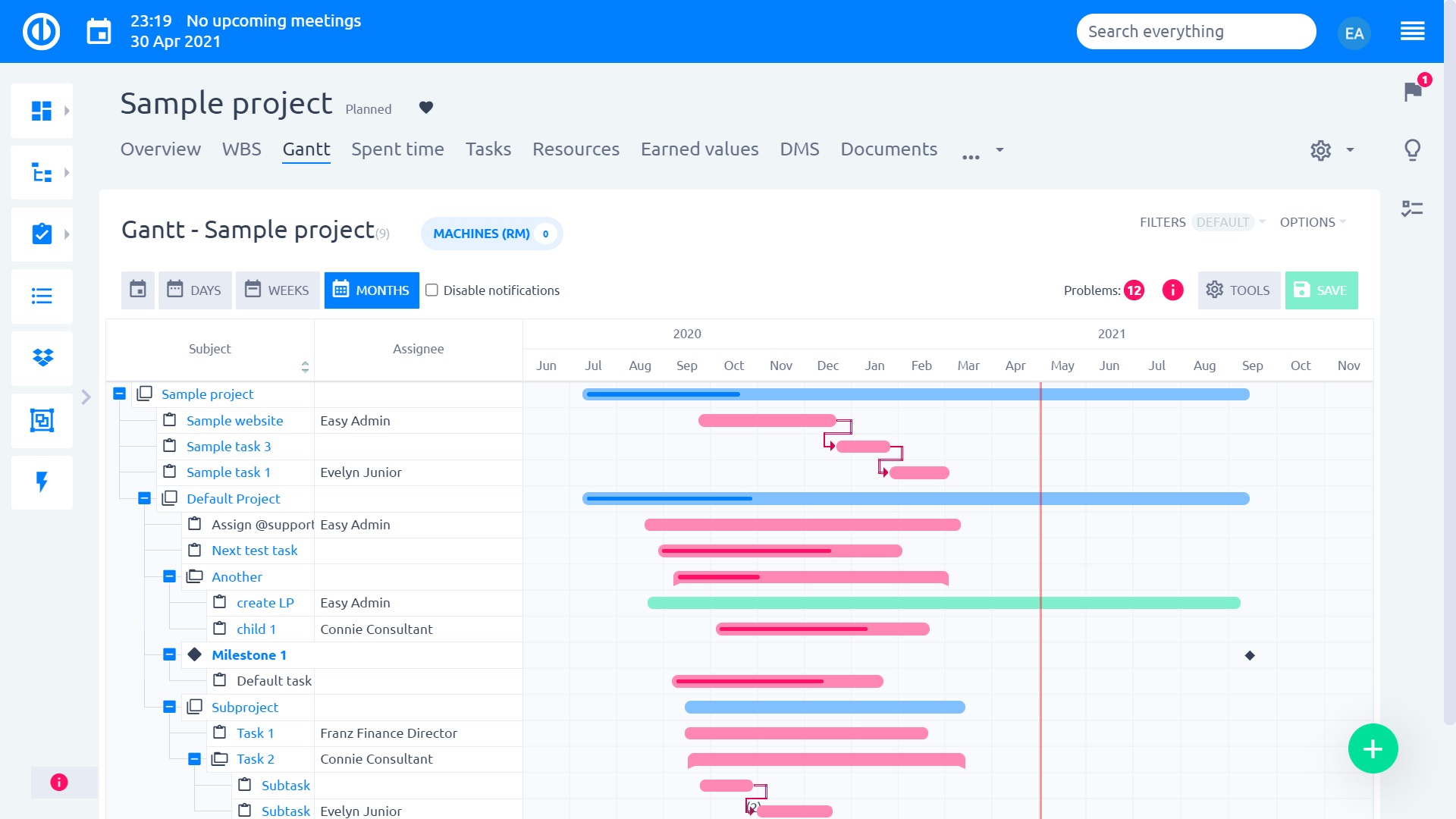 Key features:
Visualization of project tasks on a timeline
Task planning with drag & drop
Relations between tasks and sub-tasks - easy editing
New tasks and milestones creation within the Gantt chart
Baselines creation within the Gantt chart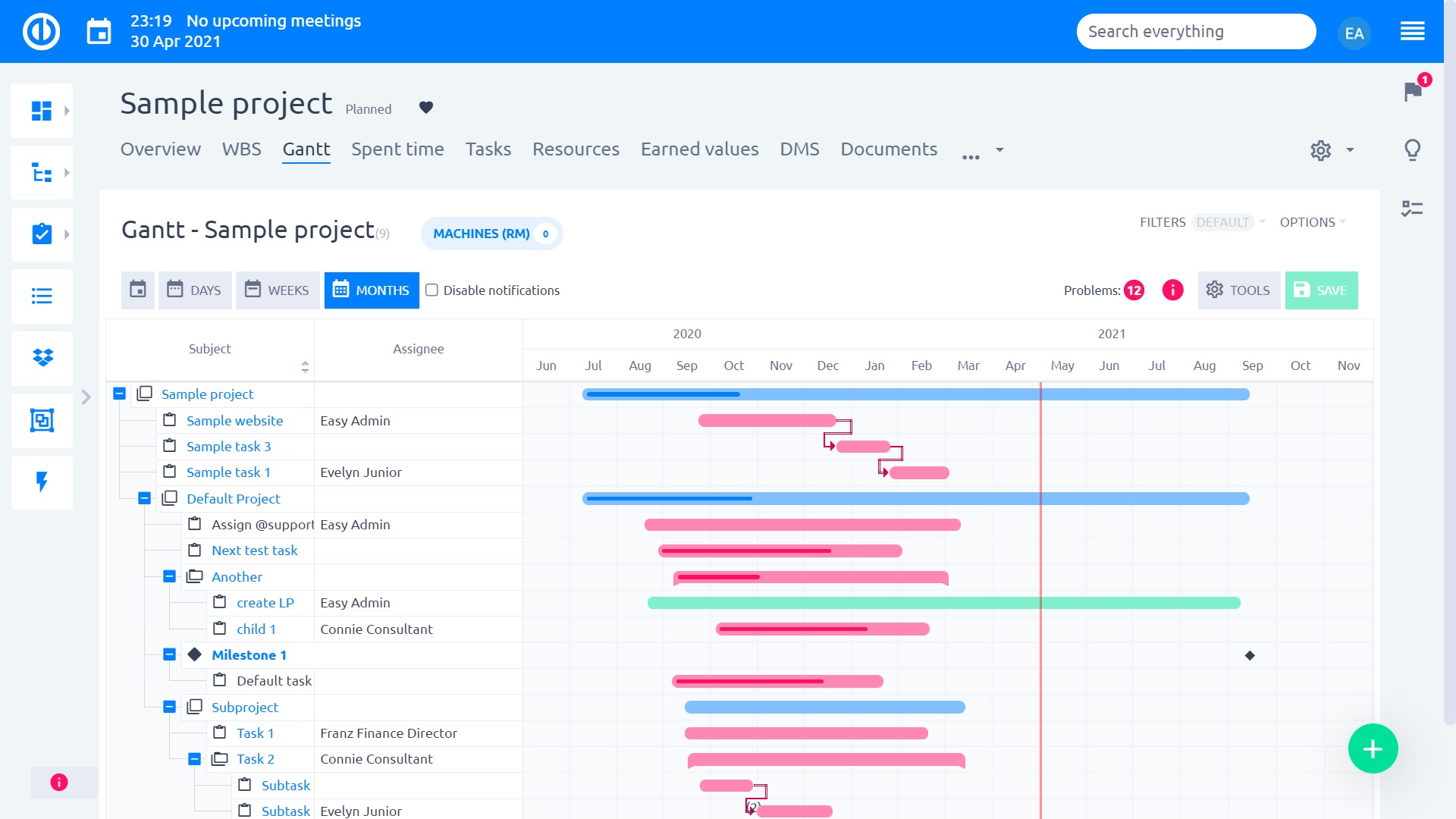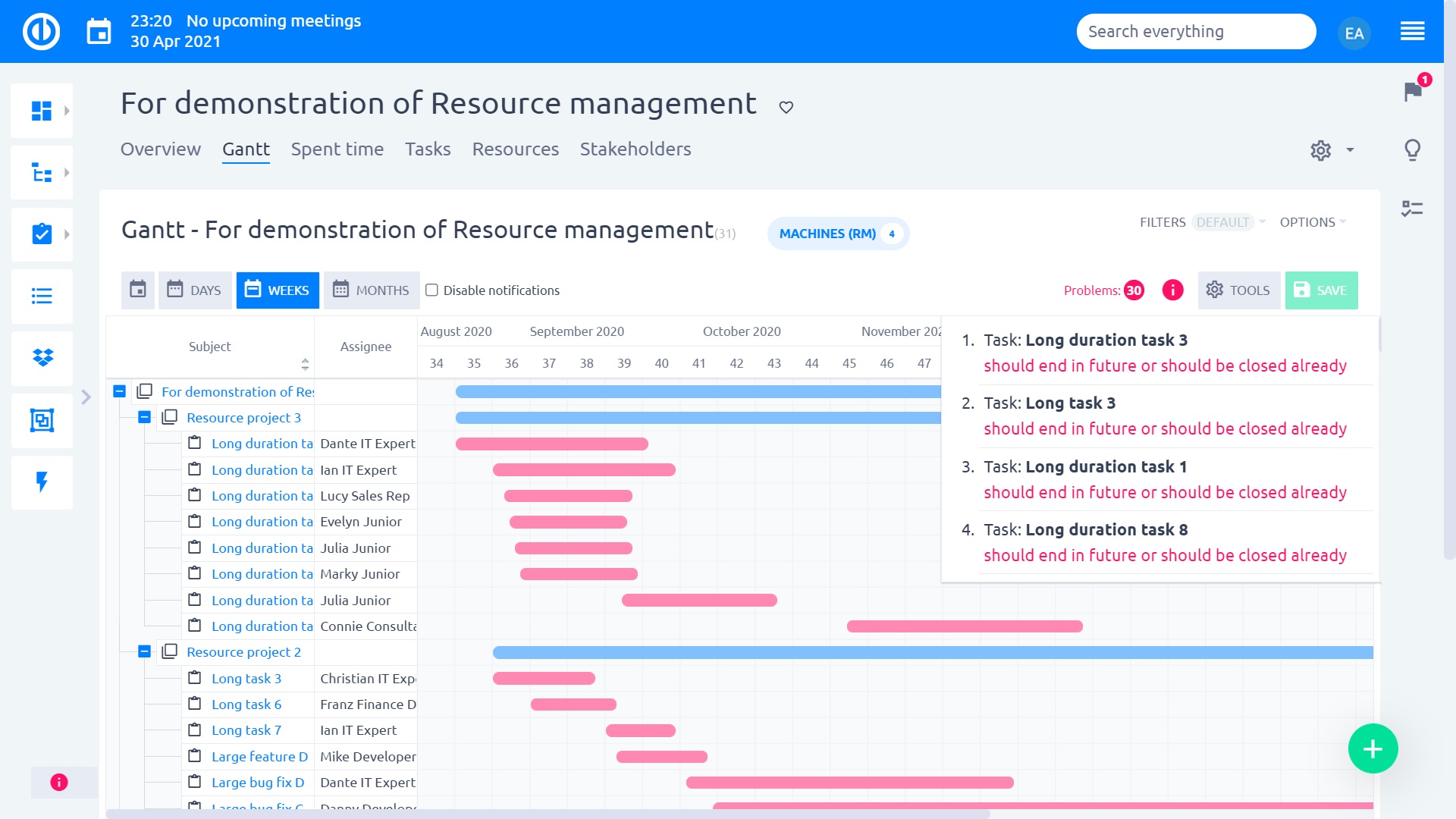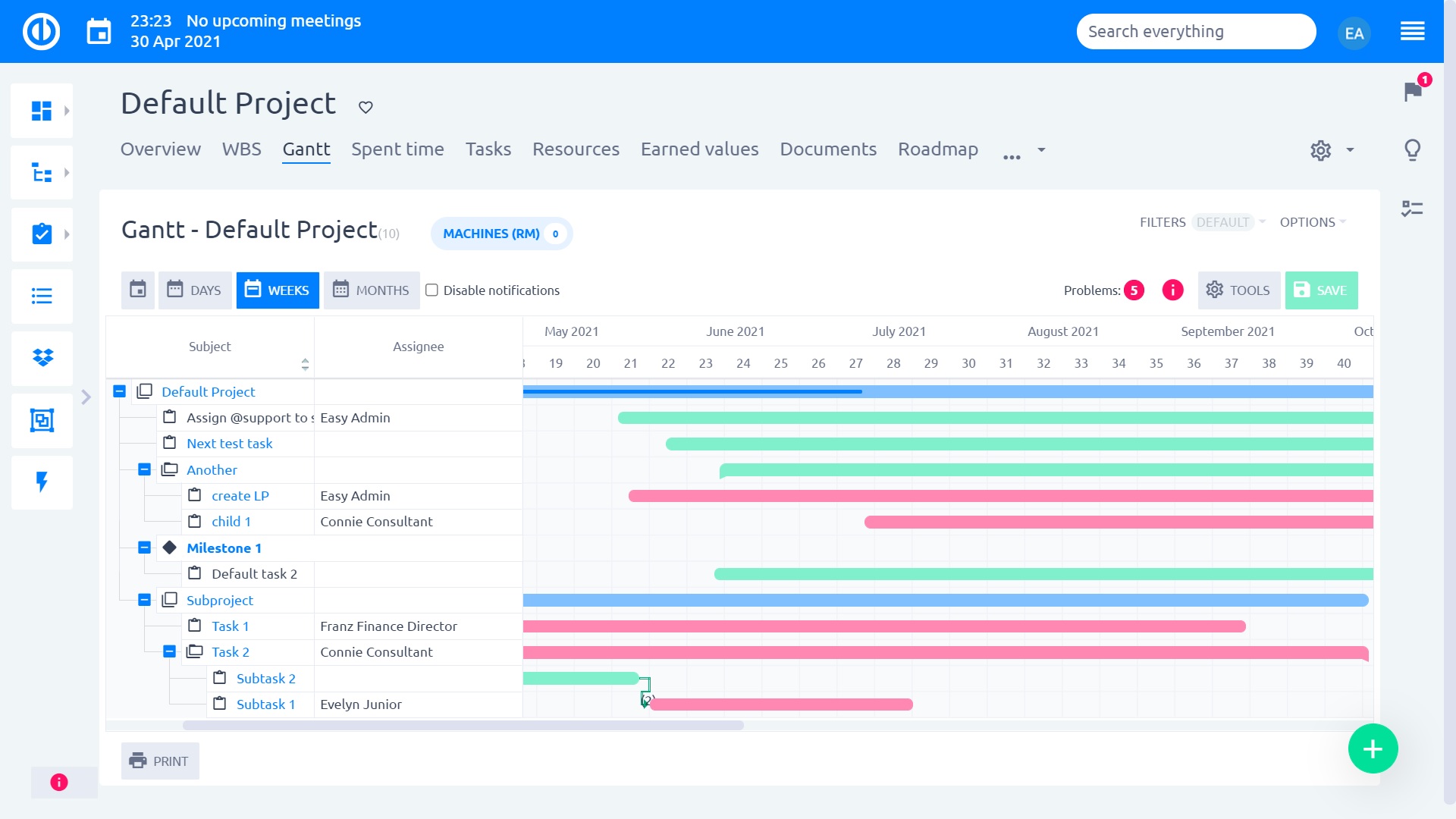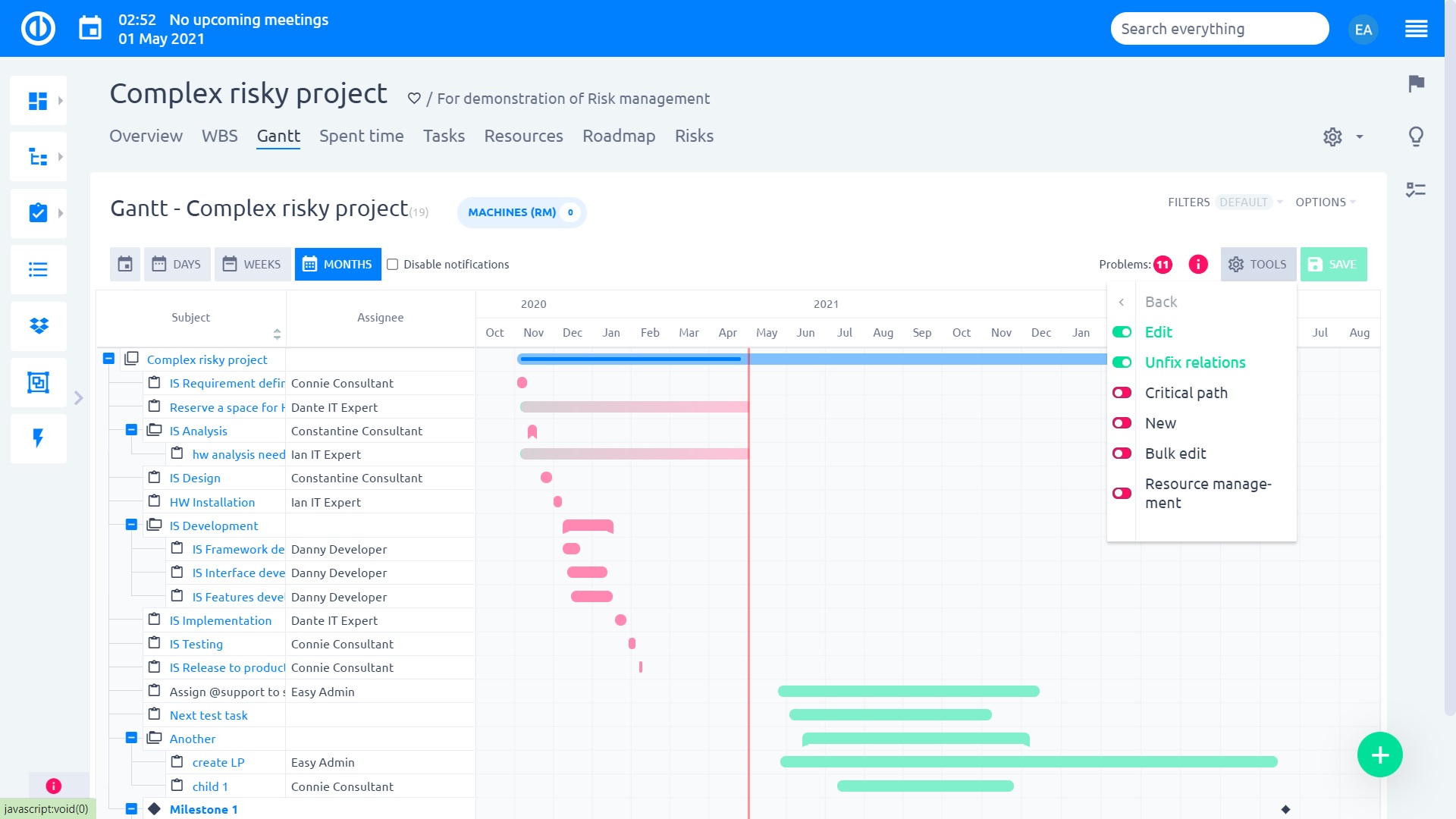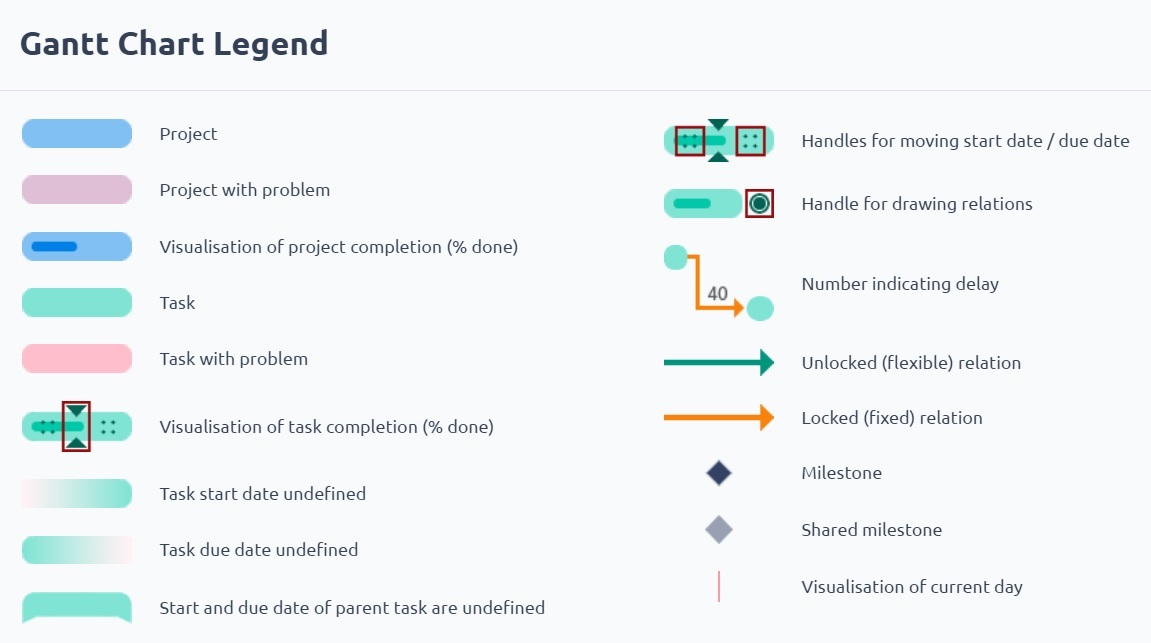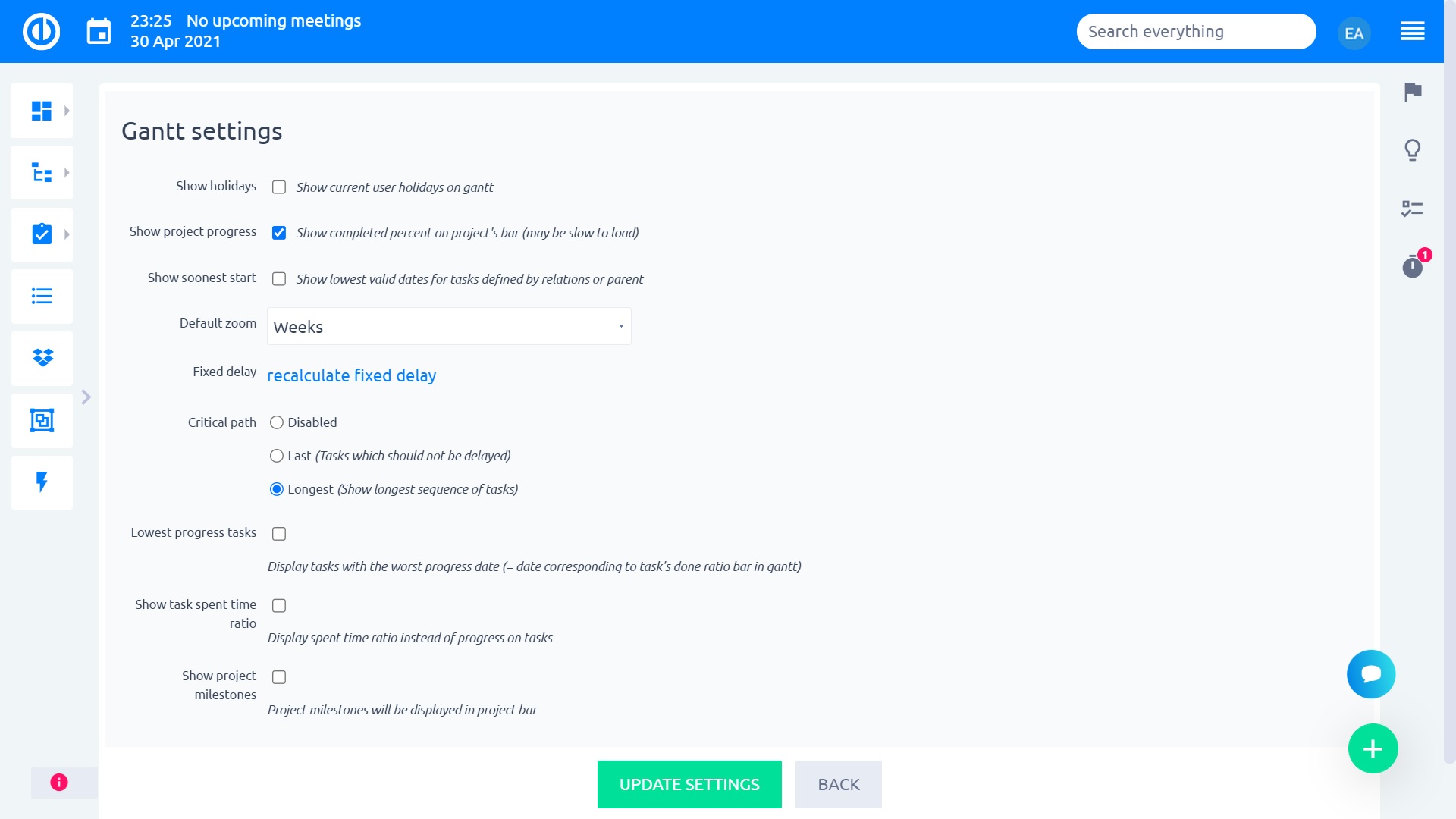 WBS – Work Breakdown Structure
Eliminate undefined tasks and delays by using WBS. Clearly parse out projects and define all the deliverables. Quick personal planning and collaborative development of a project's scope are easy with WBS.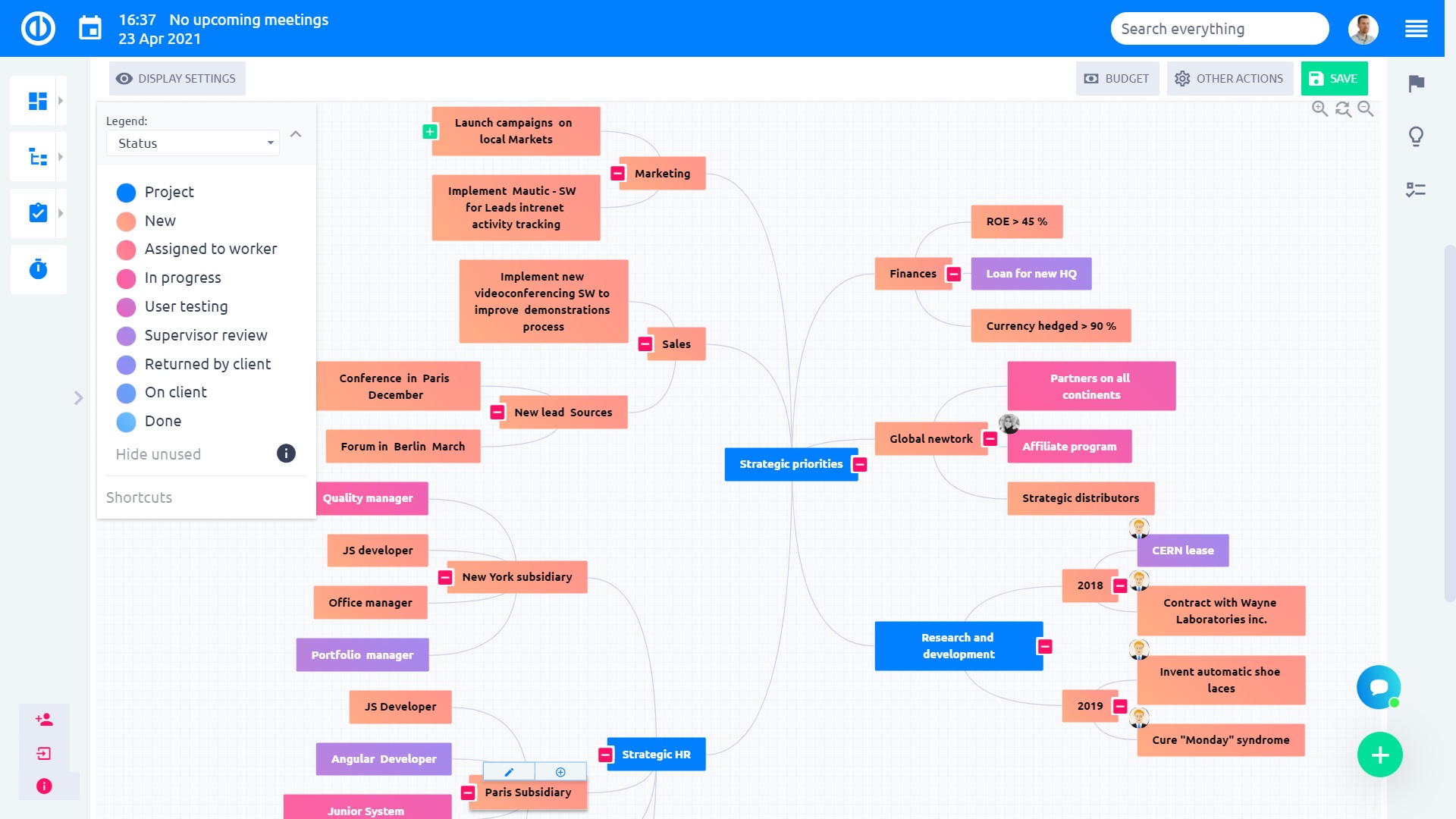 Key features:
Mind map like visualization of the projects, tasks, and sub-tasks
Drag & Drop sorting of tasks and projects
Creation of tasks from the mind map
Colour visualization of tasks completion and trackers
Familiar keyboard shortcuts from other mind map tools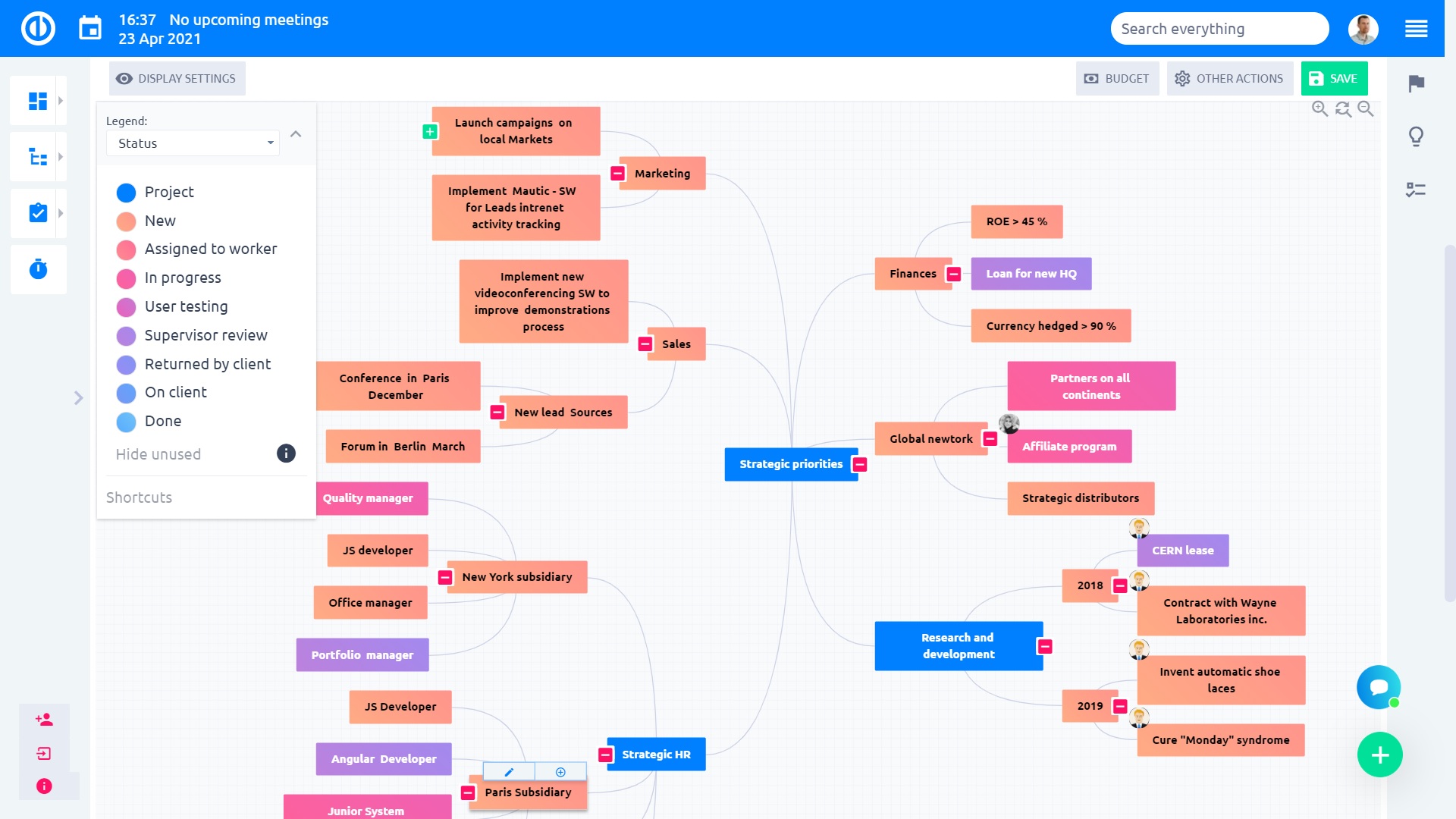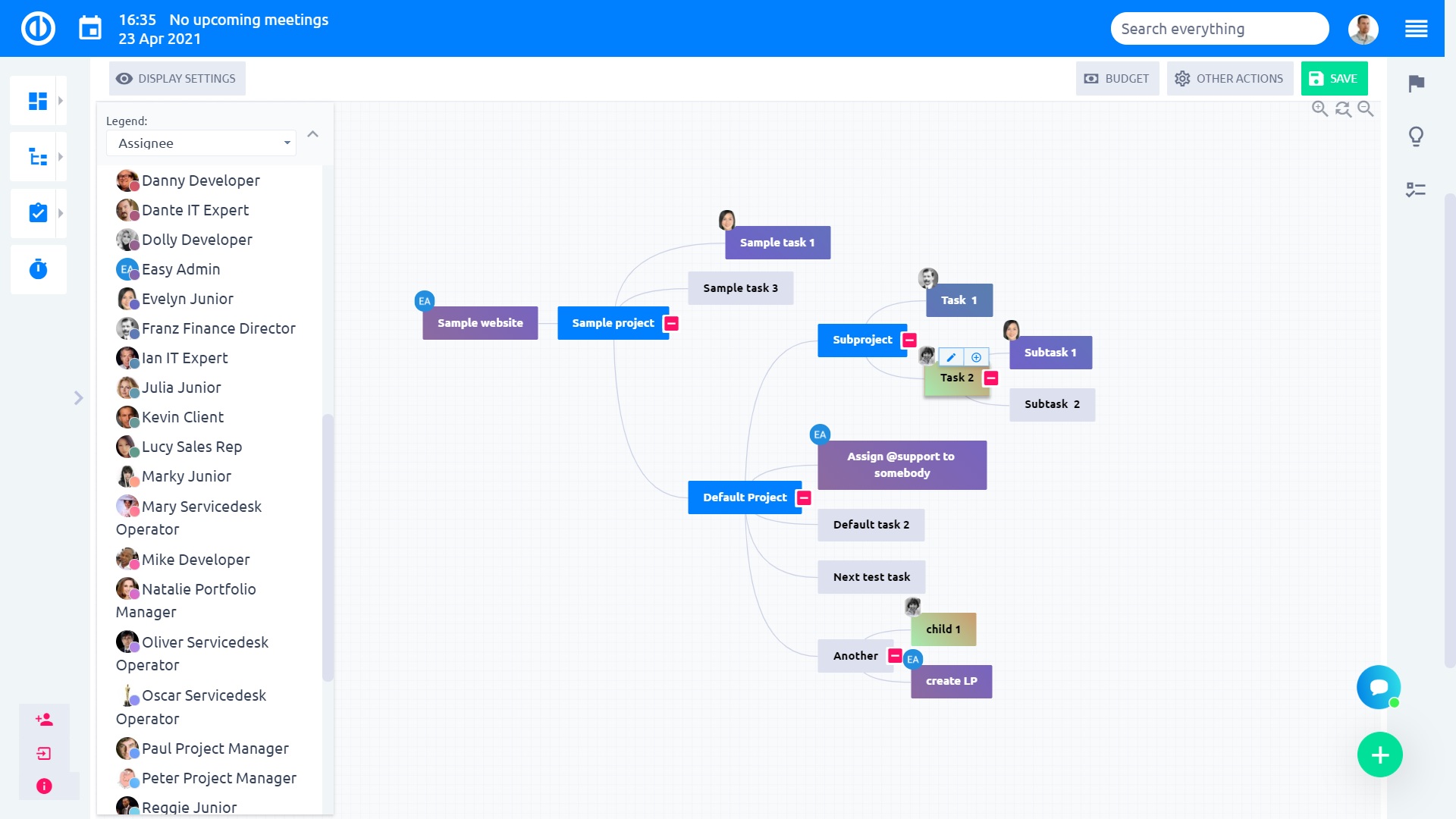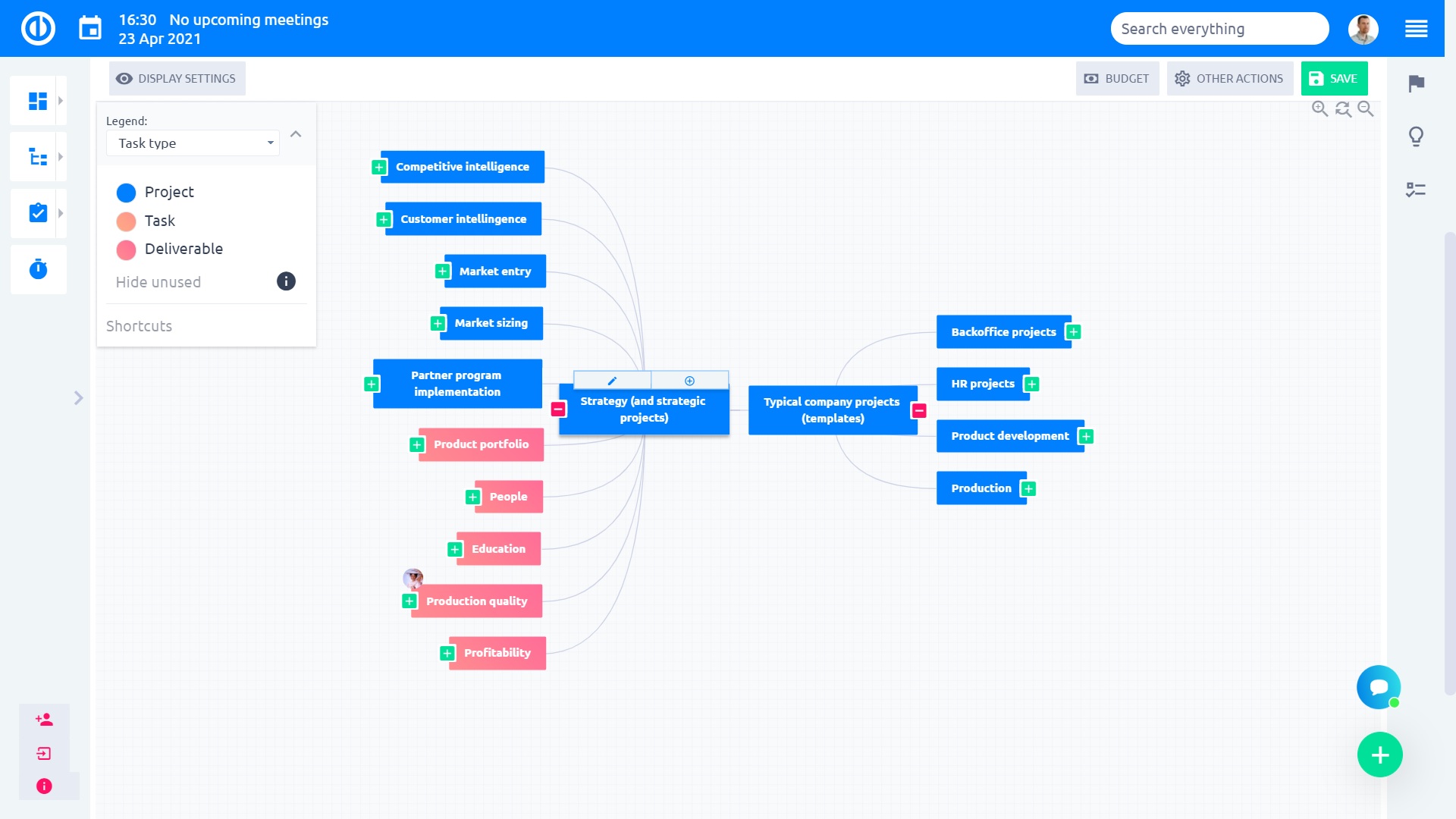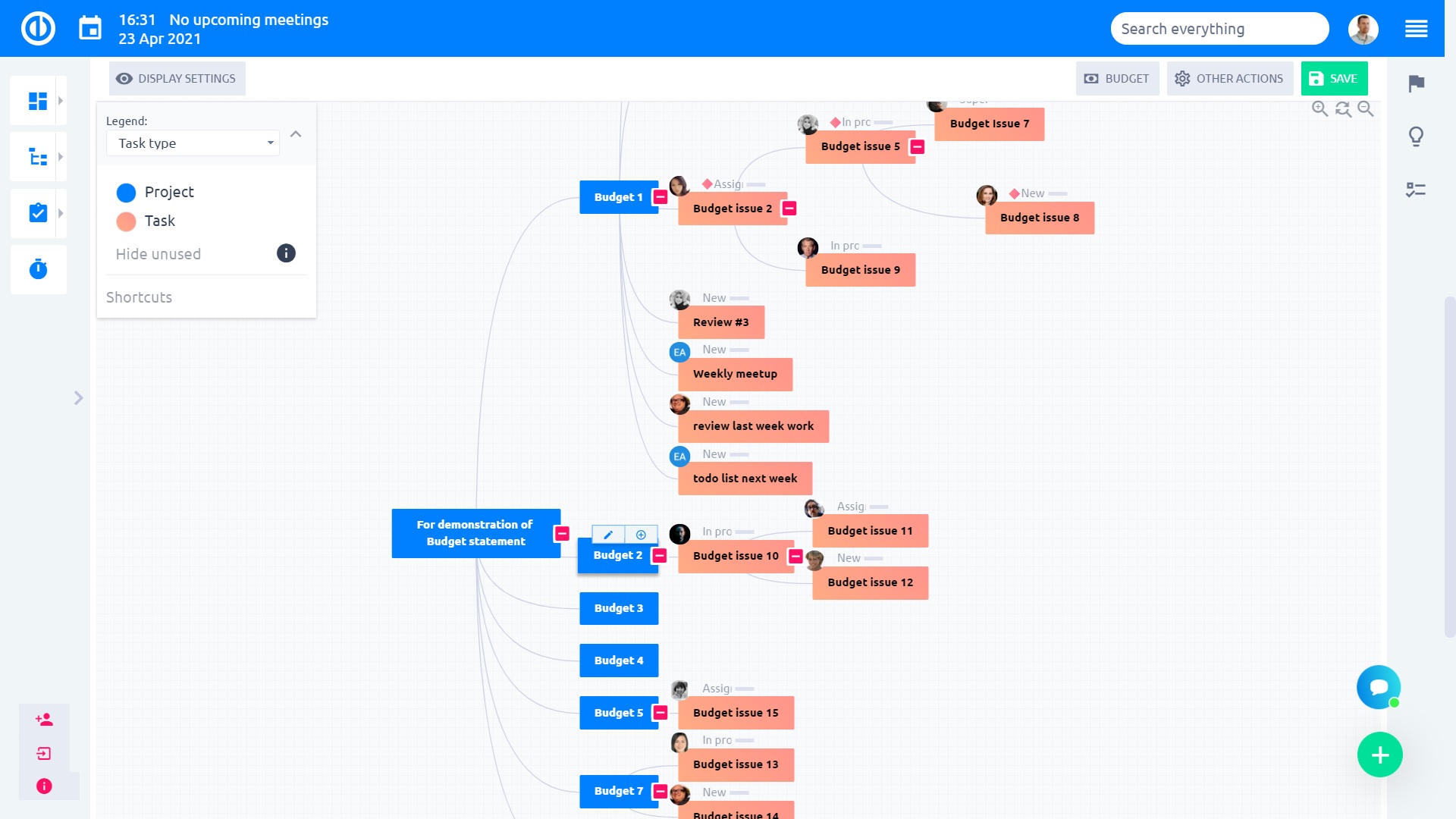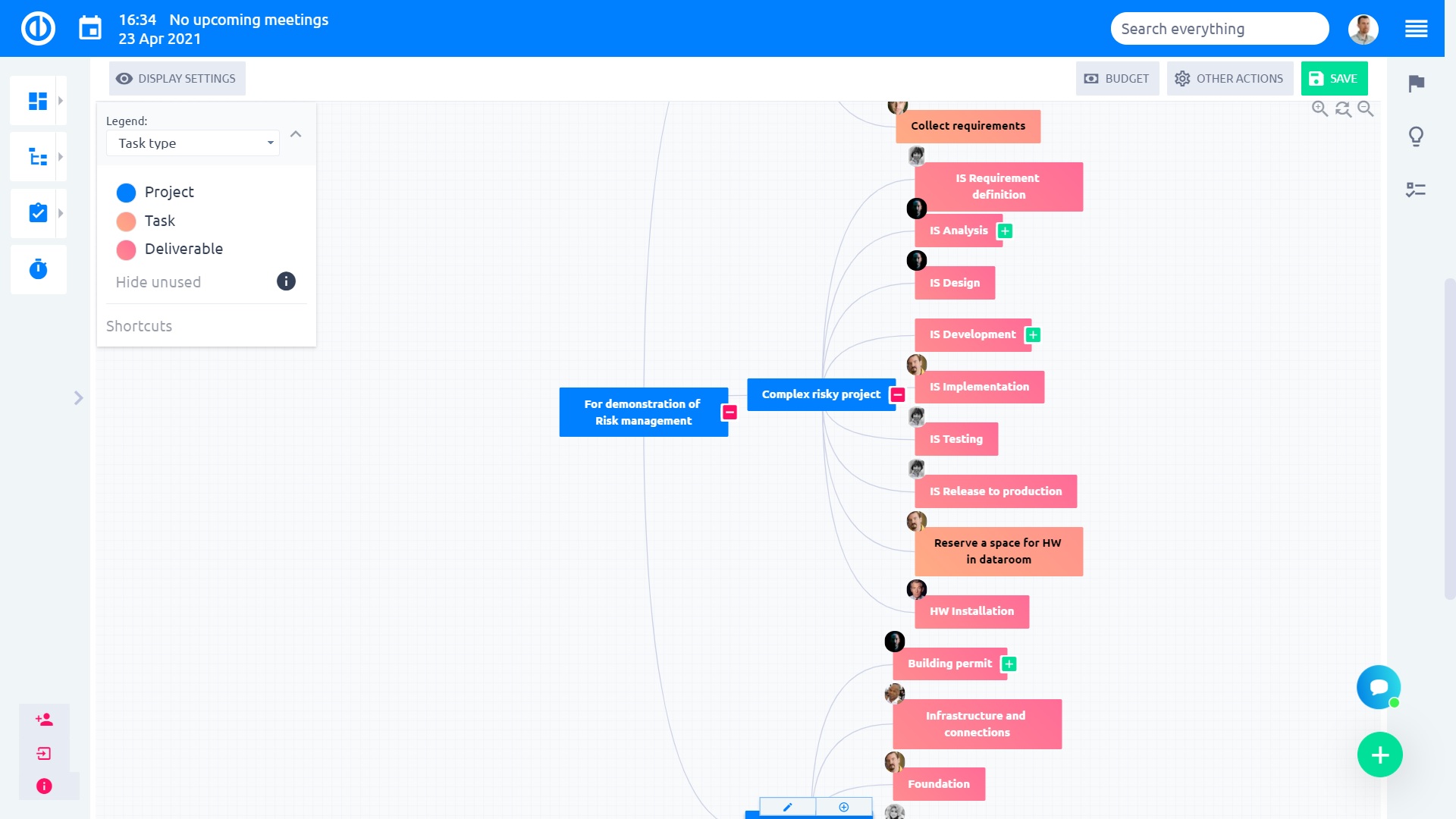 Quick Project Planner
Quickly plan complete projects by entering the basic task details: name, duration, and due date. Available through the sidebar of your project page, the planner will allow you to take note of tasks during both the brainstorming and preliminary project definition stages.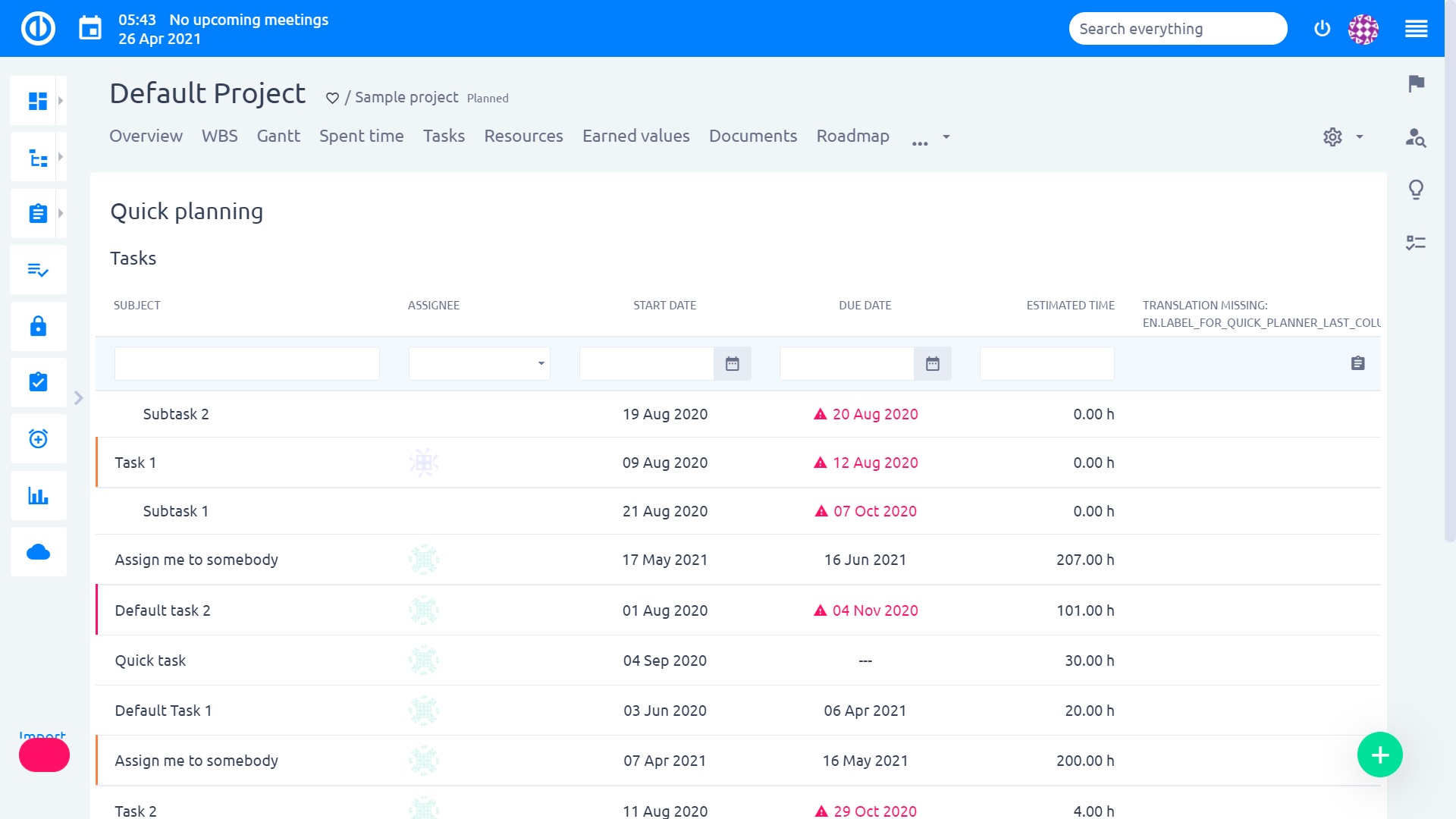 Key Features:
Allows to set name, estimated time & due date
Pop-up menu for definition of other task details
Project level module easily accessible through sidebar
Saves time, ideal for on the go planning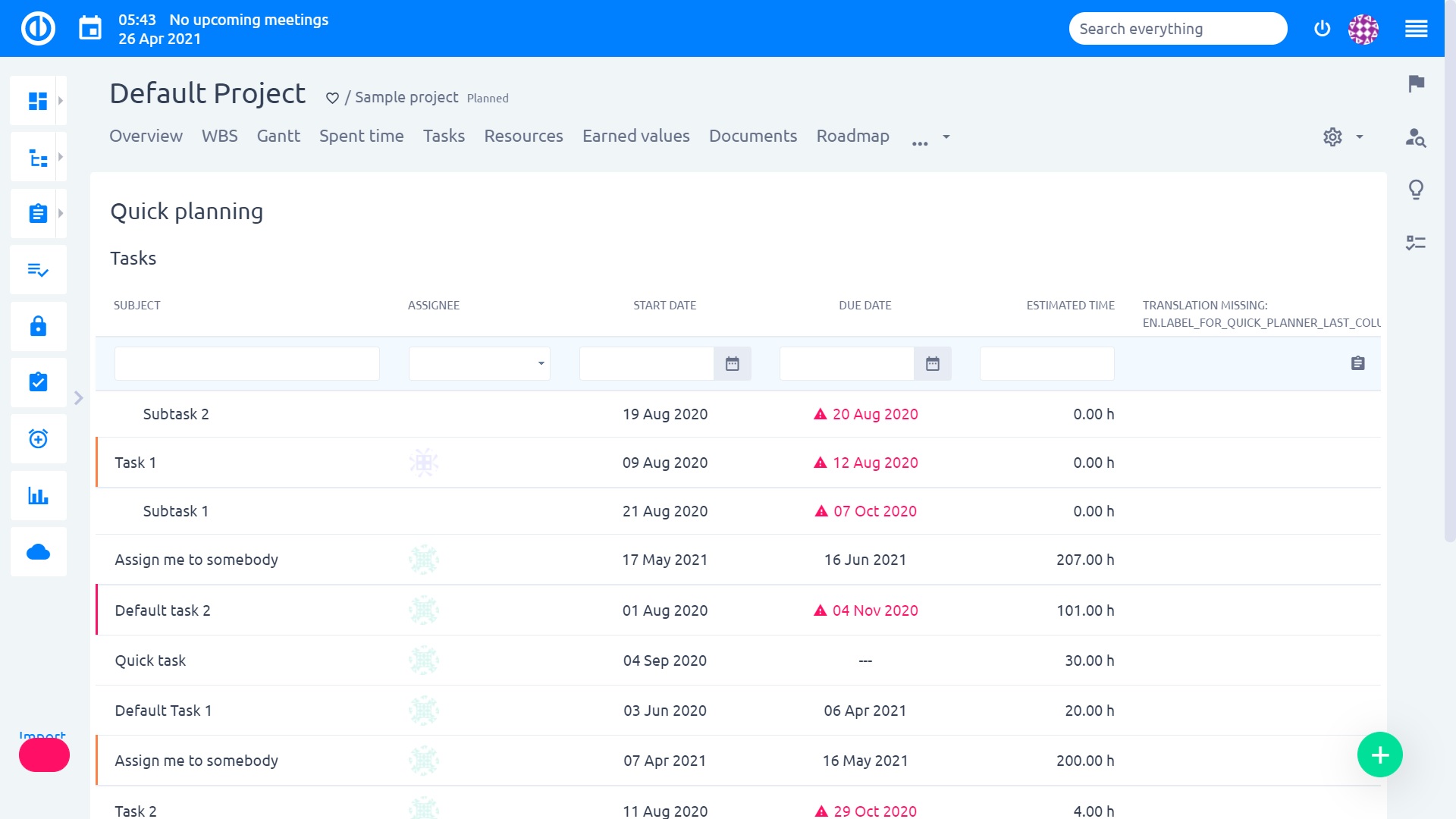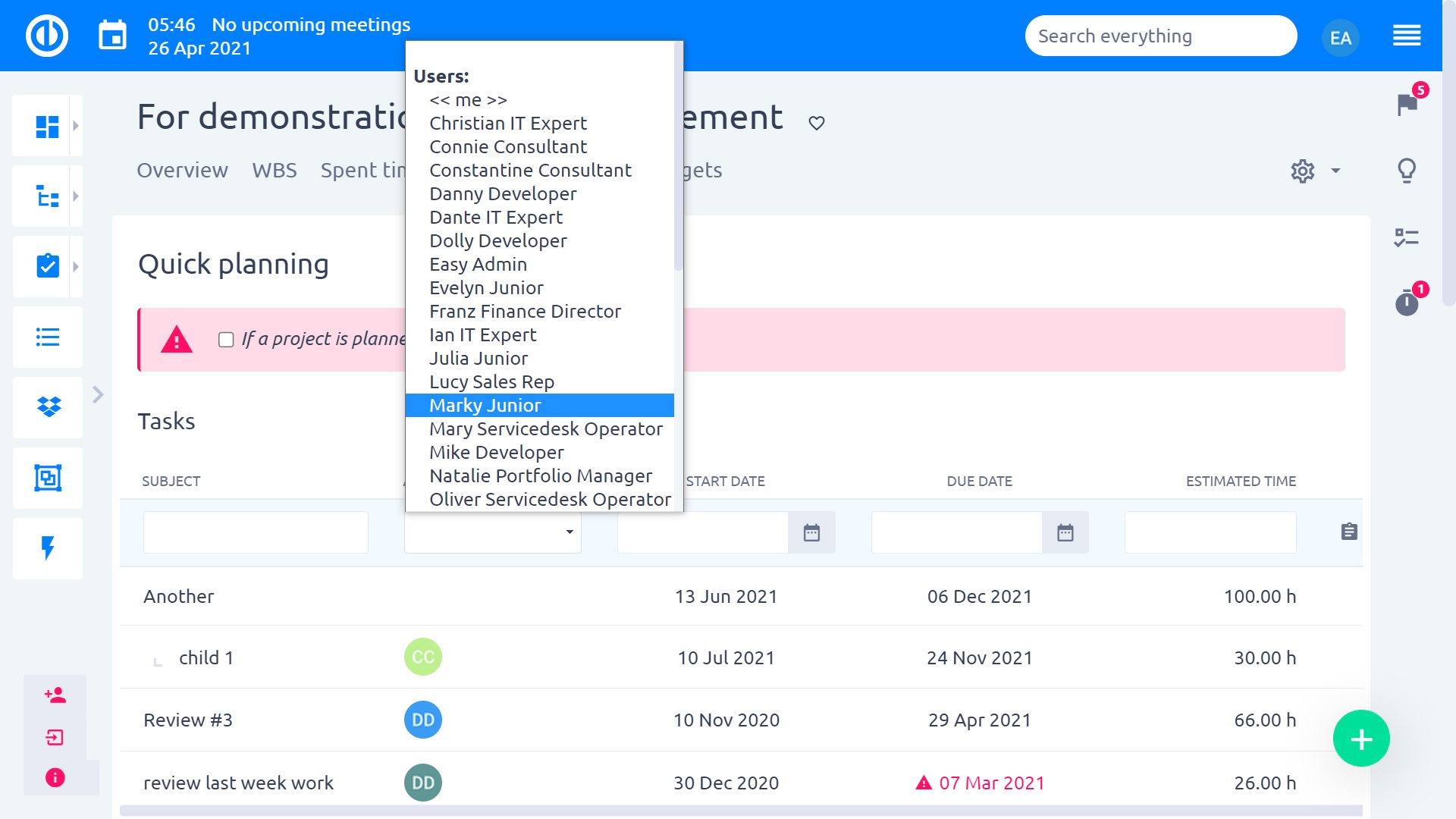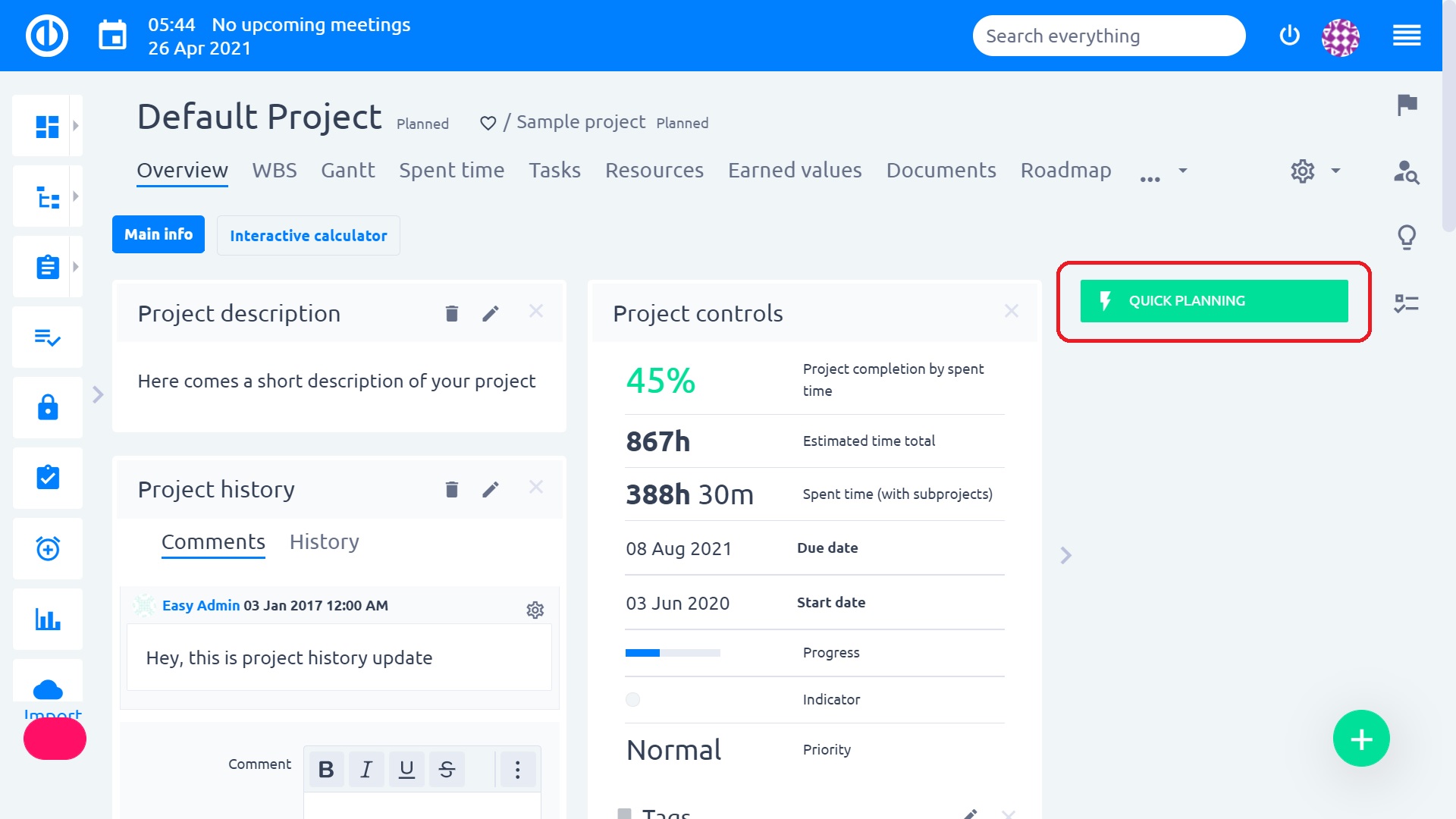 Project roadmap
Get an instant overview of your project goals in the form of milestones and all the tasks that need to be completed. With Project Roadmap, you get an instant overview of the whole project plan.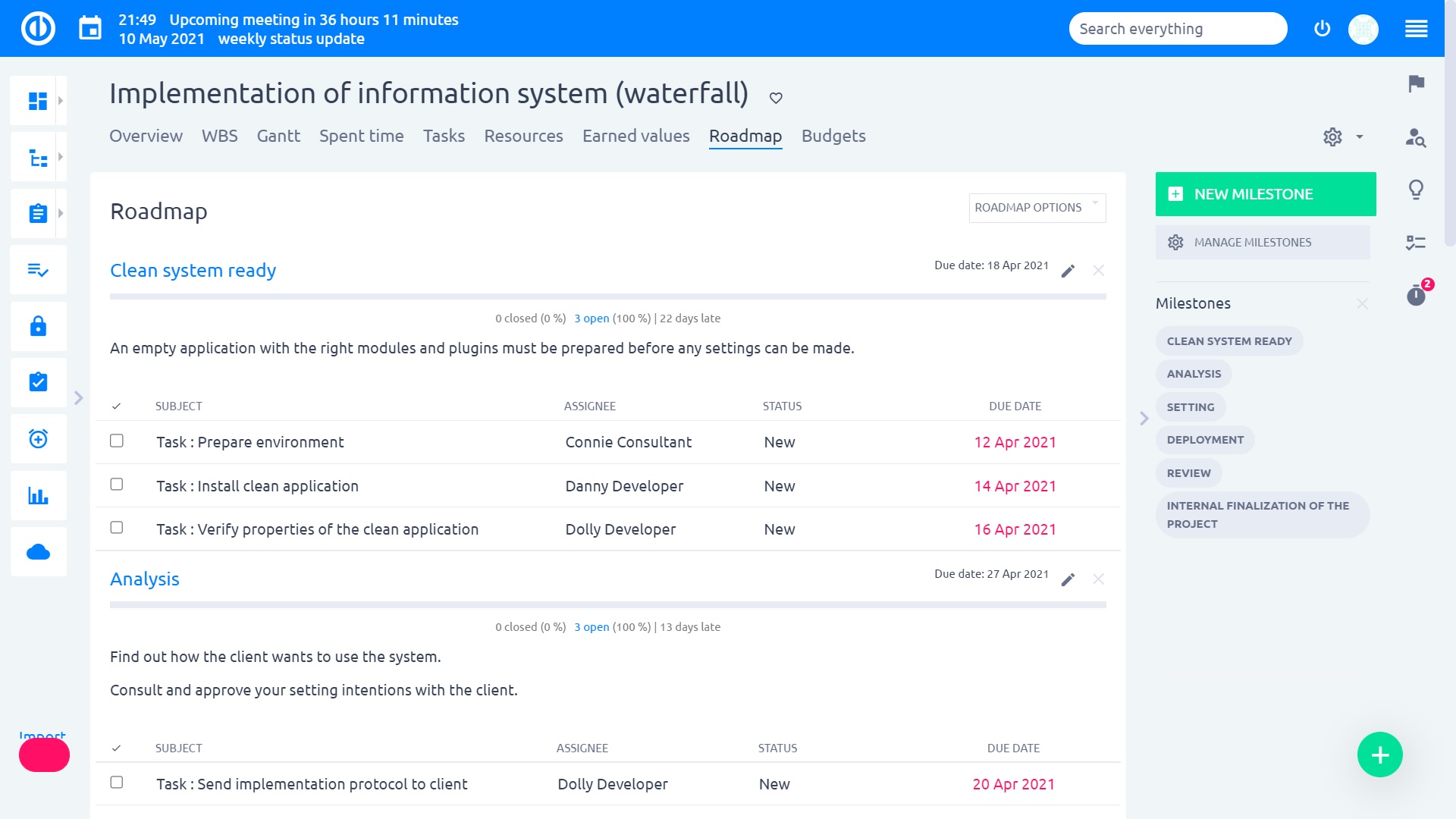 Key features:
Visualization of the whole project plan on a single page
Display of milestones with associated tasks
Display of due dates and current progress
Easy milestone filtering
Quick access from the project menu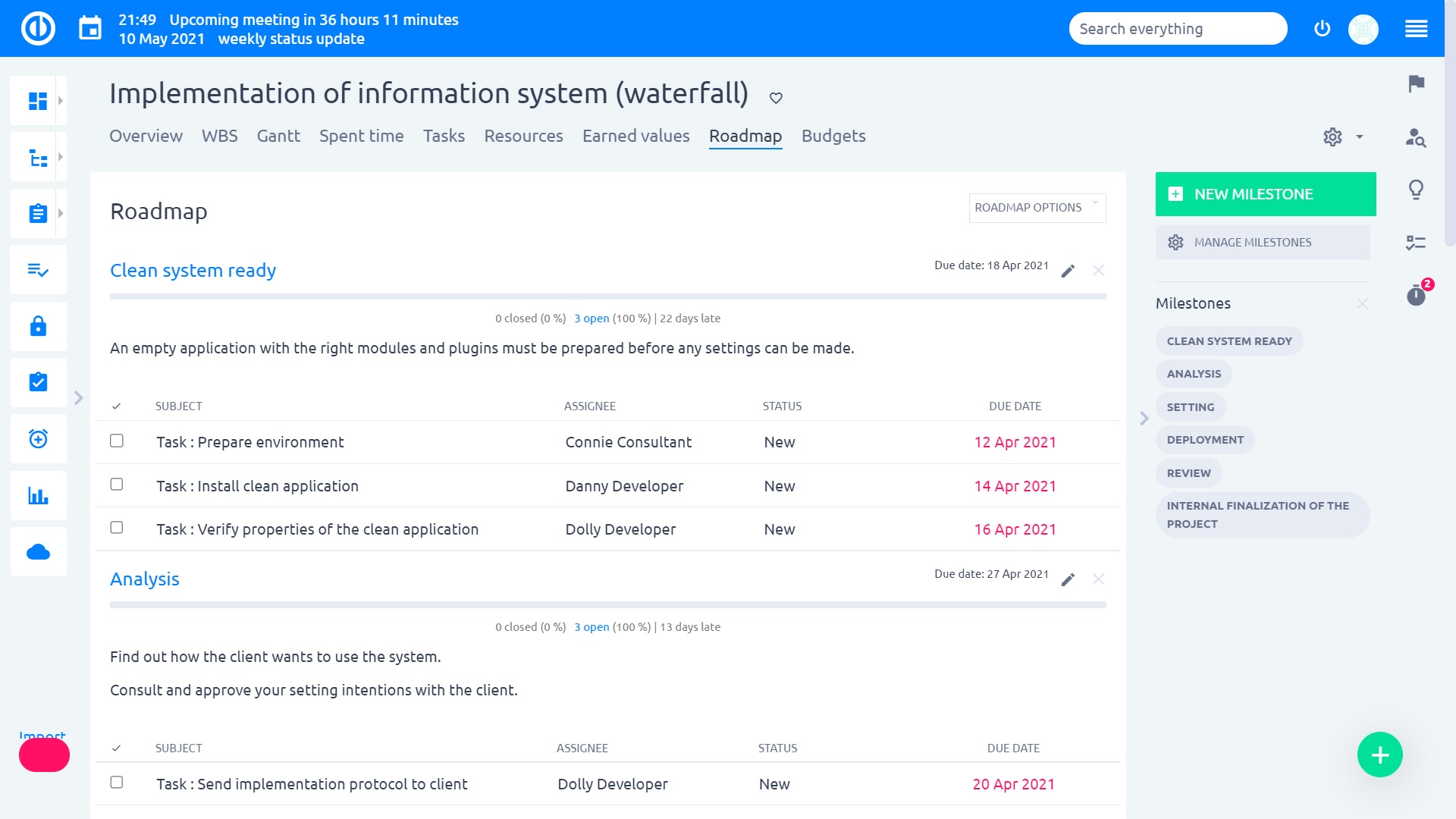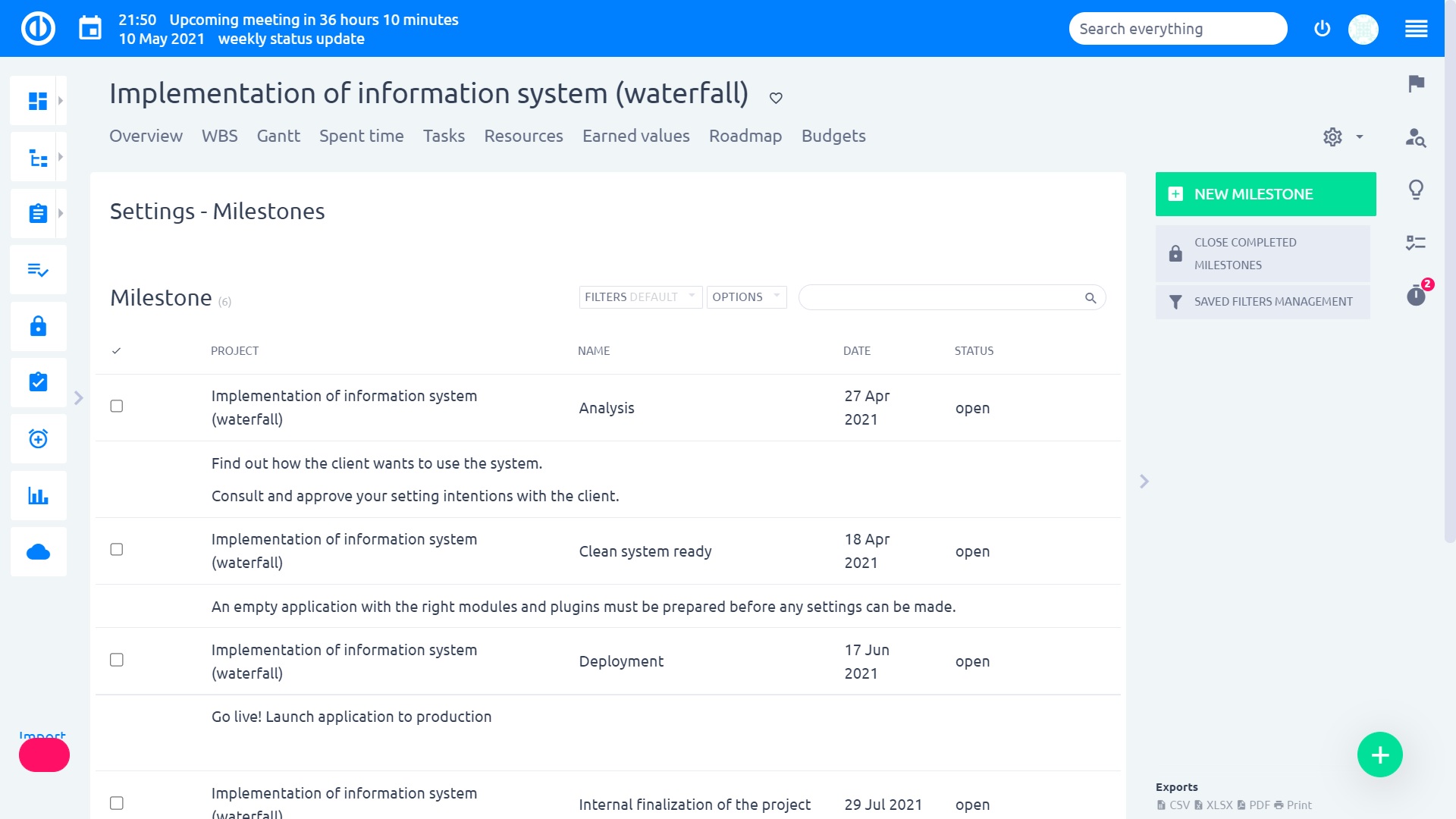 100% GDPR compliance
Easy Software takes personal data protection seriously. European regulation known as general Data Protection Regulation (GDPR) brings a number of challenges to all organizations and became one of the most resonated business topics. Our mission is to provide Easy Project clients and basically all Project community with a reliable software which allows fulfilling all duties of Data Processors efficiently. Easy Project is 100% GDPR-ready from version 1.3 (May 2018).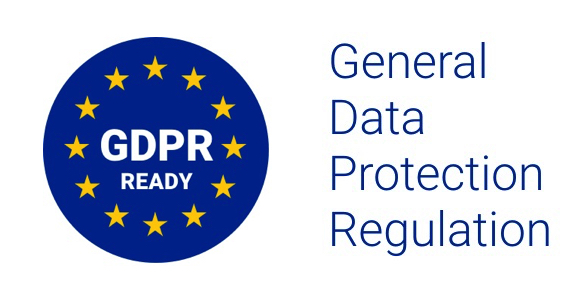 Key features:
Extended password policy enforcement (2-factor authentication, auto sign-off...)

Technical and process measures to limit potential data access only to requested people or occasions

GDPR specific features (right to be forgotten, contact anonymization, right to access...)

Verified cloud data centers with high-end security

Regular back-ups and private cloud for increased security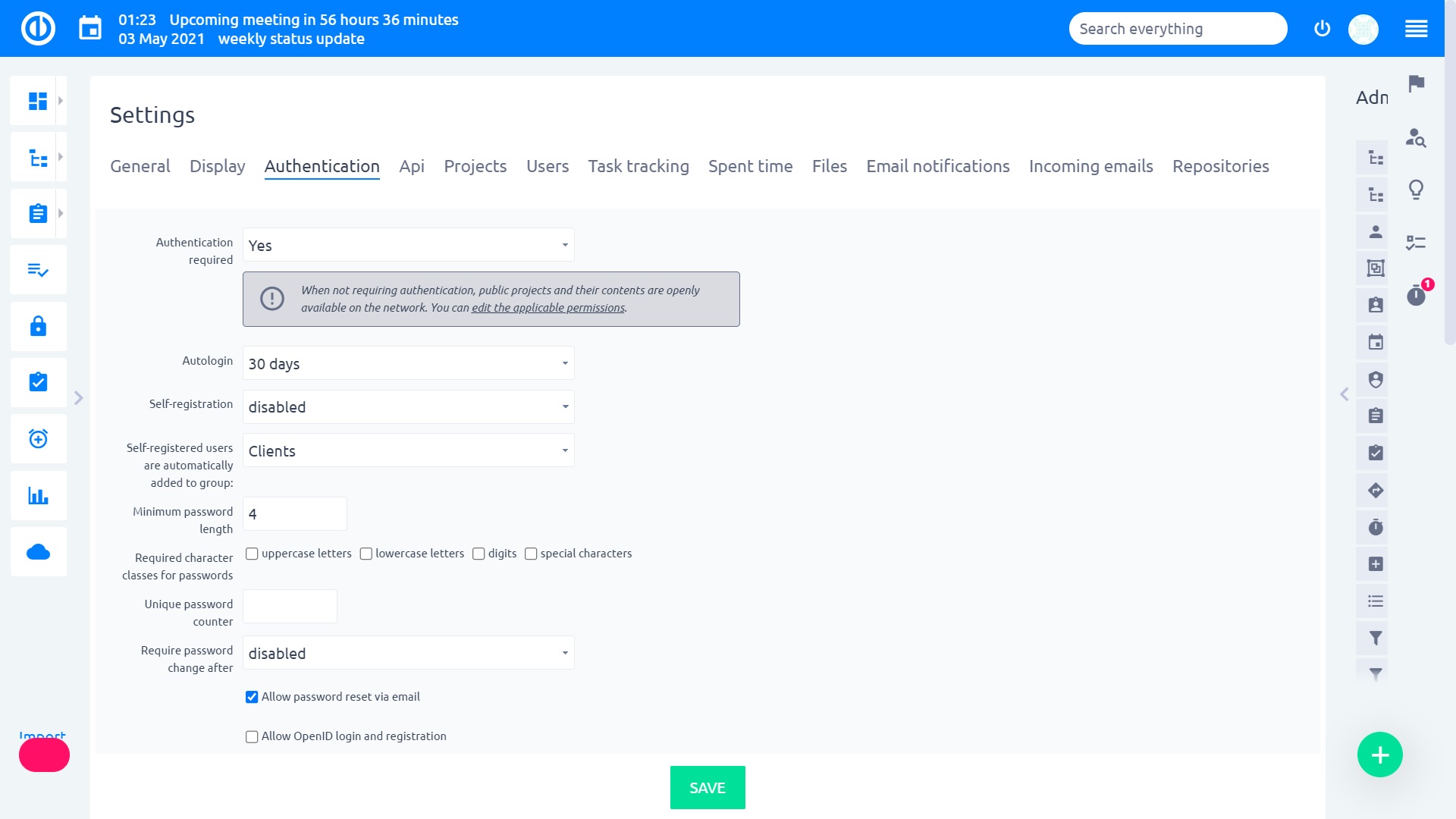 Project Documents
Documents can be attached to tasks and projects and then easily searched, versioned, and edited online. Under the Documents module you can find a complete overview of all the attachments from a specific project and tasks related to each of them.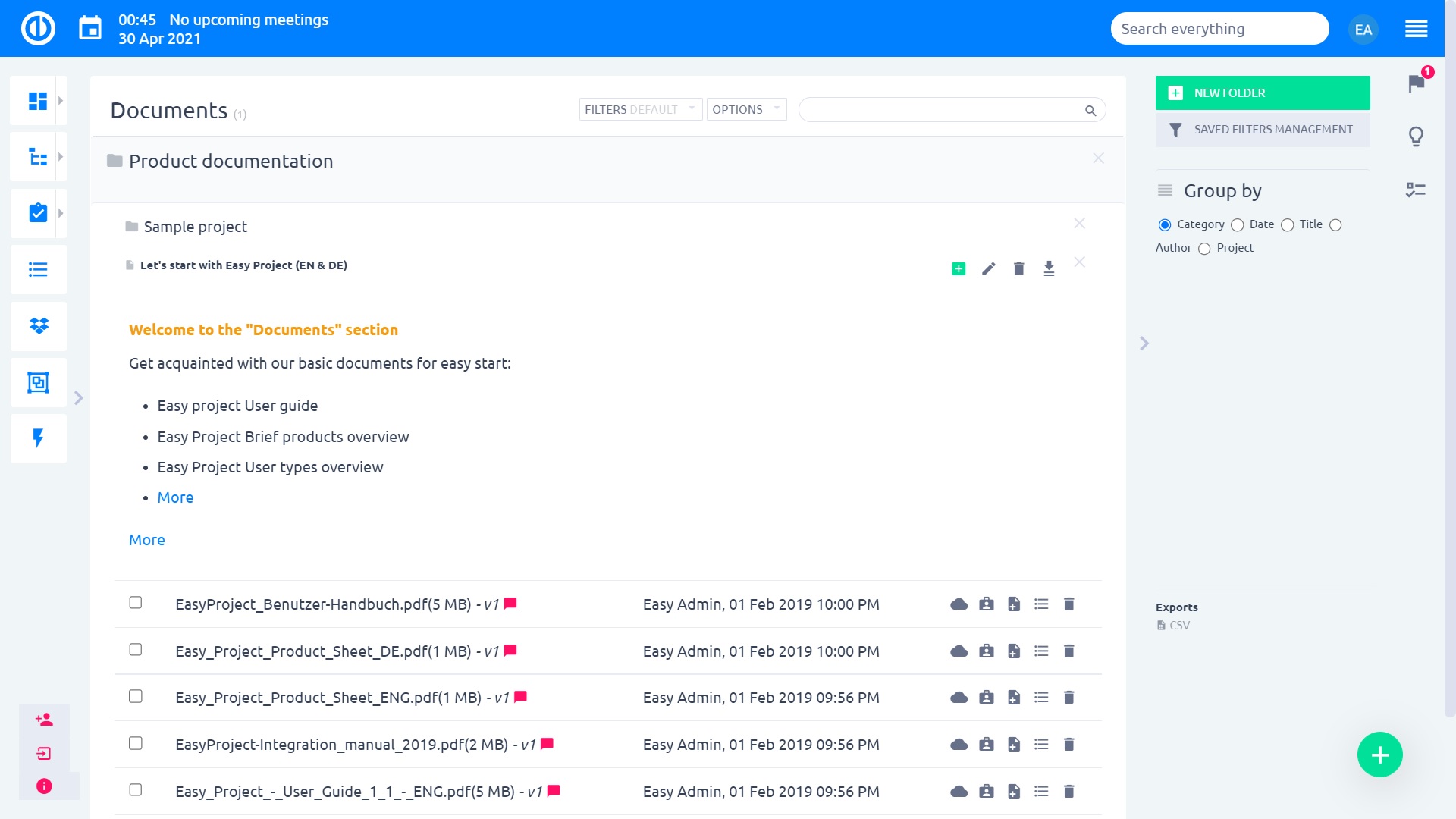 Key features:
Document categorization
Role-based access rights to different document categories
Documents versioning
Online document editing
Complete overview of all task attachments on project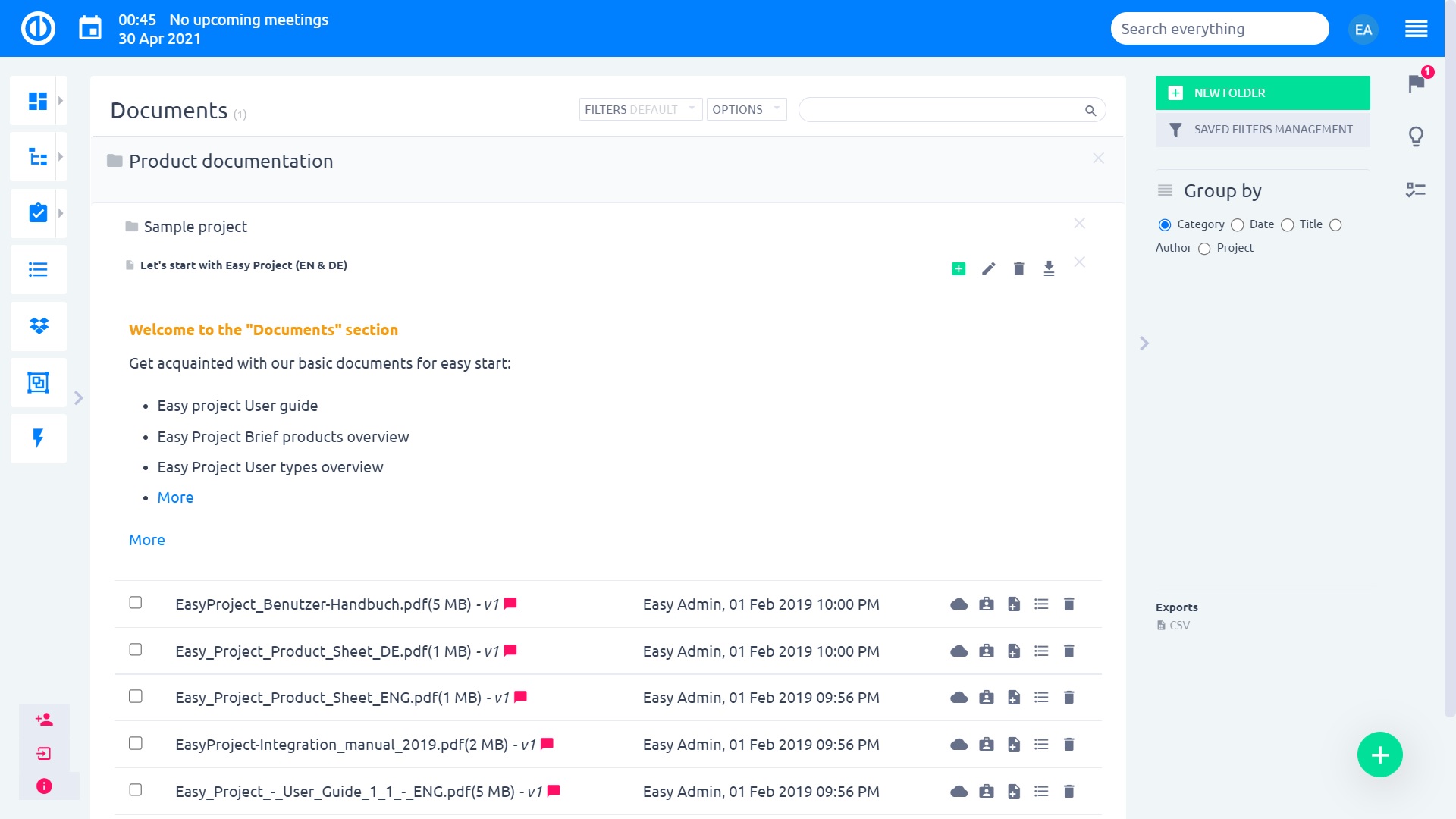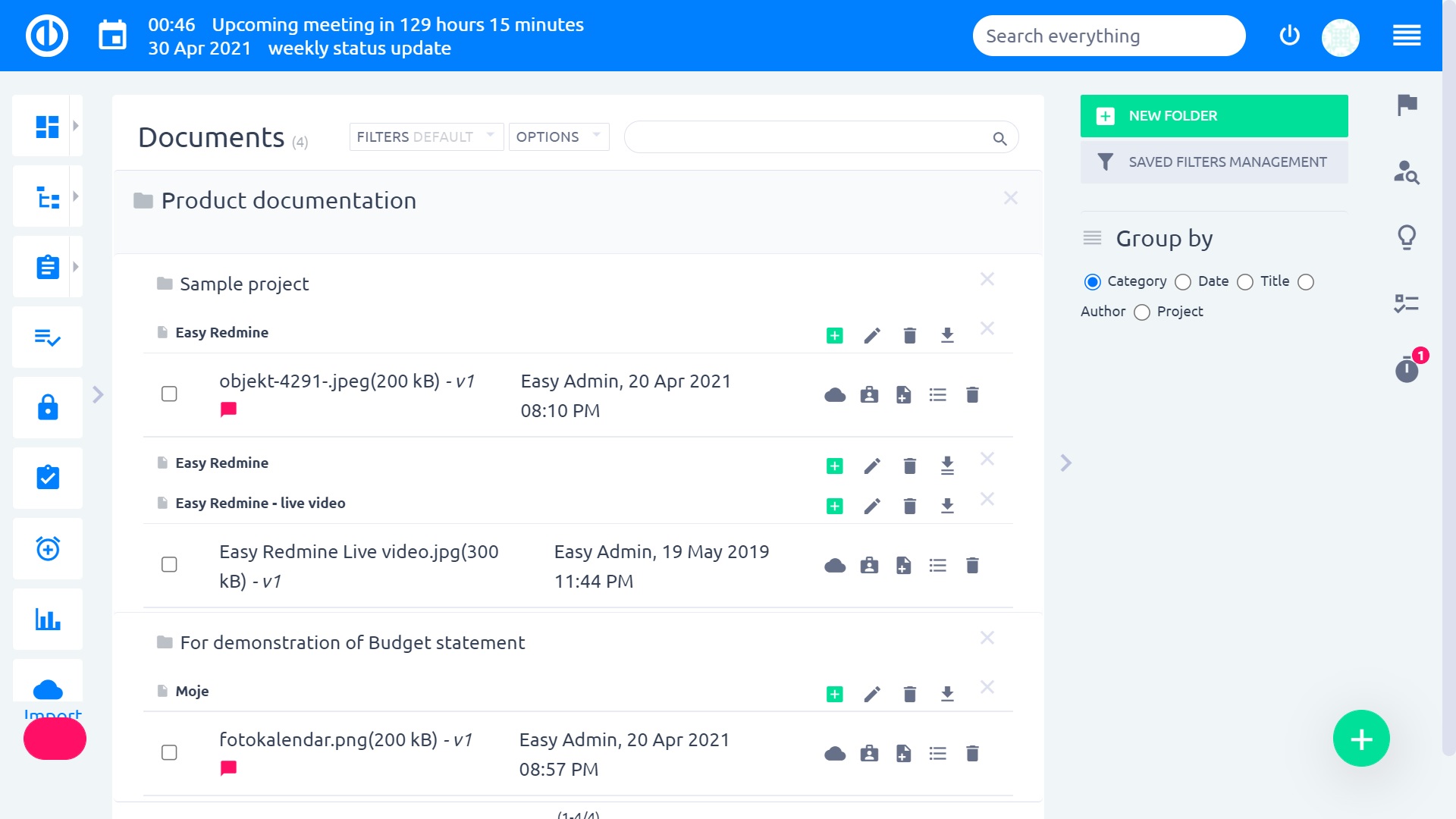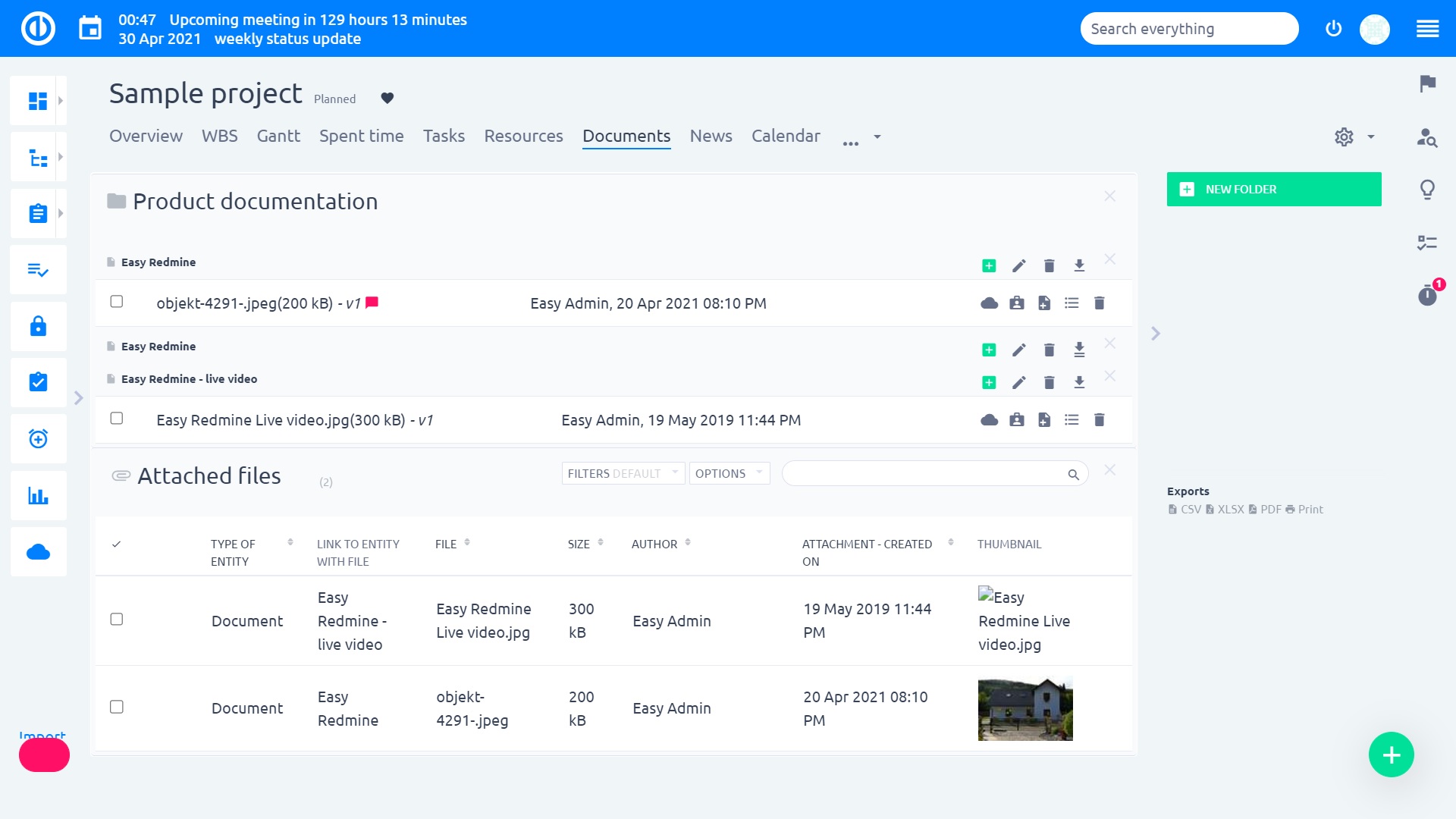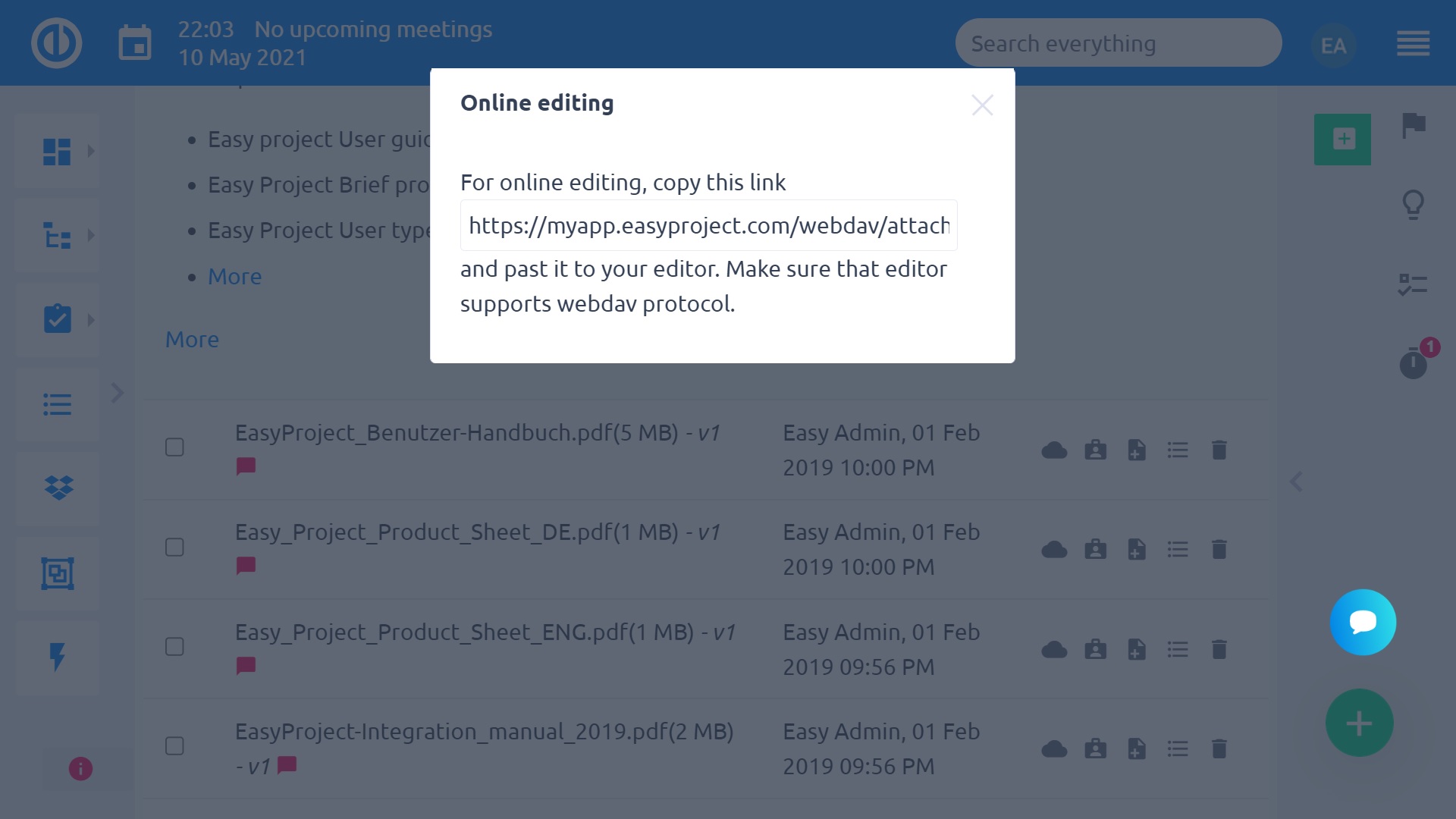 Critical path of the project
A critical path is a sequence of tasks that cannot be delayed or else the whole project would be delayed. Also, it shows the shortest time that the project can be completed. A task within the project is considered critical if its due date can not be delayed since it would directly affect the project completion date.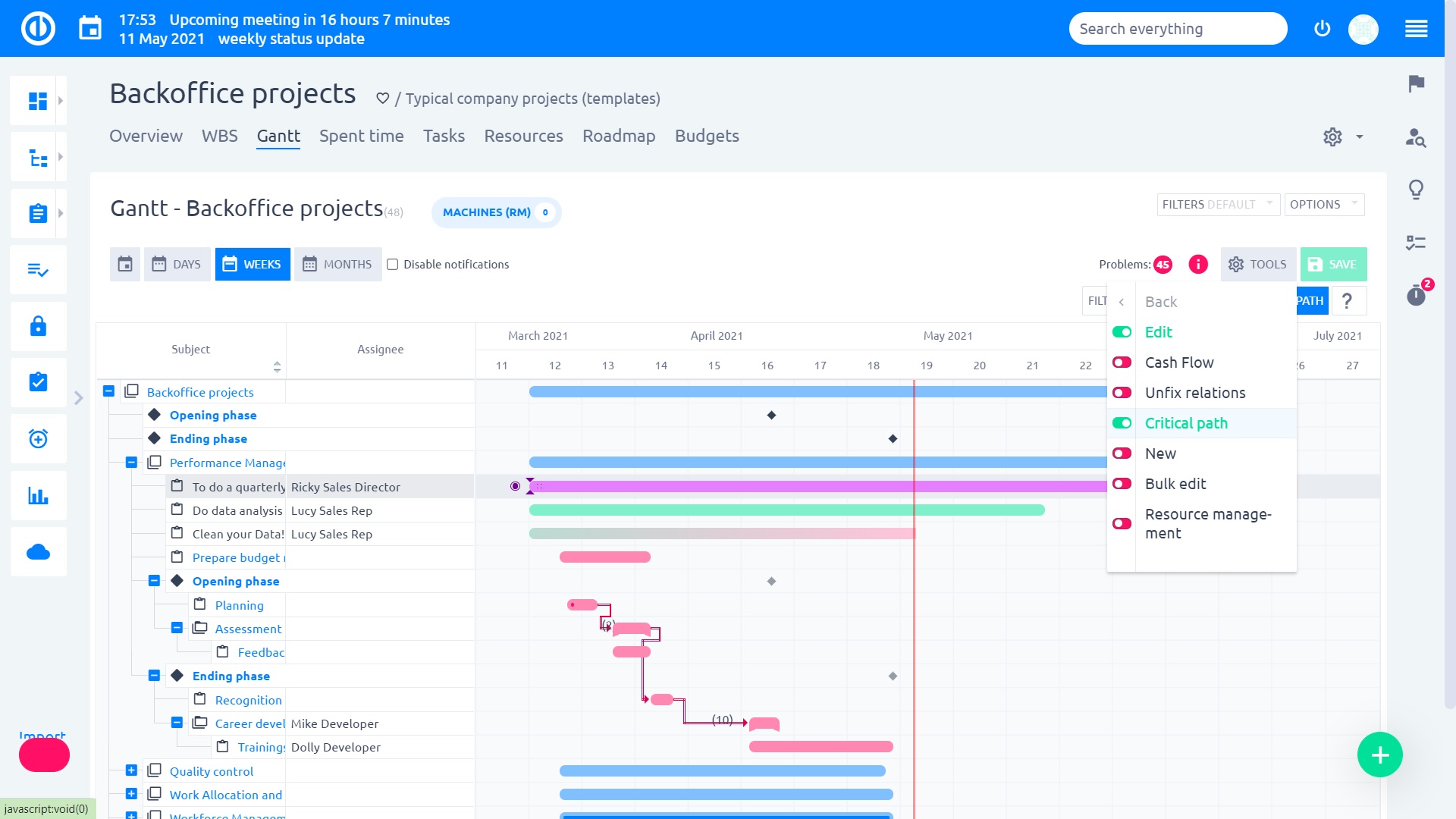 Key features:
identifying the critical tasks of the project

easily accessible via project Easy Gantt

reversed critical path option

helps keep up with the project schedule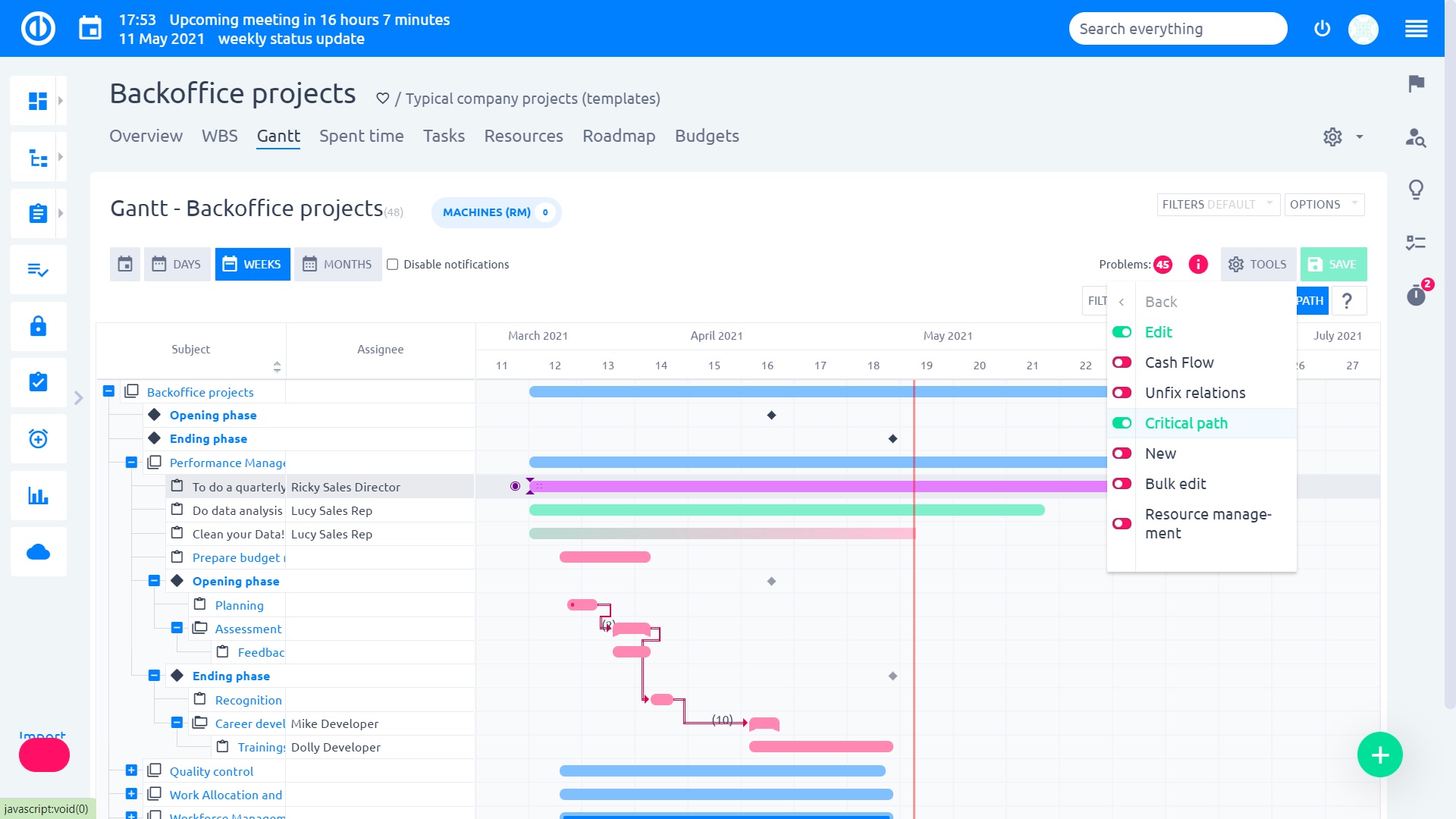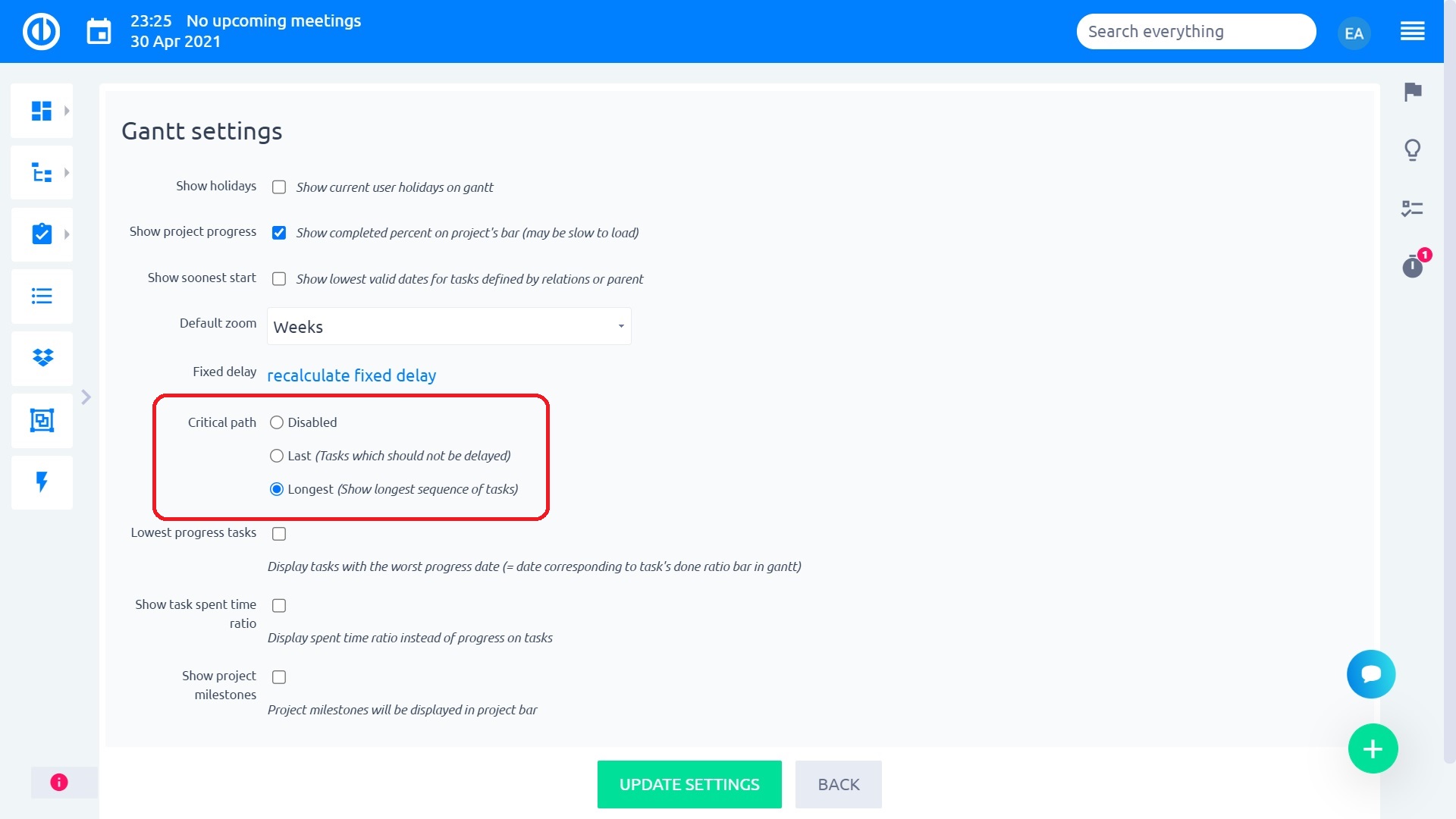 Baselines
Assess project performance by comparing it to the original plan. Baselines provide snapshots of the project plan at different moments, allowing you to easily compare the plan to current performance within your Gantt chart.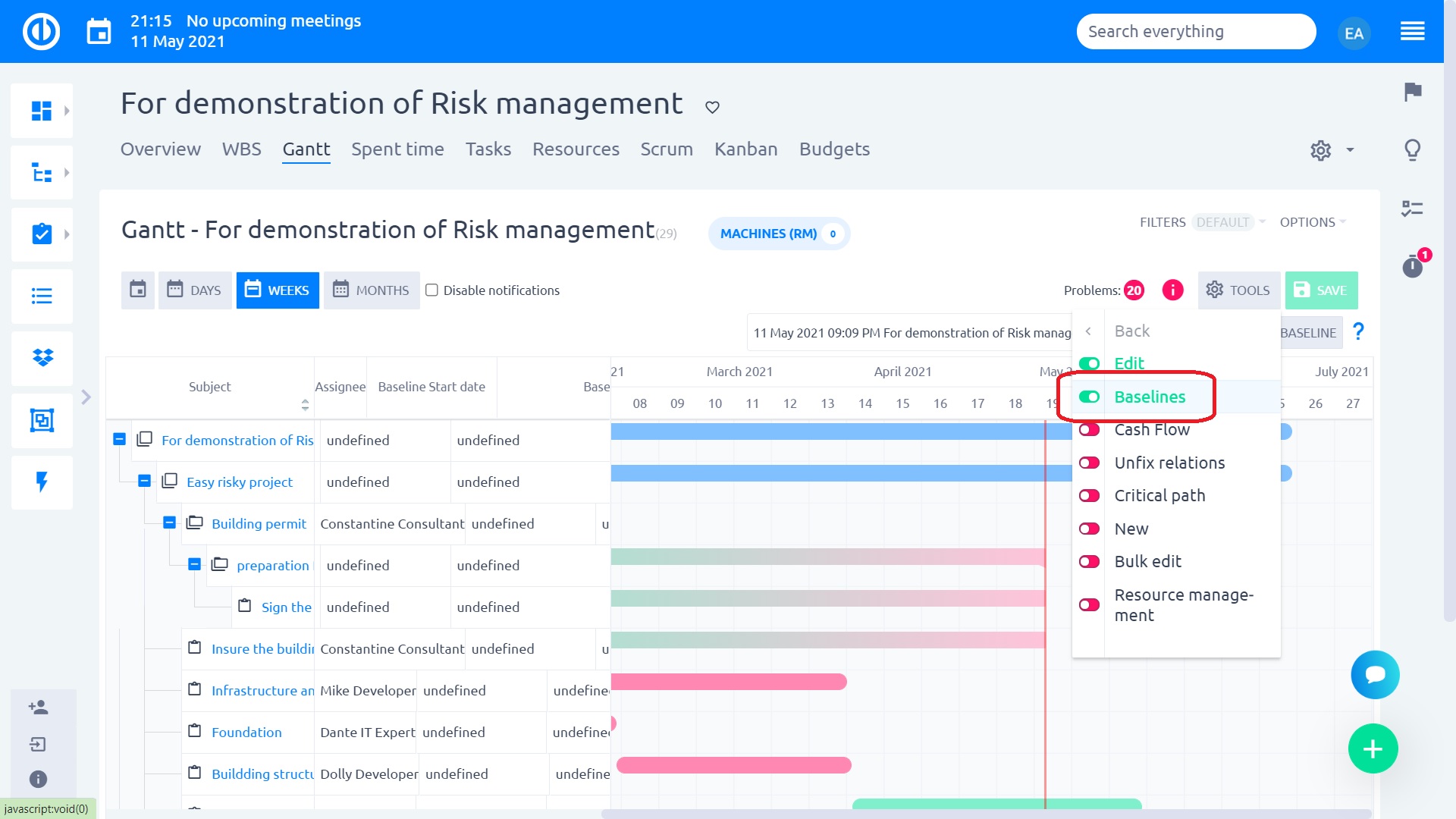 Key Features:
Baselines visualization in Gantt Chart
Unlimited number of baselines
Comparison of current and originally planned start and due dates
Overview of all changes to the tasks' timing
Easy to create and delete directly in Gantt Chart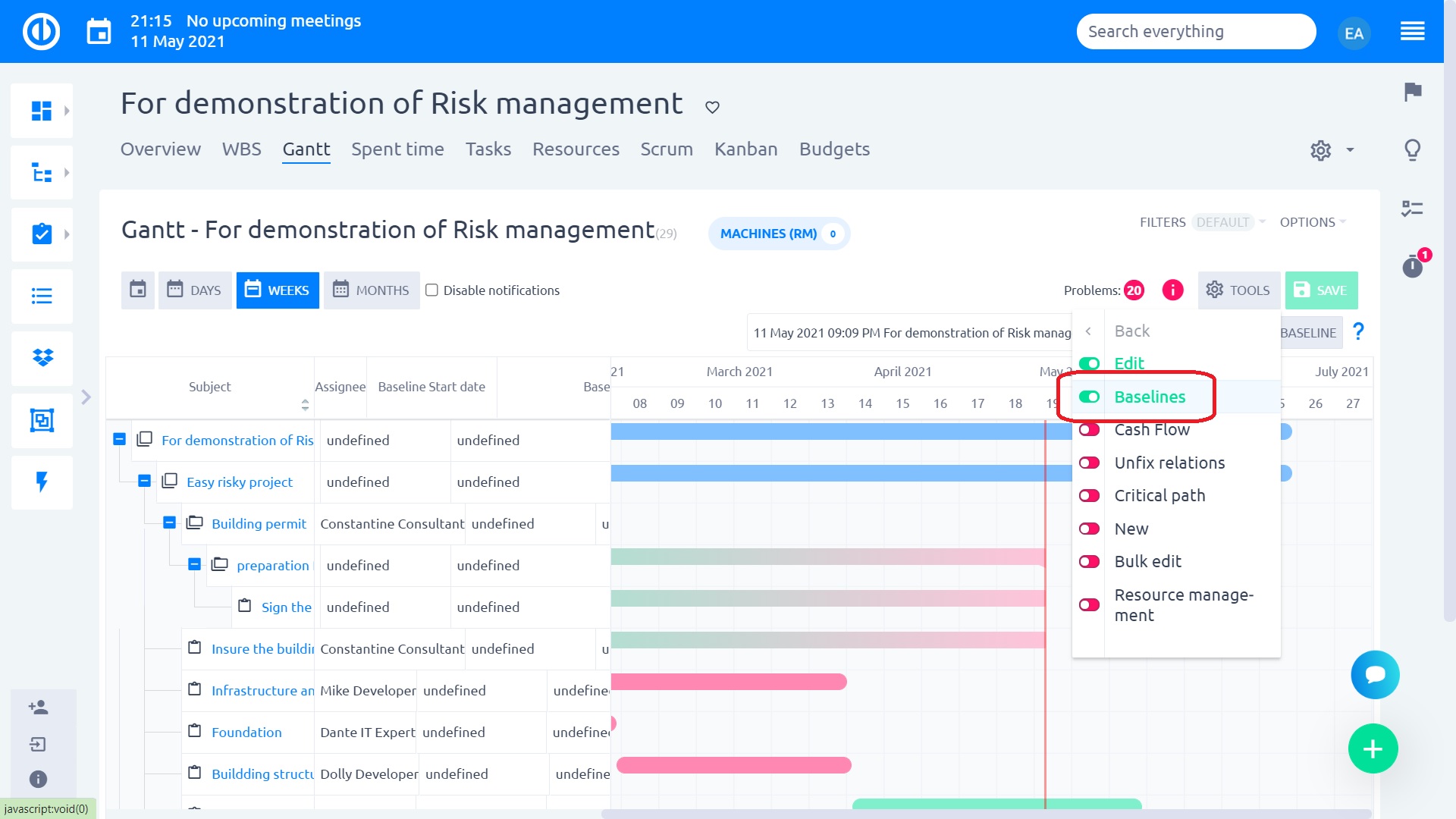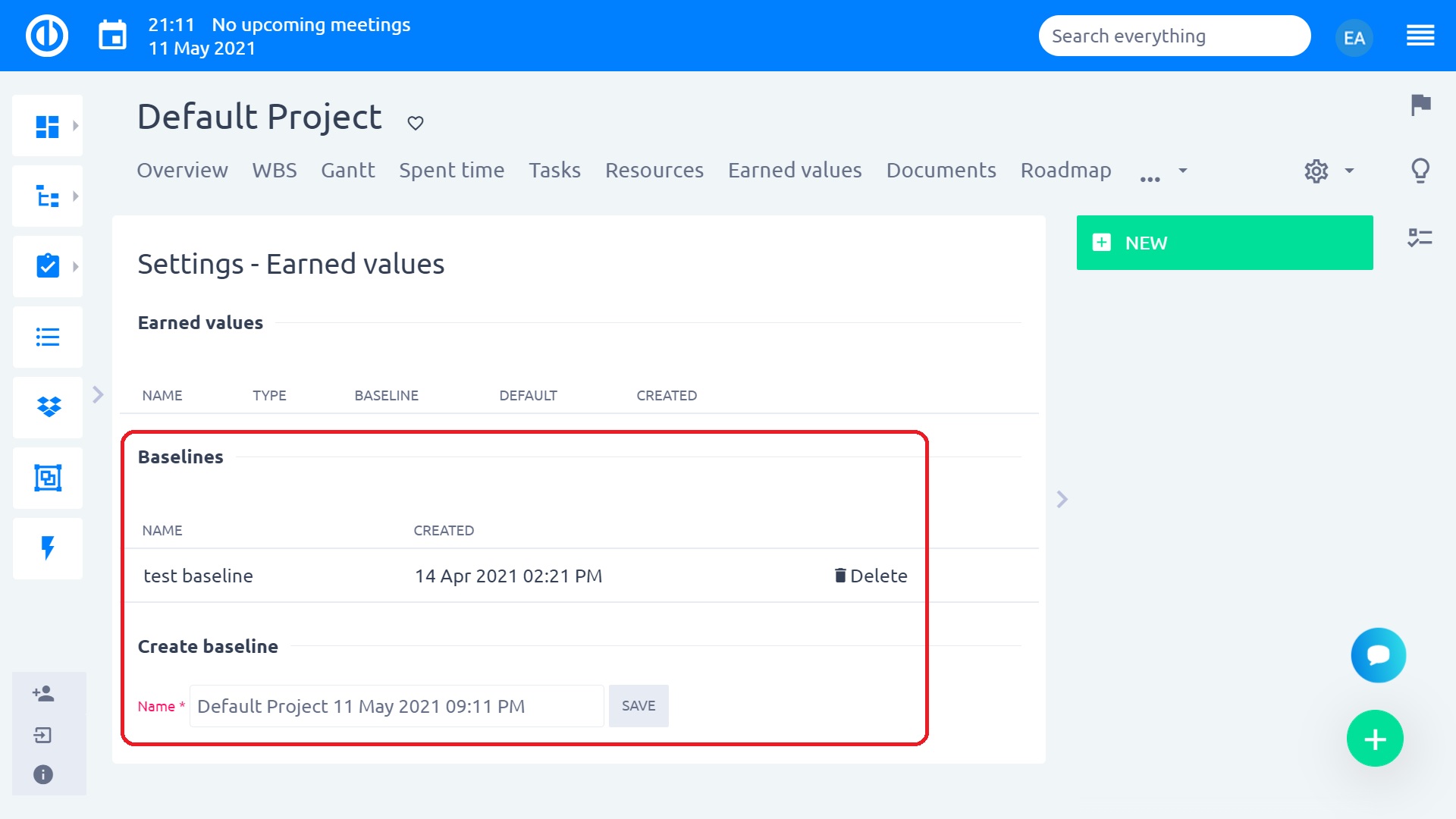 Custom fields
Make Easy Project your own by creating computed fields customized to your personal needs. They can be created on a variety of entities and can appear depending on trackers and attributes.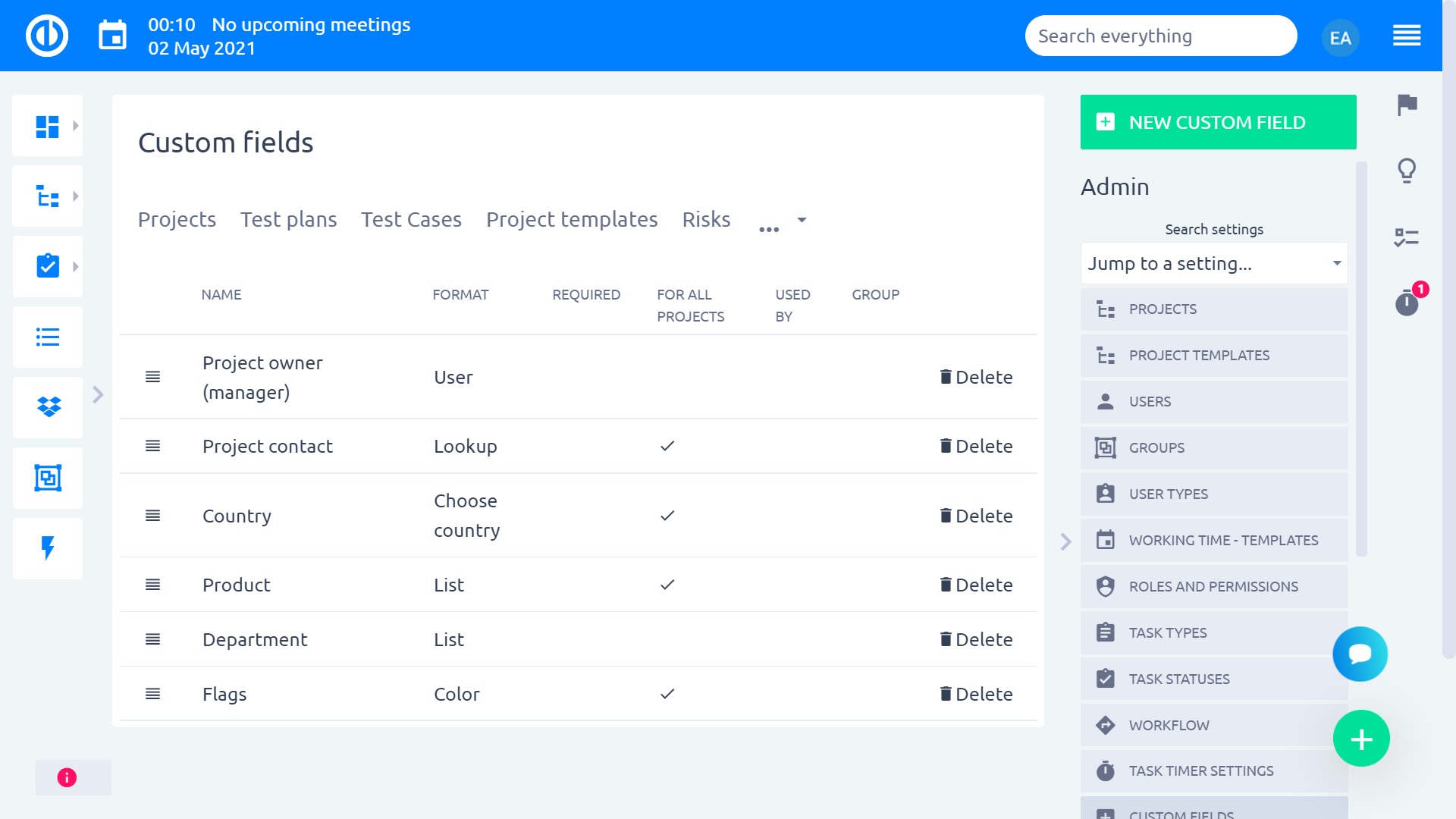 Key features:
Works with basic arithmetic
Can be created on various entities
Appear depending on attributes and trackers
Support even complex calculations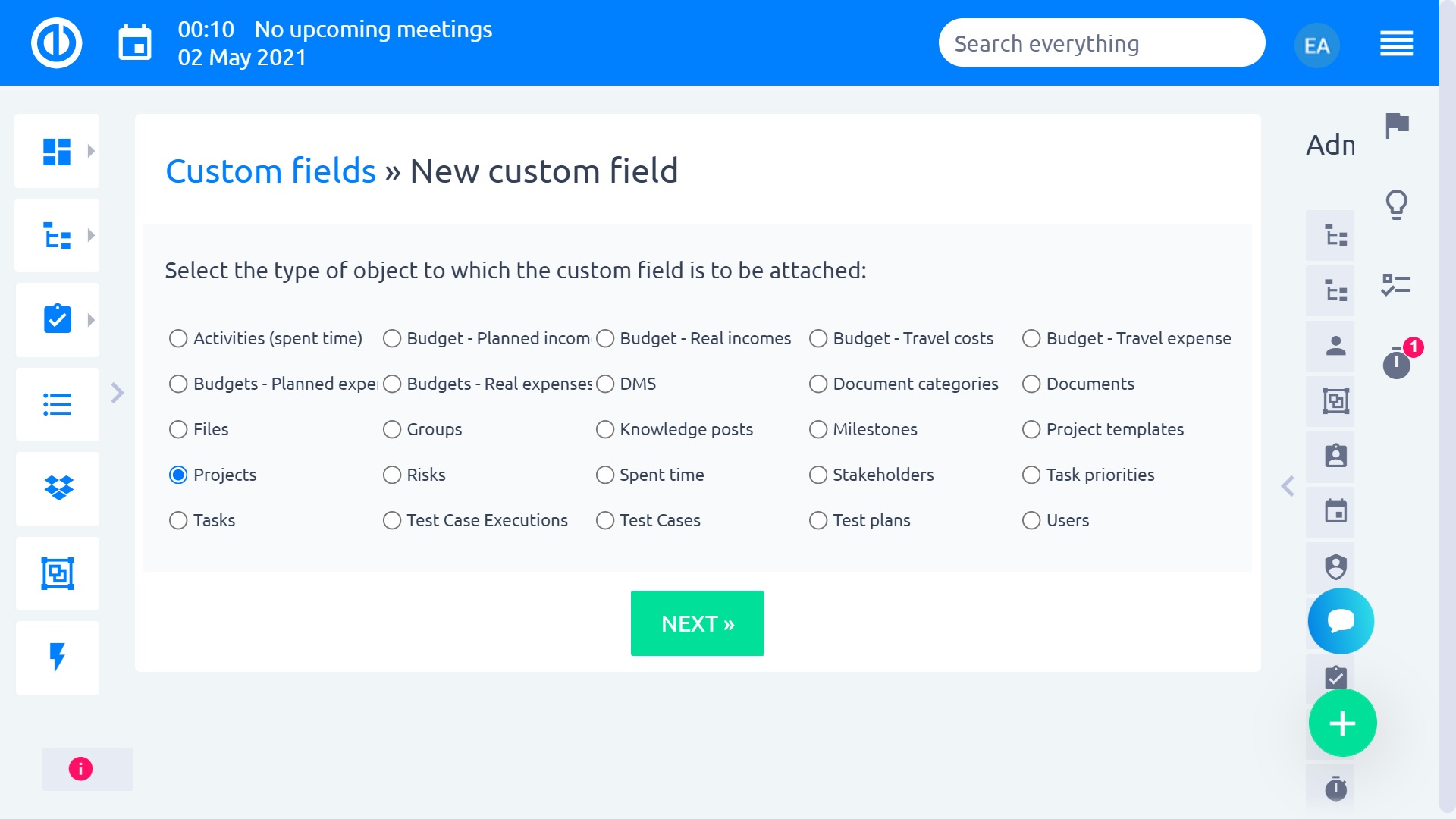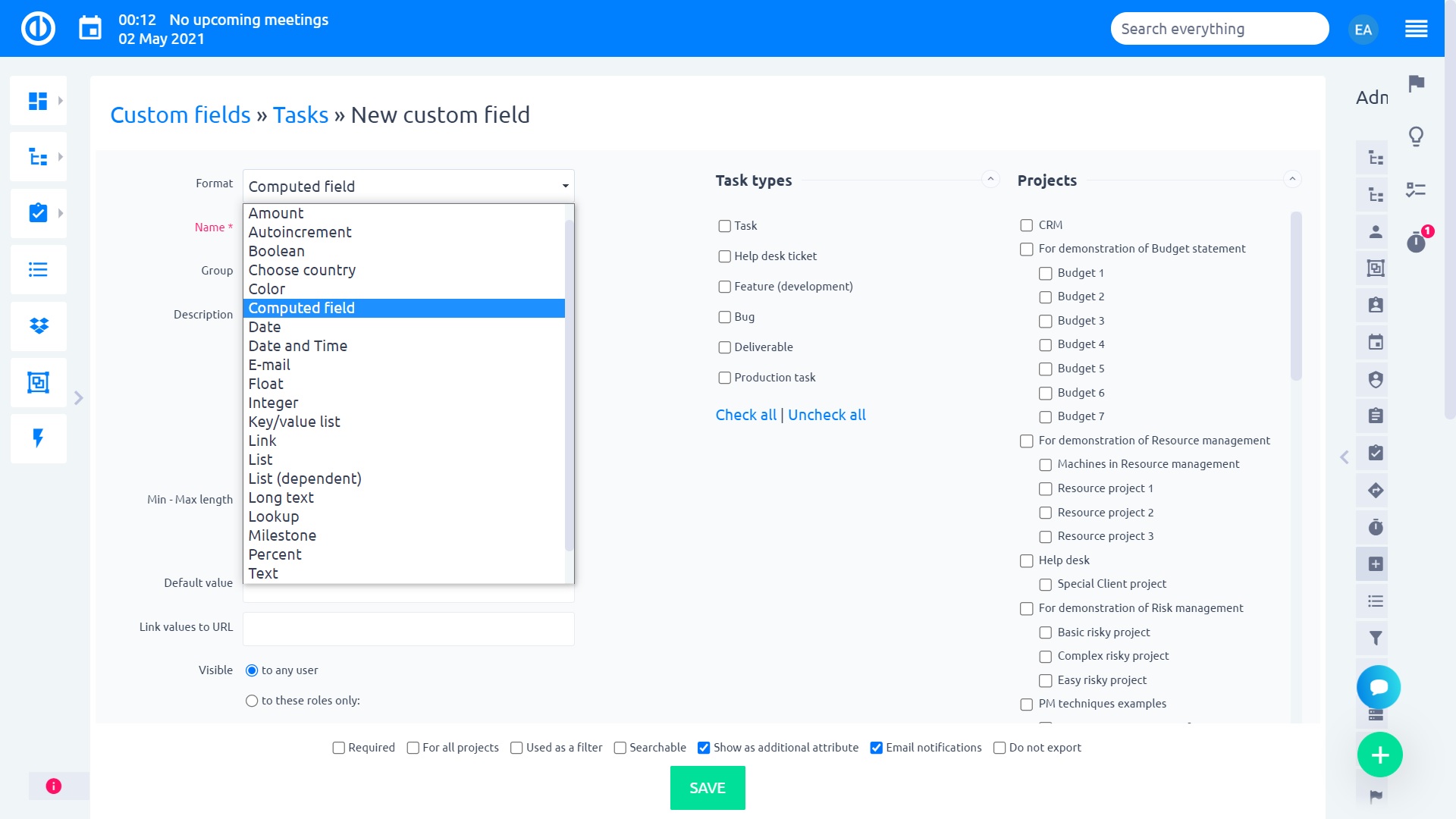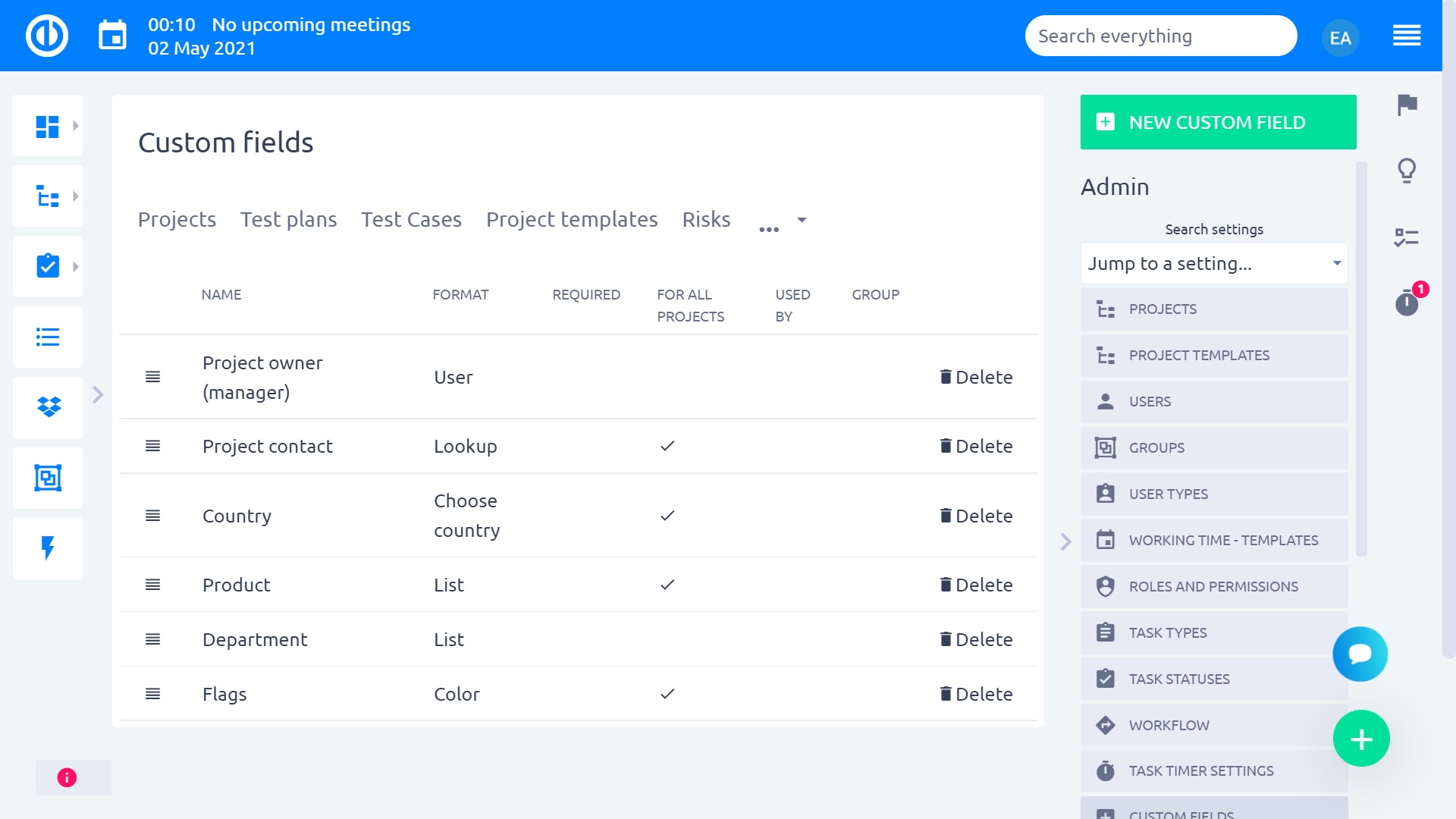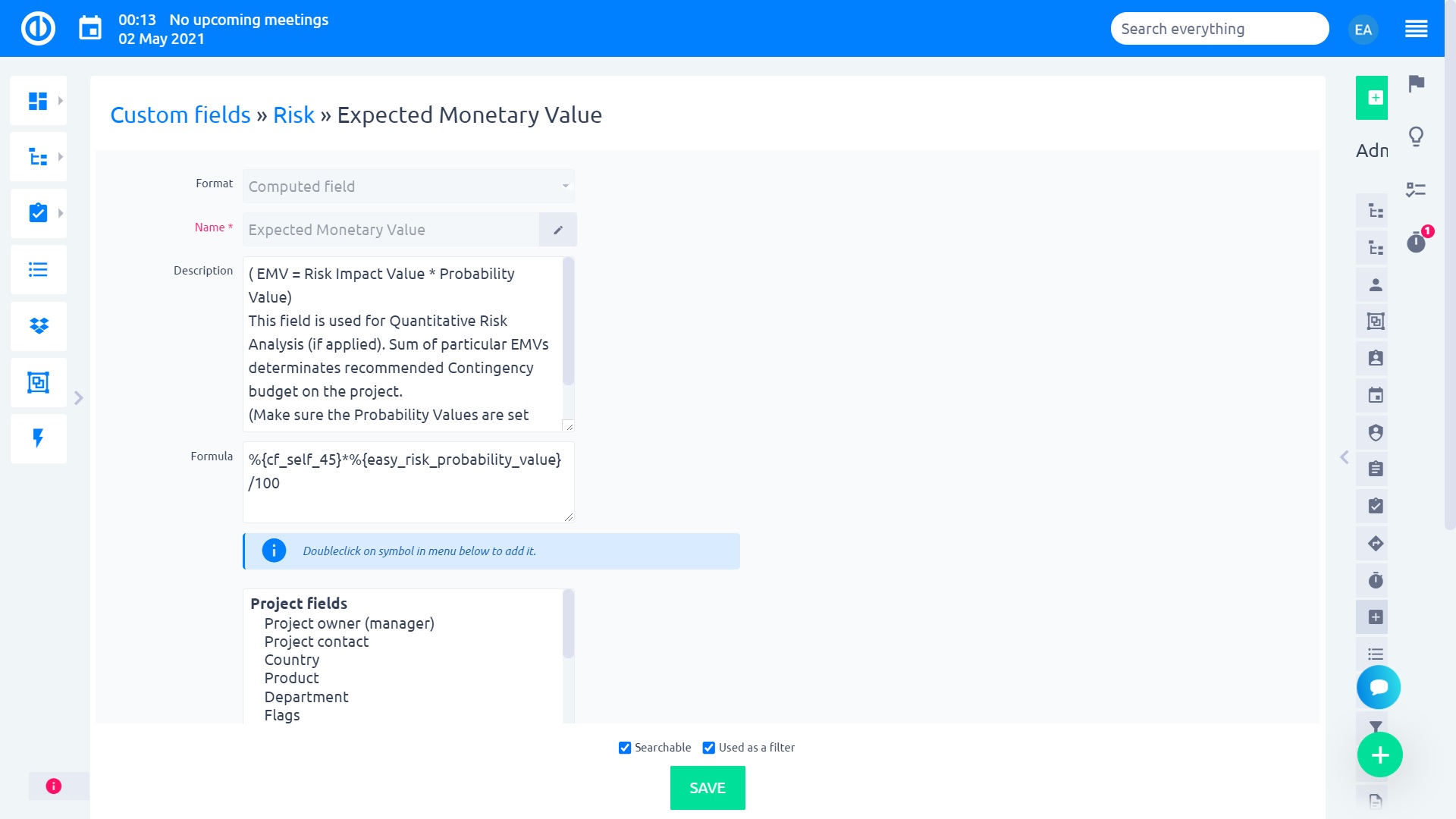 Project templates
Create project templates from existing projects or from scratch to save time and improve project structure over time. Easy Project also offers you a list of project templates for typical company processes.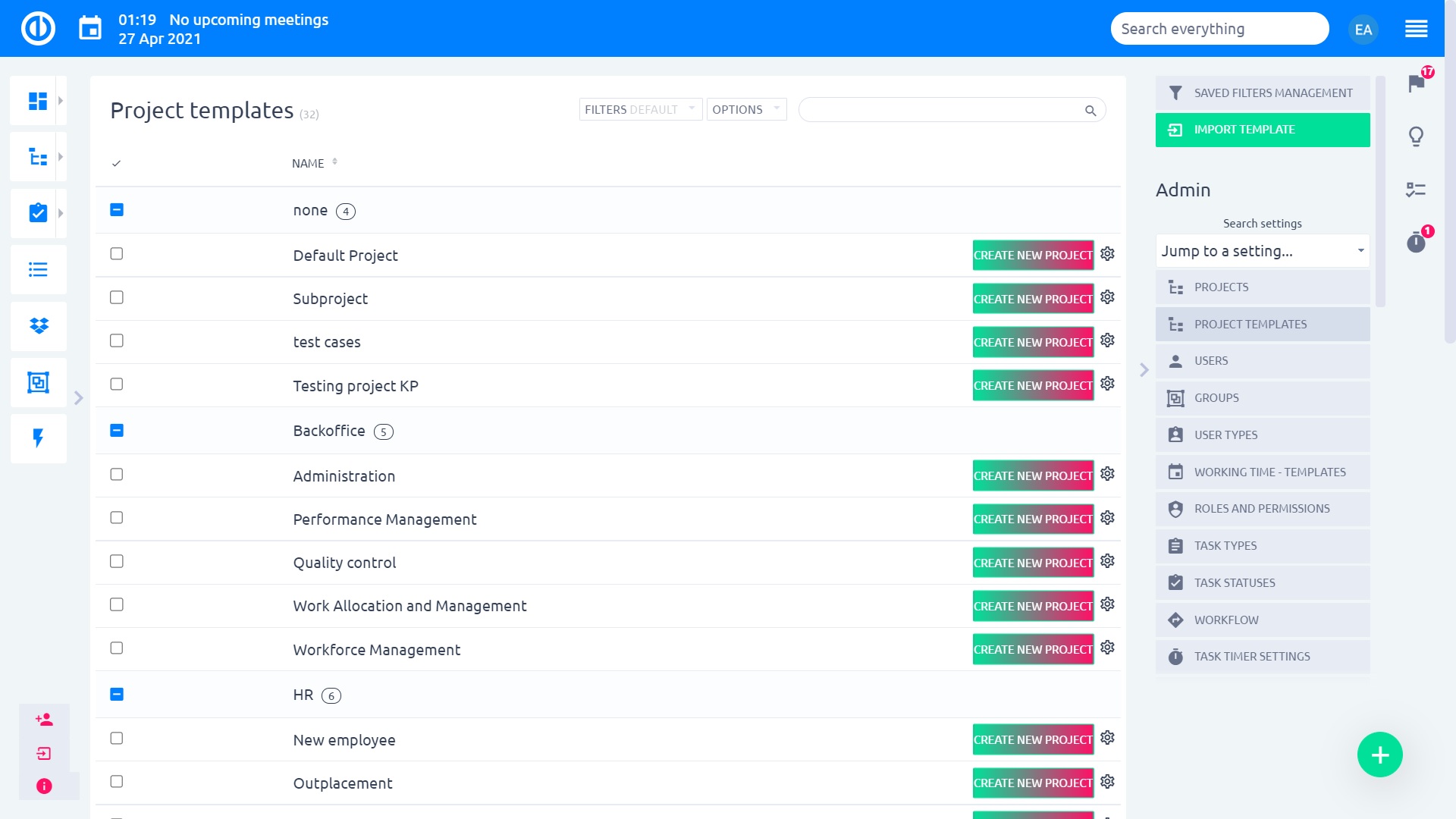 Key features:
Unlimited number of project templates
Full-featured templates – team & roles, tasks, milestones, documents
Easy Project templates for typical projects
Saves time by eliminating the need to fill in all project details
Complete list of all project templates accessible through Administration
Personal dashboard for all your needs
Address the needs of multiple users and optimize the flow of daily processes with Personal Dashboards and a portfolio of preset dashboards for typical company roles, such as project managers, support workers, sales reps, and more.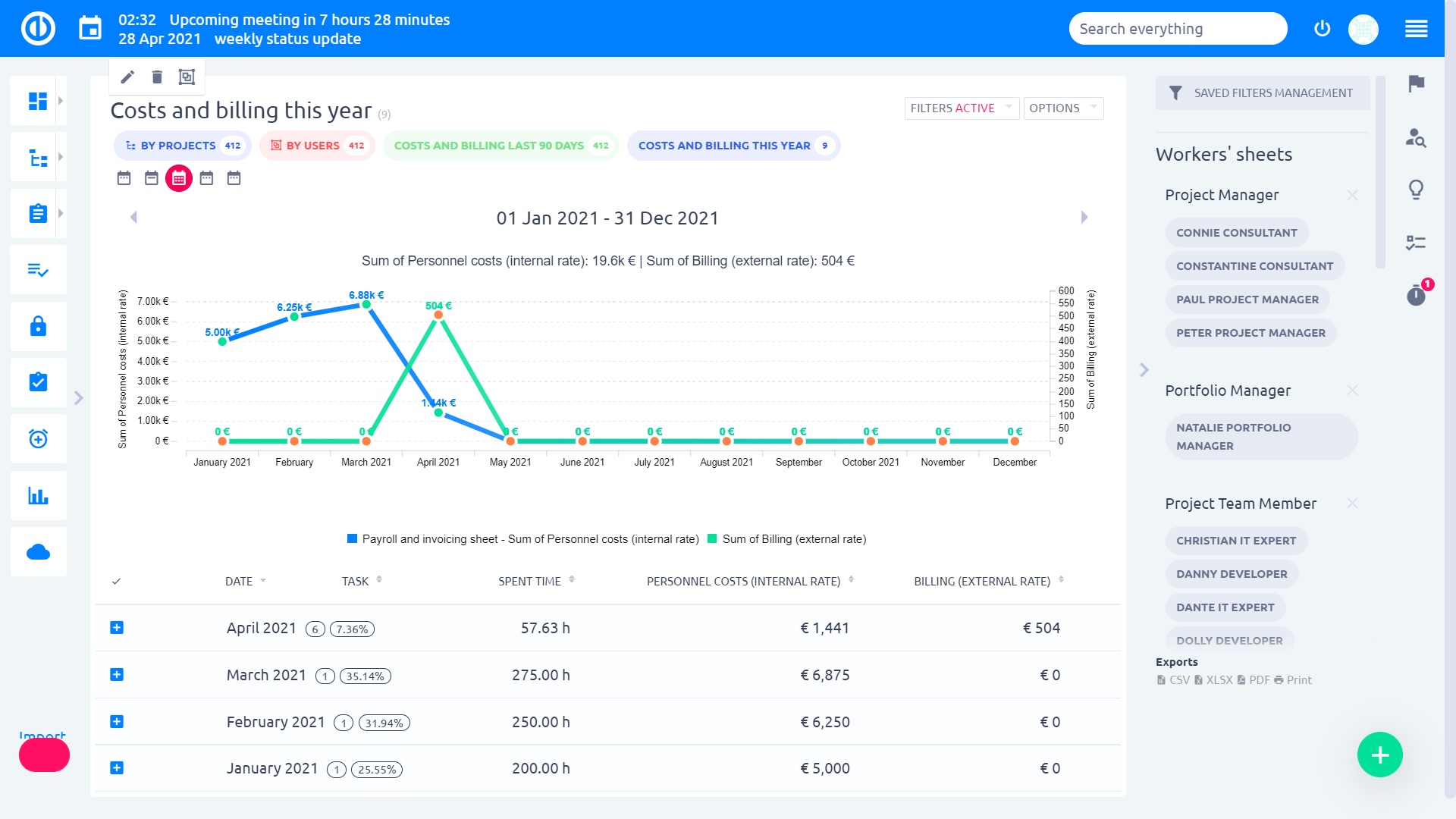 Key features:
Tasks in a list or calendar format,includes: my tasks, task assigned to me, tasks I cooperate on, tasks according to projects
Projects in a list – my projects
Activity, attendance and time management modules
Easy buttons for easy task update
Variety of graphical outputs, reports, Gauge diagrams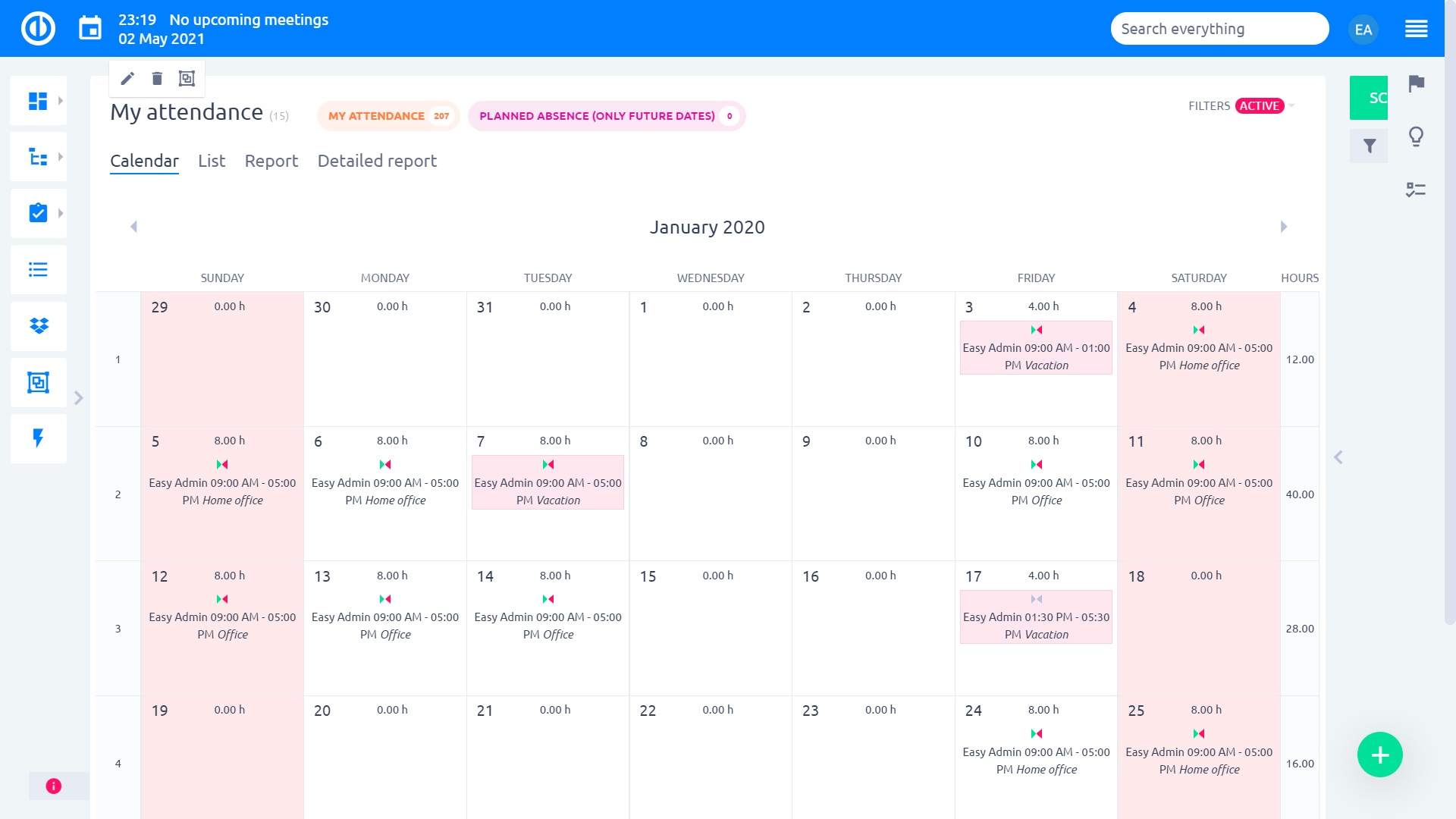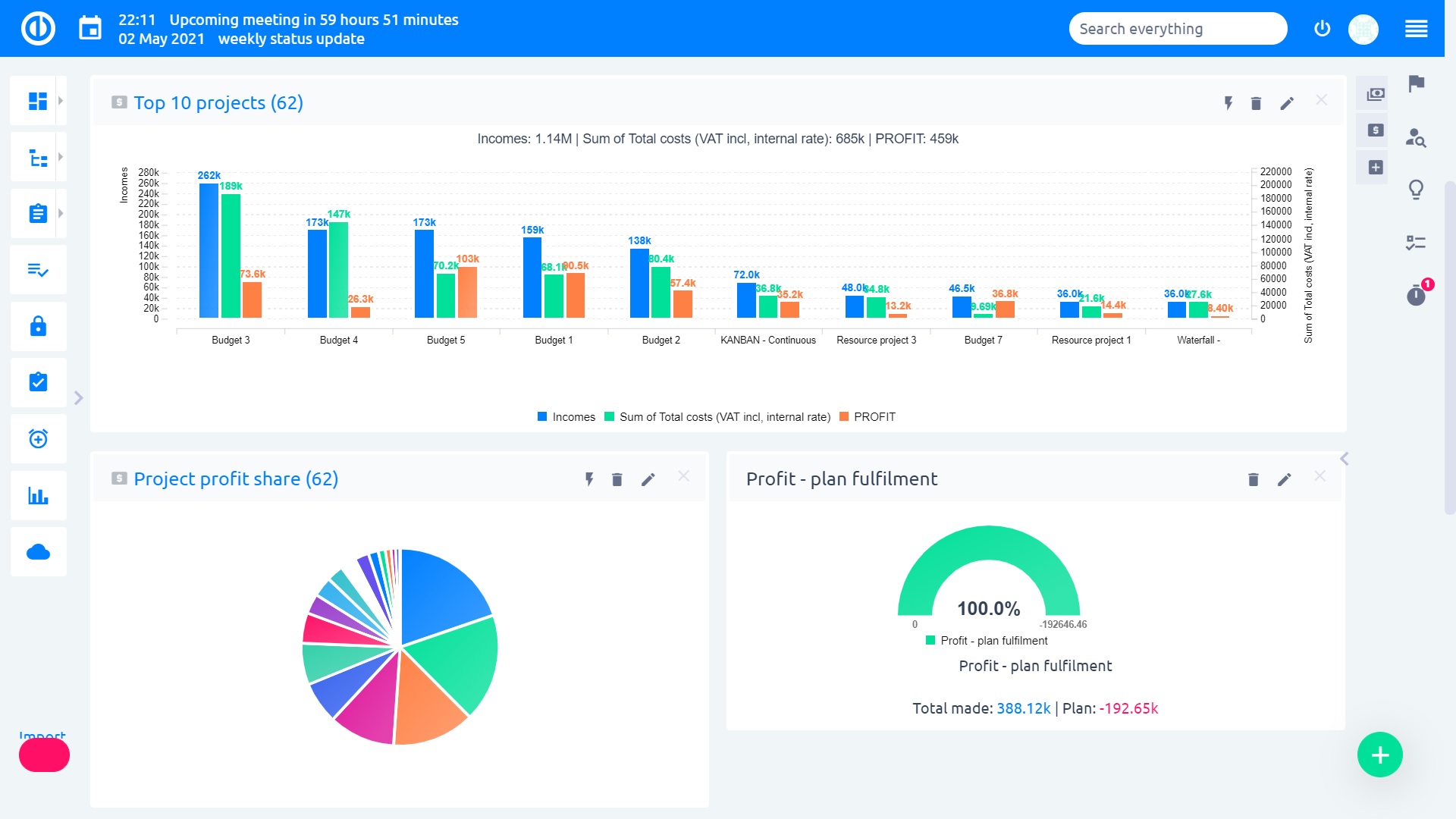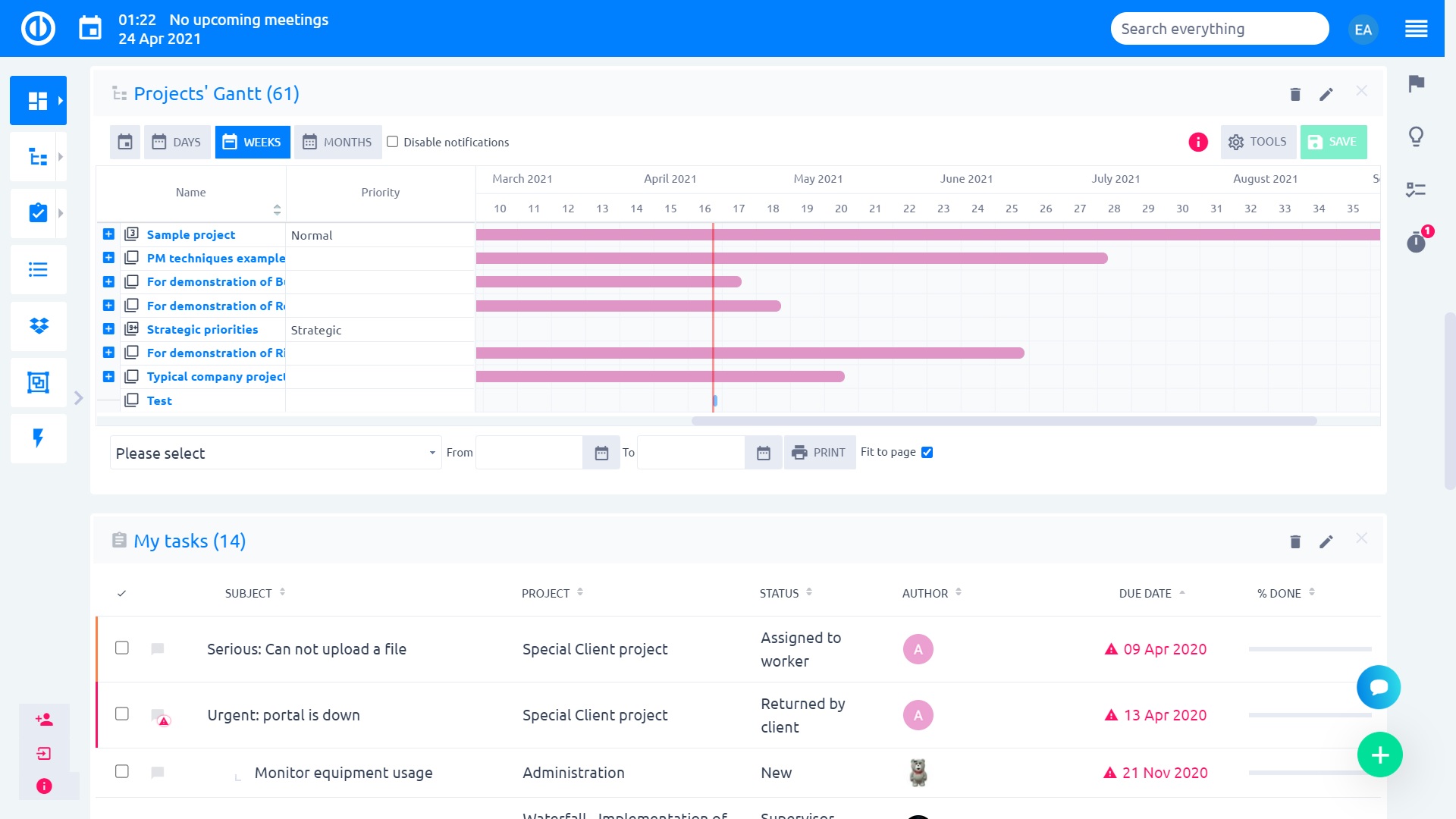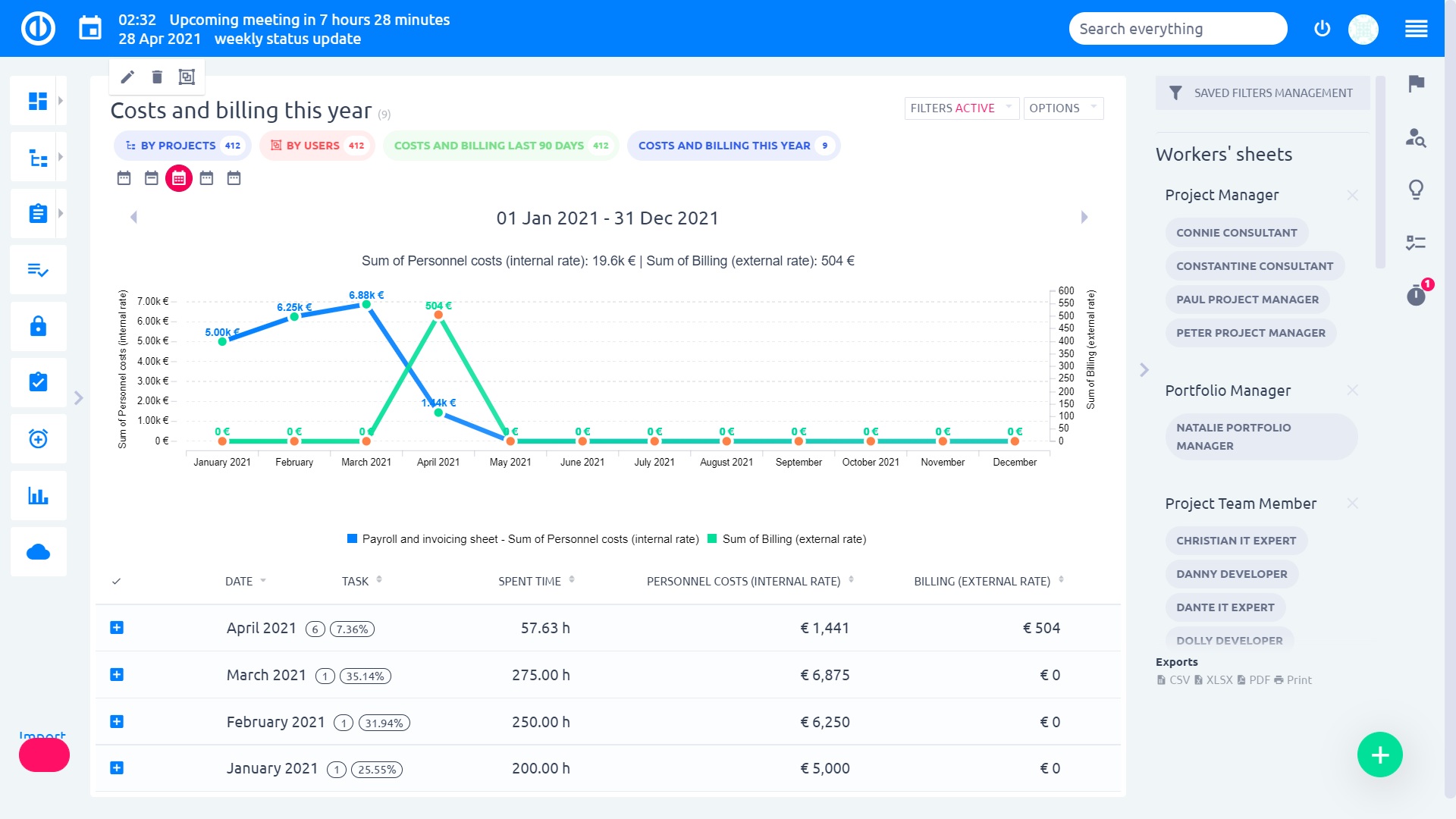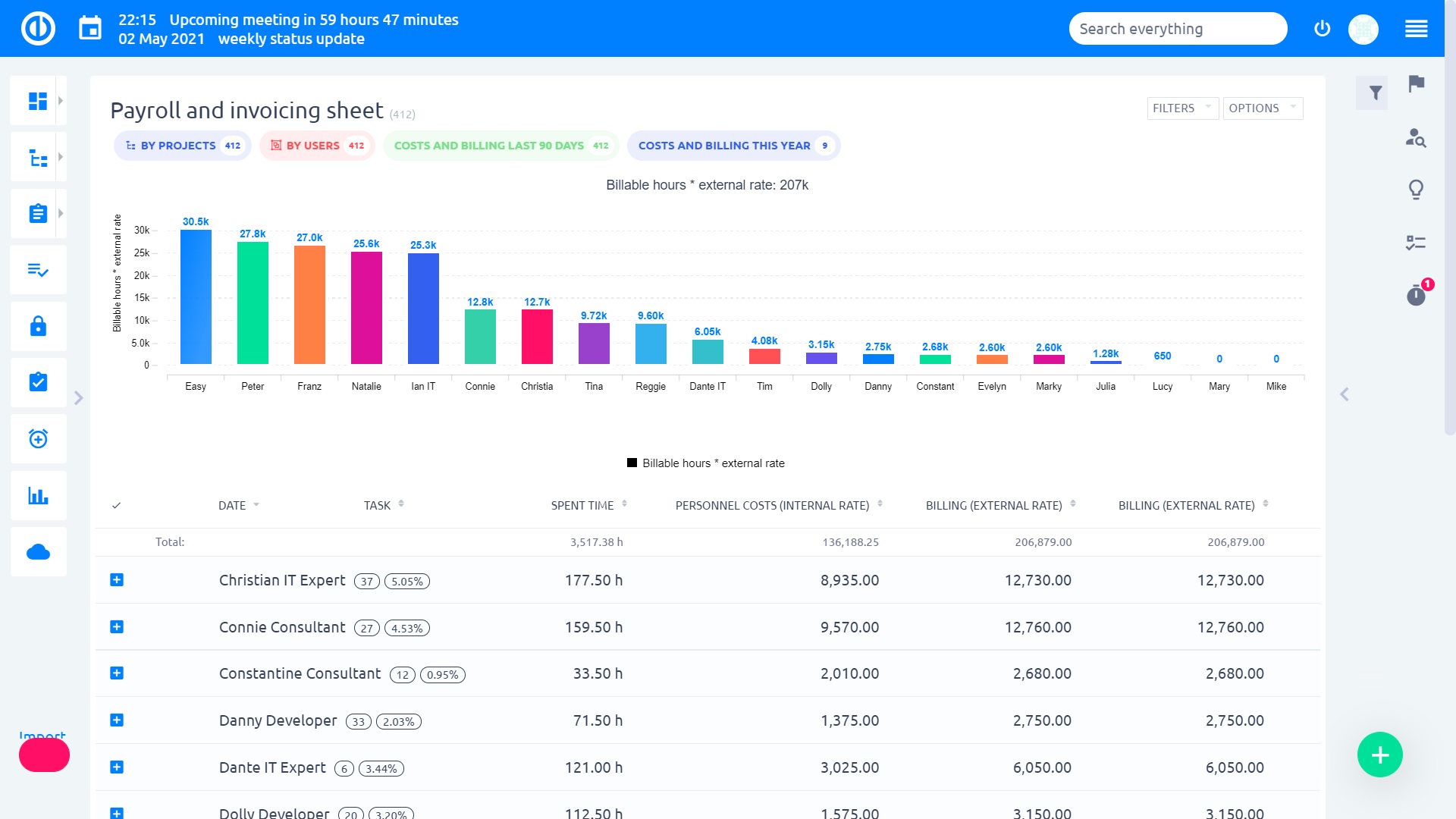 Design themes
Easy Project comes with 3 design themes to meet various users' needs - Default, Compact, and Dark. Every user can switch between the themes on his user's profile.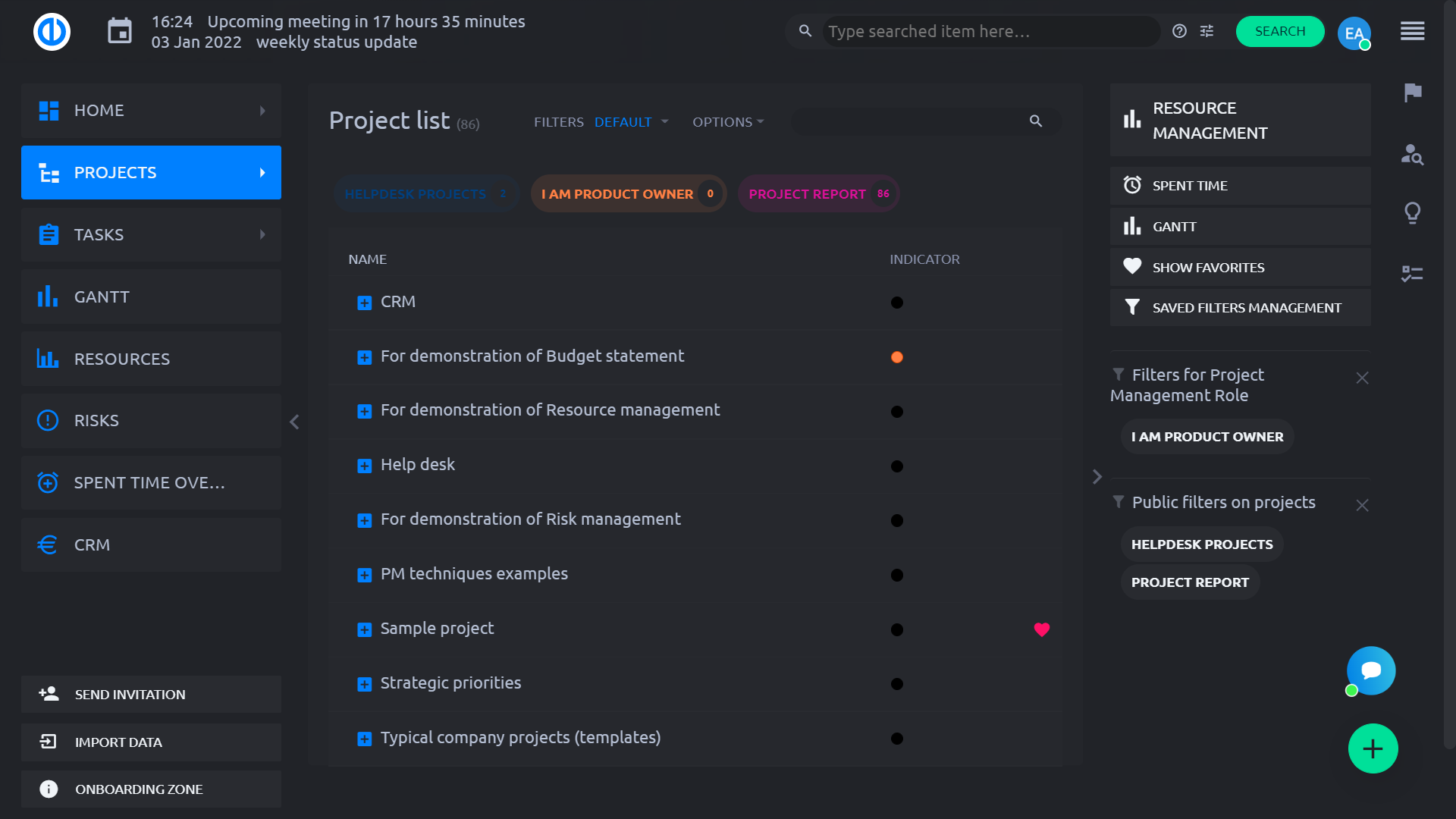 Default theme is designed for most users as it brings standard light-colored graphic layout suitable for typical work, particularly in daylight or well-lit environments at night.
Compact theme is a light-colored theme with the layout of graphic elements much more compacted to display maximum data on one screen, thus reducing the need for scrolling.
Dark theme displays dark surfaces across the majority of the UI, thus helping improve visual ergonomics by reducing eye strain and facilitating screen use in dark environments.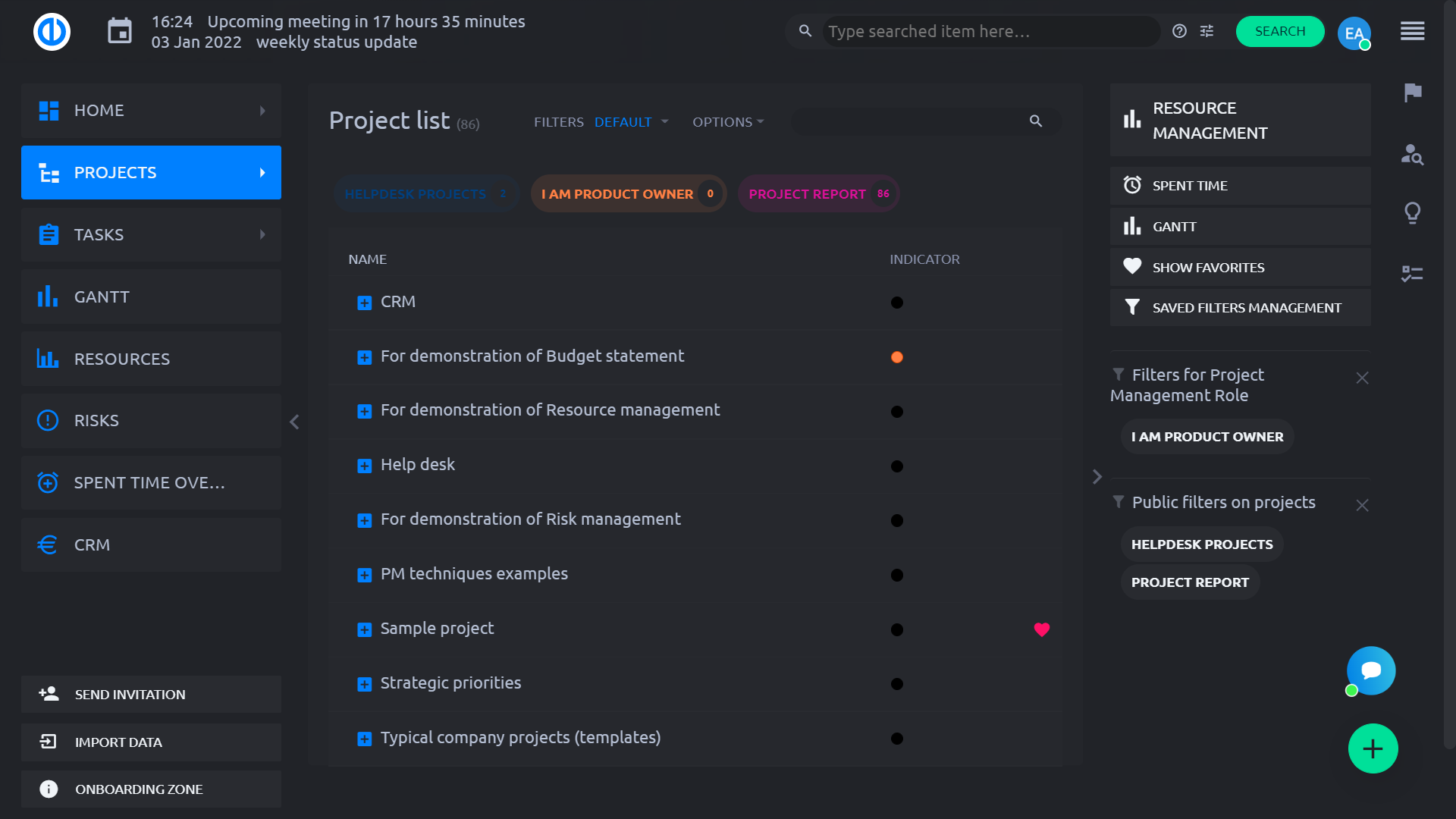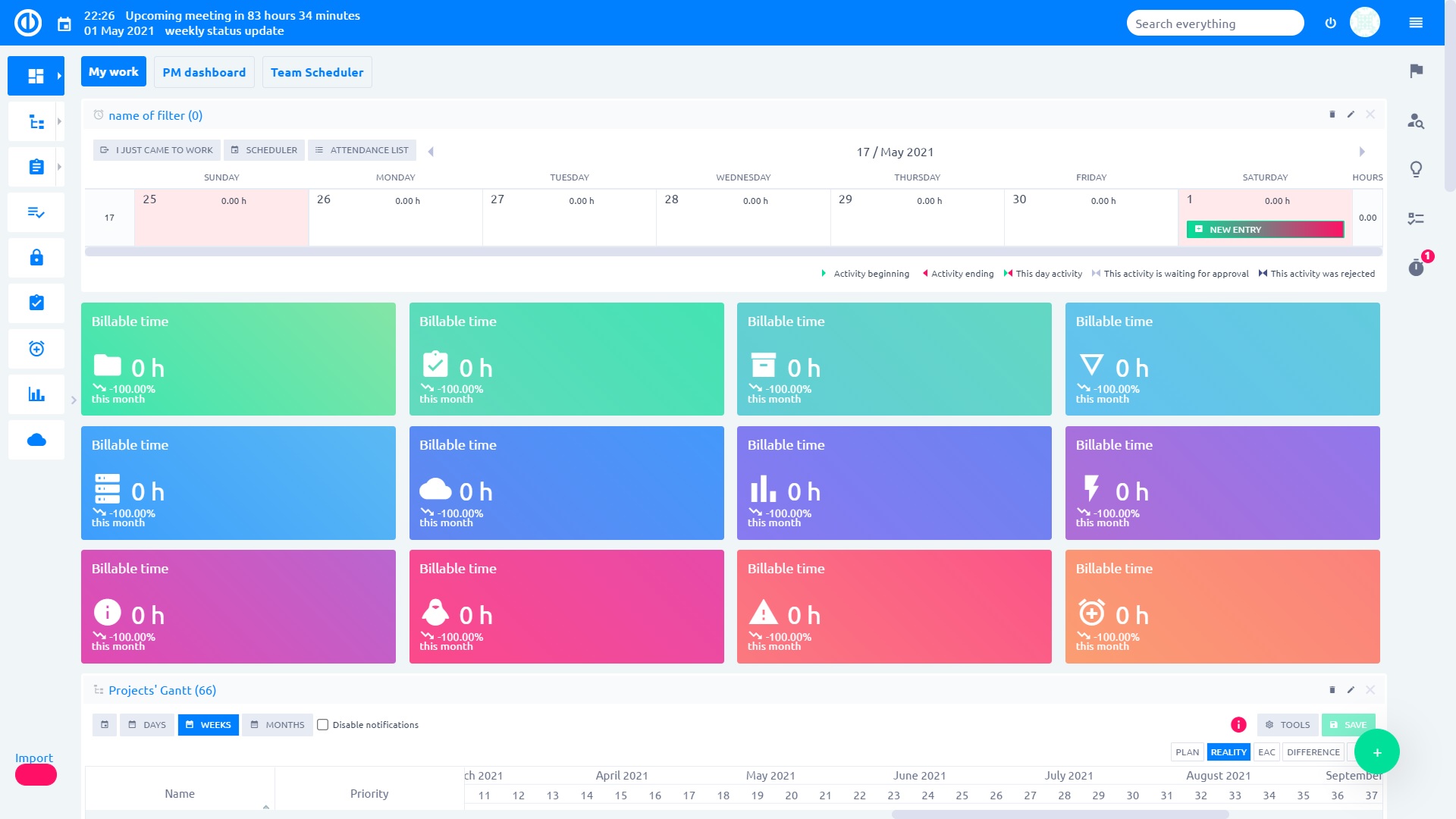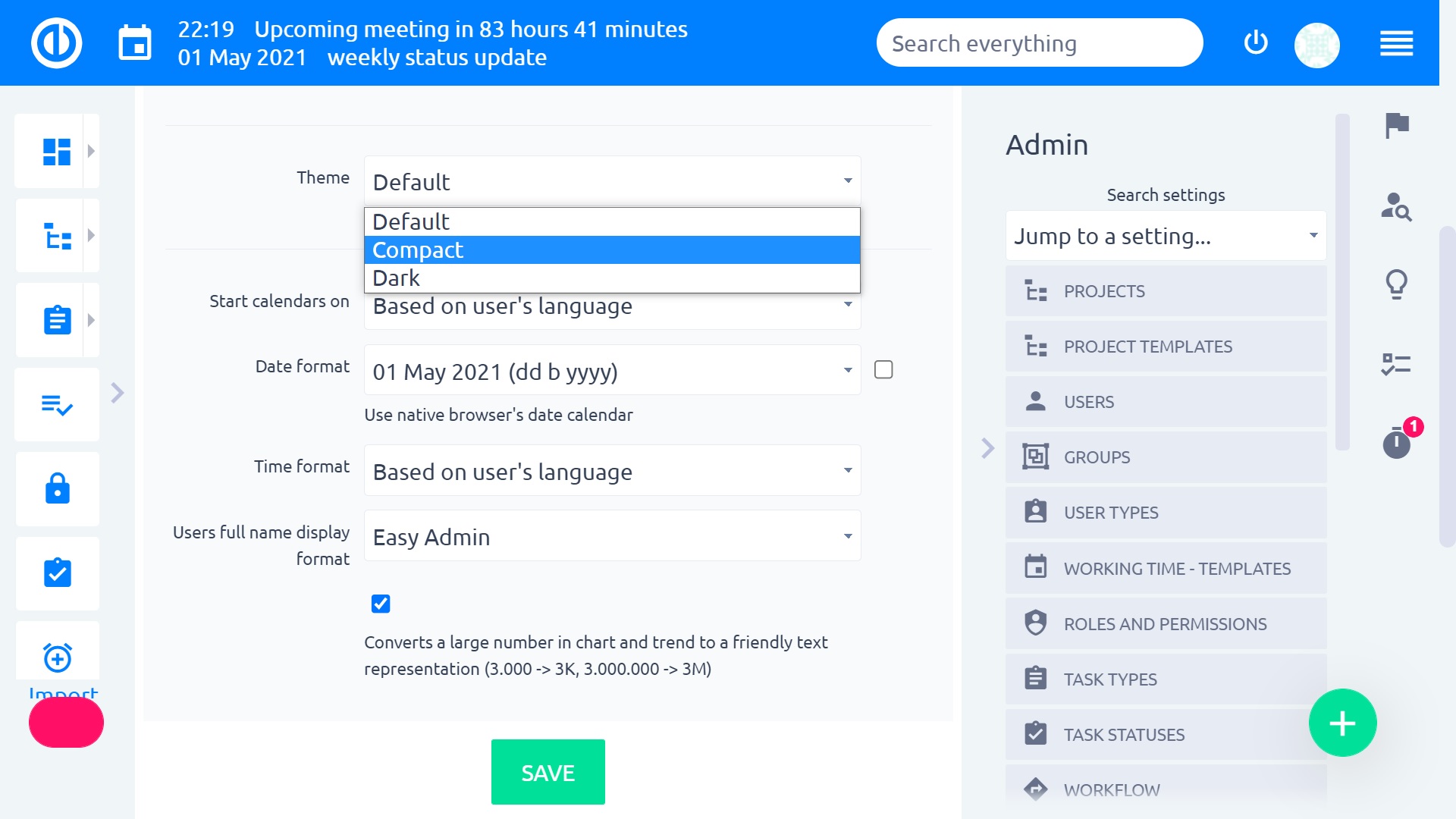 Mobile project management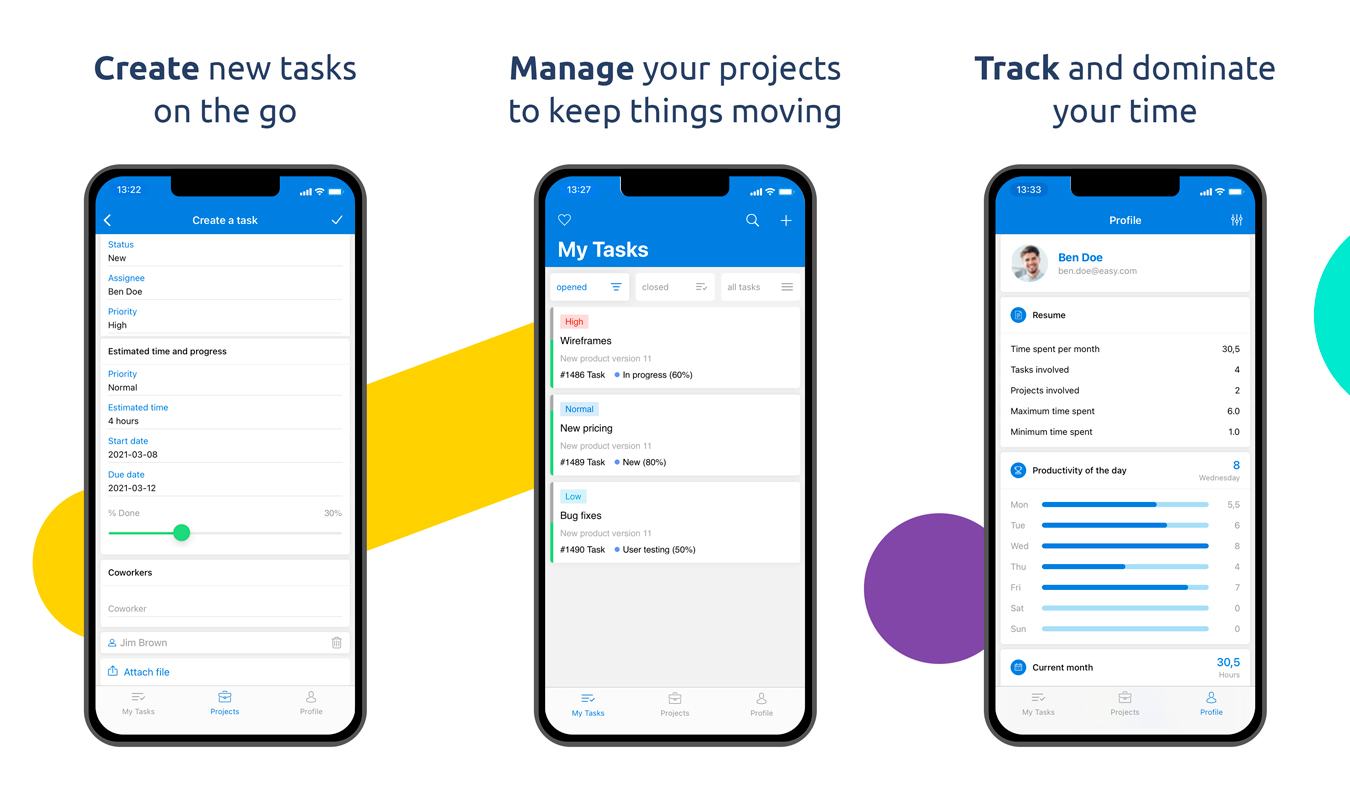 Key features:
Tasks overview with filtering
Projects overview with filtering
Task management - creating a new task, editing, adding comments, uploading attachments...
Time tracking to individual tasks and projects
Spent time statistics