Training center
Take your first steps towards easier project management. Learn about basic Easy Project features and how to apply them in our Training Center!
Do you want to make your projects easy & efficient since your beginning with Easy Project? Then use our complete Easy Project User Guide.
Pux.RepeaterFilter.VideoTutorial.Role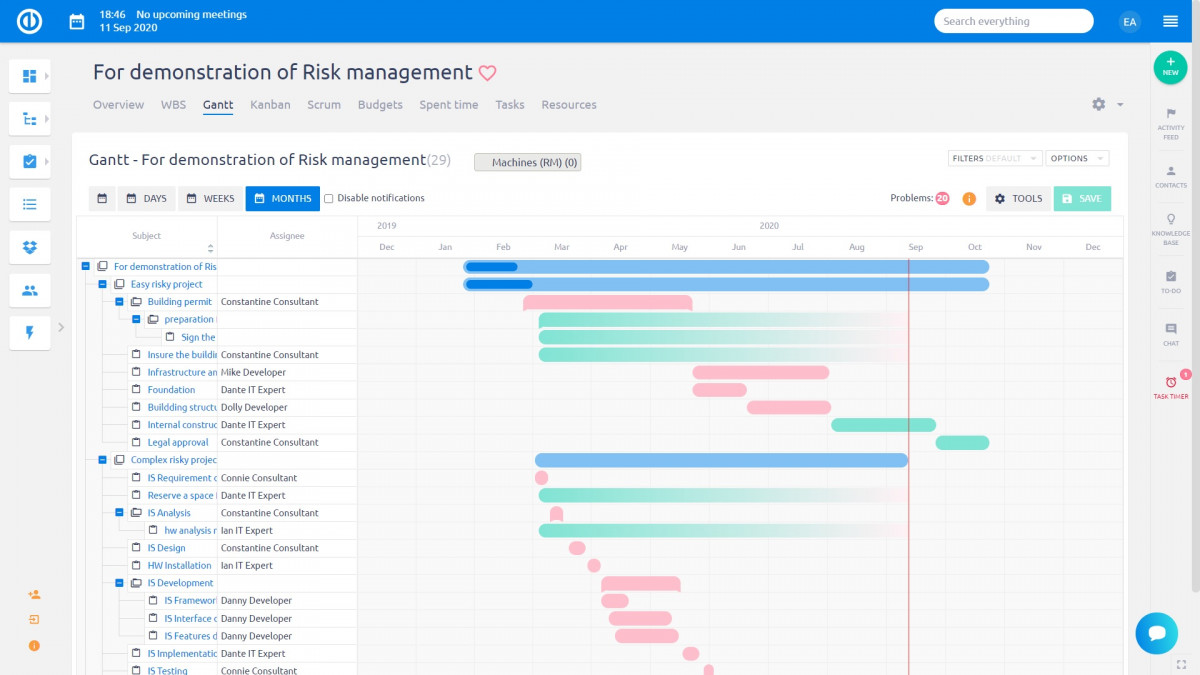 none
Gantt chart for easy project planning
Tired of overdue tasks and clumsy Excel spreadsheets? Try a Gantt chart, it will visualize your projects and make planning easier so the process runs faster, is more synchronized, and stays easily communicable.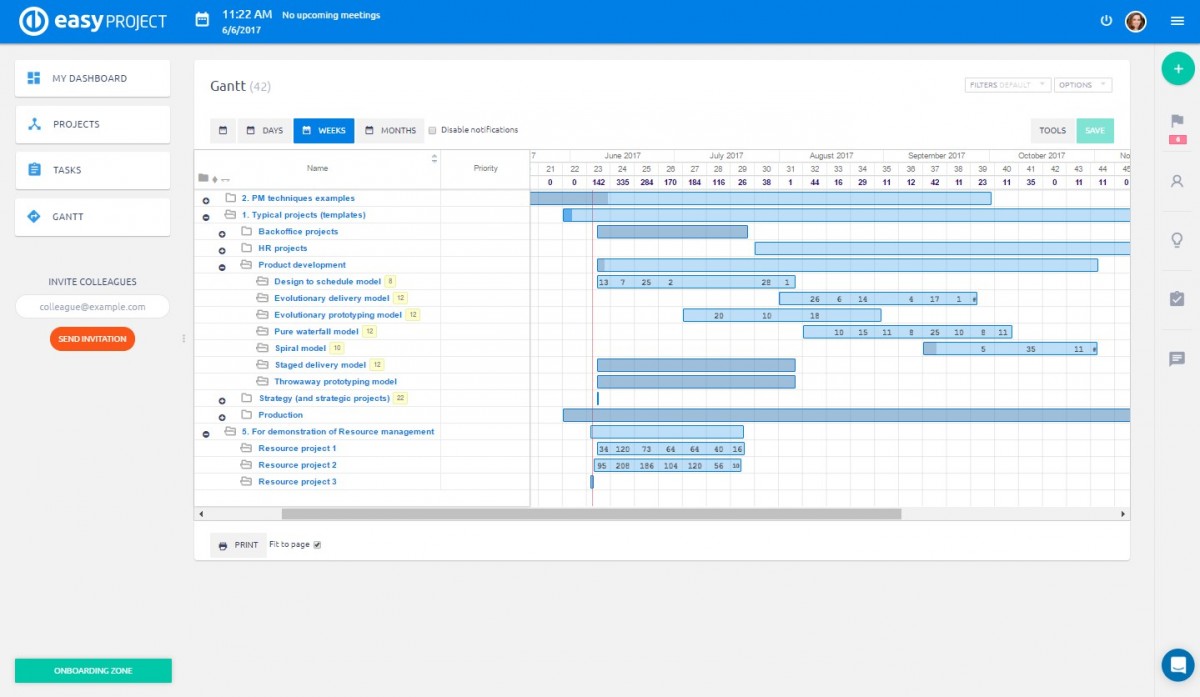 none
Global Gantt
A must-have for every portfolio manager — Global Gantt, enables accurately planned projects and eagle-view management. It allows you to instantly see current vs. planned performance, as well as resource and cash flows that are spent on each project.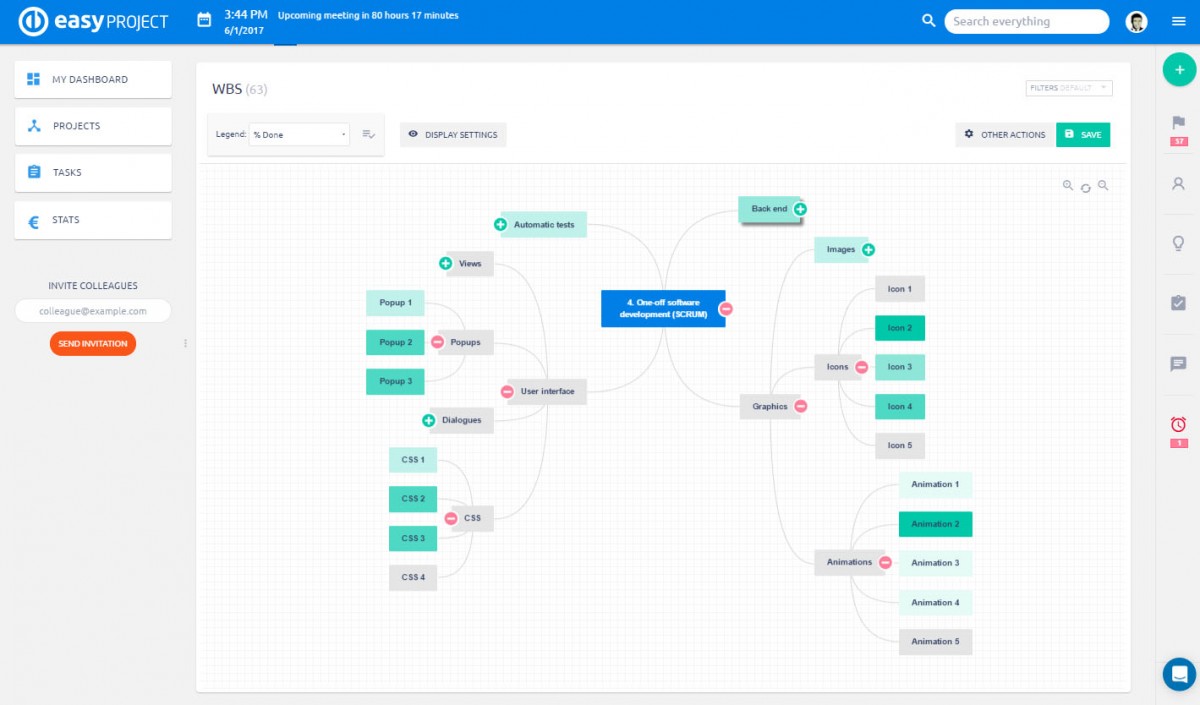 none
WBS - work breakdown structure
Eliminate undefined tasks and delays by using WBS. Clearly parse out projects and define all the deliverables. Quick personal planning and collaborative development of a project's scope are easy with WBS.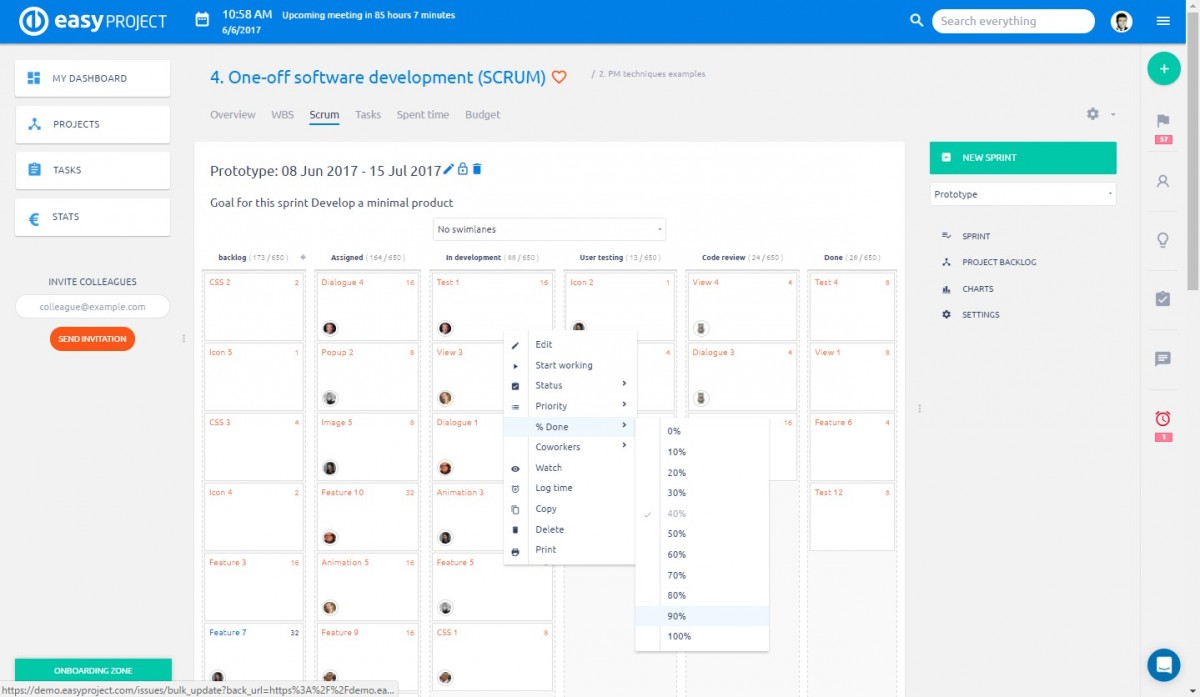 none
Agile Board for Scrum
Manage user stories and sprints with Easy Project. Easily update sprint using drag & drop during your stand up meeting and create personal scrum boards for scrum master and other workers. All of this is possible with Easy Project!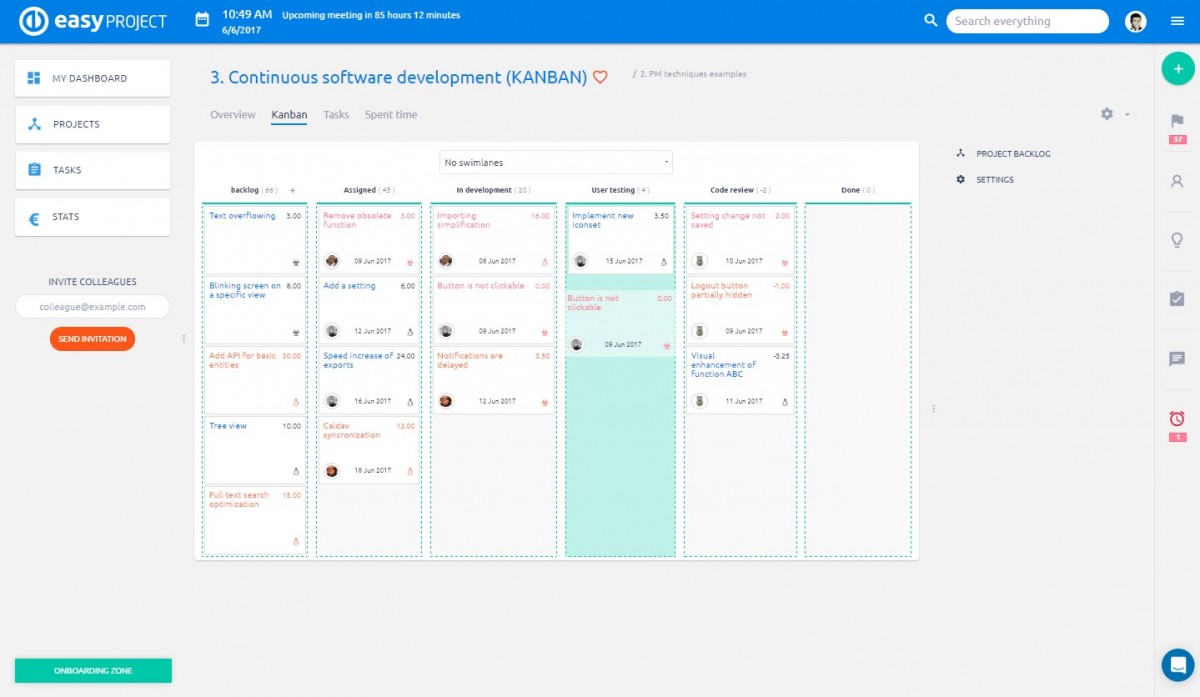 none
Kanban - personal & team boards
Easy Project is suitable for various management techniques, including agile management with Kanban. Kanban board makes overview and update of tasks easy. In addition to that, it can be set on project, team and personal level.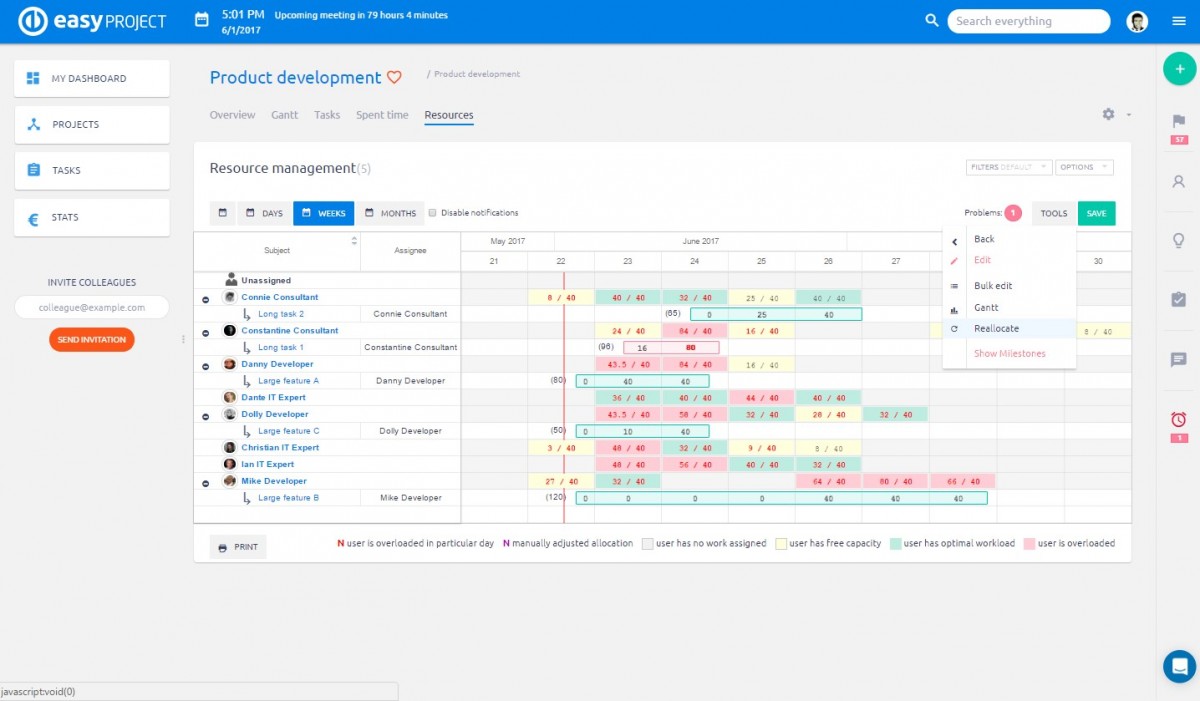 none
Resource Management Master Plan
Efficient utilization of resources across all projects and an instant overview of under-resourced projects are easy with the Resource Master Plan. Tasks can be assigned according to employee expertise while keeping each person's workload balanced.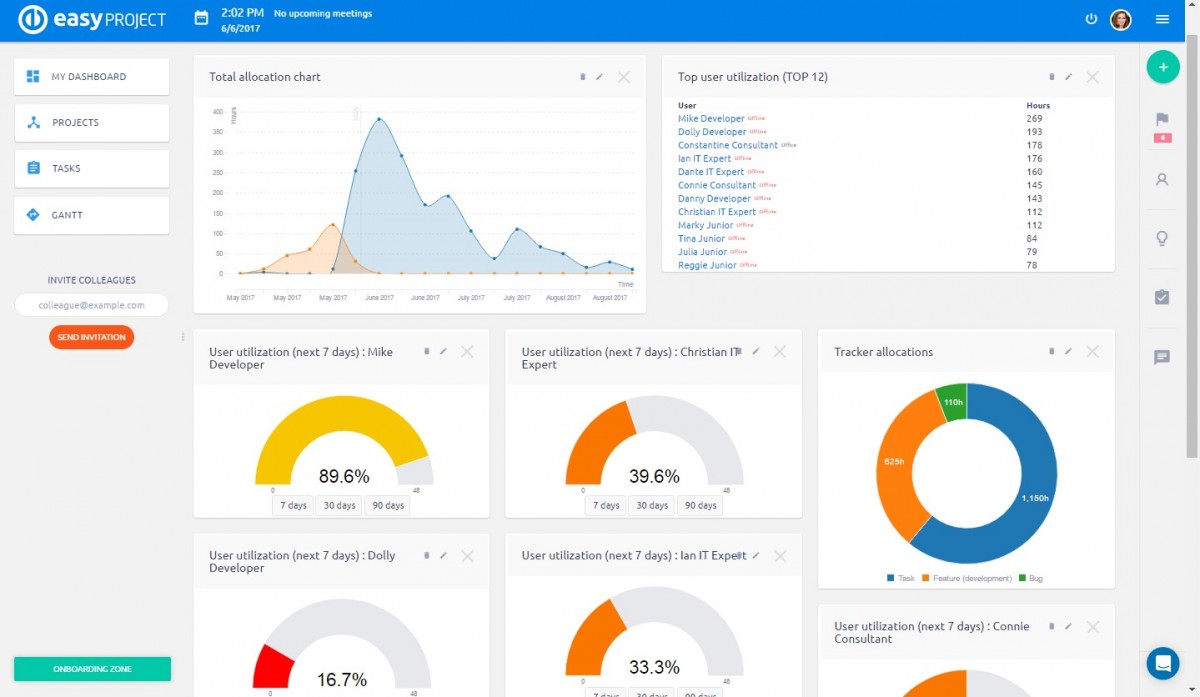 none
Resource Dashboard
The Resource Dashboard shows you the most/least loaded users, task types with the most hours allocated, and diagrams with visualized workers' time utilization. You also get an overview of the total hours allocated and control over any discrepancies in allocation.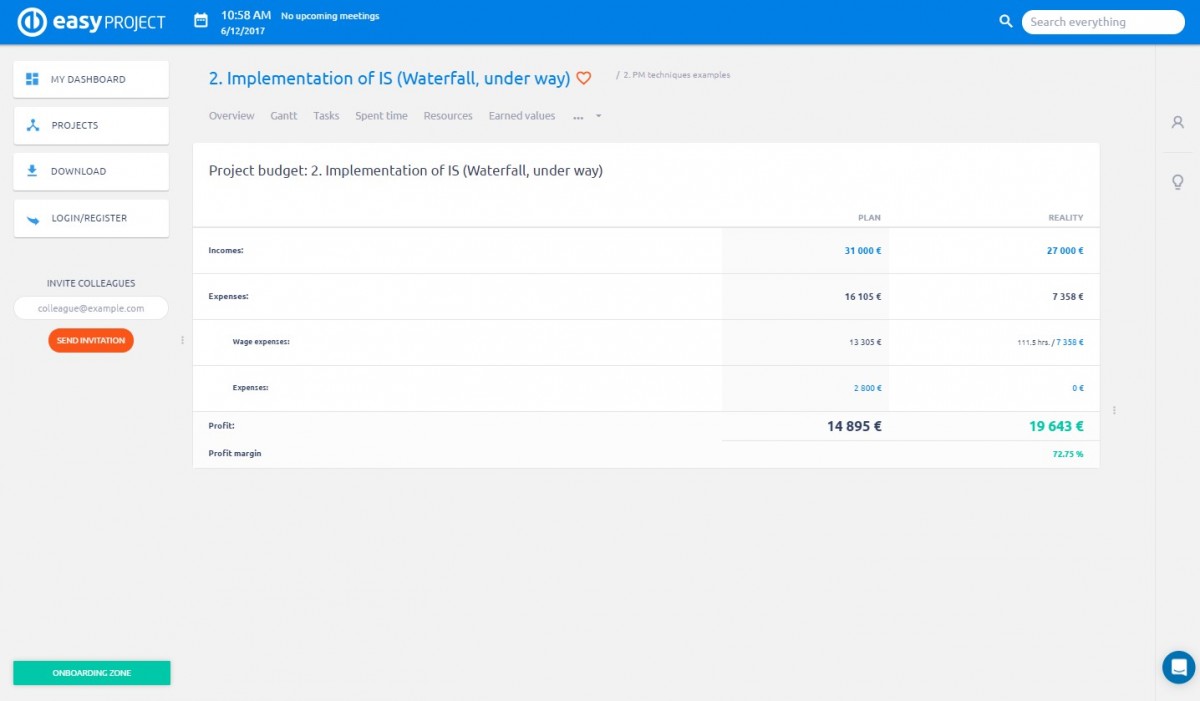 none
Project budgets for expense planning
Cost planning is a key to successful project management. Easy Project allows you to create project budgets and compare them to real spending. You can monitor revenues, costs, payroll costs and overall project profitability.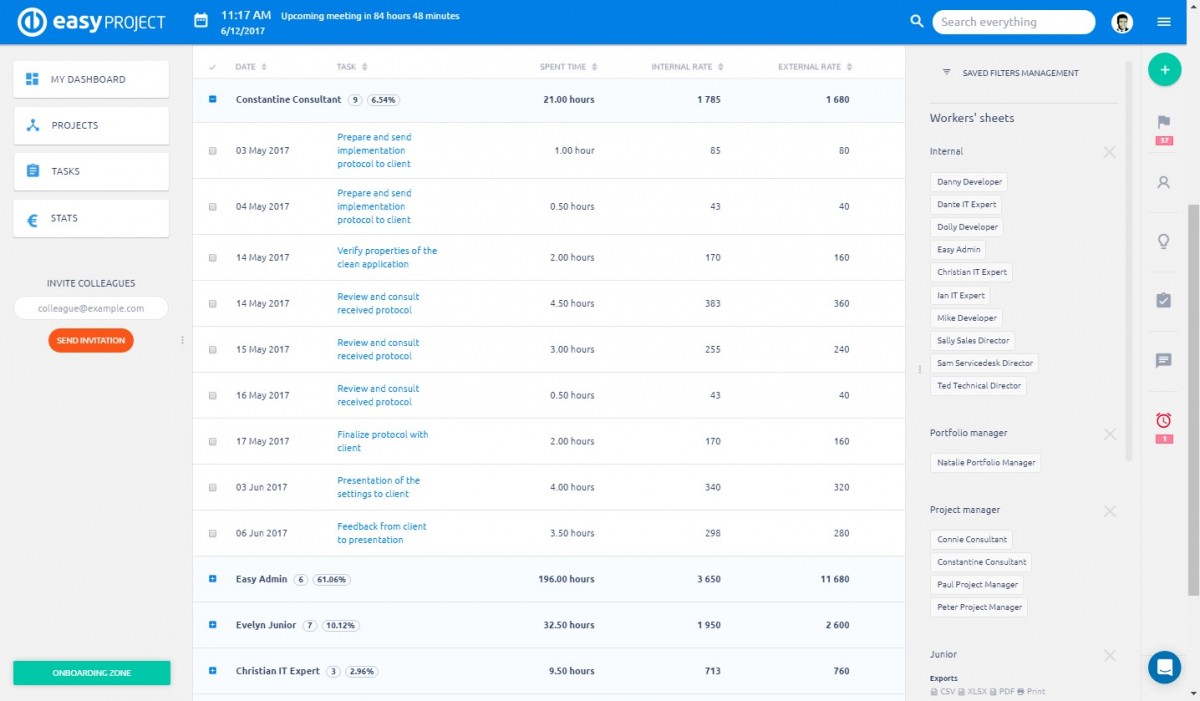 none
Payroll & invoicing sheets based on timesheets
By combining information from timesheets and internal/external rates, you can create invoicing and payroll sheets within Easy Project, which can then be sent directly to the client thanks to integration with CRM and Contacts.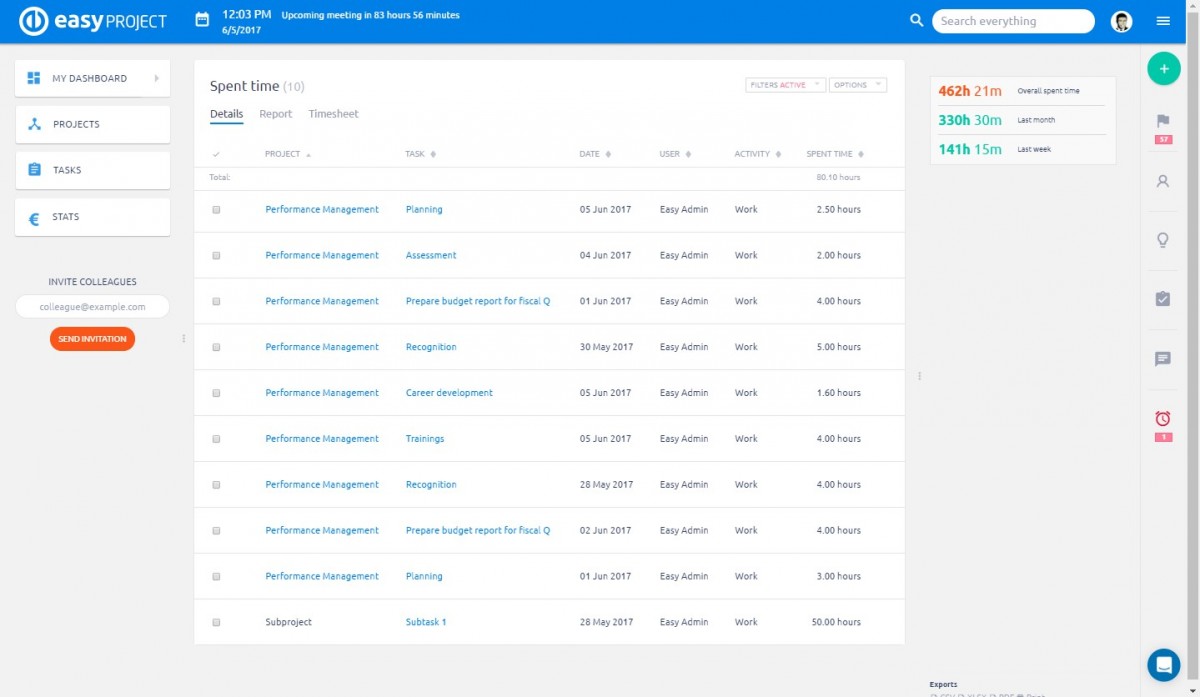 none
Time tracking and reporting for efficiency and planning
Time tracking and reporting is the key to efficient time management and planning. It allows employees to efficiently utilize and report their time, and managers can monitor spent time and use it as a reference for future project planning.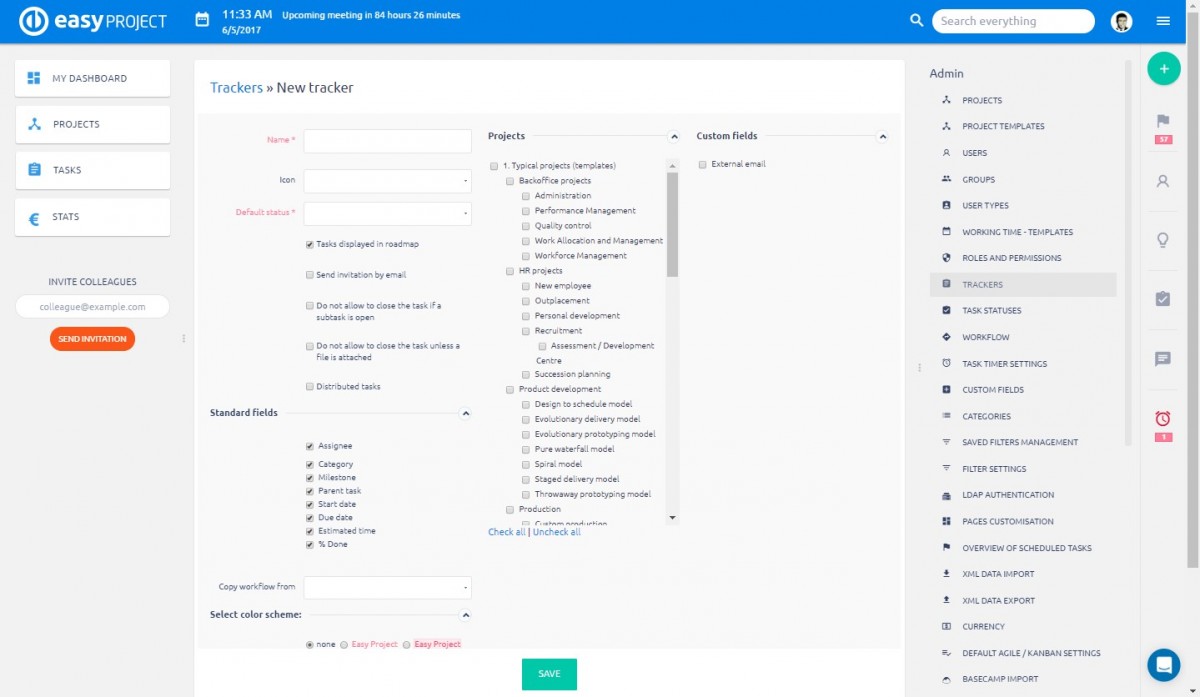 none
Task tracking for up-to-date projects
Both manager and workers can easily track tasks within Easy Project. A manager is able to follow tasks through WBS and smart filtering options and buttons, while a worker has access to special Kanban for task tracking and update. Task trackers and statuses are easily customizable to suit the needs of any organization.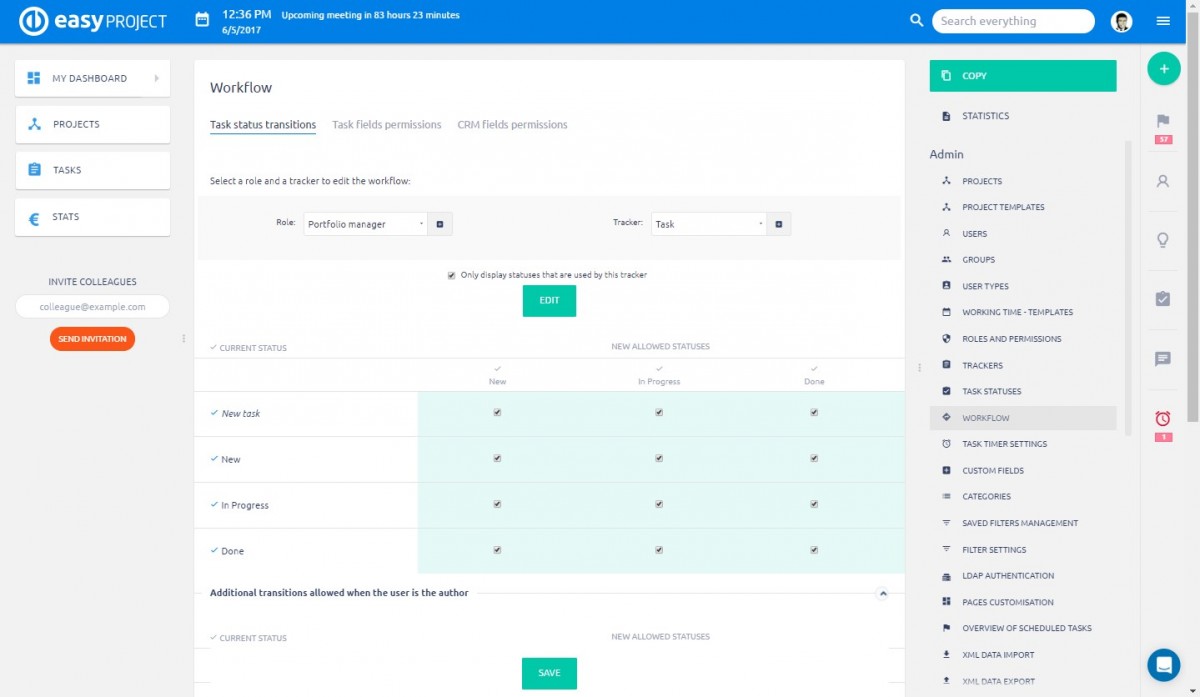 none
Workflow
Workflows allow you to define, execute, and automate business processes, eliminating chaos and coordinating tasks between employees. Easy Project allows you to set task permissions and workflows based on user types.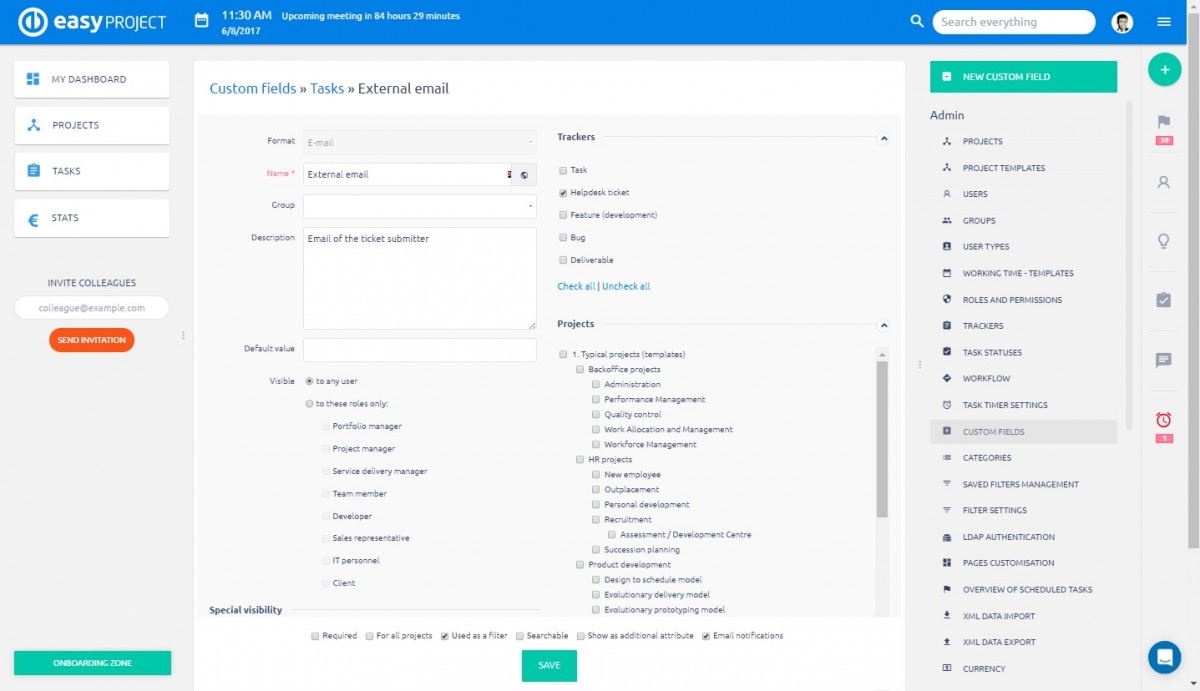 none
Custom fields
Make Easy Project your own by creating computed fields customized to your personal needs. They can be created on a variety of entities and can appear depending on trackers and attributes.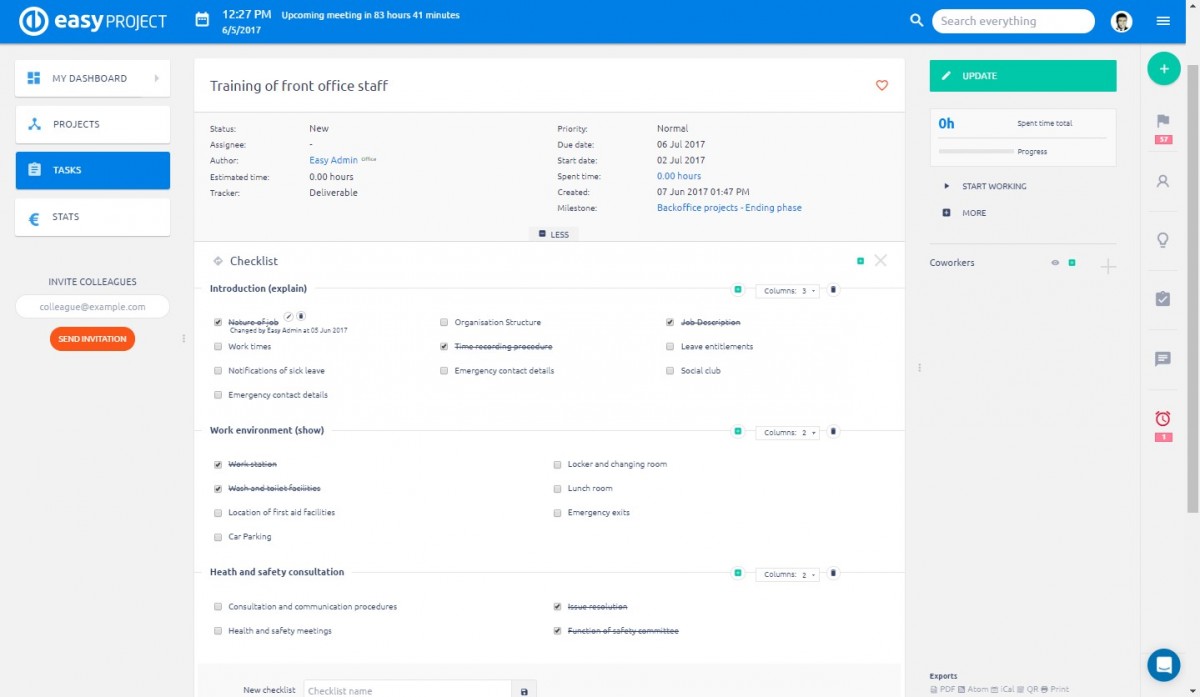 none
Checklists
Checklists are especially useful for projects with numerous easy tasks that do not require extensive description. Simply create a checklist to granulate a bigger task and cross our items on the list as you have them done.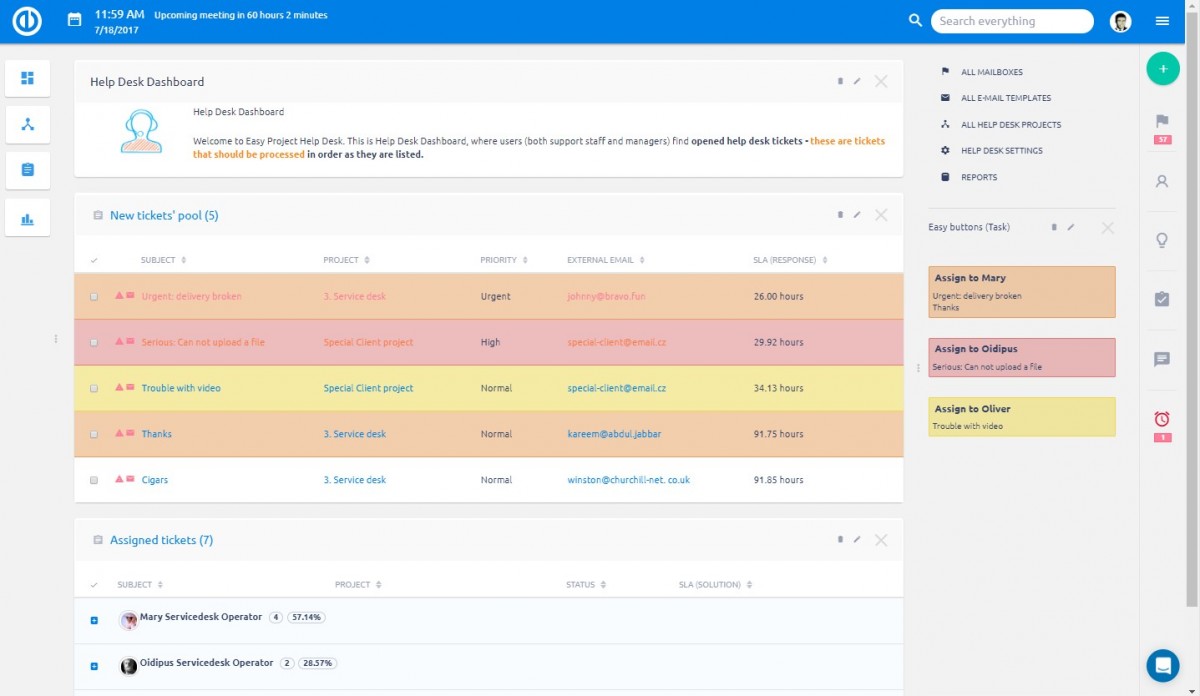 none
Action buttons
The ultimate tool for quick task sorting and assignment. This feature allows managers to quickly assign tasks from the pool. Action buttons are set to update tasks according to the pre-set configuration. Action buttons are highly customizable and easy to create.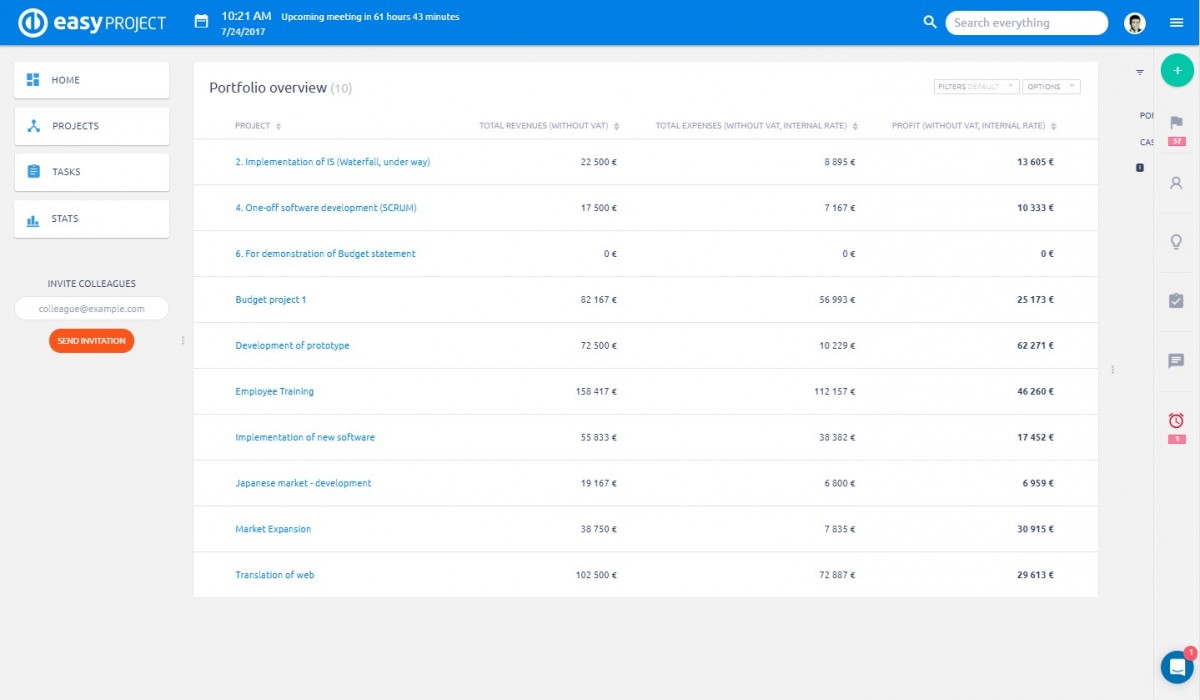 none
Portfolio statement
Create portfolio statements and reports in a few clicks. You can easily create a portfolio budget or spreadsheets on spent time, resources, etc. Then, using integrated charts and graphs, you can transform them into a full report ready for presentation.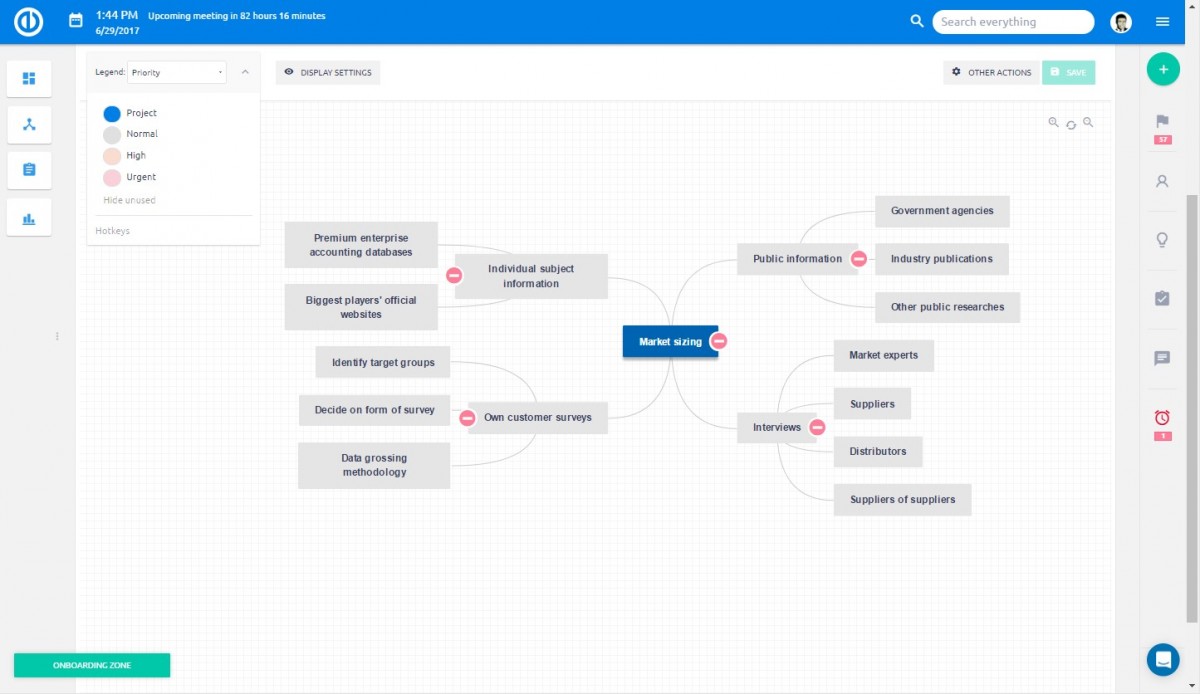 none
Project templates
Create project templates from existing projects or from scratch to save time and improve project structure over time. Easy Project also offers you a list of project templates for typical company processes.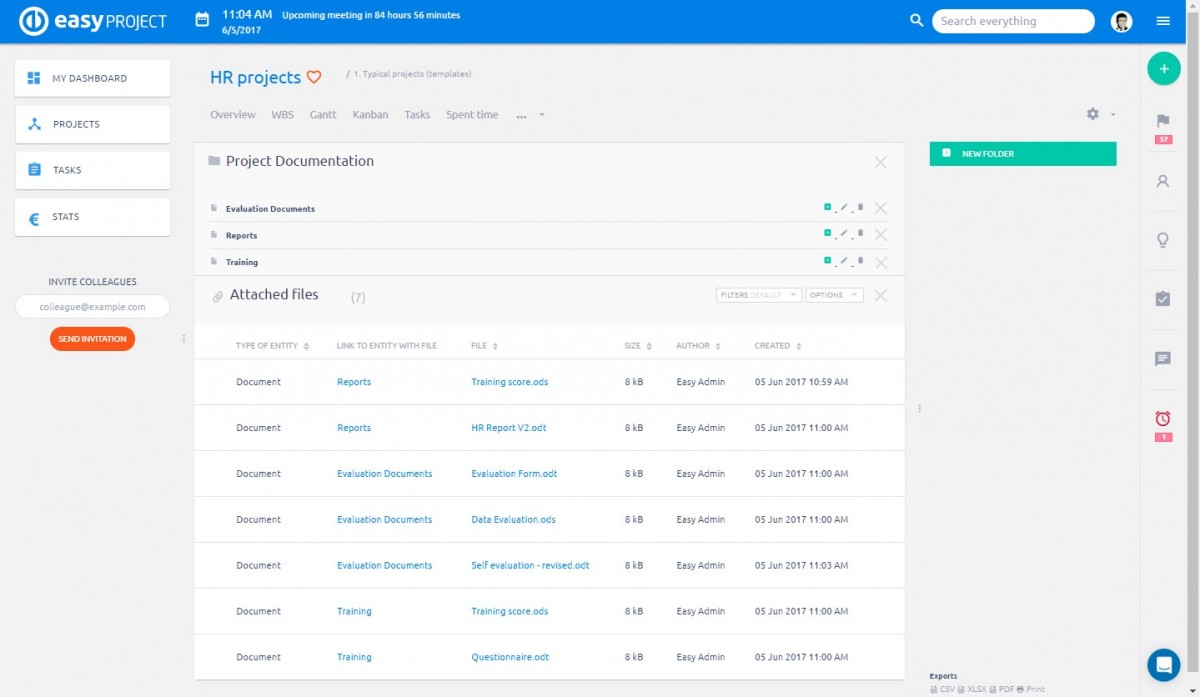 none
Project Documents
Documents can be attached to tasks and projects and then easily searched, versioned, and edited online. Under the Documents module, you can find a complete overview of all the attachments from a specific project and tasks related to each of them.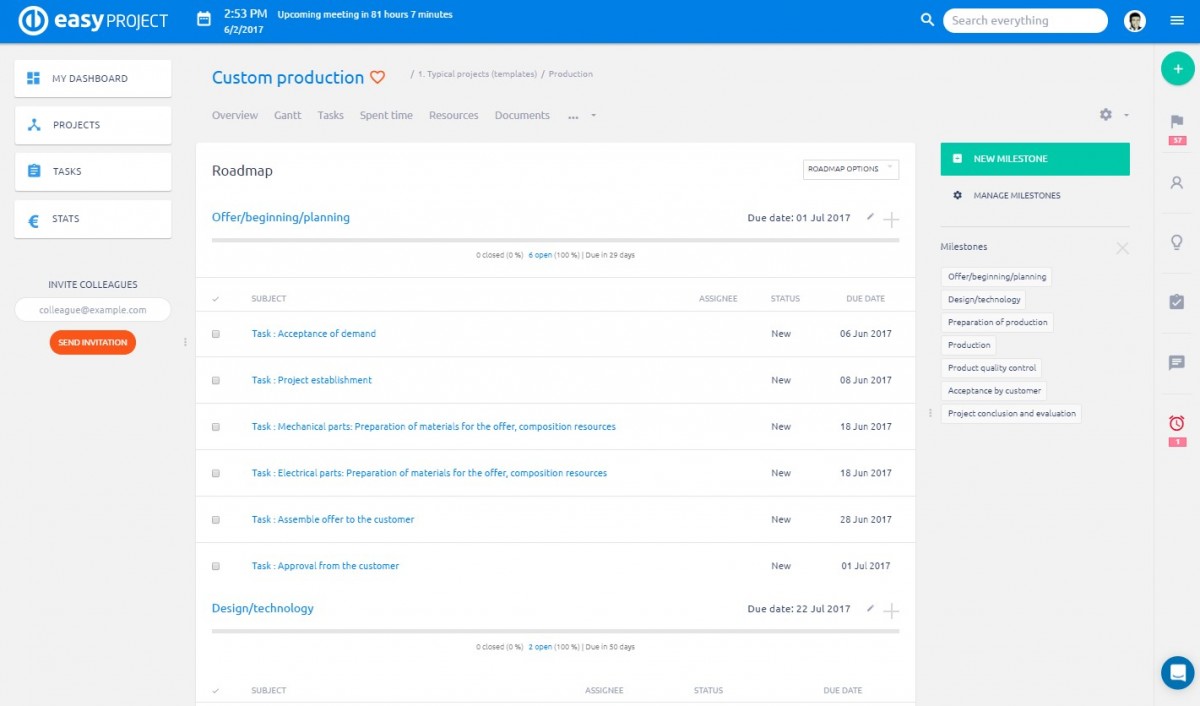 none
Project roadmap
Get an instant overview of your project goals in the form of milestones and all the tasks that need to be completed. With Project Roadmap, you get an instant overview of the whole project plan.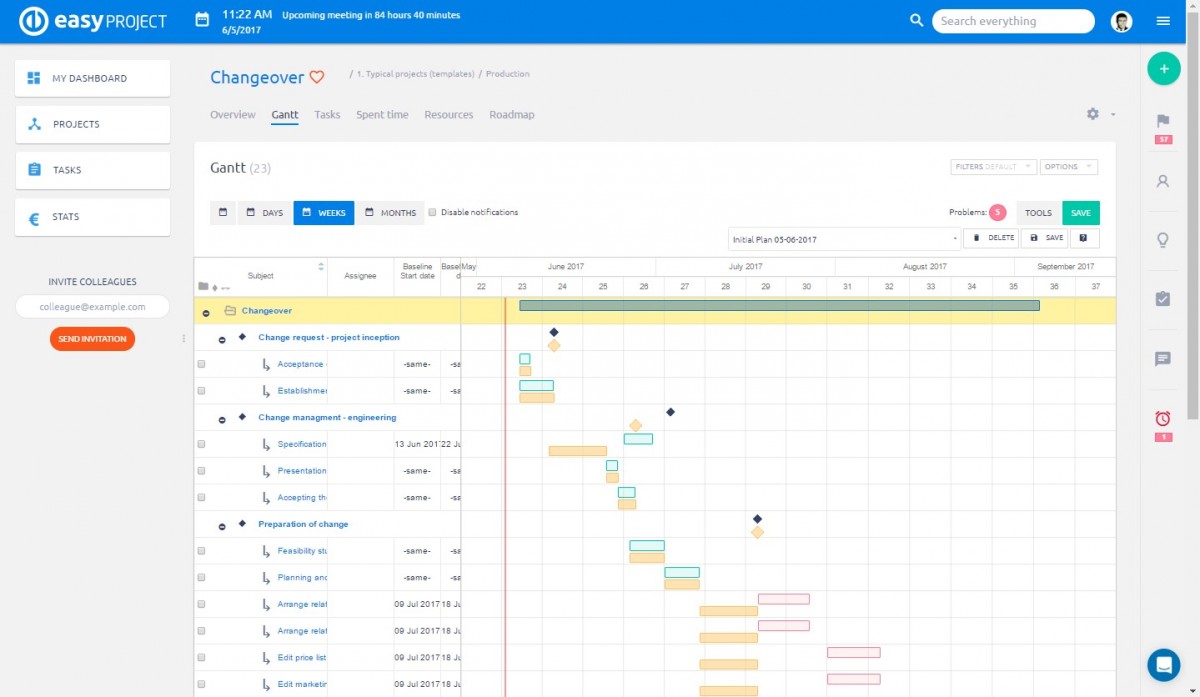 none
Baselines
Assess project performance by comparing it to the original plan. Baselines provide snapshots of the project plan at different moments, allowing you to easily compare the plan to current performance within your Gantt chart.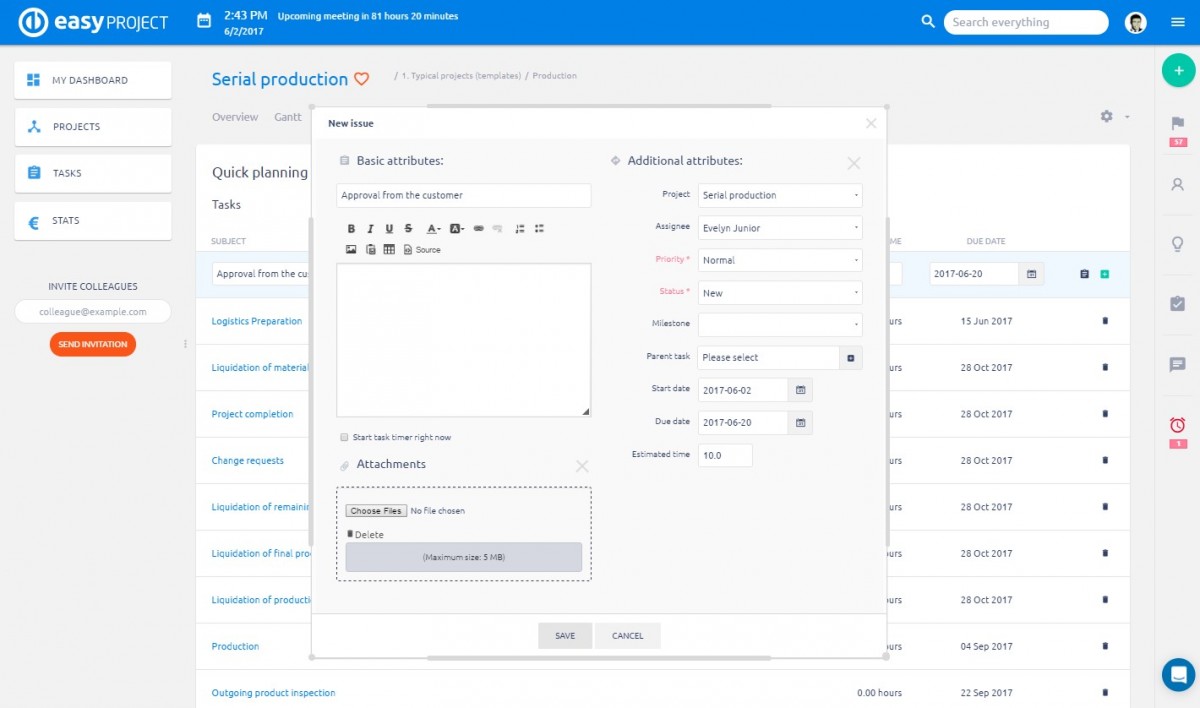 none
Quick Project Planner
Quickly plan complete projects by entering the basic task details: name, duration, and due date. Available through the sidebar of your project page, the planner will allow you to take note of tasks during both the brainstorming and preliminary project definition stages.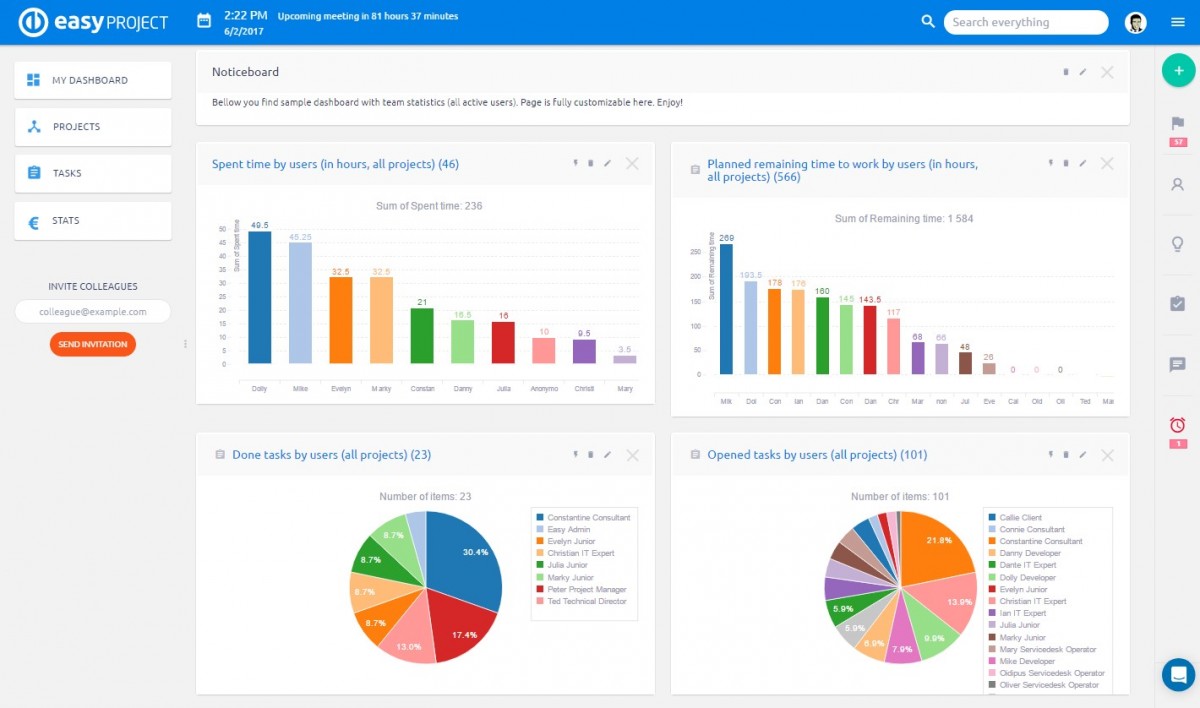 none
Reporting tools - graphs & charts
Visualize available statistics using pie, bar, and line graphs. Create charts from any list of entries, and in just a couple clicks, prepare a report on your project's performance and demonstrate what needs to be improved.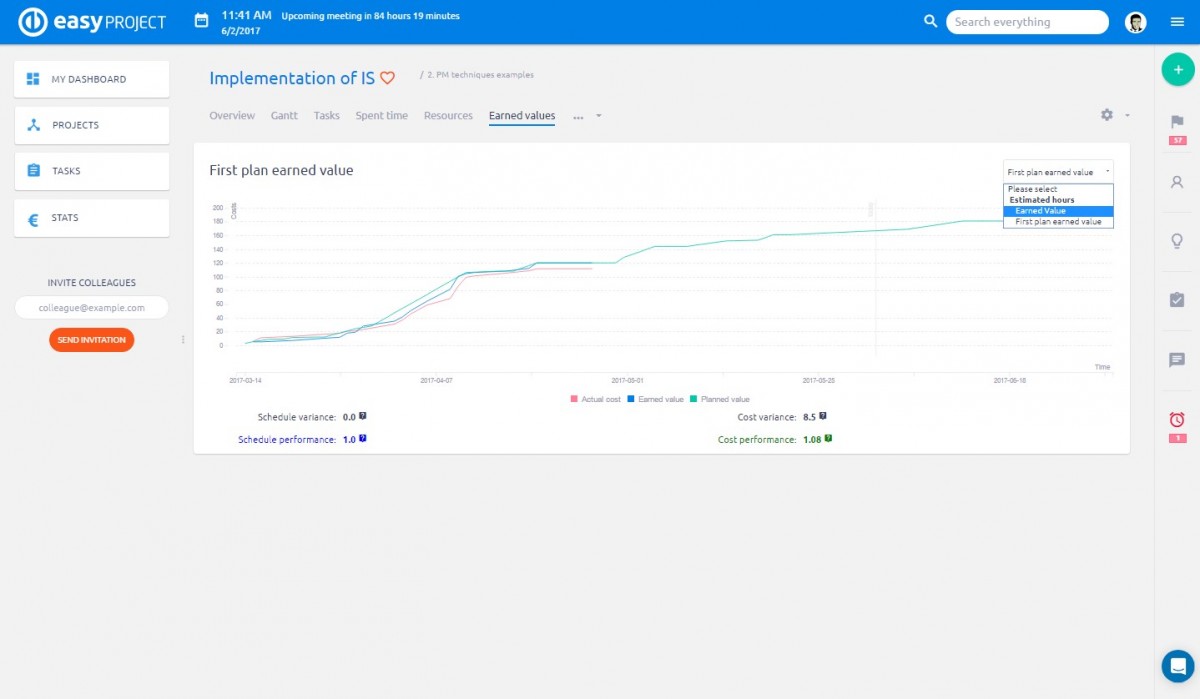 none
Earned Value Management
Define the scope and analyze project's overall performance with Earned Value Management (EVM), a research-proven methodology for determining project success.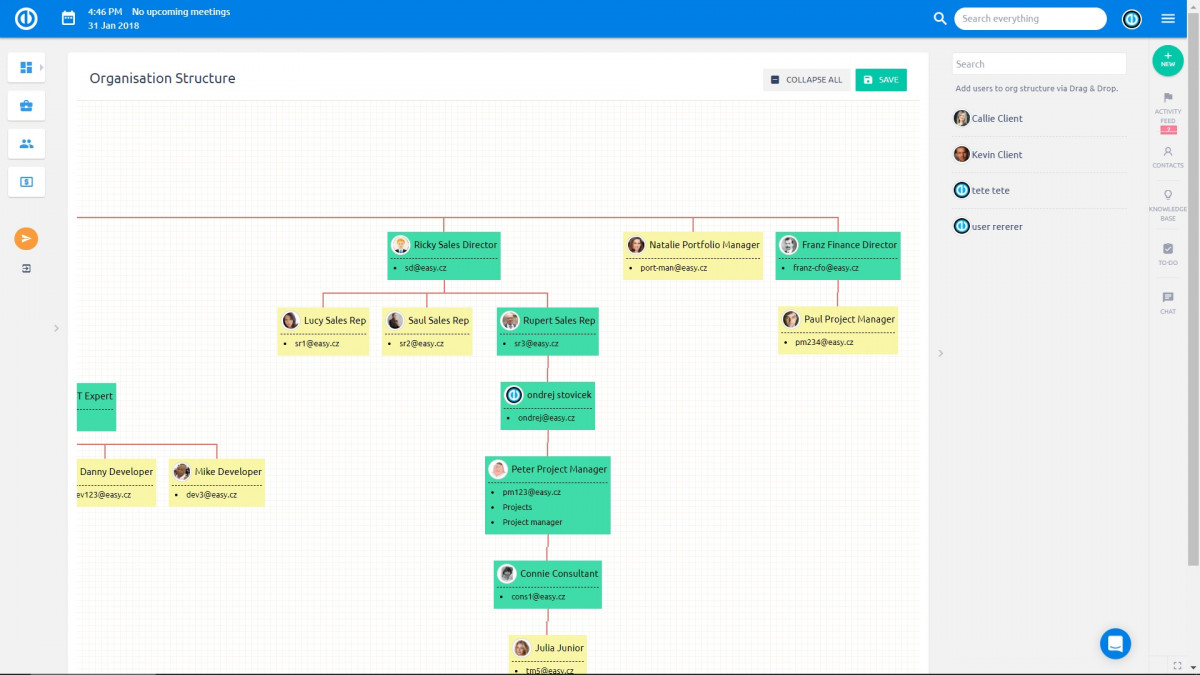 none
Organizational structure
Organizational structure is a form of a tree hierarchy where every user in the organization, except the top one, is subordinate to a single another user. This arrangement helps define how activities such as task allocation, coordination, and supervision are standardly directed toward the achievement of organizational aims. It also determines who is eligible to approve vacation requests submitted by users.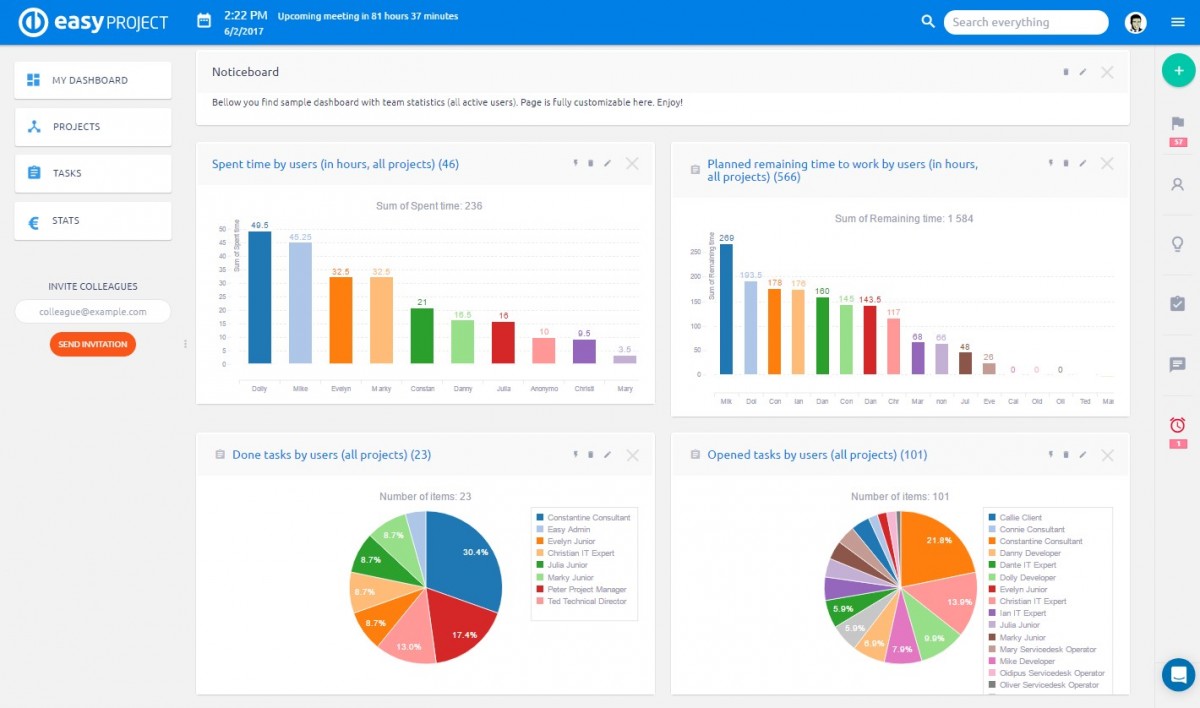 none
Easy Project - Visual & Effective Project Management
Easy Project is a web based collaborative project management software. It is used by companies from around the world to handle projects, tasks, schedules, resource utilization, budgets, attendance monitoring, support management and much more.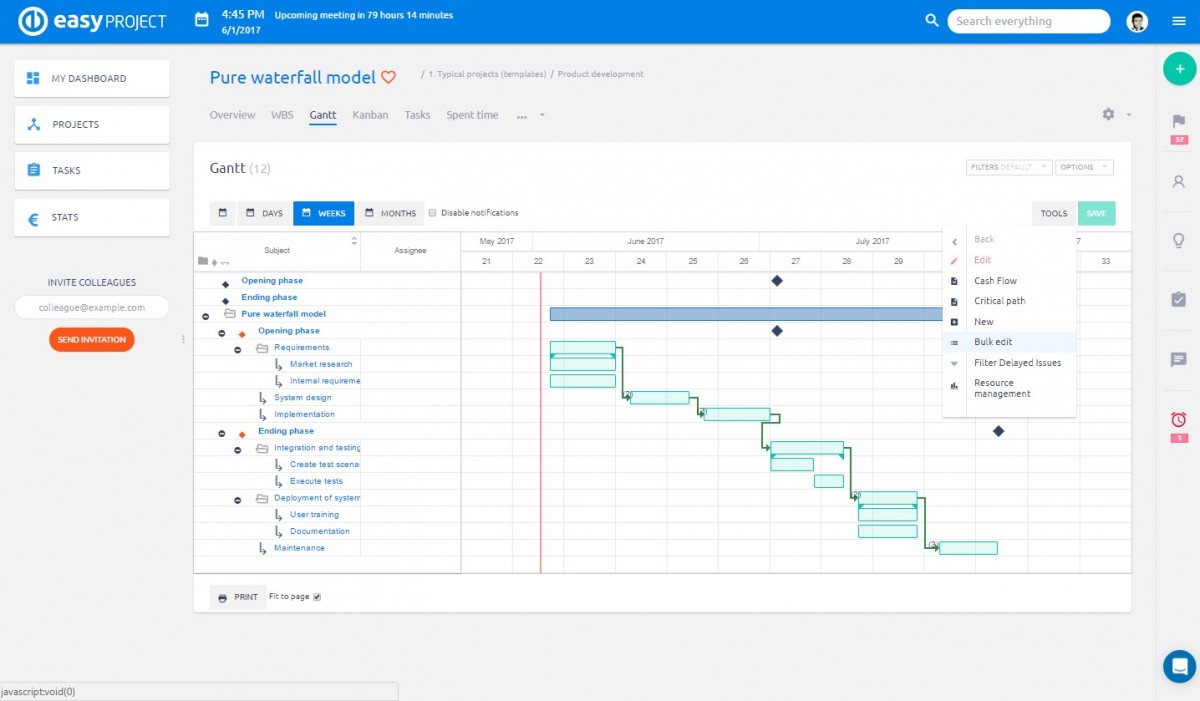 none
Easy Project - Easy & Visual & Professional Project Management
Easy, visual, effective - these are the key characteristics of Easy Project. Explore professional integration of key management tools - WBS, Gantt, Kanban, Agile, Resource Management, Workflow & Reporting tools. Discover new ways of full control and maximum efficiency.
The easiest onboarding & implementation
4 predefined role levels, ready to use
dashboards, features, permissions
and workflow.
Try It Free
Sign up for the upcoming webinar
Find out about latest features and best practices
Sign up now>