What to Know About Easy Project HelpDesk
Technology is advancing as experts introduce new and innovative tools in the market. The HelpDesk system has a global implementation for streamlining customer service. HelpDesk applications support internal and external clients and customers.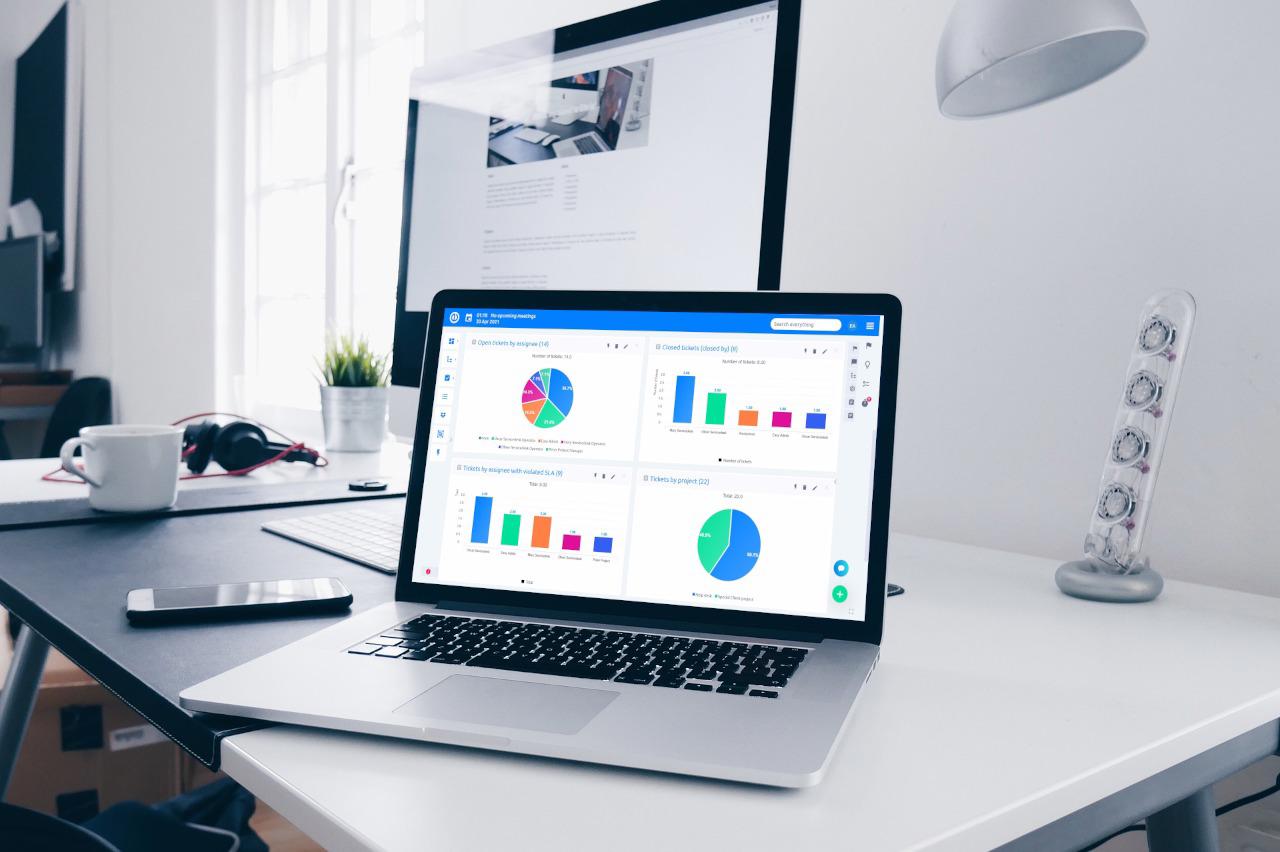 This helps manage and track the activities and tasks according to customers' requirements. After all, the decision-making process is based on the goals of the company, which involve satisfying the customer.
Easy Project also works as a HelpDesk system that supports agents to clear up customers' problems, doubts, and issues and automate the business flow. Easy Project offers a ticketing system. The application makes it convenient for you and your customers to communicate with each other so that customers can fulfill their needs and requirements.
Easy Project is a versatile and efficient tool that includes various features and functions. All these functions can support your business and employees. Almost every industry can rely on this application for business solutions. That means taking the management process to the next level and saving a lot of precious resources.
Benefits of Using Easy Project as a HelpDesk Software
1. Generate Insights
Easy Project allows you to generate insights so that you can enhance the customer experience. As technology is advancing, the competition in almost every industry has increased. You want to understand your customer to fulfill their needs and stay in the market. Insight helps you to improve the journey of your customer through data and customer experience.
With customer insights, your marketing teams can develop strategies and target audience with proper data and knowledge. Your chances to attract a customer increase when you know their behavior and likings. Today, e-commerce websites are using big data to develop their customer reach.
HelpDesk Operator Dashboard in Easy Project
2. Customer Interaction
Top organizations focus mainly on improving their customer experience by interacting and understanding their behavior. Easy Project helps you maintain the quality of the products and services through strategies and customer interactions. Through Easy Project's ticketing system, you can understand your customers' concerns.
You also determine you're your performance in the market to narrow down what changes you should make to enhance your business. Easy Project helps you interact with your customer easily so that you can generate insights and improve efficiency.
3. Categorize Requests
Easy Project helps you categorize your customer requests and issues and assign those issues to individual employees so that they can respond in time. This is one of the Easy Project HelpDesk system's main functions. This application helps you customize the ticketing system according to your requirement and define the categories. Furthermore, you can ensure that all the agents respond in time with Easy Project's time tracking feature.
4. Response Time
When your agents respond to your customer in real-time, your levels of customer satisfaction will increase. Easy Project is a web application with fast and reliable ticketing service. With a proper pattern and working structure, your agents can respond to customers accurately in less time. However, you can monitor the response time of each issue to streamline the ticketing process.
5. Improve Efficiency
Easy Project HelpDesk feature will increase employees' focus. Furthermore, you can categorize customer responses. Without a HelpDesk software such as Easy Project, you cannot manage and track all the issues and requests. The workload will be uneven among employees, and they will not be able to perform properly. This will lead to delays in the response time, and the customer will not be satisfied.
6. Real-Time Data
Easy Project is a web-based open-source application. This means that the software allows you to operate the system through an online connection. All your data is stored in the cloud, and you do not have to worry about manual data storage. That is why all your customer responses are real-time. Whenever your customer creates a ticket, your agent will receive the problem, and they can instantly respond. This will decrease the workload on the employee, and it addresses your customer's concerns quickly.
7. Smooth and Fast Solutions
Easy Project is a user-friendly and advanced tool. The interface is fast and smooth so that you can easily communicate with your customers and client. This is a web-based solution with a cloud system, making it one of the most advanced options that you can choose. Furthermore, with unlimited ticket creation, you effectively streamline your customer-representative interactions.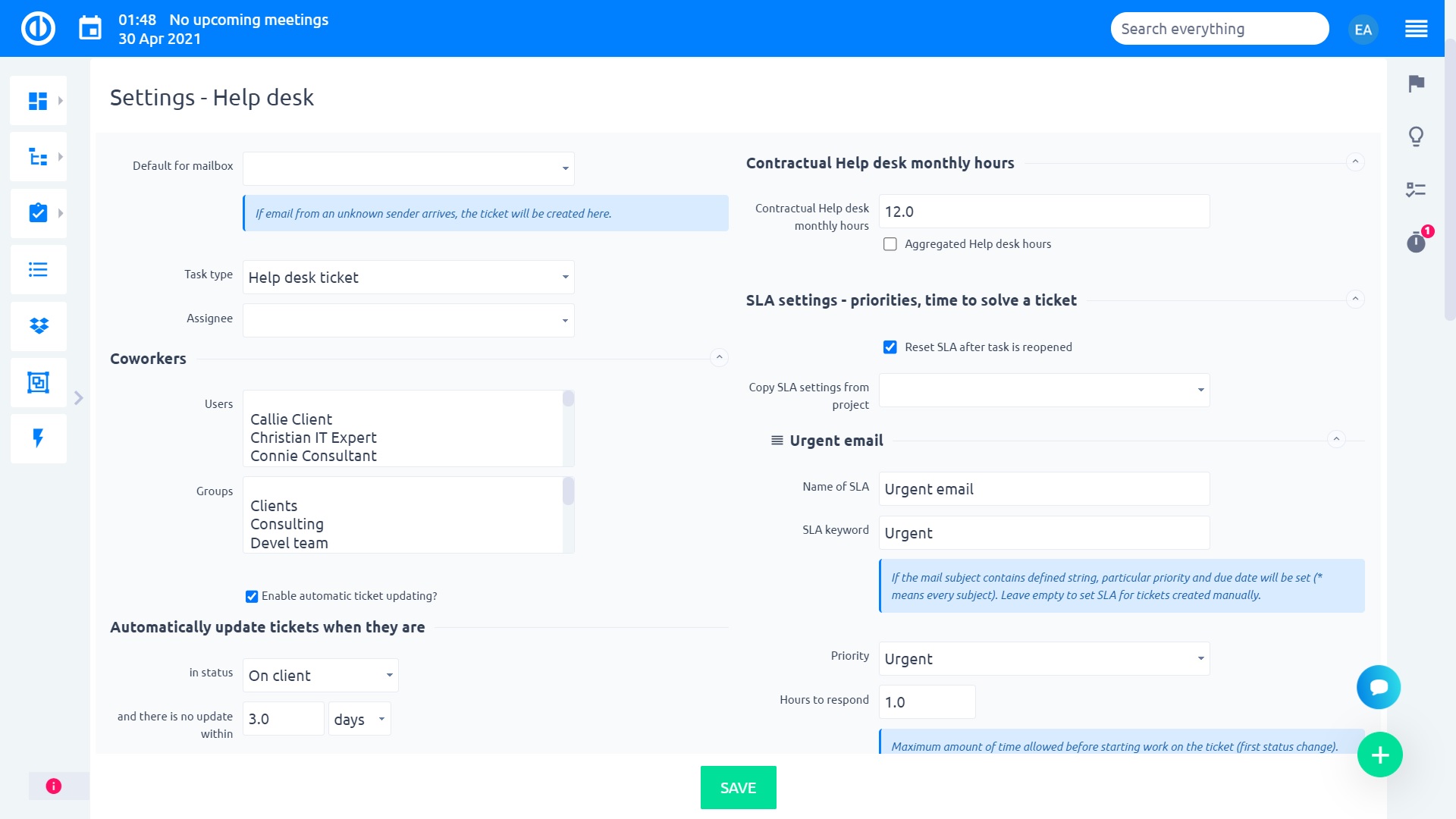 HelpDesk settings in Easy Project
8. Better Customer Service Quality
When all your business tasks and activities go through Easy Project's fast and reliable tools, your agents can communicate with customers to ensure better customer service quality. This improves customers' satisfaction levels. Many businesses fail to respond to customer queries because of ineffective activity organization. However, Easy Project helps you manage all your projects and tasks in a customized pattern with multiple users and responsibilities.
Conclusion
With Easy Project, you can handle communication with customers. The best part is you can assign each ticket that you create to different agents, depending on their expertise or workload. This means all customer queries and issues go through a proper channel before meeting representatives.
Easy Project is not only a HelpDesk application but offers various features and tools so you can manage business activities. This application is mainly famous for its project management and task tracking abilities. Moreover, with time tracking, you motivate agents and employees to focus on their tasks and increase productivity.
When operations run according to a system, and everything is under control, you can guarantee efficiency and results. Easy Project web application helps you with these functions. This application also includes rich feature support so you can perform more activities and tasks on a single platform so you do not have to spend more on time-consuming software for any important functionalities.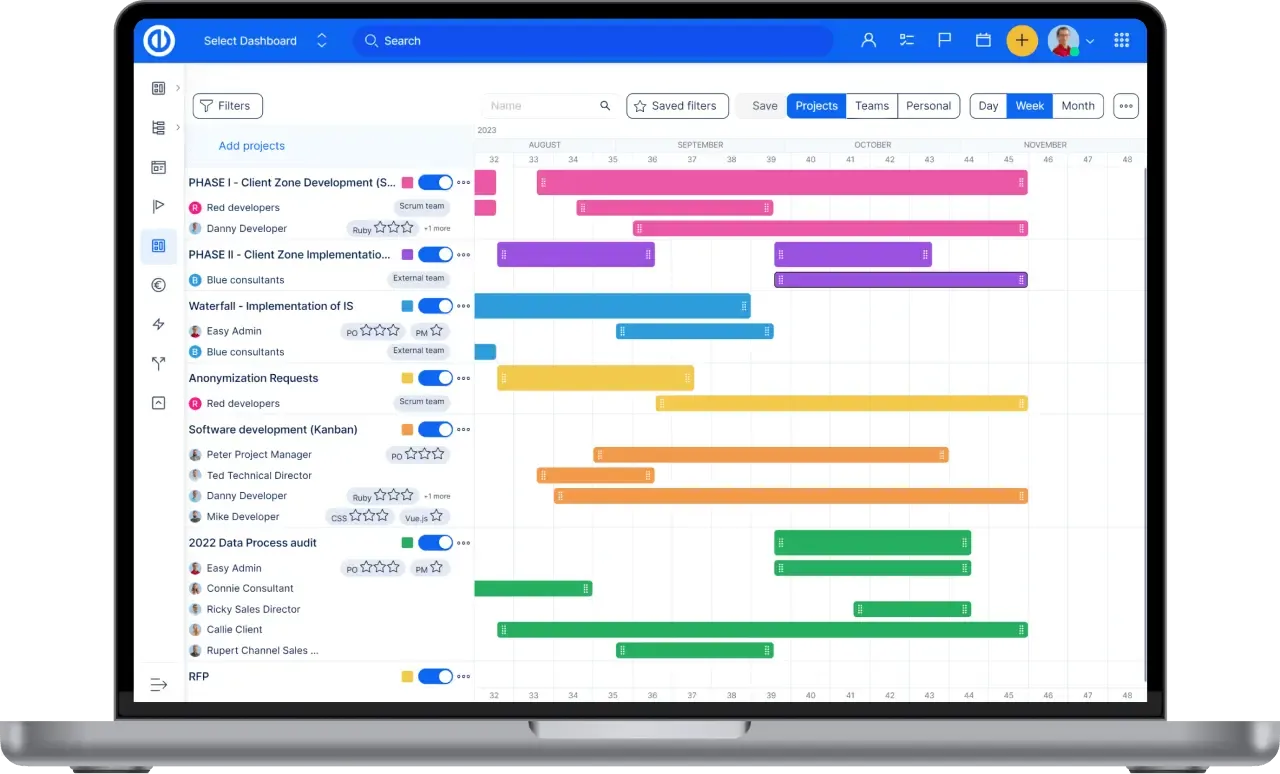 All-in-one software for a modern project manager? Easy.
Get all powerful tools for perfect project planning, management, and control in one software.