Easy Project Platform
Contact Management
Well-organized contact information will save you time, prevent information loss and streamline the communication process. Your personal contacts are always available in the right sidebar and can be synchronized with other devices.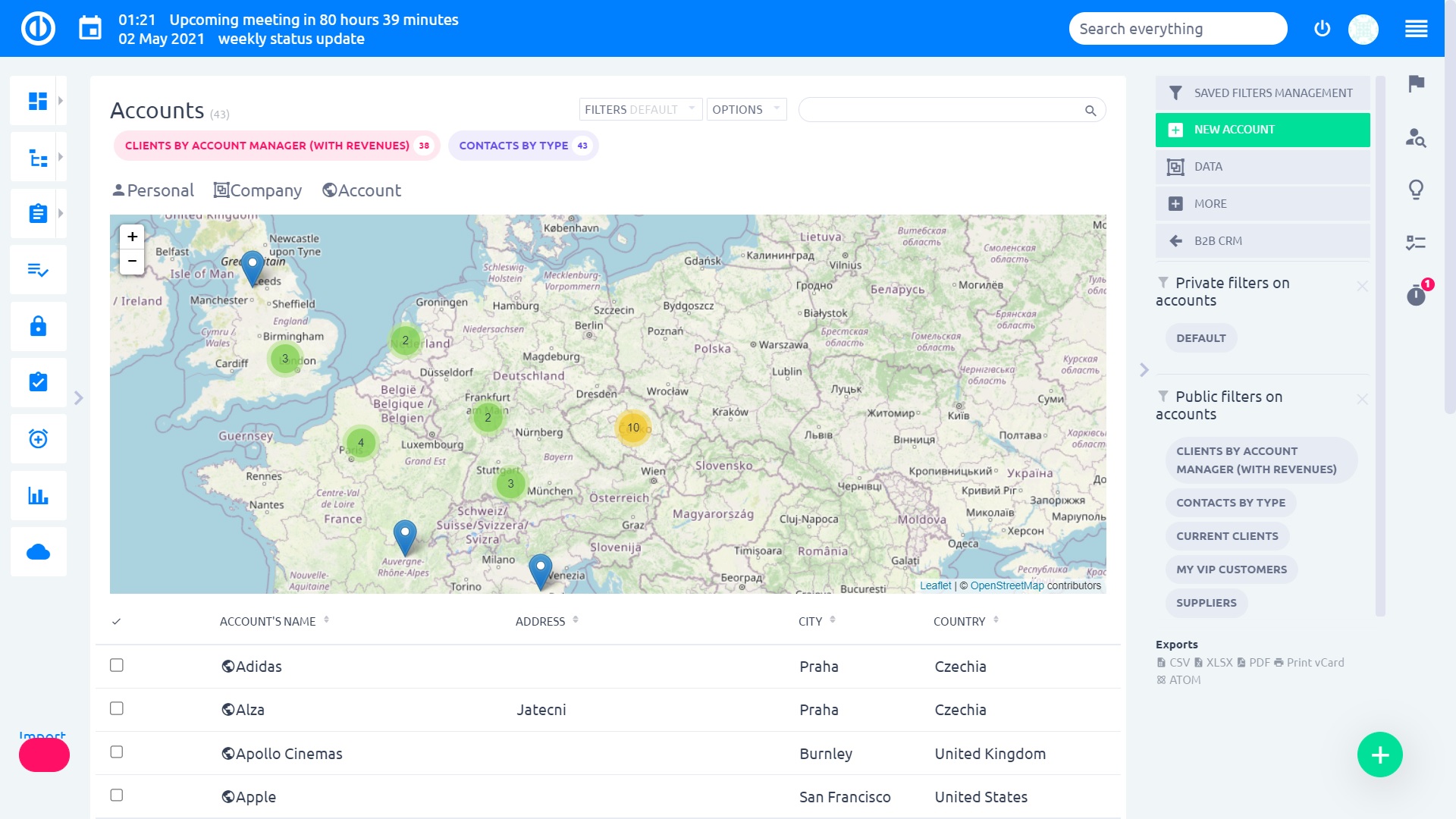 Key features:
Types of contact – person/company/account
Contact grouping
Contacts can be linked to tasks, projects, CRM cases, users
Synchronization with other devices
QR code generator and import/export options (vCard)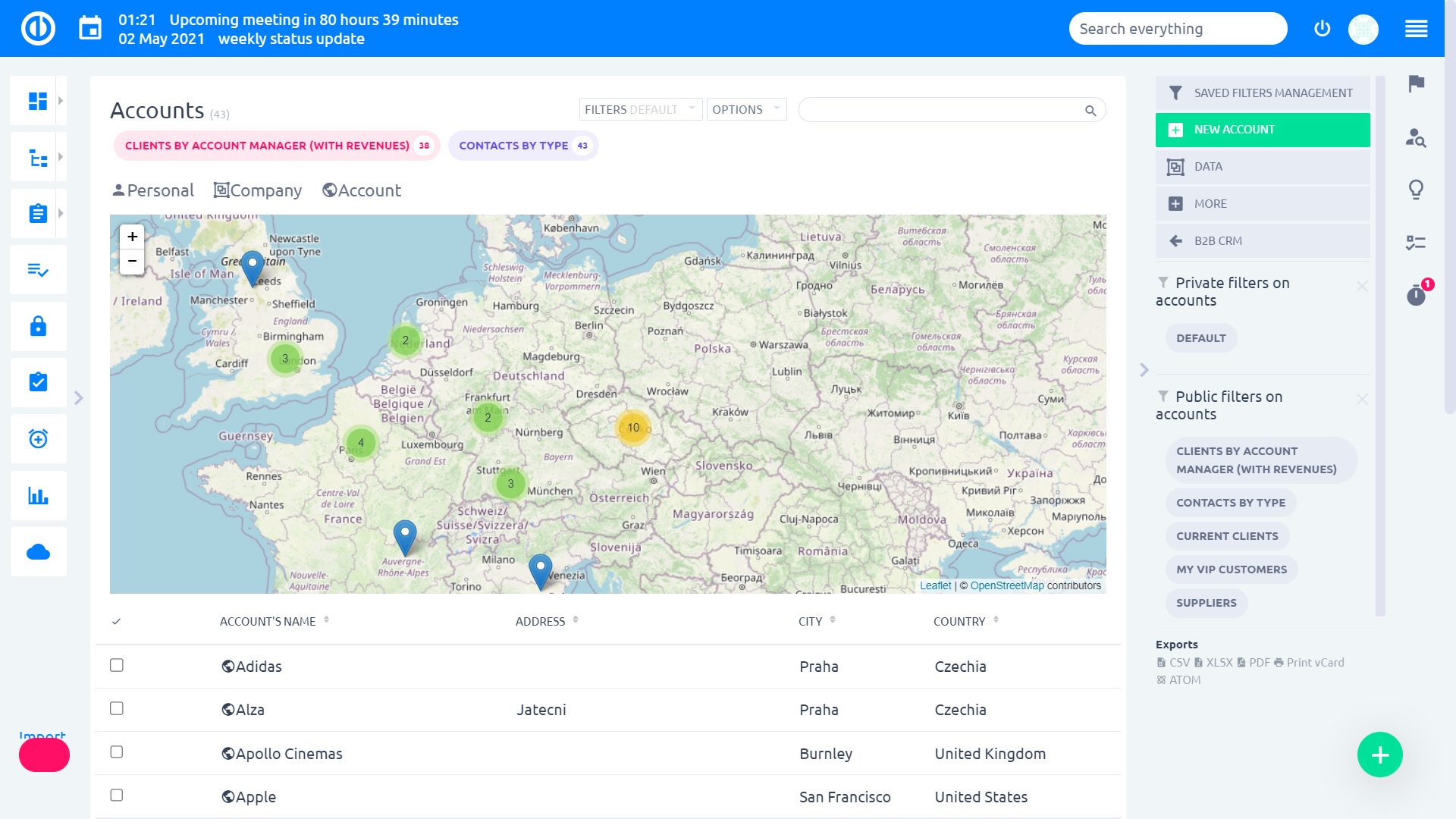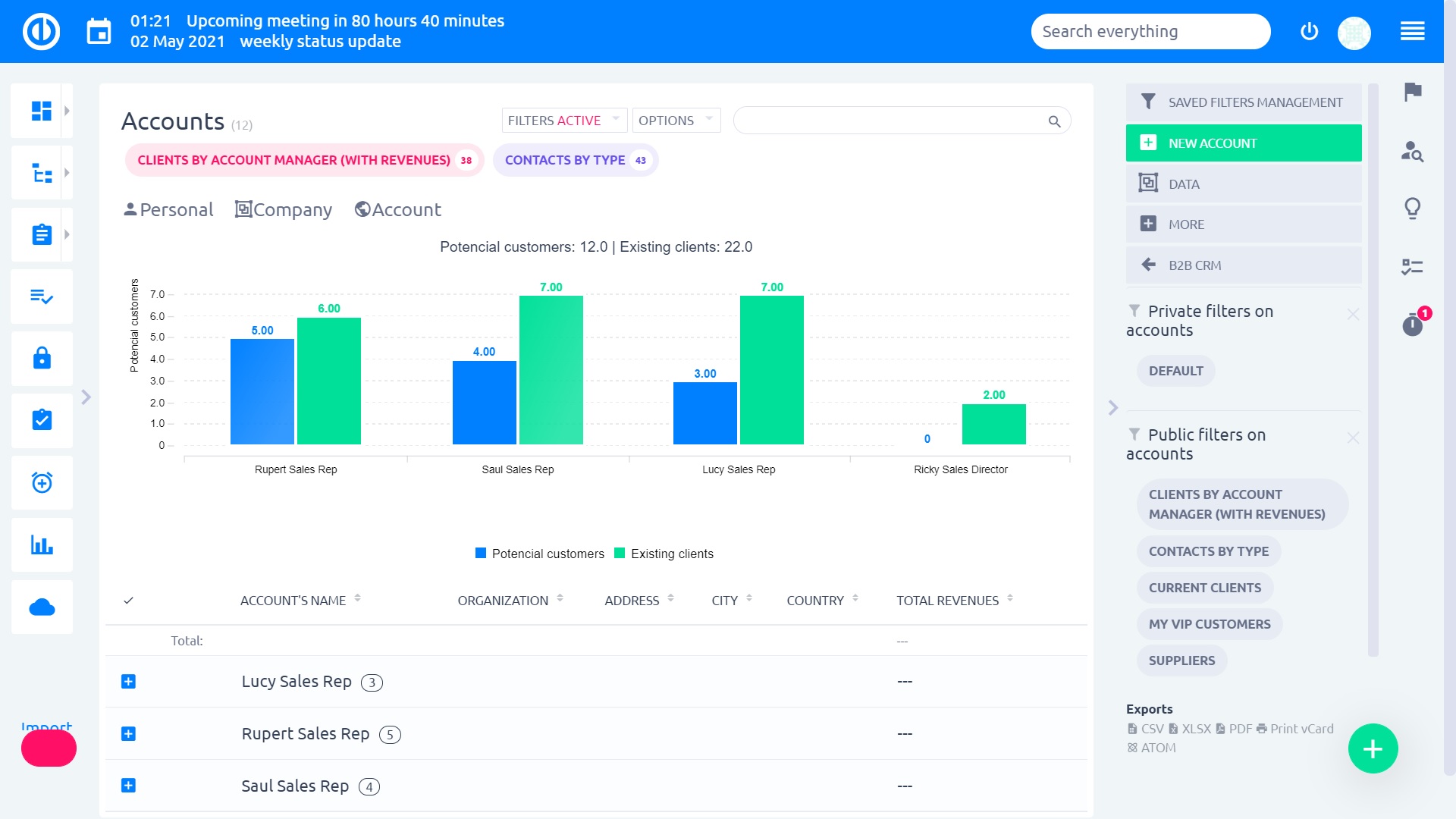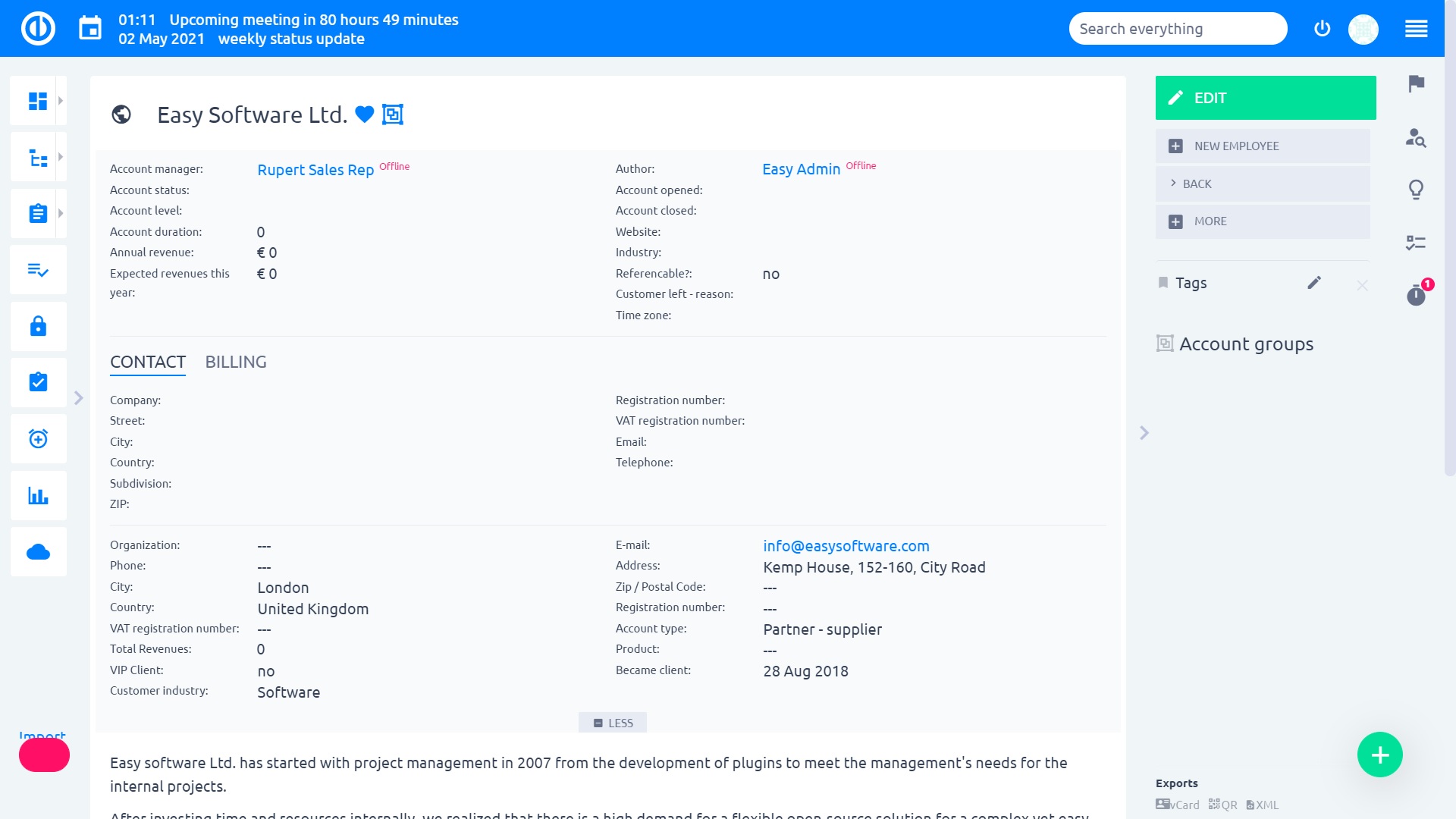 Lead – Contract Management
With Easy CRM, you can manage all processes from creation of a lead to invoice. Leads can be generated from forms, imported, or created manually. With advanced filtering options, you can set up a sales pipeline and opportunities lists.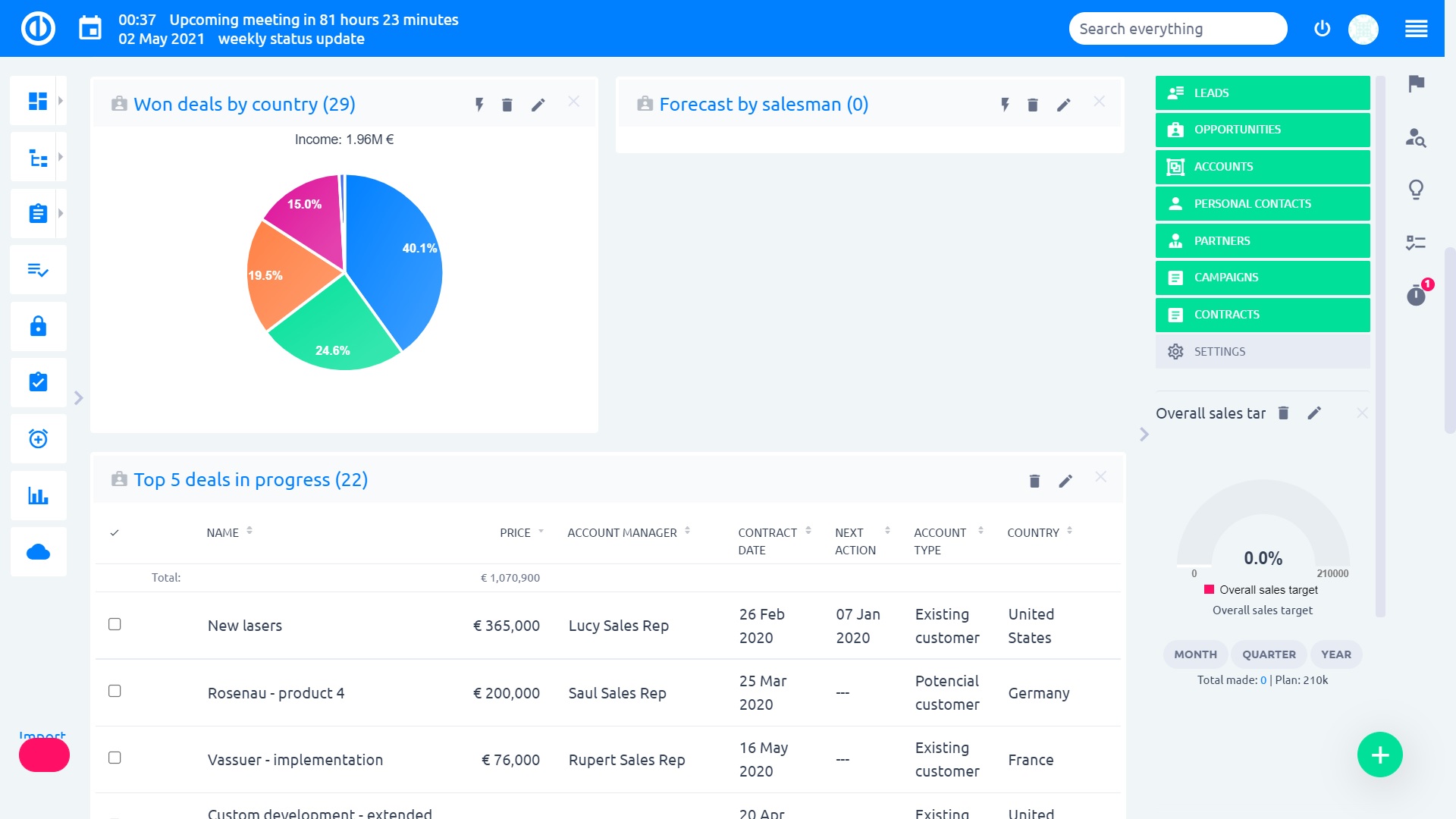 Key Features:
Complex management of CRM cases
Custom fields
Lead statuses
Invoicing integration
Contacts integration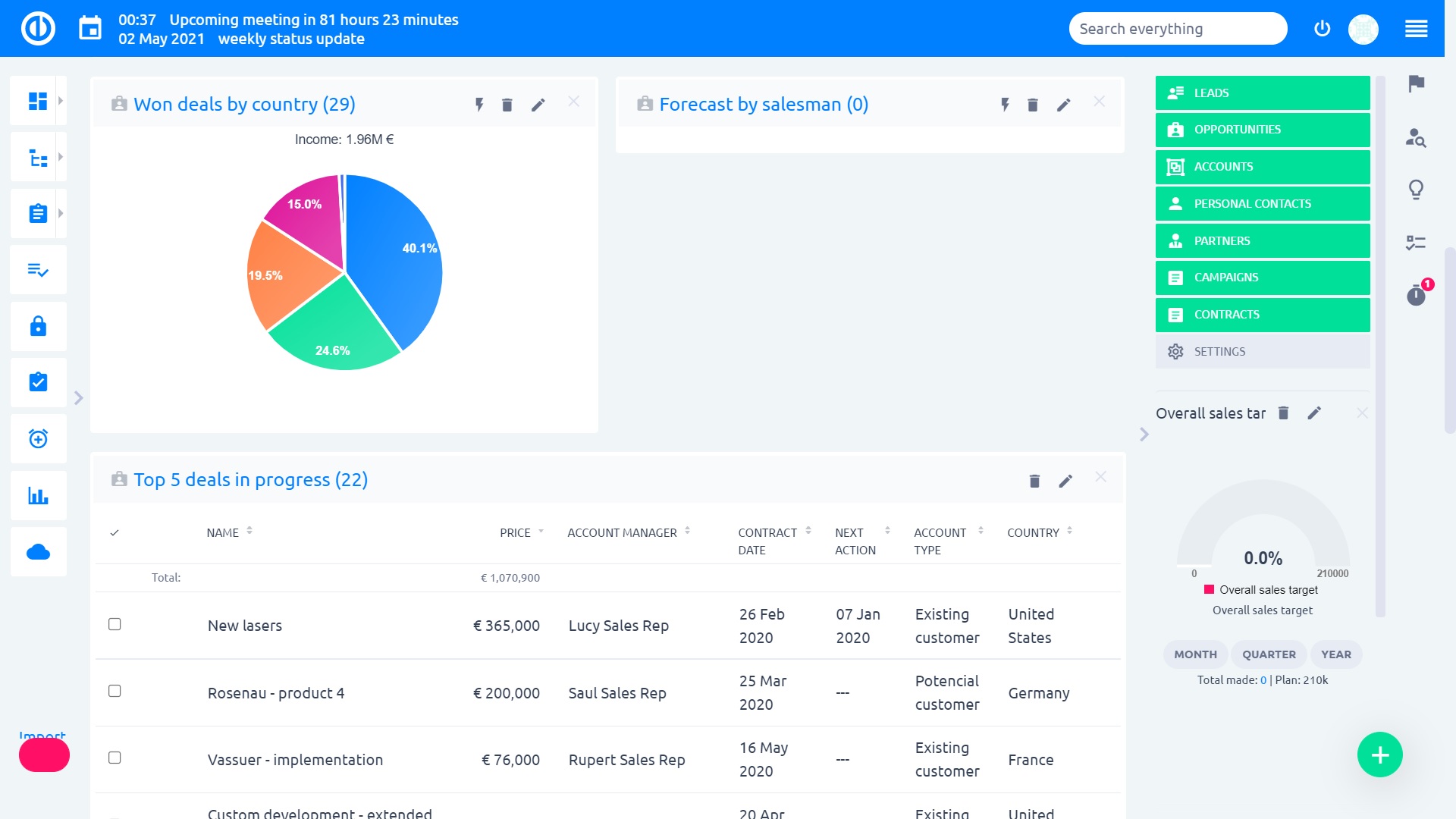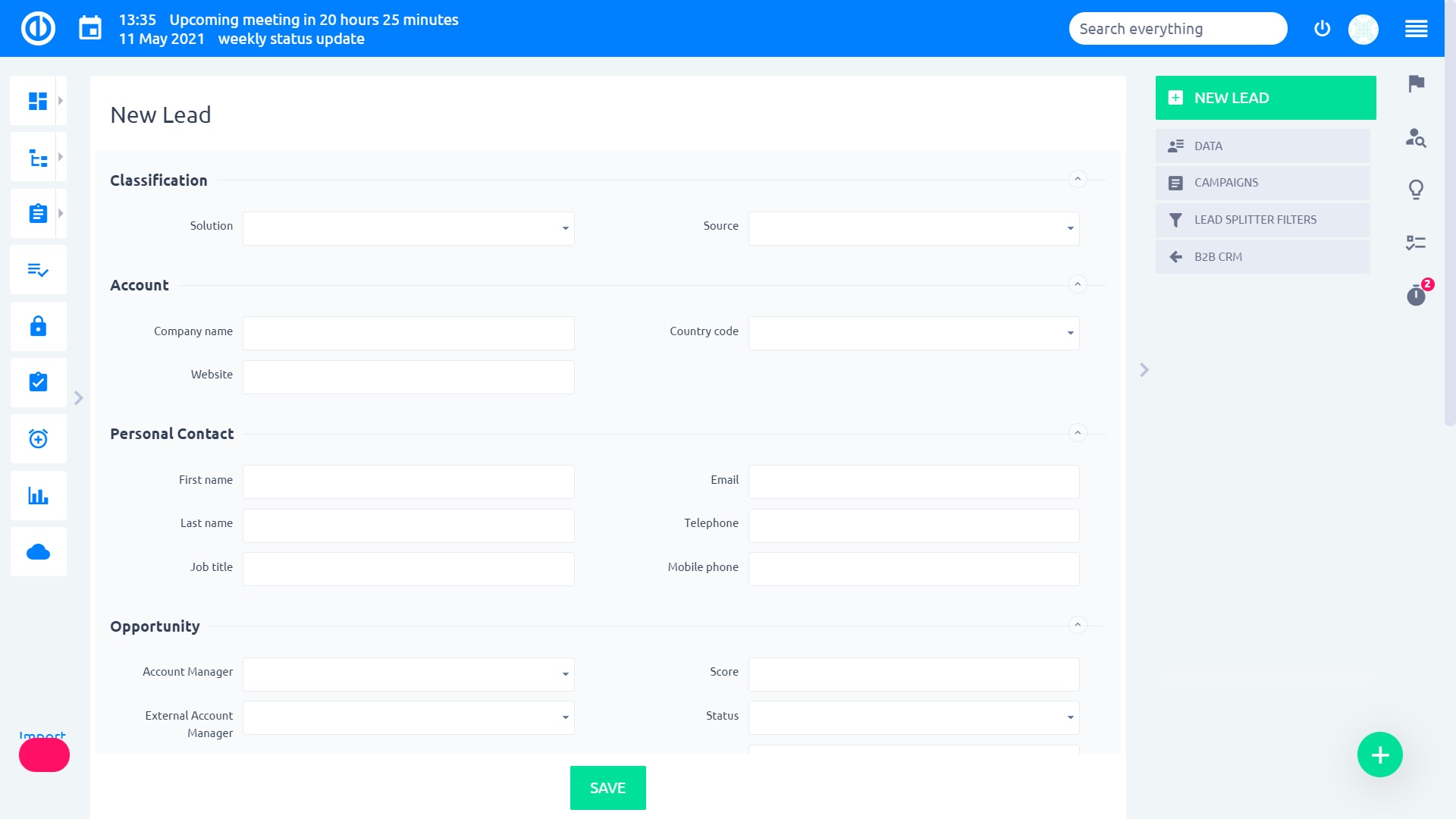 Sales Manager Dashboard
The Sales Manager dashboard will help you to remember upcoming meetings, resolve immediate issues, and keep track of team performance. Remove the hassle of managing through numerous apps and do everything in Easy Project.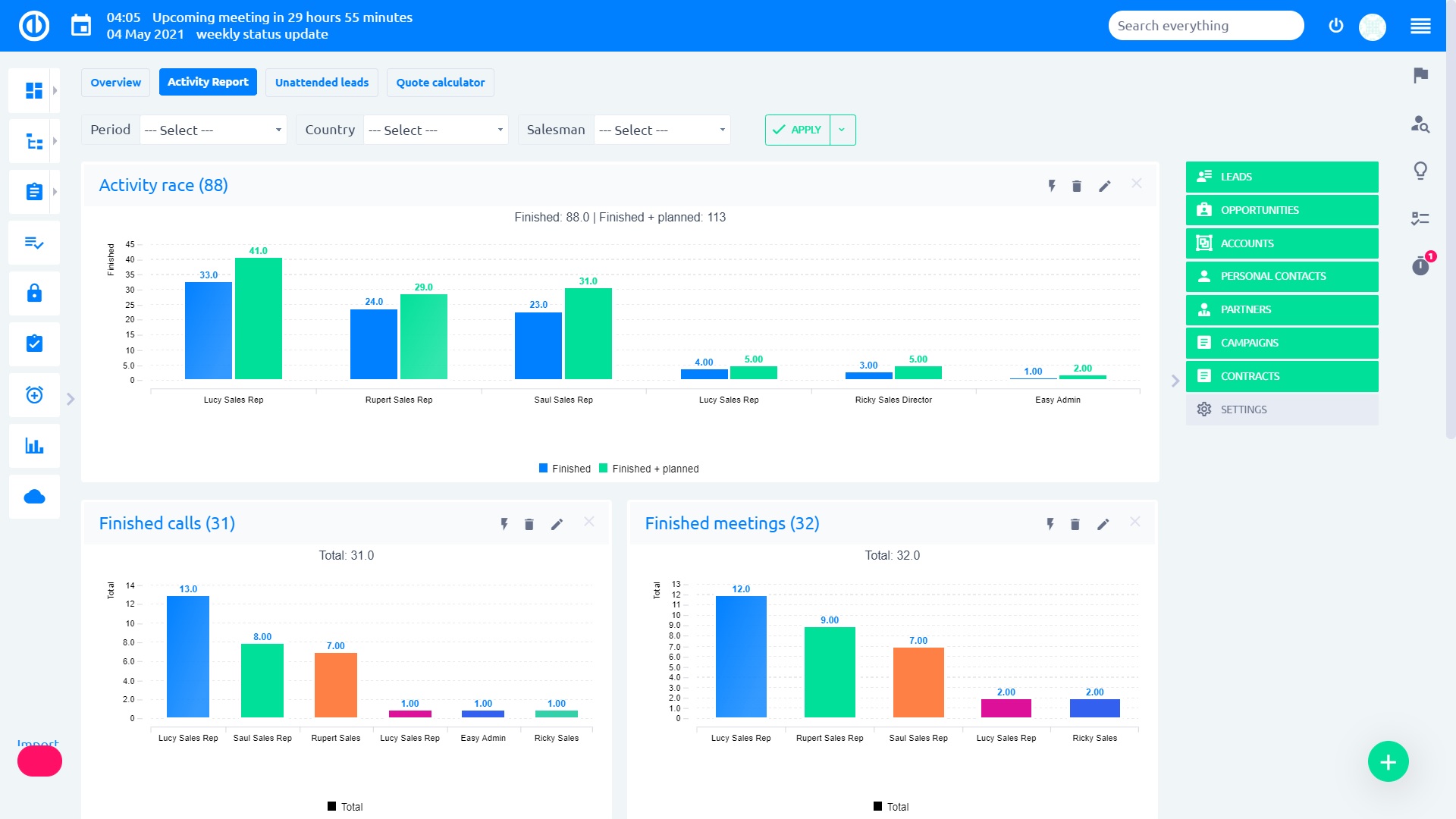 Key Features:
Meeting Calendar
Team Performance Gauge
Details Team Performance Tab
Lead Distribution Tab
Contacts Tab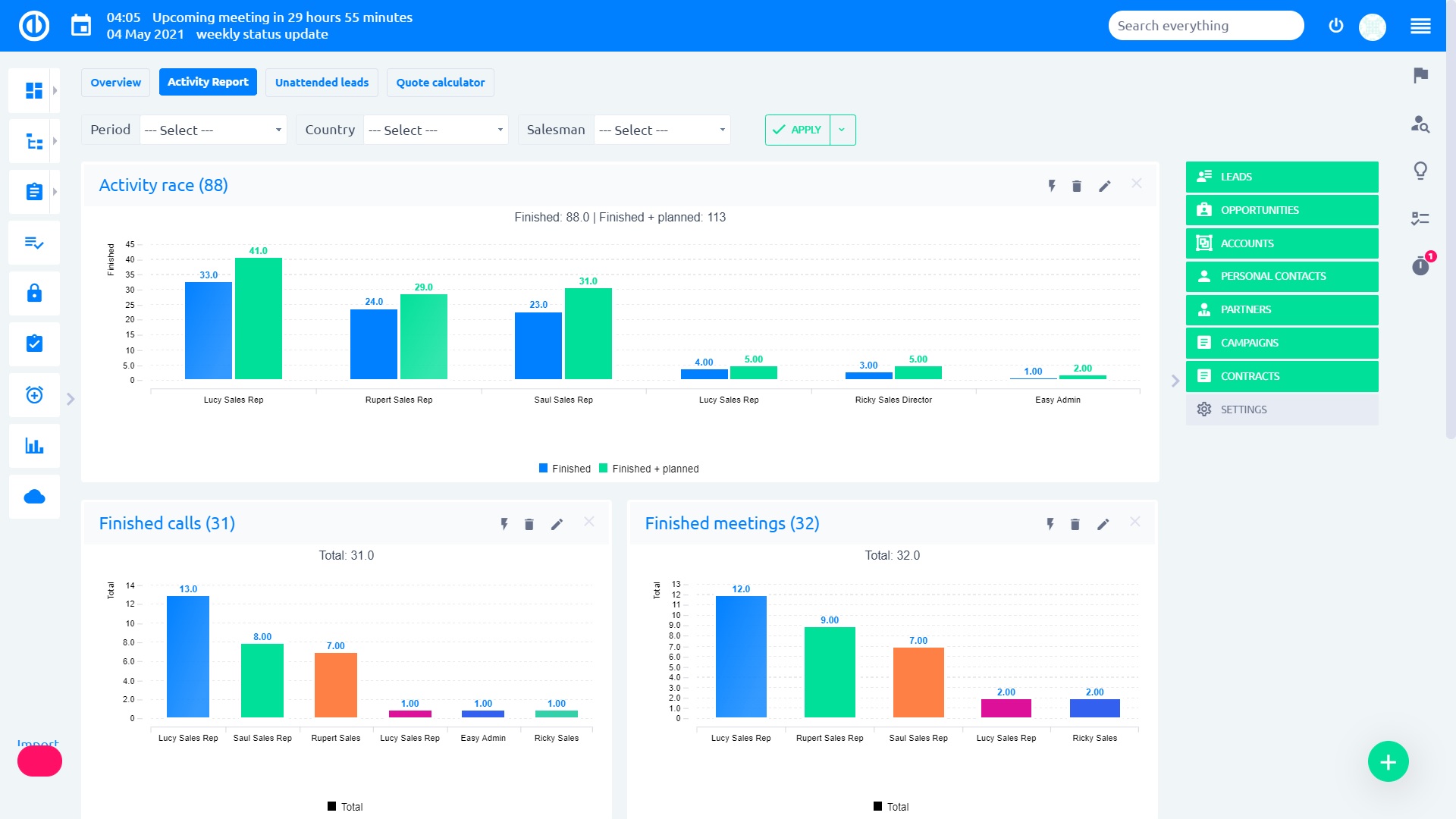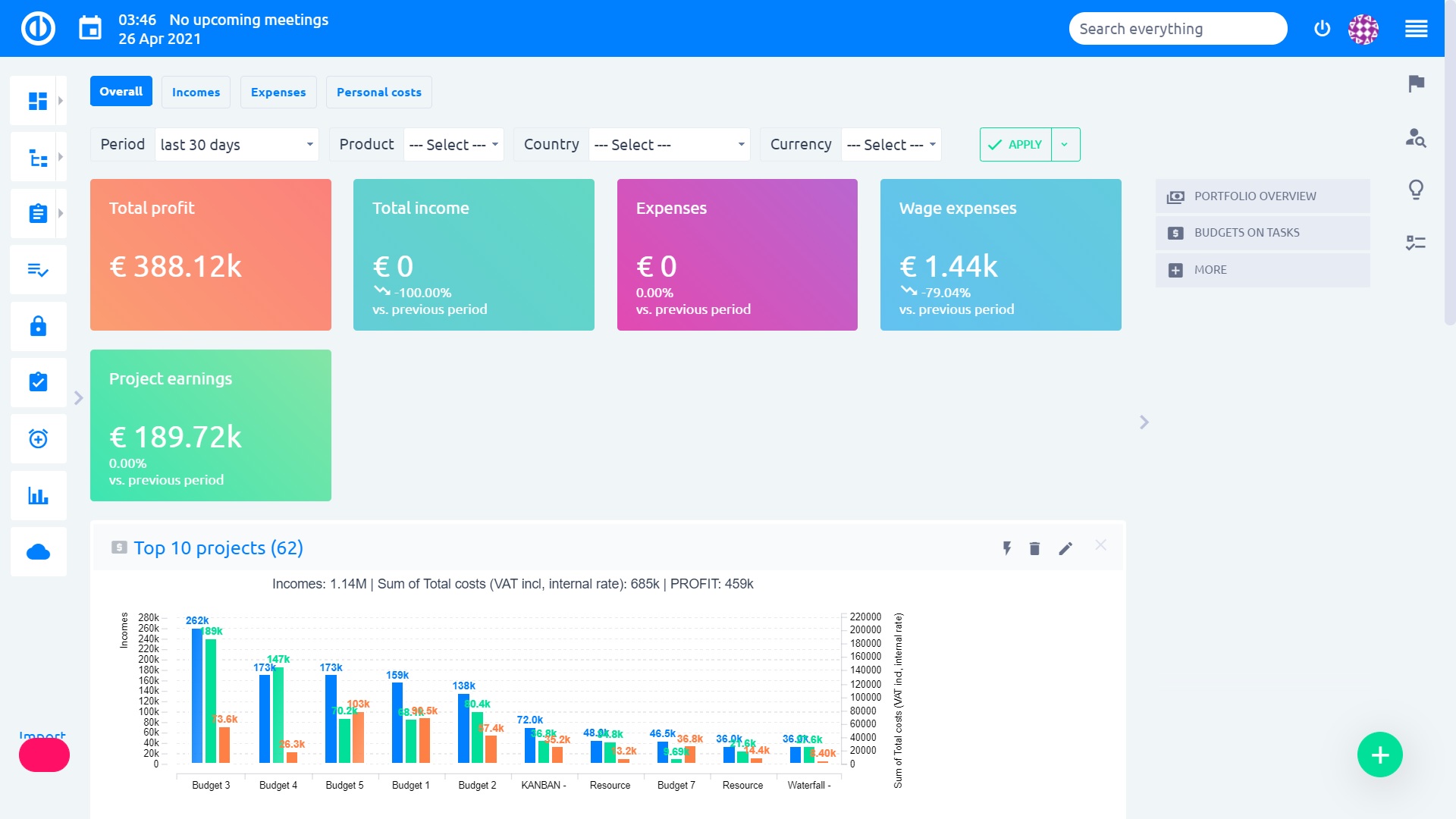 Sales Consultant Dashboard
Let Easy Project take care of organizing your contacts and meetings while you concentrate on your core responsibility: helping potential clients and making your numbers.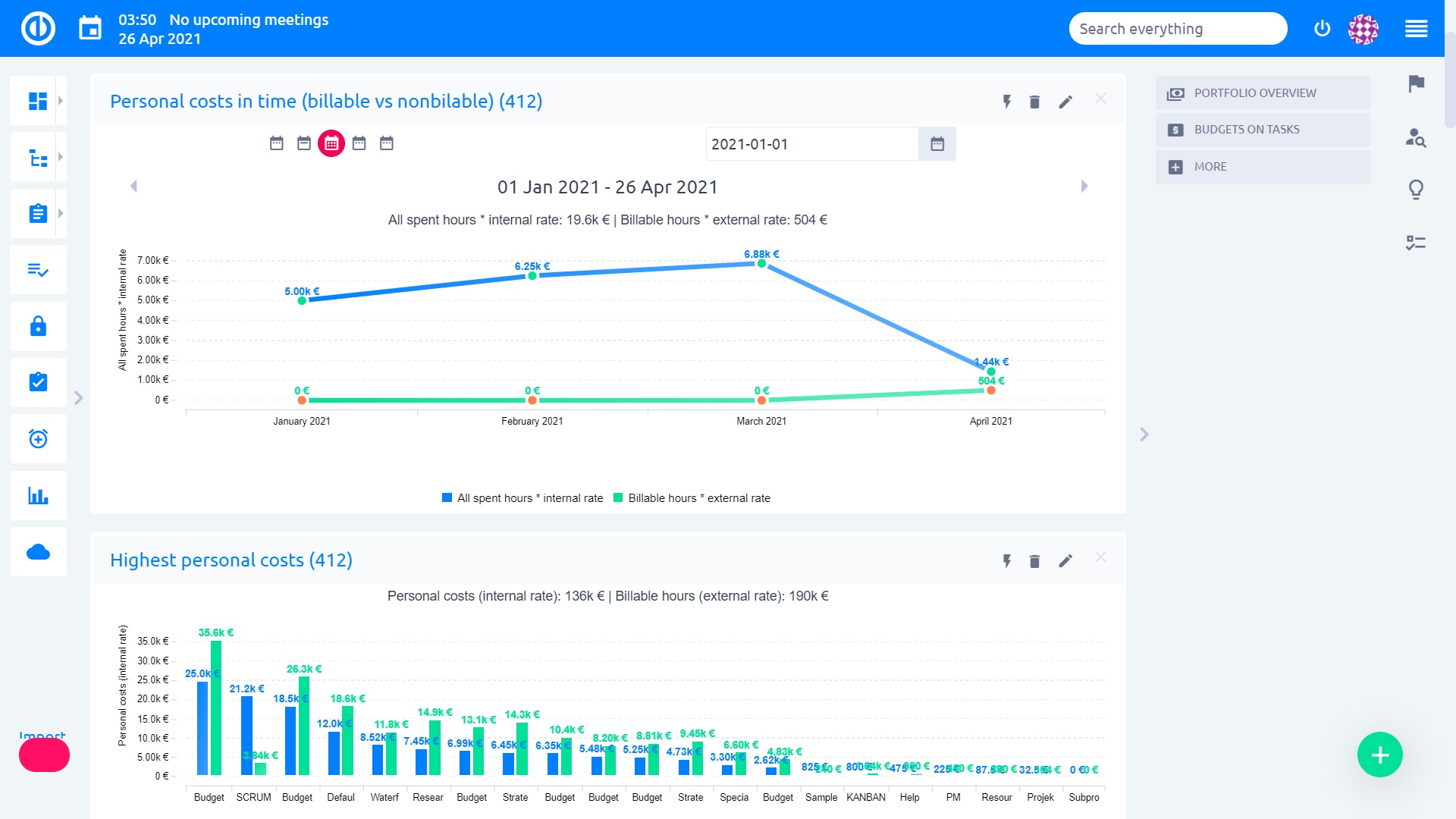 Key Features:
Meeting Calendar
Personal Performance Gauge
Leads & Opportunities Tabs
Personal Performance Overview Tab
Contacts Tab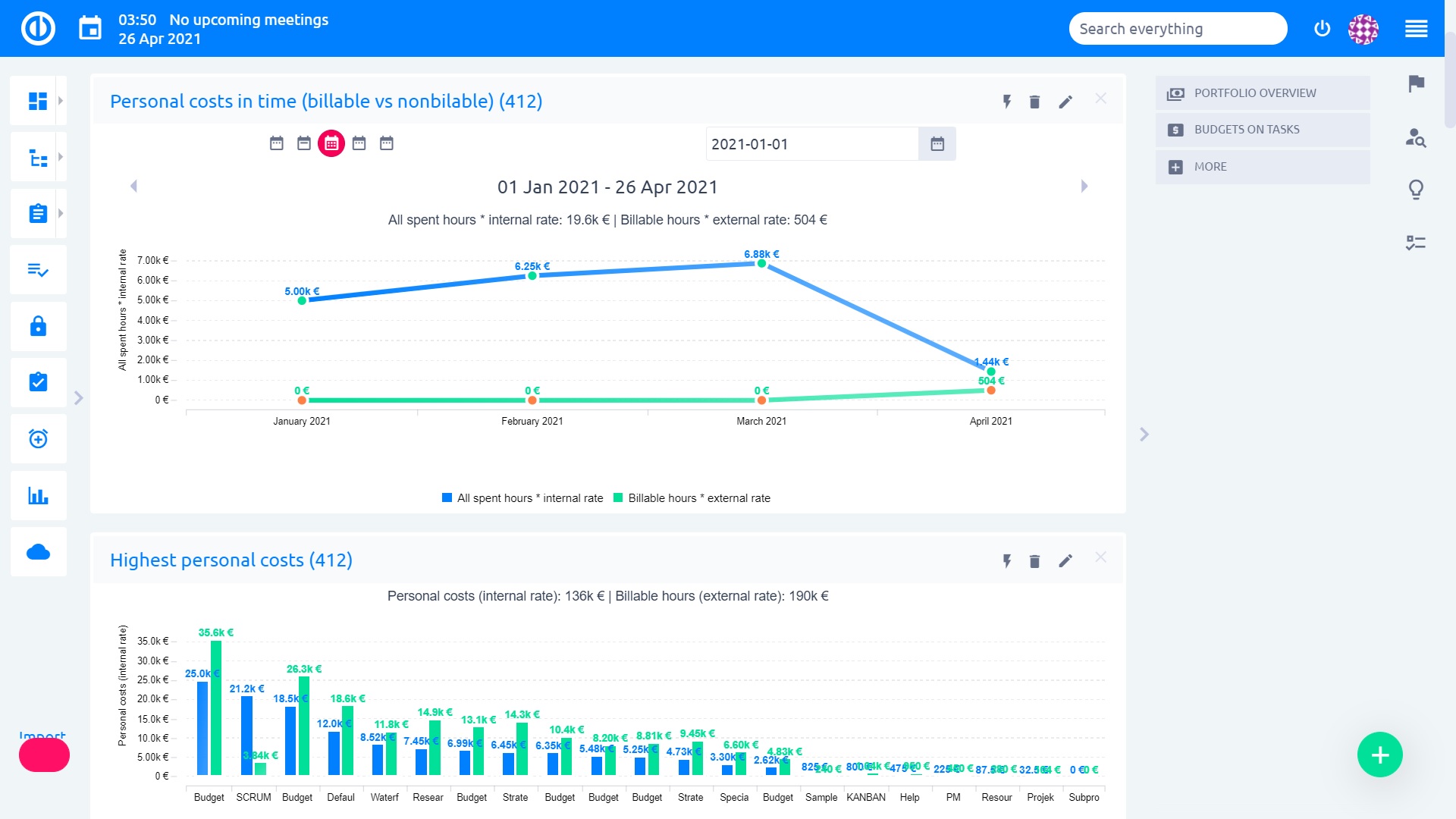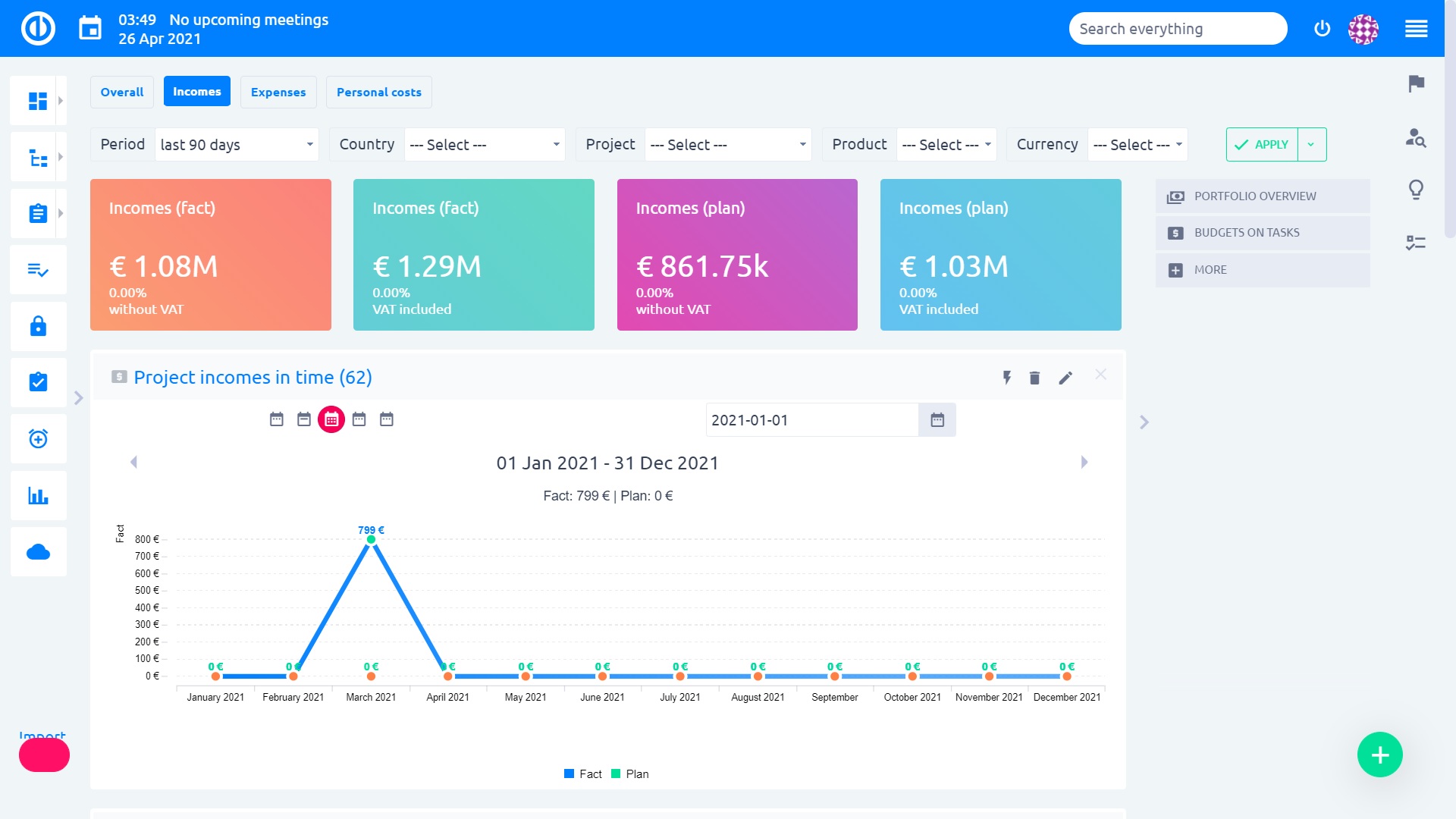 Statistics for HelpDesk
Get an overview of your support service performance. Help Desk Statistics are customizable — you can view performance by users and status and compare statistics for different time periods, allowing for a cross sectional analysis of performance.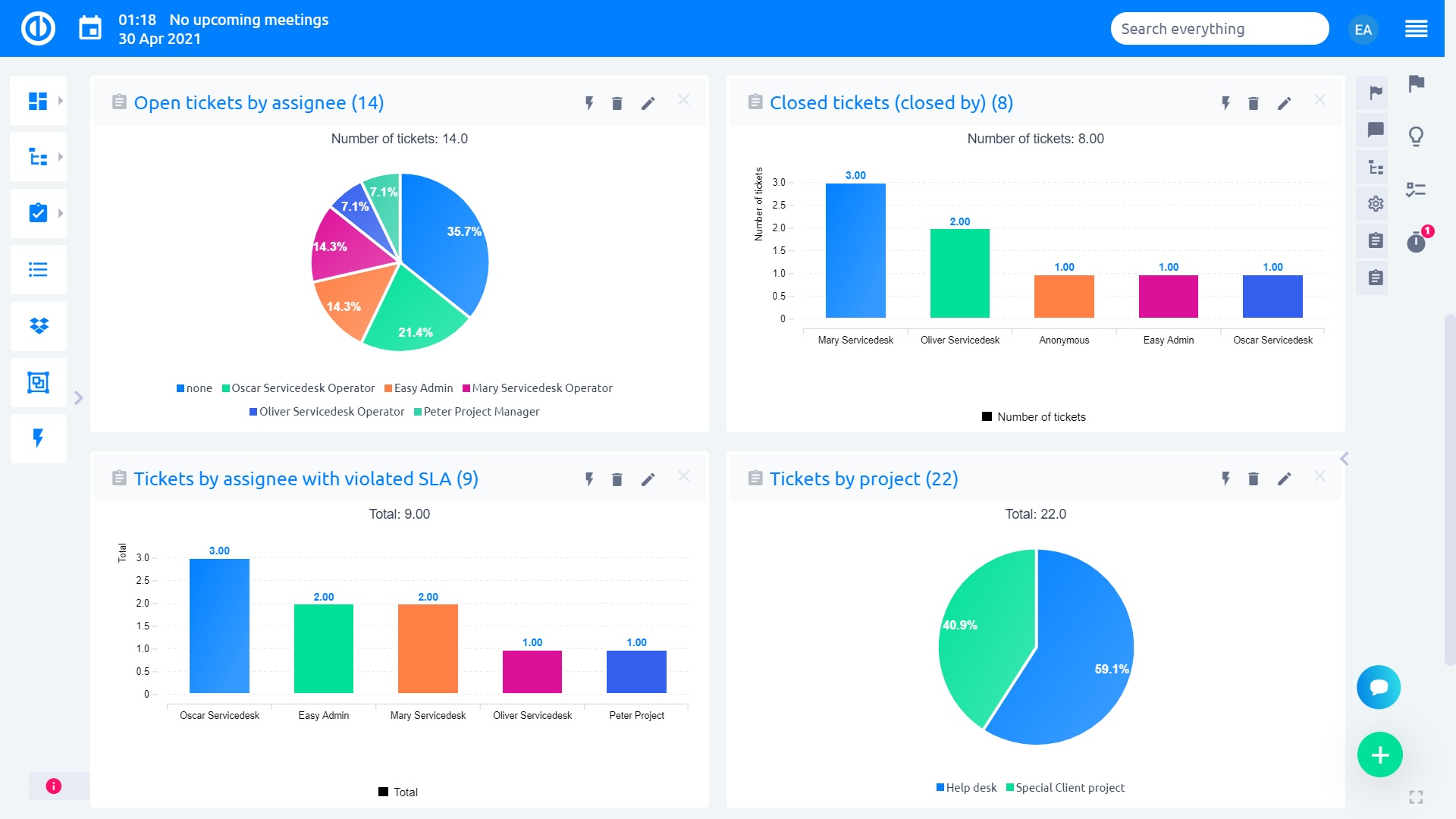 Key features:
Performance statistics by users, ticket status, etc.
Statistics for different time periods
Line graphs, bar & pie charts
Export options
SLA performance reports broken down by ticket owners and assignees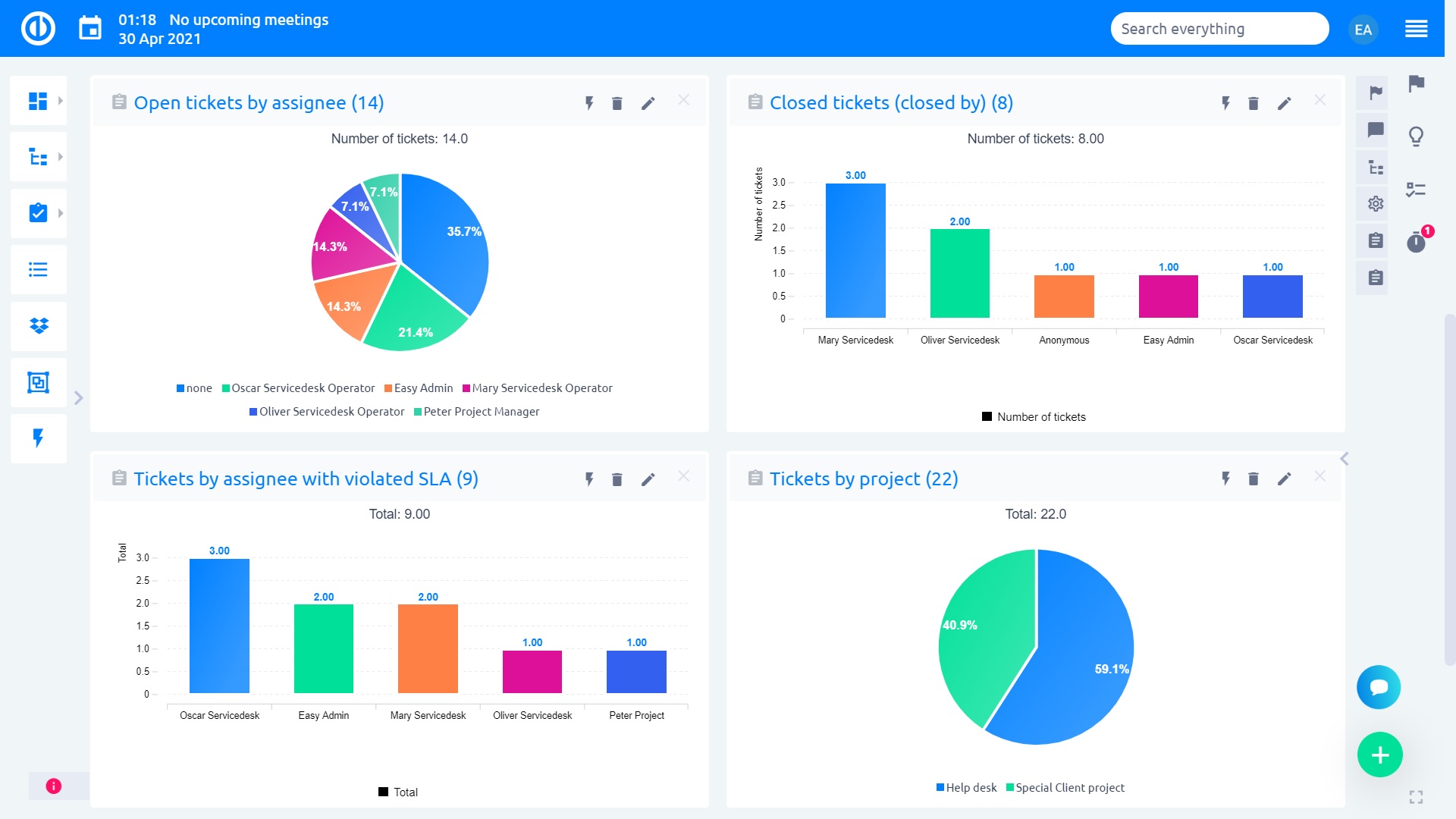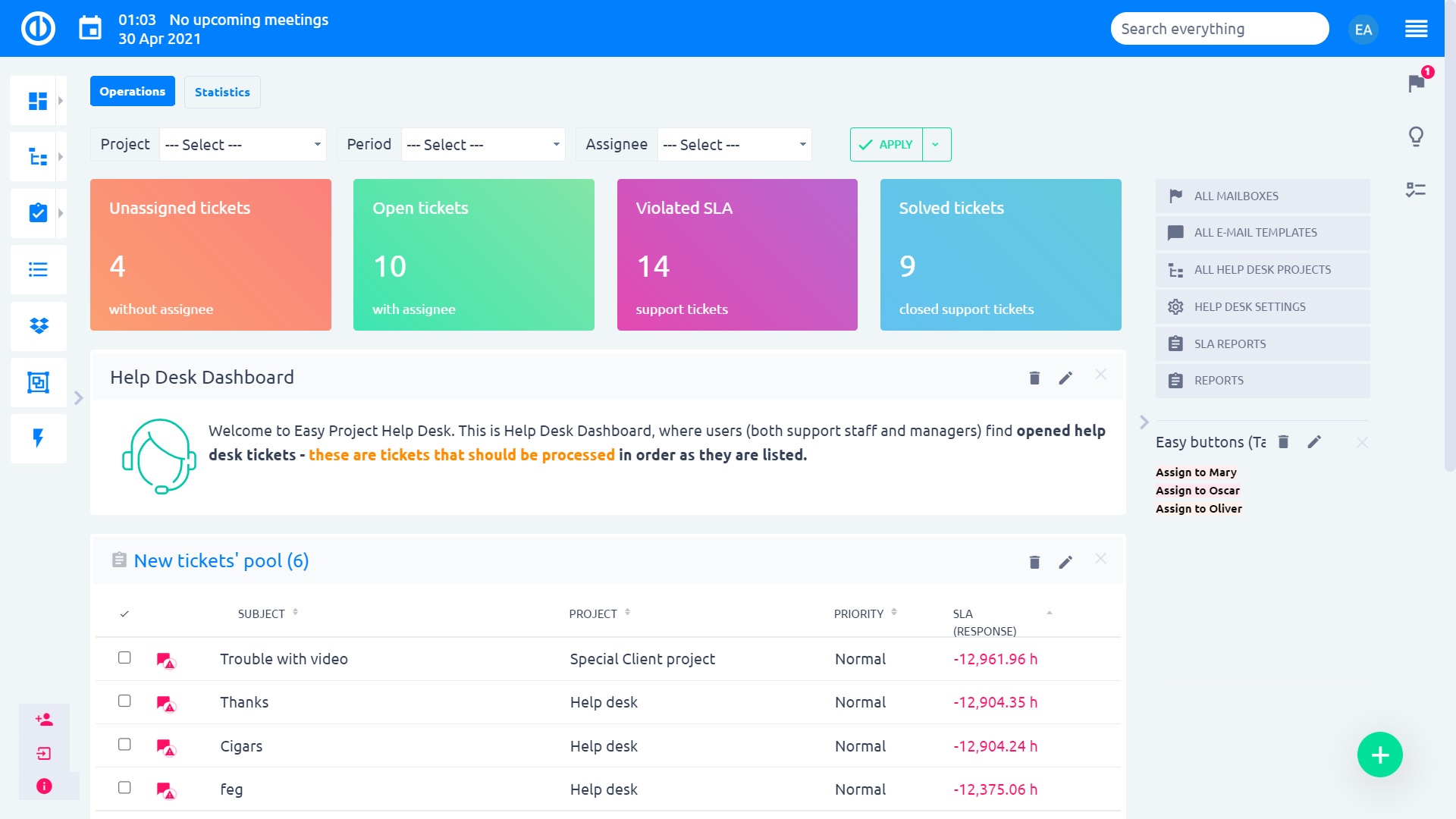 Complex HelpDesk Settings
Customize your Help Desk with complex settings. Create email templates for auto-replies and include corporate logos, signatures and more. You can also configure you projects for automatic ticket assignment and set specific SLAs.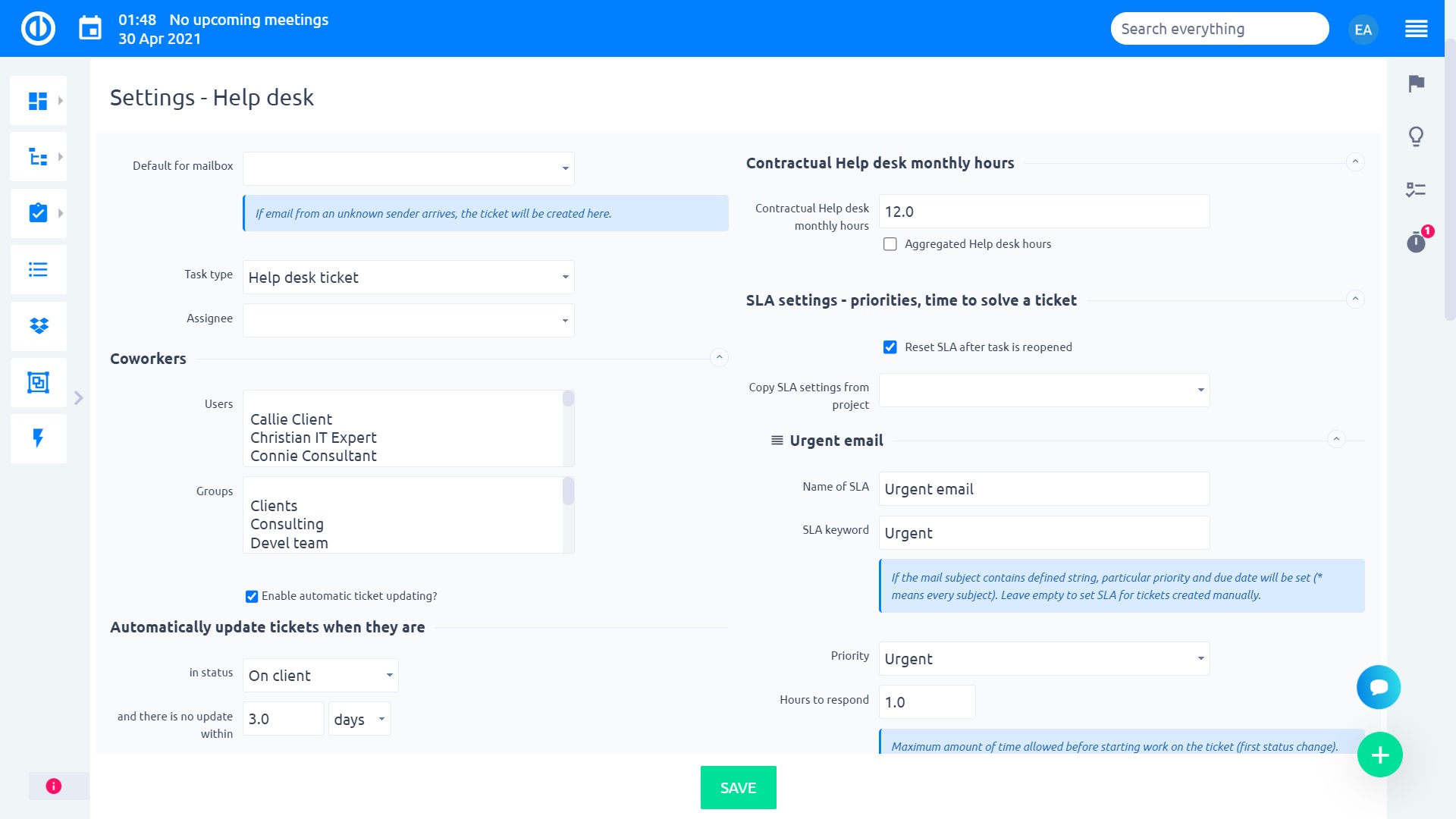 Key features:
Definition of SLAs: ordering, resending, e-mail generated
Help Desk project set up for all tickets
Send ticket updates to external emails
Mail templates
Header and footer customization
Automatic ticket updating
Ticket owner field keeps information about the responsible support agent for the successful final delivery of the solution
Send a quick email to customer from template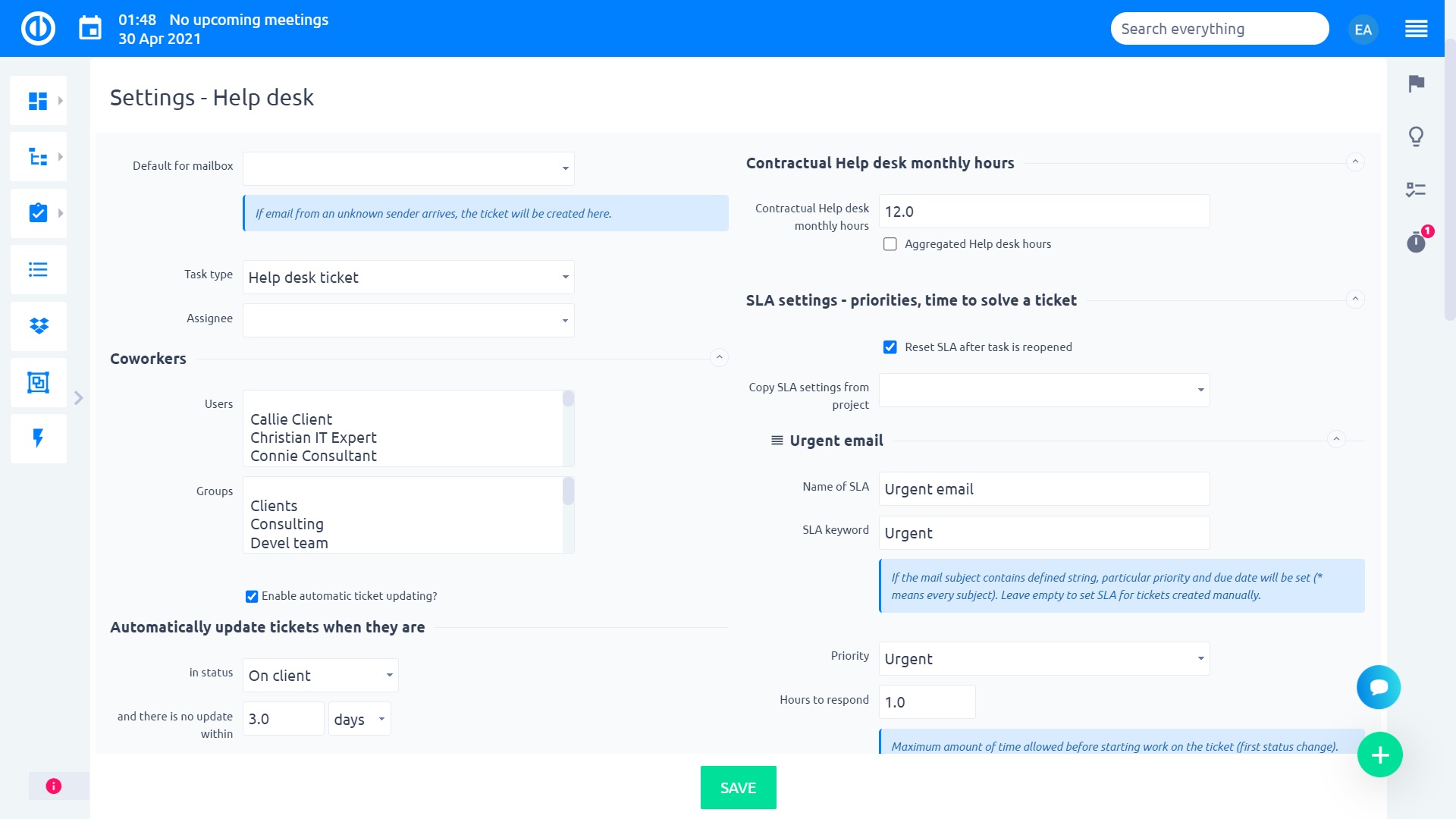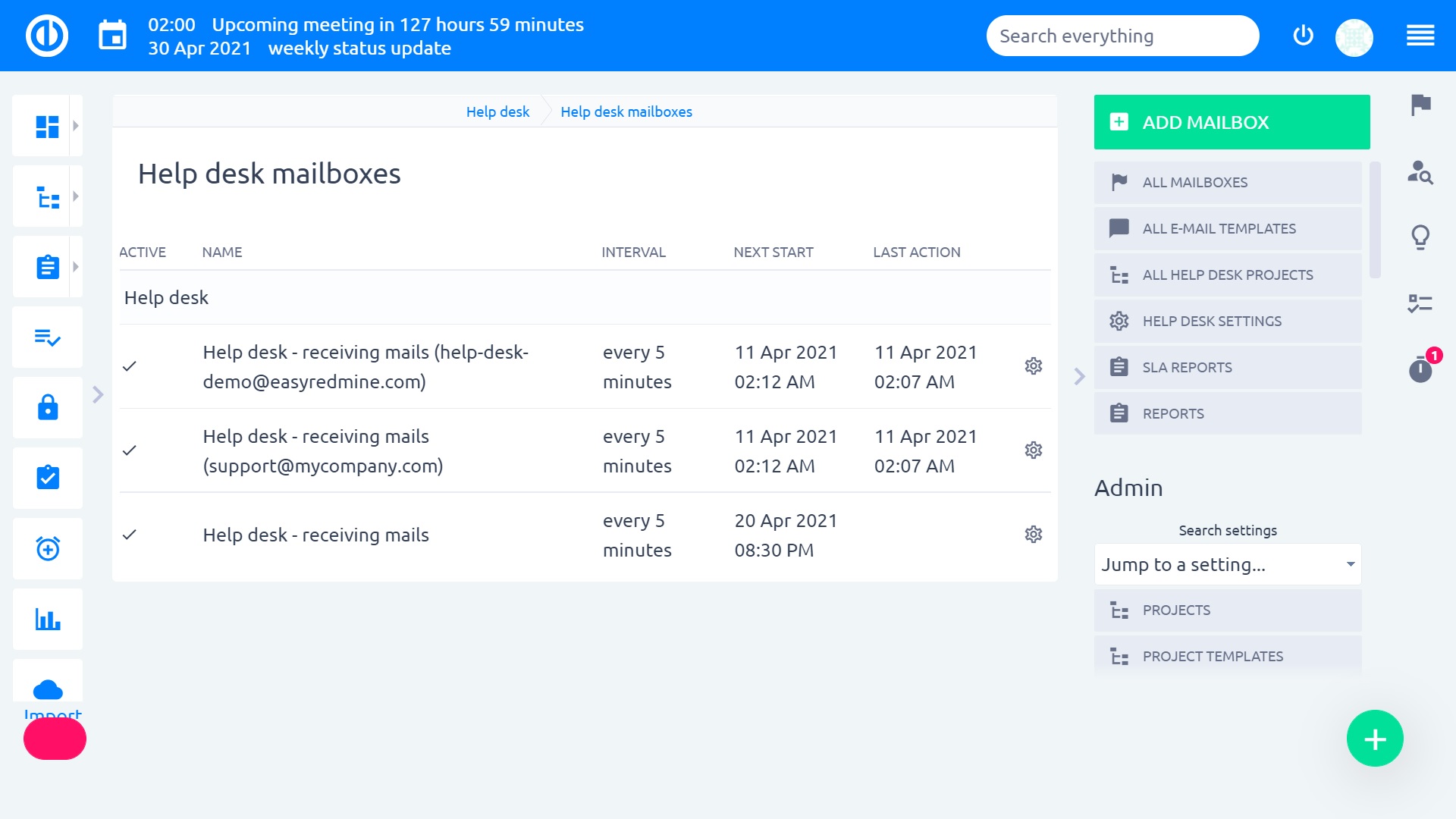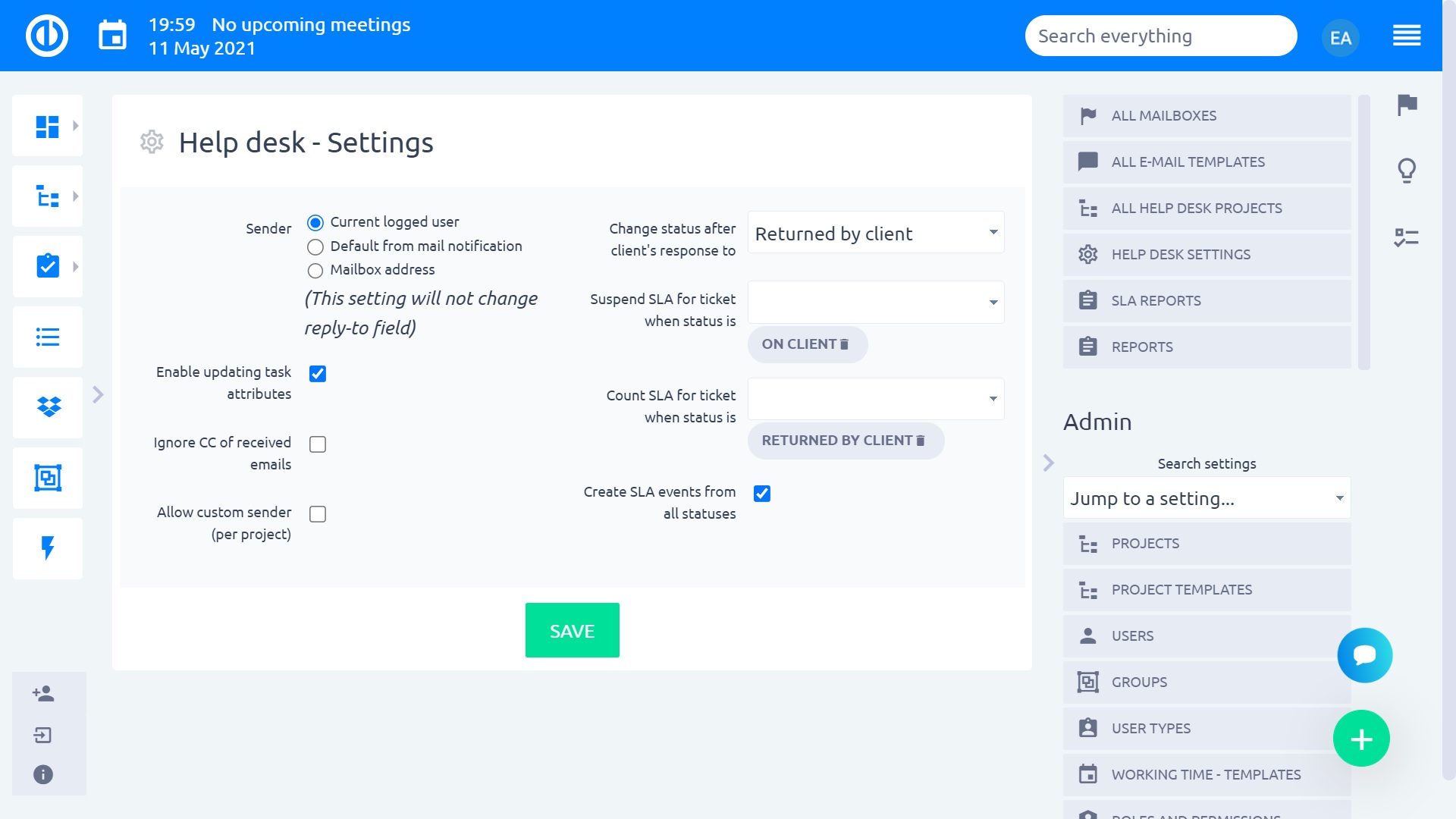 HelpDesk Dashboard
All live operations are at the Help Desk manager's fingertips. Easily assign tickets to your employees using drag & drop and Action Buttons, keep track of bug resolution and feature development, and review tasks assigned to you.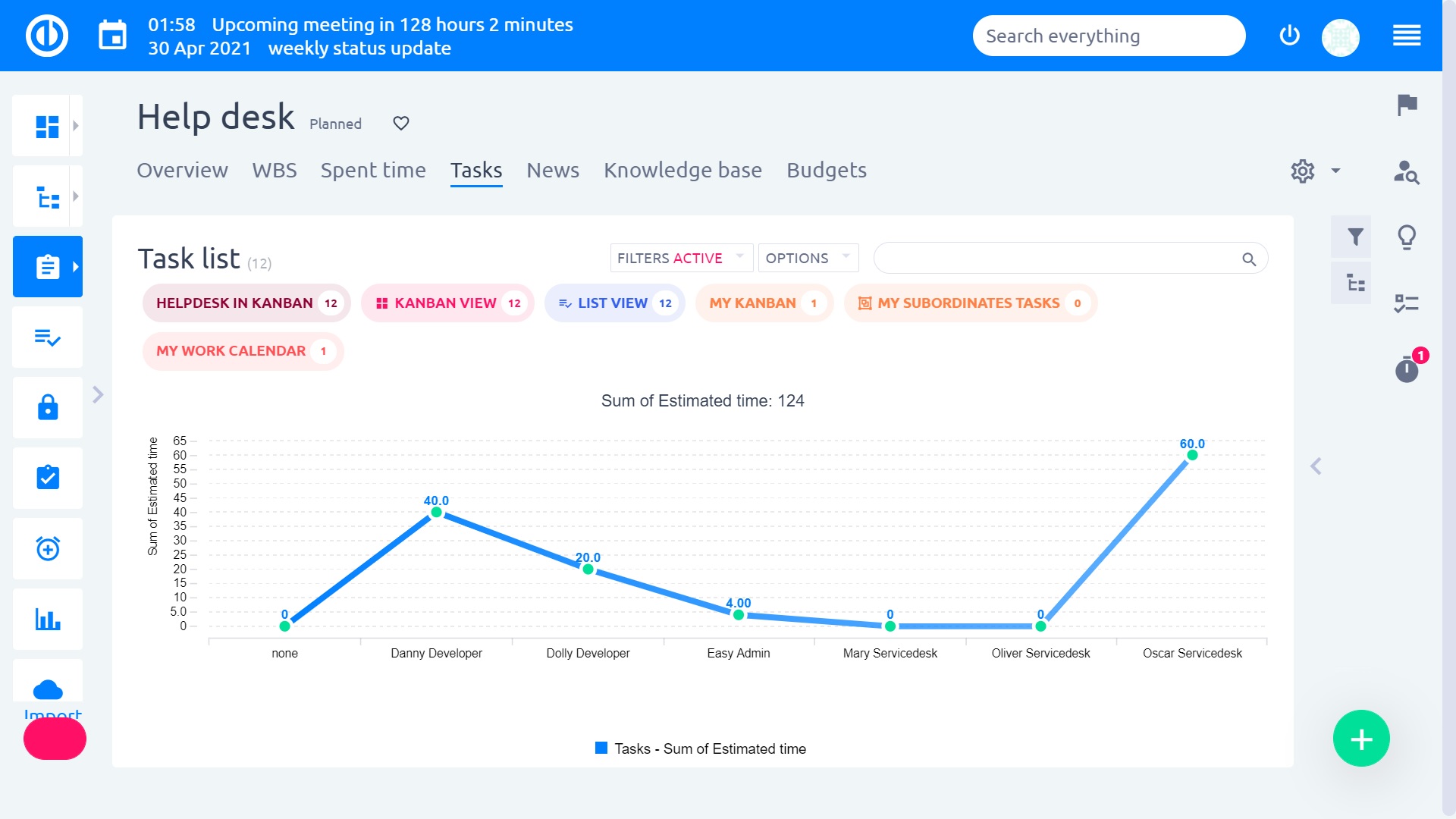 Key features:
Action Buttons
Ticket drag & drop
Unanswered tickets pool
Tickets for Review
Agile board for bugs and feature development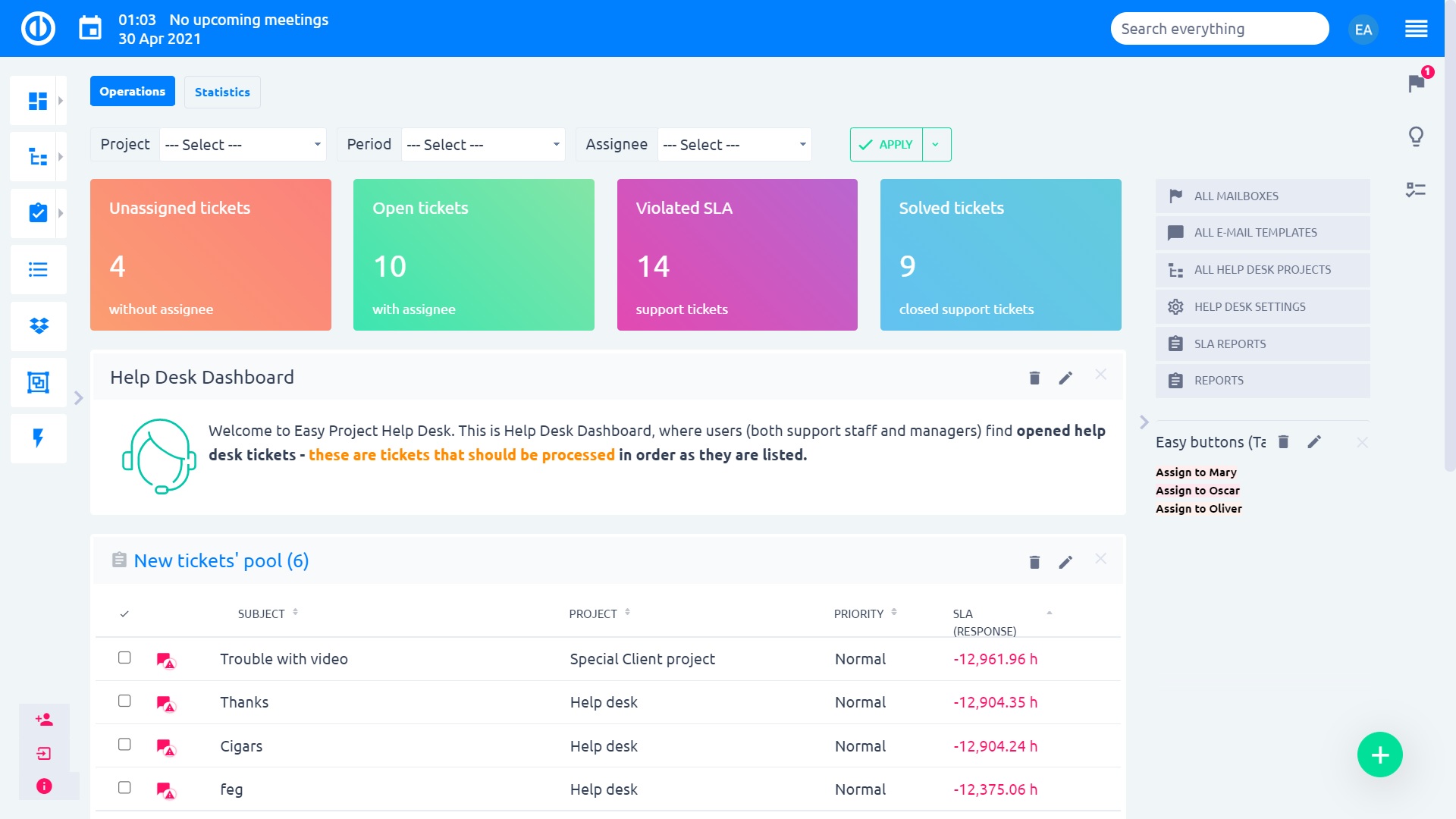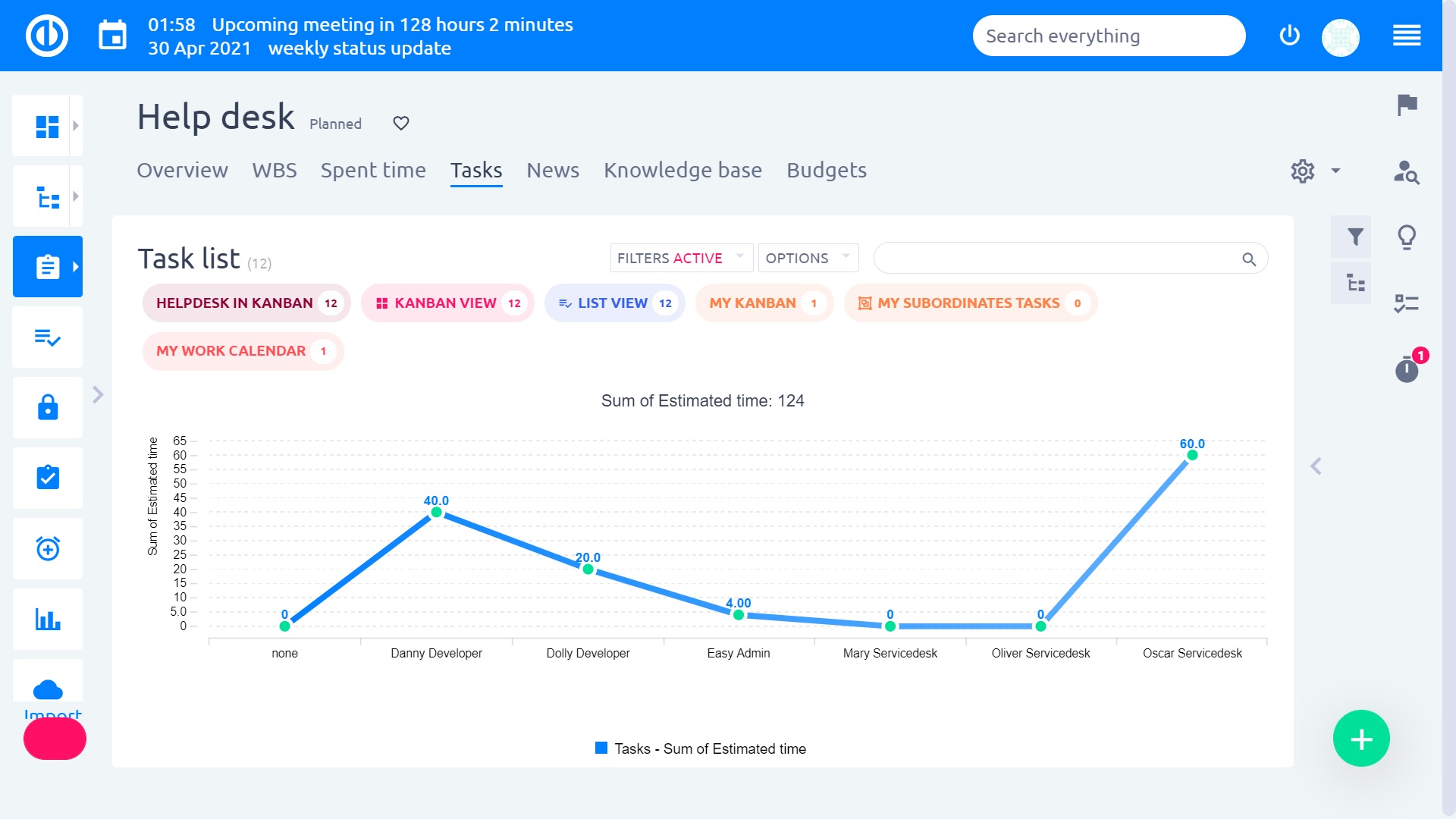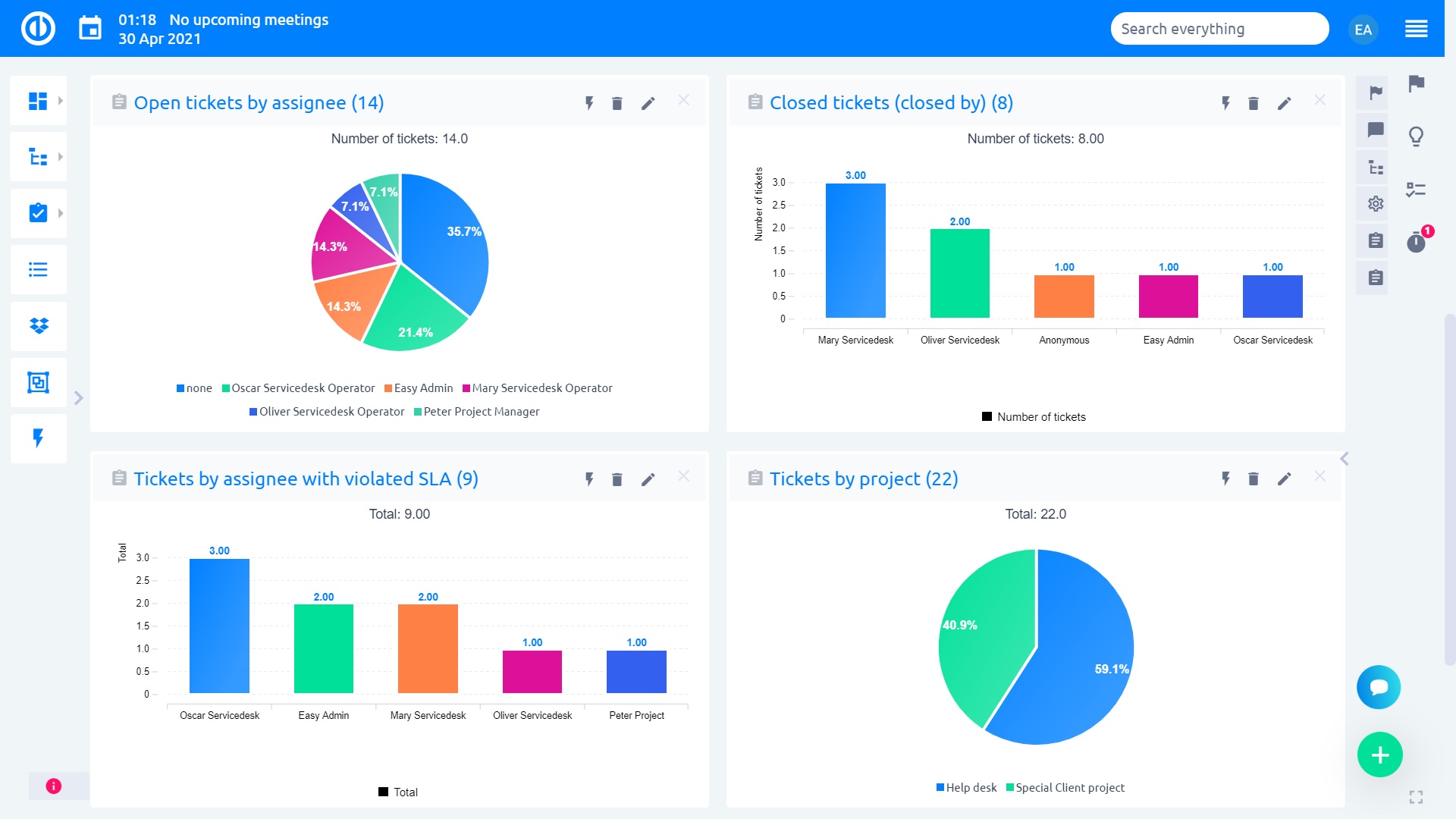 HelpDesk Manager Dashboard
Everything a Help Desk manager needs is on one dashboard — quickly distribute tickets between workers with Action Buttons, update tickets that require your review, and keep track of all your meetings and the performance of your team.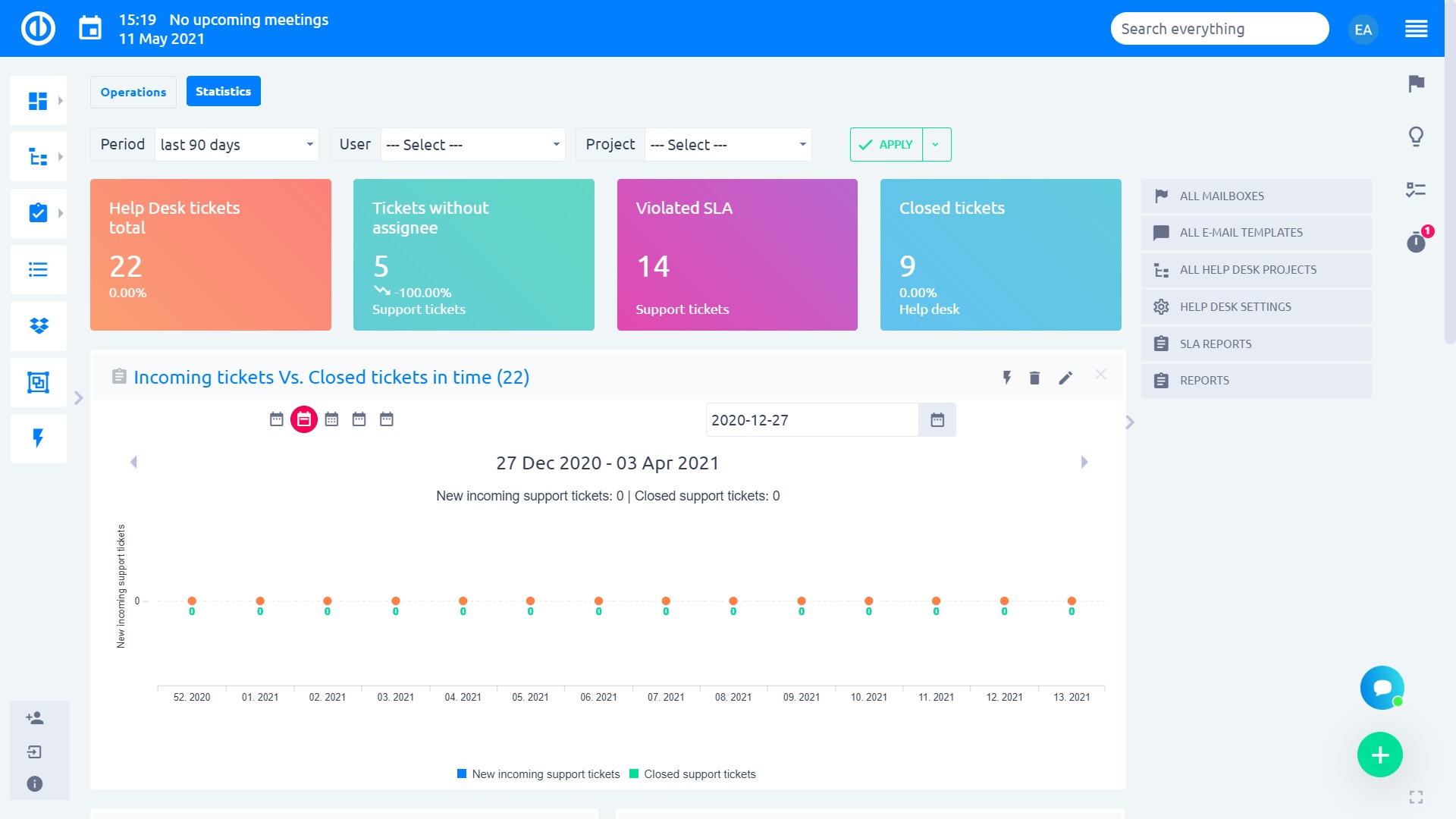 Key Features:
New tickets list
Action Buttons for quick ticket assignment
Overview of Help Desk Projects
Ticket Review list
SLAs performance charts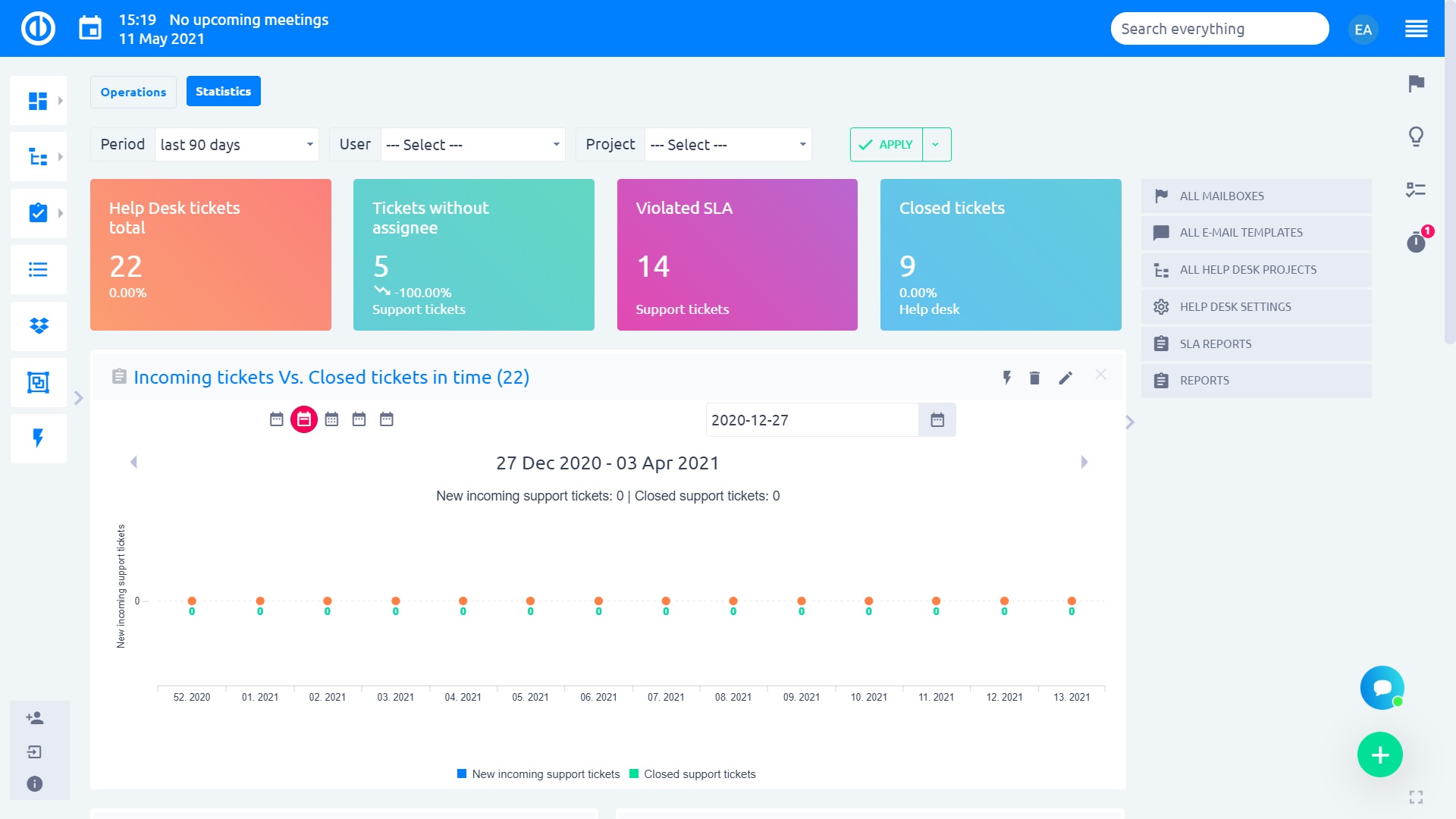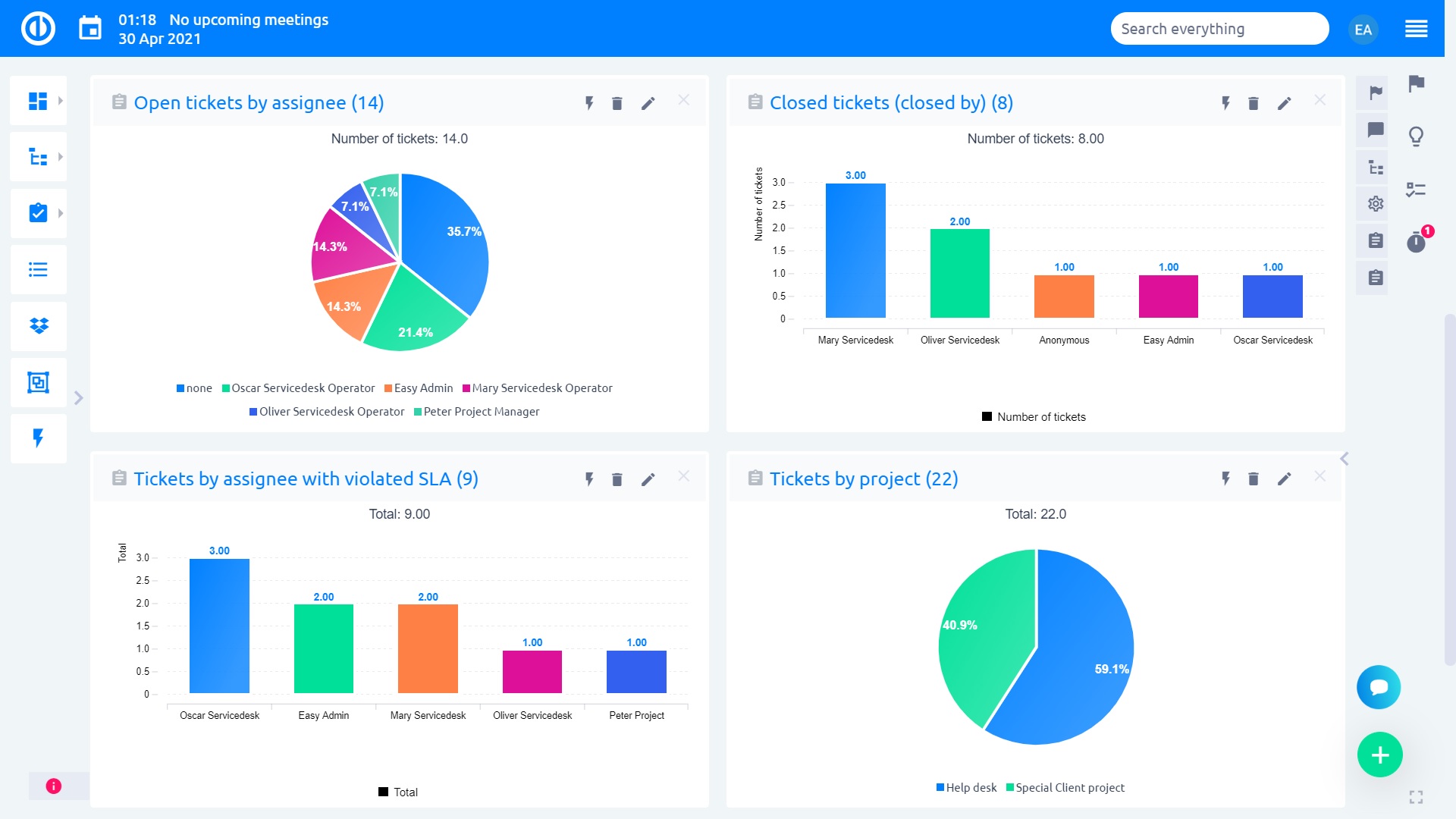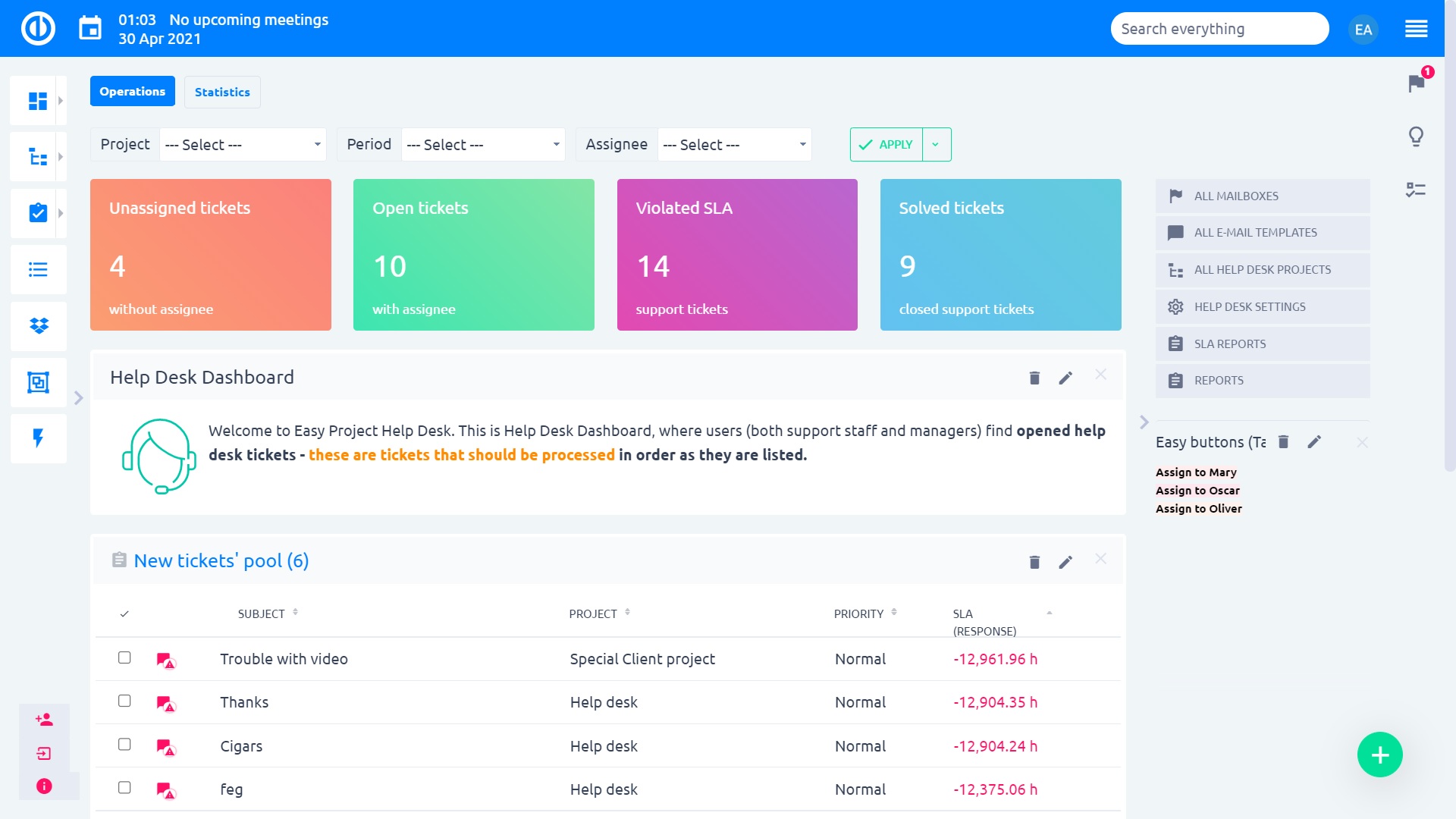 HelpDesk Operator Dashboard
With the Help Desk Operator Dashboard, you can navigate between tickets and, keep track of your performance, and the incorporated Kanban will allow you to check your requests to the development team for feature development and bug fixing.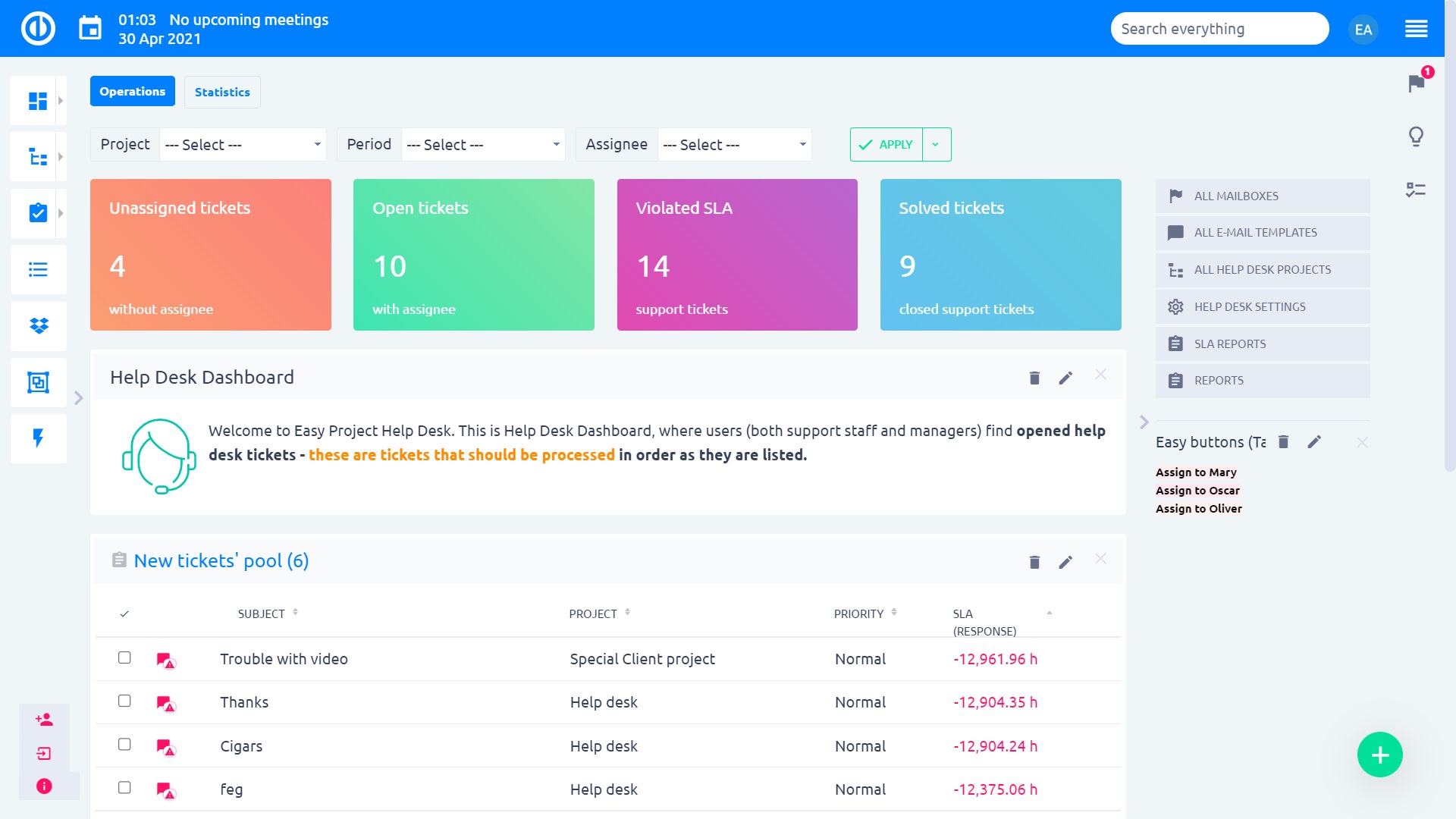 Key Features:
Lists of new and critical tickets
List of tickets that require your attention for review
Action button for quick re-assignment of tickets to yourself
Gauge for your personal KPI performance
Kanban board tab for tracking feature development and bug fixing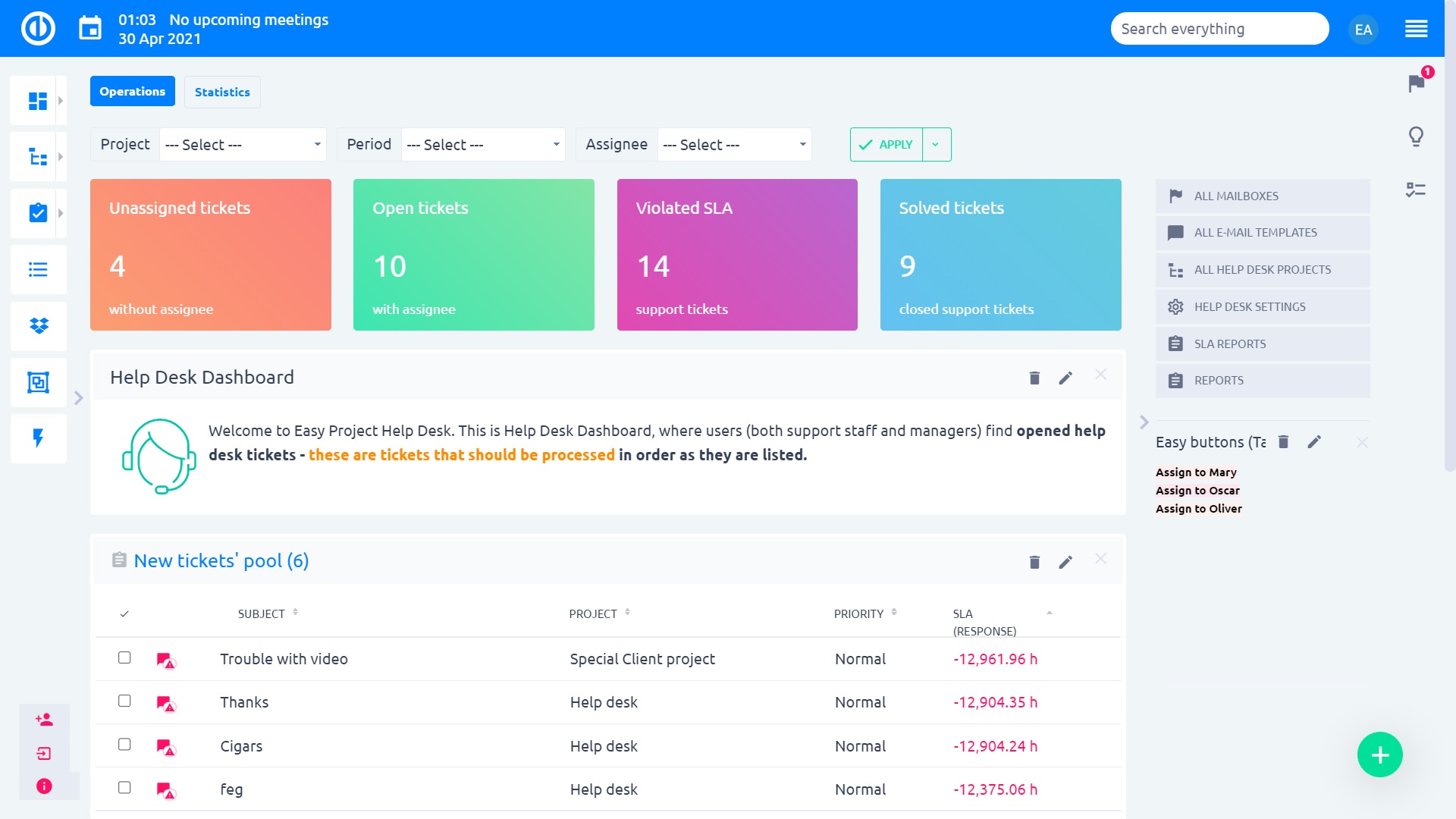 Knowledge Base
Keep and share the knowledge gained during project implementations and use it for further realizations, recommend knowledge to users, assign them to tasks. Search in them. Knowledge is the key to success. You can also comment a knowledge, compare and return changes or view a list of readers of that knowledge.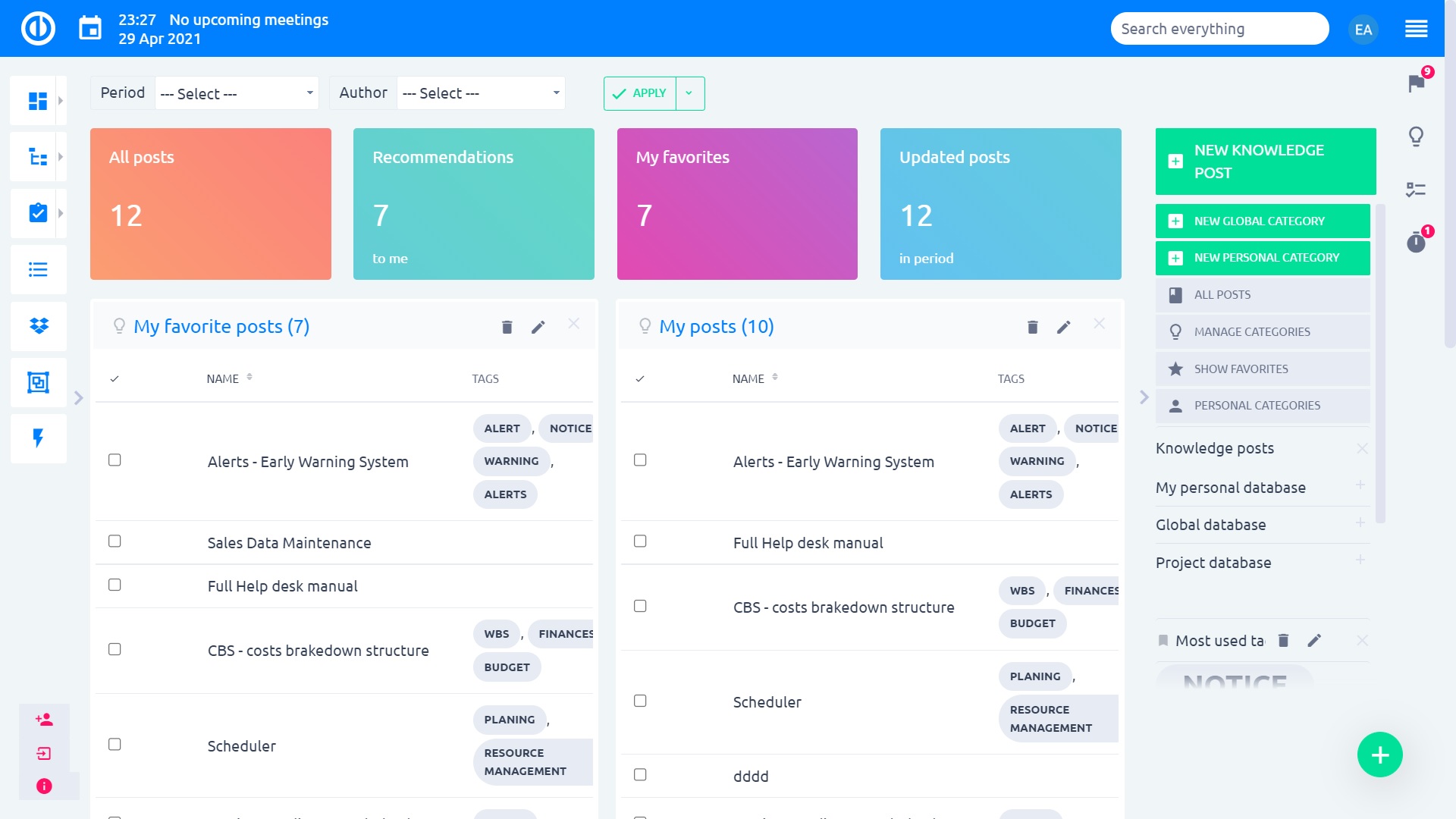 Key features:
knowledge category + personal/project categories

assigning knowledge posts to projects/tasks

recommending knowledge posts to users

quick access from the service panel

search in knowledge by keywords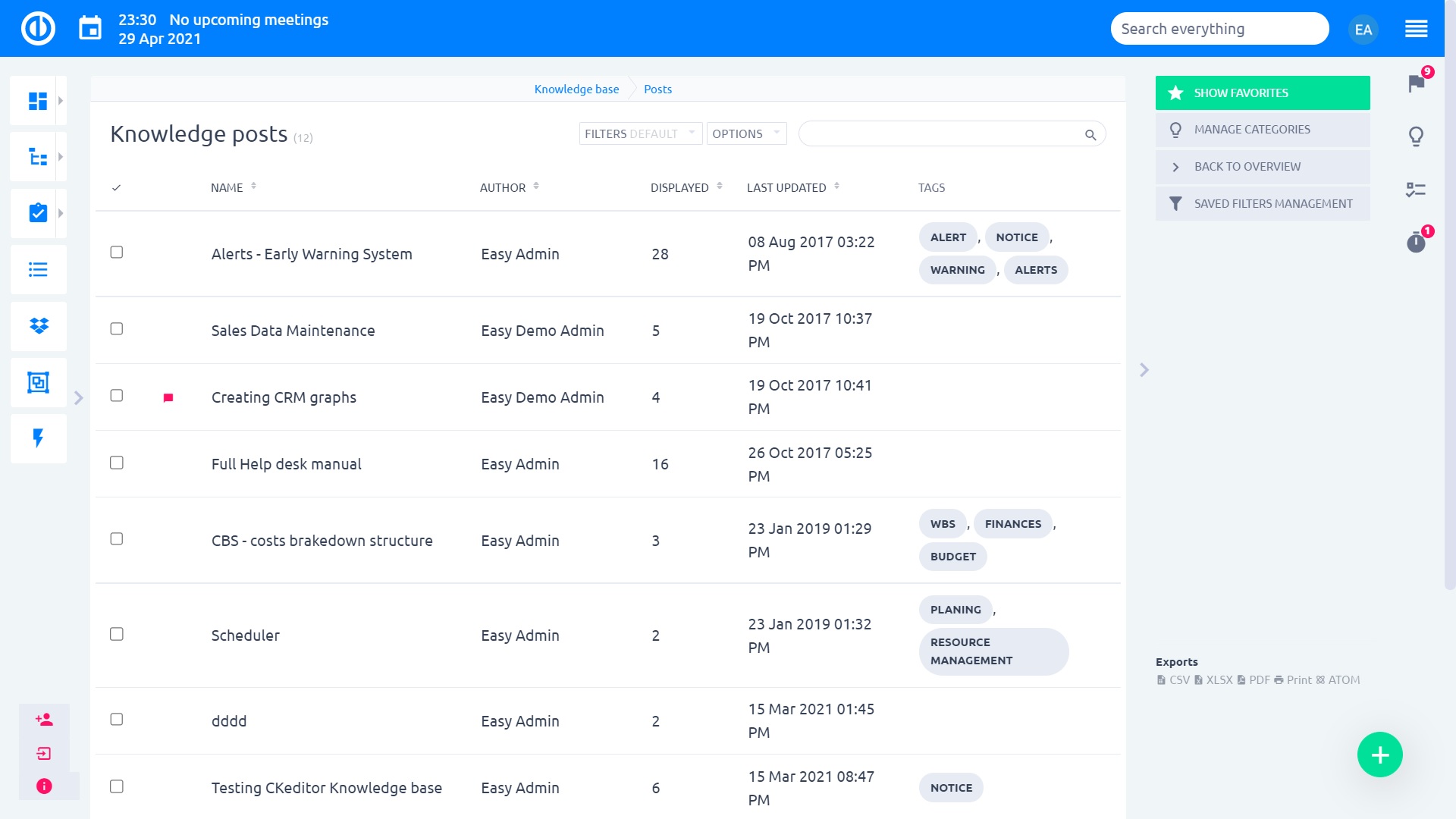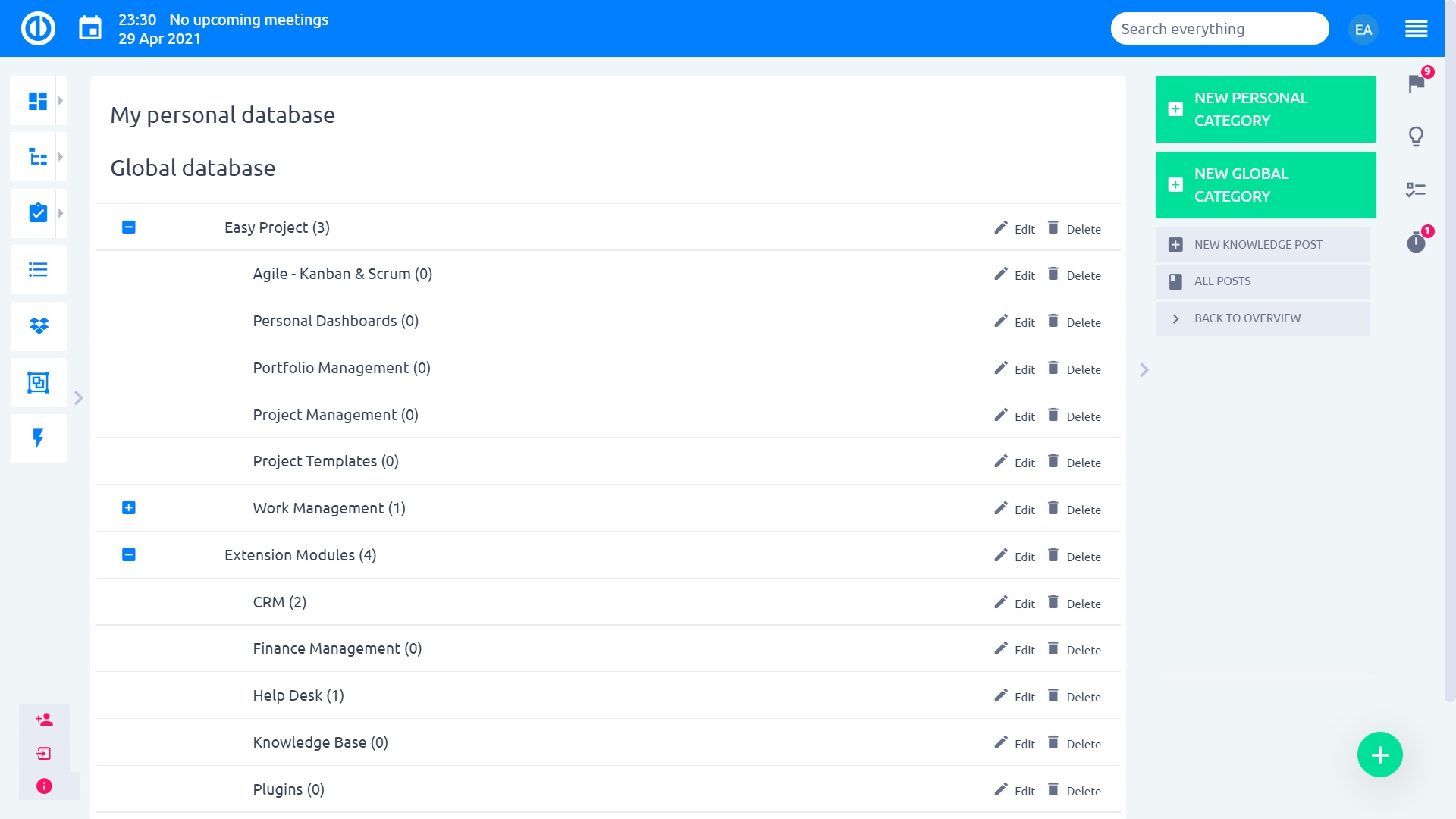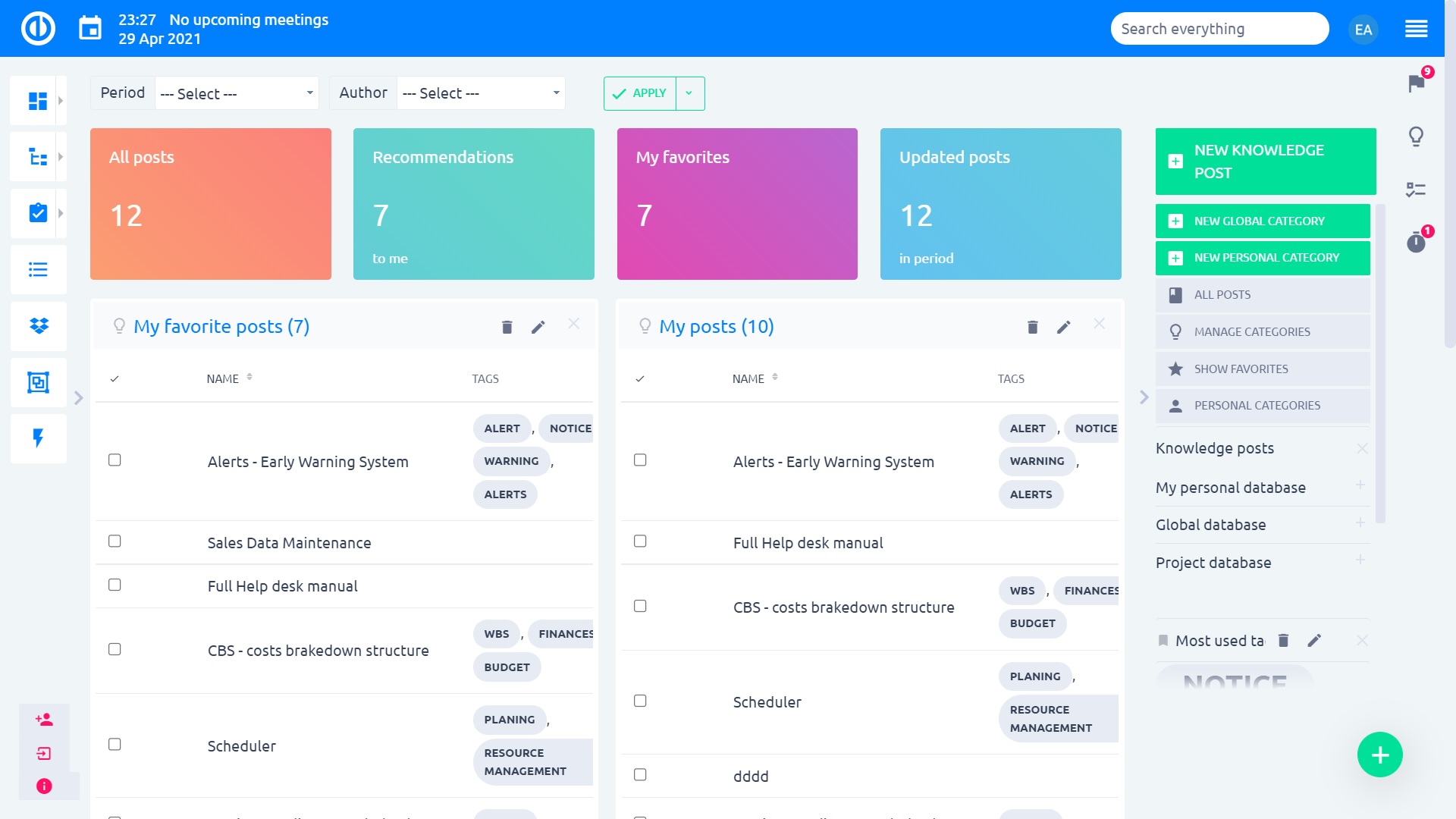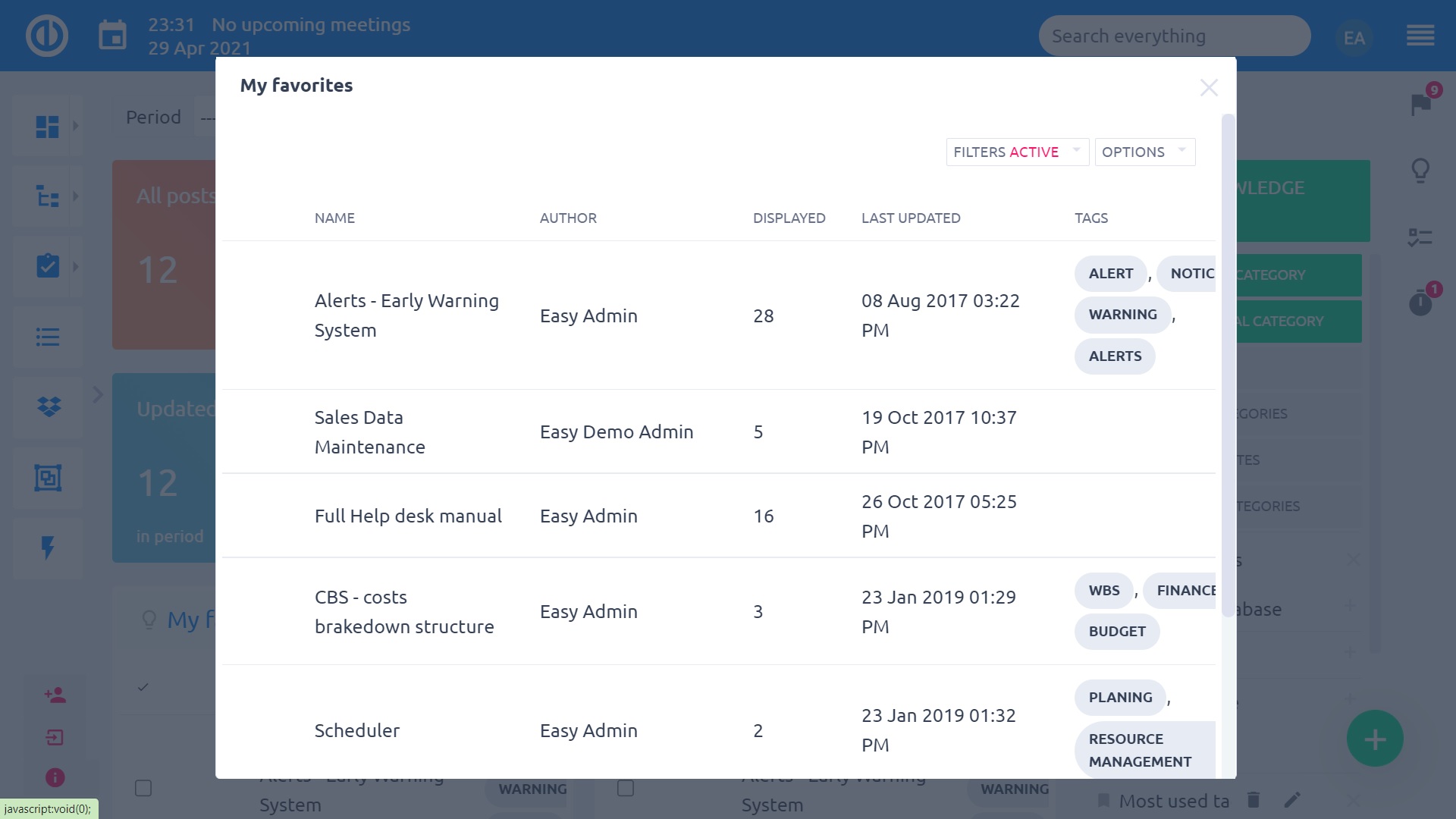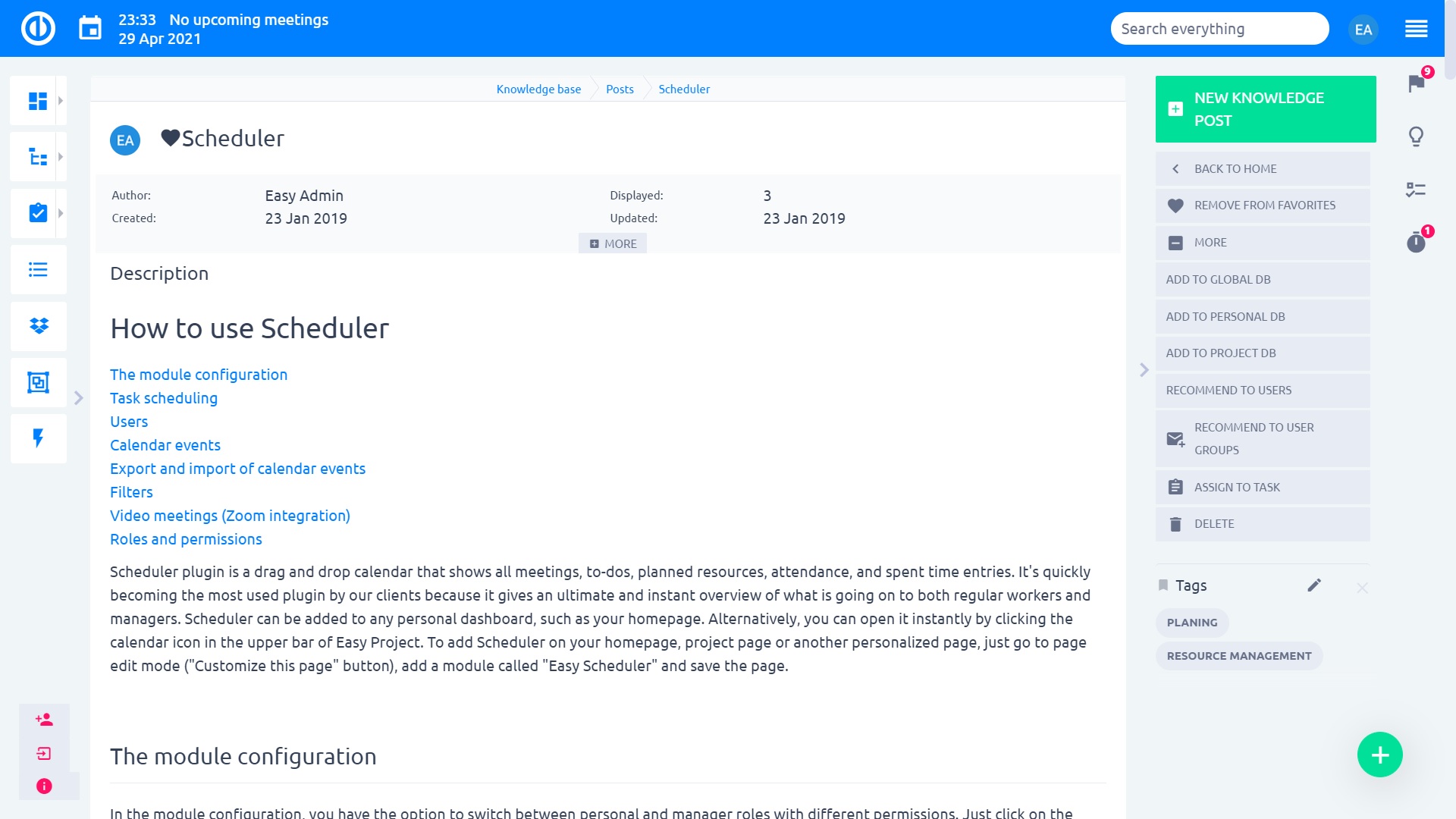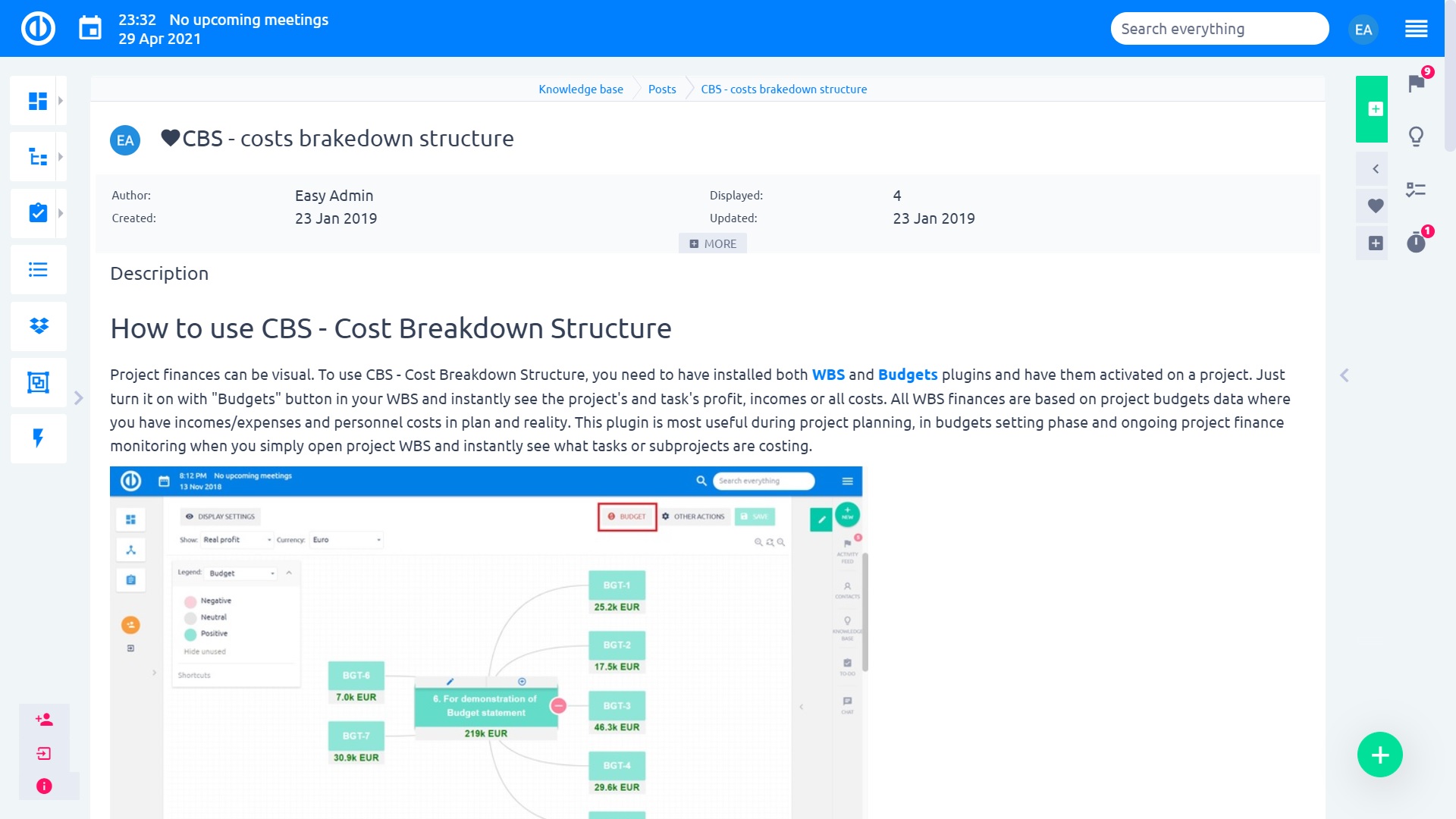 DMS – document management system
Document management system plugin provides quick access to all your files and documents and their management directly from Easy Project. It's organized in a familiar directory structure and thanks to document versioning you will have all your docs up-to-date. Approval workflows simplify documents' circulation in your company and simply make your work easier.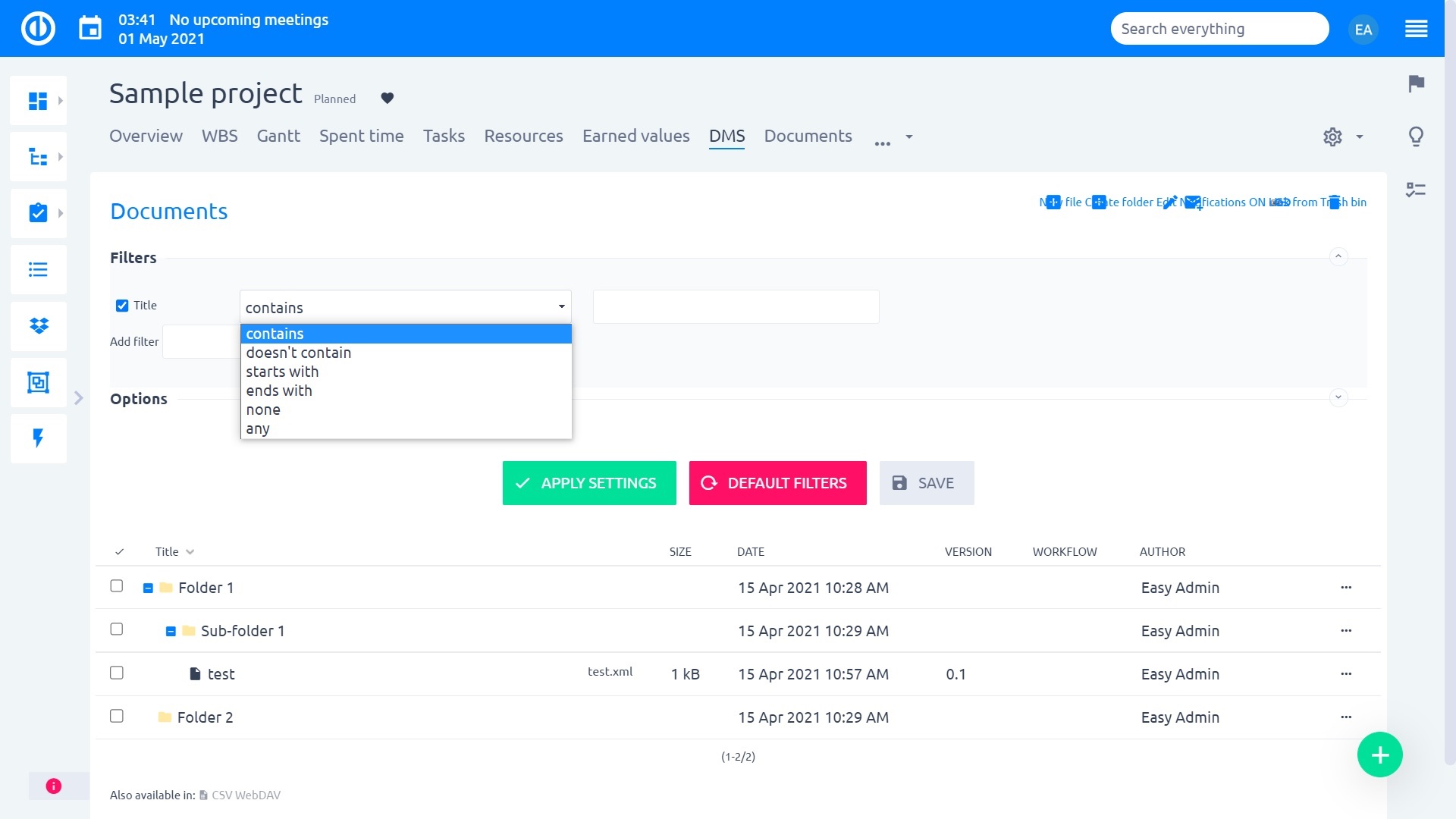 Key features:
Document versioning + read/write online mode
Document approval workflows - set-up circulation workflow and control it via Easy Project
Notifications - get notifications about document changes or documents waiting for your approval
Lock documents – another users can see that file is being edited by someone else
Directory structure - same as in your favourite file manager
High-capacity infrastructure ready - upload large amounts of documents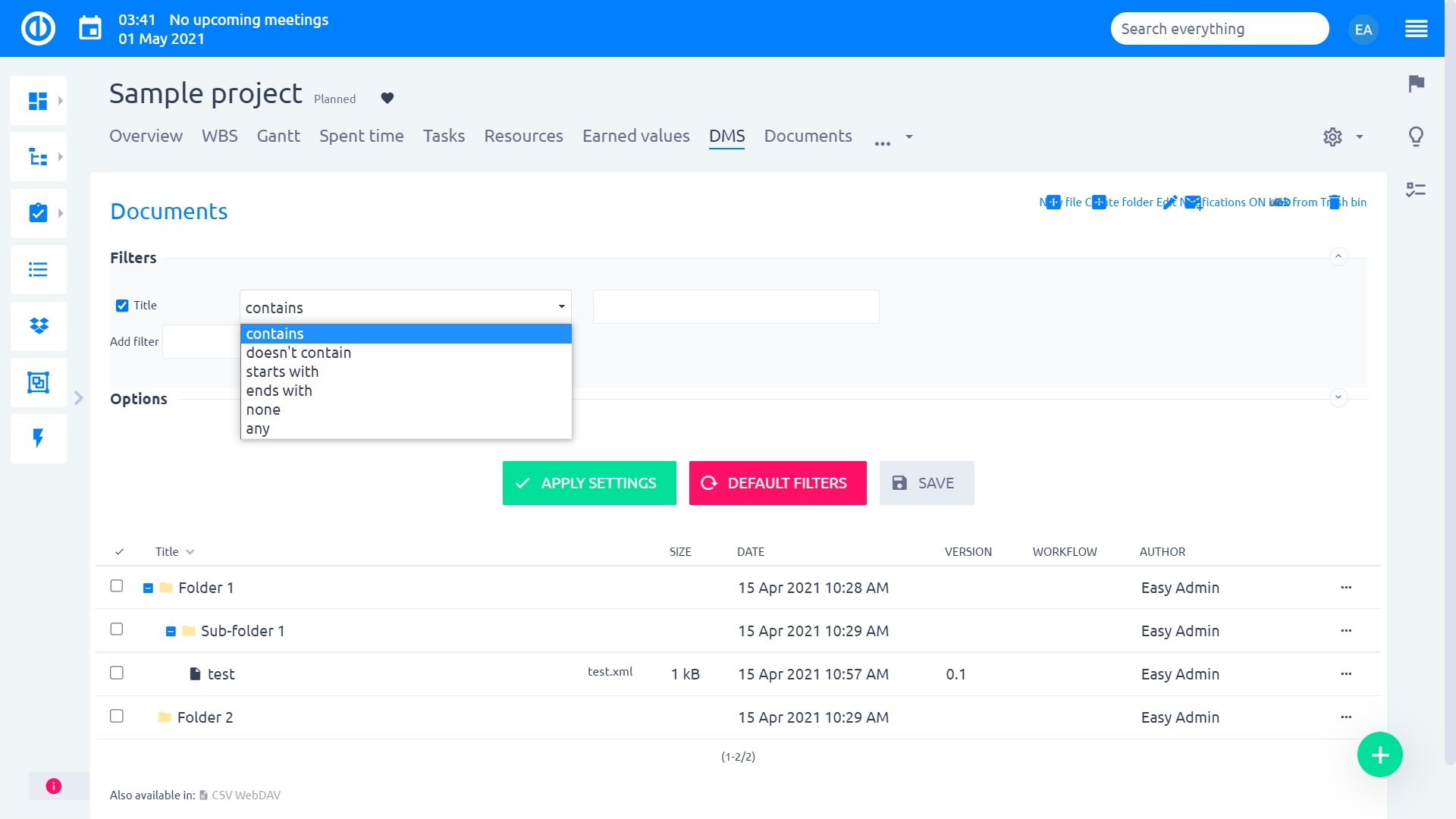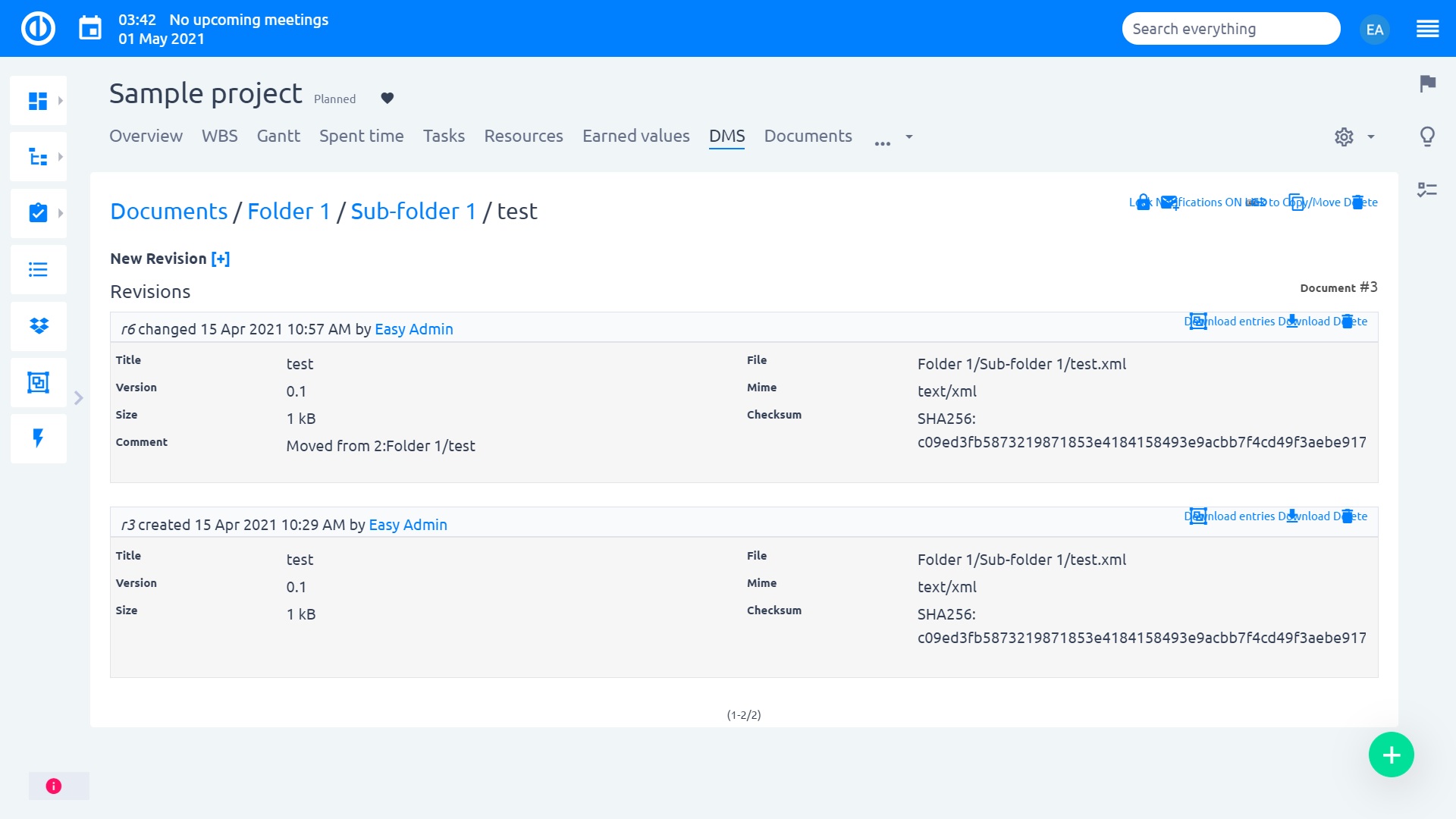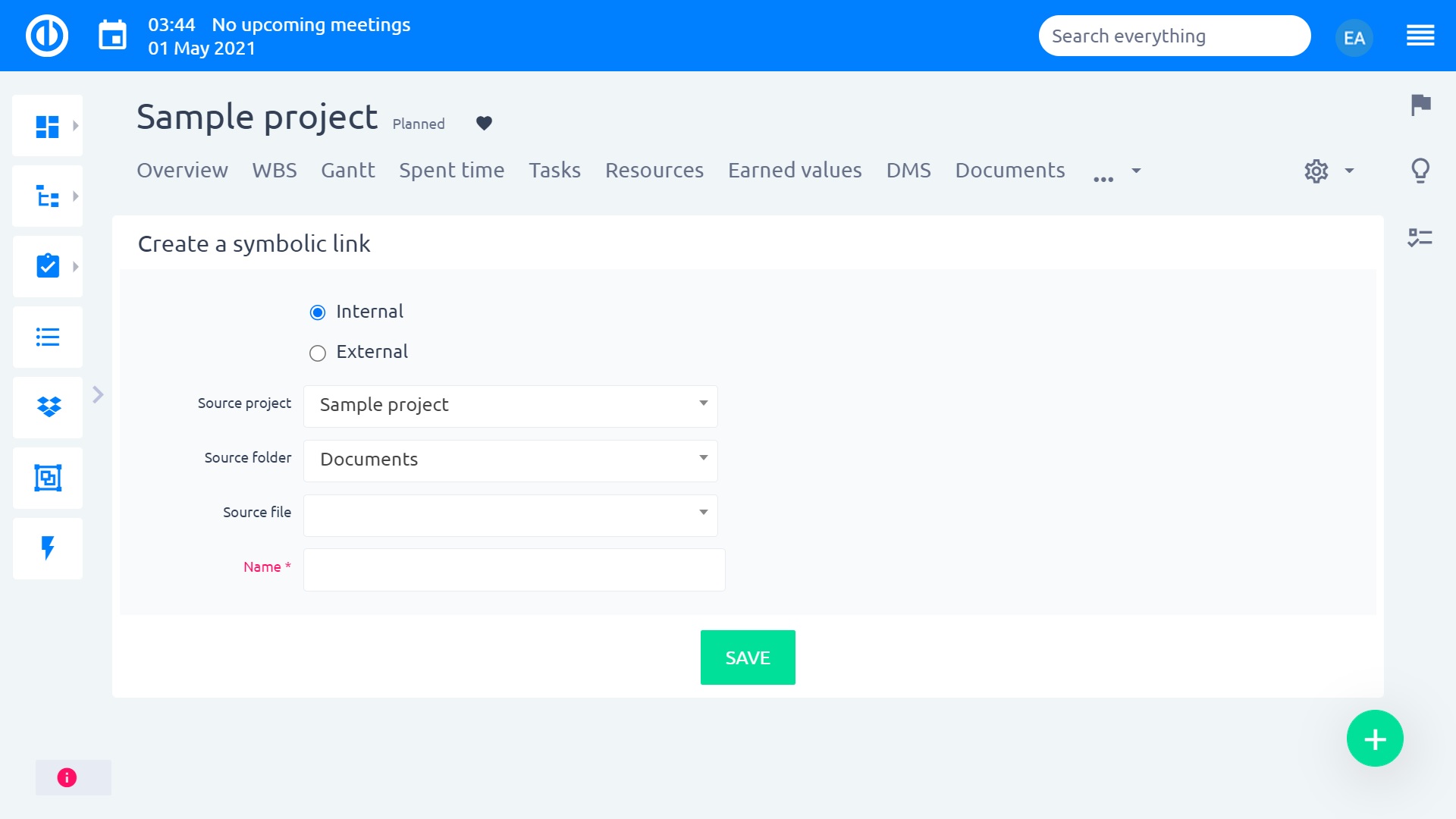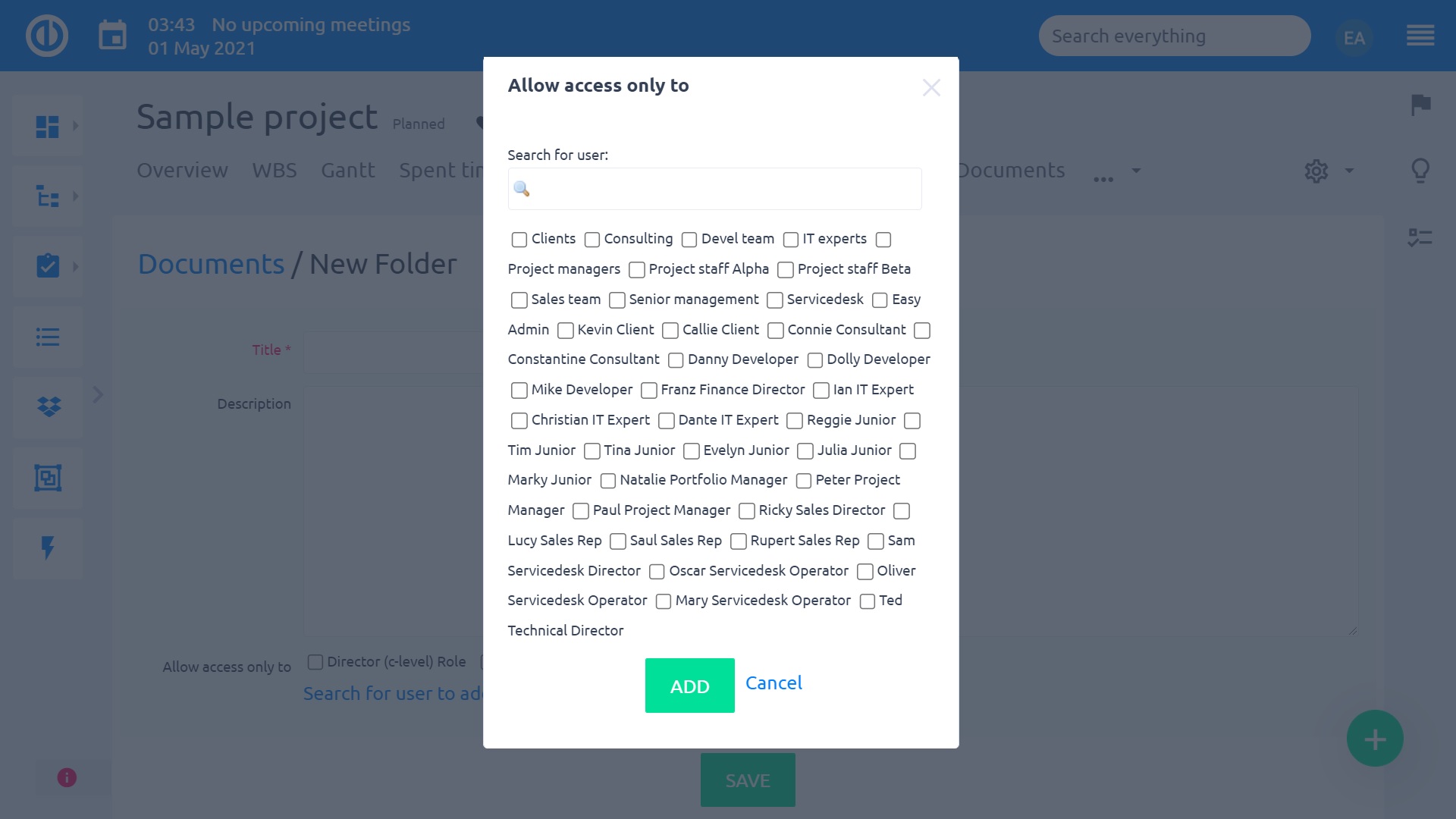 Get Easy Project Platform just for € 19
4 predefined role levels, ready to use
dashboards, features, permissions
and workflow.

Try It Free