A Set of Project Management Advice for Fast-Growing Small and Medium Businesses
Growing a business is like growing a rock band. It is a bit messy and fun in the beginning, but with the first success, you have to deal with the timeline, contracts, transport, and logistics of your very first tour.
Then there begins the never-ending struggle to bring new ideas while not losing the core fans and gaining new ones. If you rapidly became a medium-sized business, you are a rock star – and you might need a bit of advice.
Growth is good. When managed
Usually, the very specific solution you came with, appreciated by many users in a very short time, is comparable to the first No.1 hit catapulting a rock band among stars. This success often leads to signing a new, big client. In a case like that, it is only very natural that you do not want to miss the train on the potential growth and leave possible new contracts to the competitors. However, without well-thought-out management, you will become your biggest obstacle. Let's take a look at what you need to think of.
"Approach your business growth
as if it was a project."
First, get better instruments
It is ok to have a second-hand out-of-tune guitar when you play in your garage. But once you want to make a real show, you will need some professional tools. Managing the growth of your business with a spreadsheet or even using a pen-and-paper style will simply not work anymore. You need to answer these questions:
Do we know how to organize our growth?

In many business success stories, you learn about how important the vision is. That is for sure – you need to know whether you want to make it to the rock'n'roll hall of fame or a local village festival. But the road to achieving that vision must be supported by and be based on good planning and organizing, so you do not get lost on the way.

The tool that helps you solve all this: Project Roadmap

Do we have enough resources?

You must have a perfect overview of your capacities, so you can tell if you can continue, stop, slow down, or speed up your growth. You may also be challenged by hiring new people – do you know how many, how skilled, and for how much?

The tool that helps you solve all this: Resource Management

Do we have enough money?

Yes, the growth should and most probably will bring you more earnings. But it is very possible that at the beginning of the growth process you will need to make some investments – in education, equipment, space, hiring campaign, etc. Plan your finances in advance to see what steps you need to take and when. Consider such things as your new client's invoice due date vs. your solution delivery date.

The tool that helps you solve all this: Finance Management
Second, get a skilled project manager
When rock bands grow, they should concentrate on what they do best – music. Hiring a manager that takes care of all the rest, is a very clever step, that leaves you space to focus on new hits instead of the tour budget. As a business owner, you have several options to have your growth under control. Still, not all of them are as simple as they appear to be at the first sight:
Hiring an international business consultancy giant – makes sense but almost surely does not meet your budget.



Trying to manage everything on your own – significantly cuts down the costs but also leads to micromanagement, burnout, and final failure. (The rock'n'roll scene is full of examples!)



Getting an adaptable managing tool – ideally, all-in-one software that is fully customizable to your business and its support team provides you with personal consulting, training, and quick responses.
TIP: If you choose a project management tool, do not hesitate to assign the business growth control to a skilled project manager. Just as if it was a task! He/she will, first of all, take a look at the current state of running projects via the project portfolio tools. His/her next move will be changing the growth process into smaller pieces with the Work Breakdown Structure tool, which will give you a better overview of the number and character of tasks lying ahead of you. Last but not least, you will see these tasks in relation to time in the Gantt chart.
"Since business growth is a project, it needs to have its owner
– a skilled project manager mastering the main PM tools."
Third, work smart not hard – even at this point
Before we end, let us explain one of the most often repeated mistakes companies – and rock bands – do when transforming from small (garage punk) to medium-sized (festival attendees). During this process, usually, many issues of different importance will appear. The secret is to deal with them wisely and do not try to find a separate solution for every single one of them. When the tasks, plans, budgets, information on resources, and others can be concentrated in an all-in-one single project management software, go for it. You will essentially make it all smoother than using 5+ narrowly focused tools.
(Or, in other words, you do not want to have a separate specialist for speakers, another one for guitars, and another one for microphones. You just need a solid sound-system professional to make your music sound as good as it gets.)
"The fewer tools you use to organize the workflow
of your business growth, the better."
Conclusion – A very personal one
It has been some time since we, Easy Project, have been "practicing in the garage". We have learned the hard way to go out with our first No.1 hit and become a middle-sized company. Along the way, we have equipped our very own project management tool with everything you need to manage and control your processes. Therefore, it is very likely, it will suit your transformation and further running perfectly – from planning the initial steps to continuous delivery of the first-class solutions using the most modern methods of agile management. We are looking forward to hearing your business melody!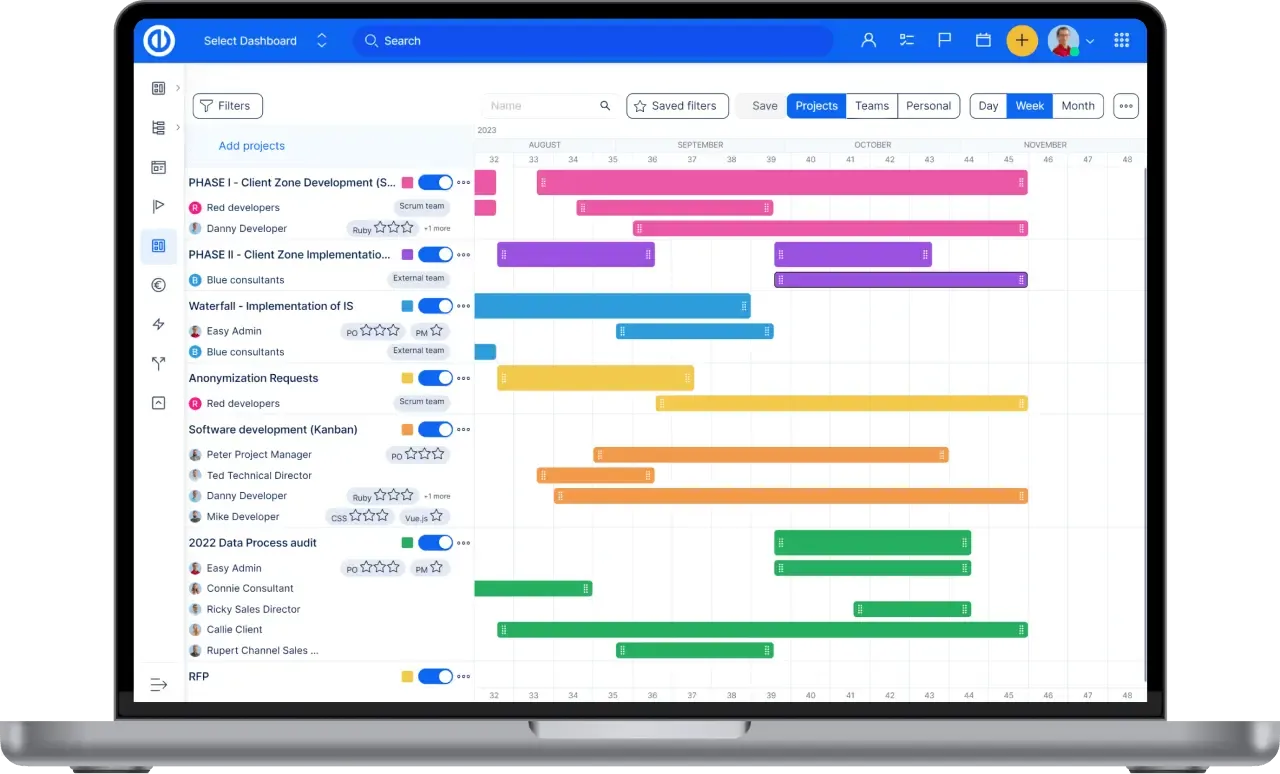 Business growth under control? Easy.
Upgrade to improved tools for project planning, management, and control.