FAQ
What is the difference between consulting and customer support?
Consulting/implementation:
Paid service
Primary contact during implementation
System configuration based on customer requirements
Revision and reconfiguration for existing customers
Client training
Integration/data import/data migration
Custom development requests – analysis, testing, internal development project coordination
Customer support:
Primary technical service to clients:

Resolving basic technical issues (L1 support)
Online Chat – basic technical support
Resolving application outages
Client Zone troubleshooting and access issues
Resolving all error messages (error 500, 403, etc.)

Solving "where can I find" queries or queries related to general application settings
Providing a reference link to available documentation for comprehensive how-to questions
Assisting clients reporting bugs, custom branding, and custom development request
Assisting in case of client's server issues (paid service if Server Support L2 engagement is required)
All about Easy Project Server
The server solution is designed for your own server (you host the software). By purchasing this solution you obtain installable software + the source code. The server solution includes three months of free updates. Updates are available for download in the client zone, to which you obtain access after the purchase. Further updates are paid.
Virtualization – VMware, VirtualBox


The easiest way to deploy Easy Project is in our provided virtual machines preconfigured for optimal performance. VMware and VirtualBox compatible machines are provided without extra charge. For a minor fee, we can also provide a Hyper-V machine.
Easy server requirements check
Our applications are dependent on all sorts of systems, which is quite normal – we are living in an era of integrated technology. To keep the dependencies in order, we have devised a very simple tool that checks the important components on the server. The admin just runs a simple command, which results in a neat table listing the components and their status. Such information is valuable not only for the admin, but eventually also for our support staff that can provide better instructions for a fix if the customer turns to us.
Manual and guidelines
Server environment is a diverse jungle of ridiculous proportions. To keep all parts in a perfect sync requires tons of experience and continually refreshing your knowledge about new technologies. For the most crucial configurations and components related to our applications, we have published instruction manuals and guidelines that assist admins in regular server maintenance.
These include – installation manuals, ruby updating, server configurations, useful commands or common server errors, and more.
Limitations of server solution
Support flexibility
While we always try our very best to provide customers as much useful information and tools for smooth running of their self-hosted application, we cannot directly control their environment. That means we have no ability to perform fixes directly on the server, or we cannot look for the cause of various errors occurring on the server which leaves us only guessing when providing support.
Remote server support performed by our administrators is available as a paid service. Furthermore, the resolution time is always longer when compared to cloud solution – simply due to arrangements needed before access to client server can be provided. Which leads to next point:
Access restrictions and issues
In most instances when a customer asks for server support, they cannot provide direct access to the server, but rather a remote-controlling session via apps such as TeamViewer. It is better than having no access, but our experience show a significant decrease in flexibility and resolution time when using remote-controlling tools in comparison to direct (SSH) access – connection issues with the hosting computer, lagging, and loss of control when the customer uses the computer. It all adds up to 50% slower resolution time than with SSH access.
Scheduling
Demand for server admins is larger than supply that is a cold hard fact. Server support is no exception. For this simple reason, server support must be scheduled in advance, so that there is a sufficient time frame for complete resolution of the issue.
This is especially true if the only access option is via remote-controlling where the customer's admin must be present. If the customer provided us SSH access, this problem is a bit smaller – our admin starts the repair immediately when available and doesn't need to meet up with the customer's admin.
Bug report verification
It not far-fetched to say that every server environment is different. With so many configuration options, you would think it is impossible to have two identical servers. This is often the reason why we cannot simulate an in-house a specific behavior described by the customer which acts as a bug.
If a service required to run our application is configured differently as our recommendation, it is not necessarily wrong, but may cause issues in the application that are hard to trace back to that configuration.
How to integrate Easy Project with Zapier?
All about Easy Project Global Cloud
With Easy Cloud we guarantee fast service and secure storage of your data.
Data centers
Data centers around the globe ensure fast performance and a high level of security.
OVH hosting in Europe & Canada


Amazon AWS in Asia & South America


Data centers all around the world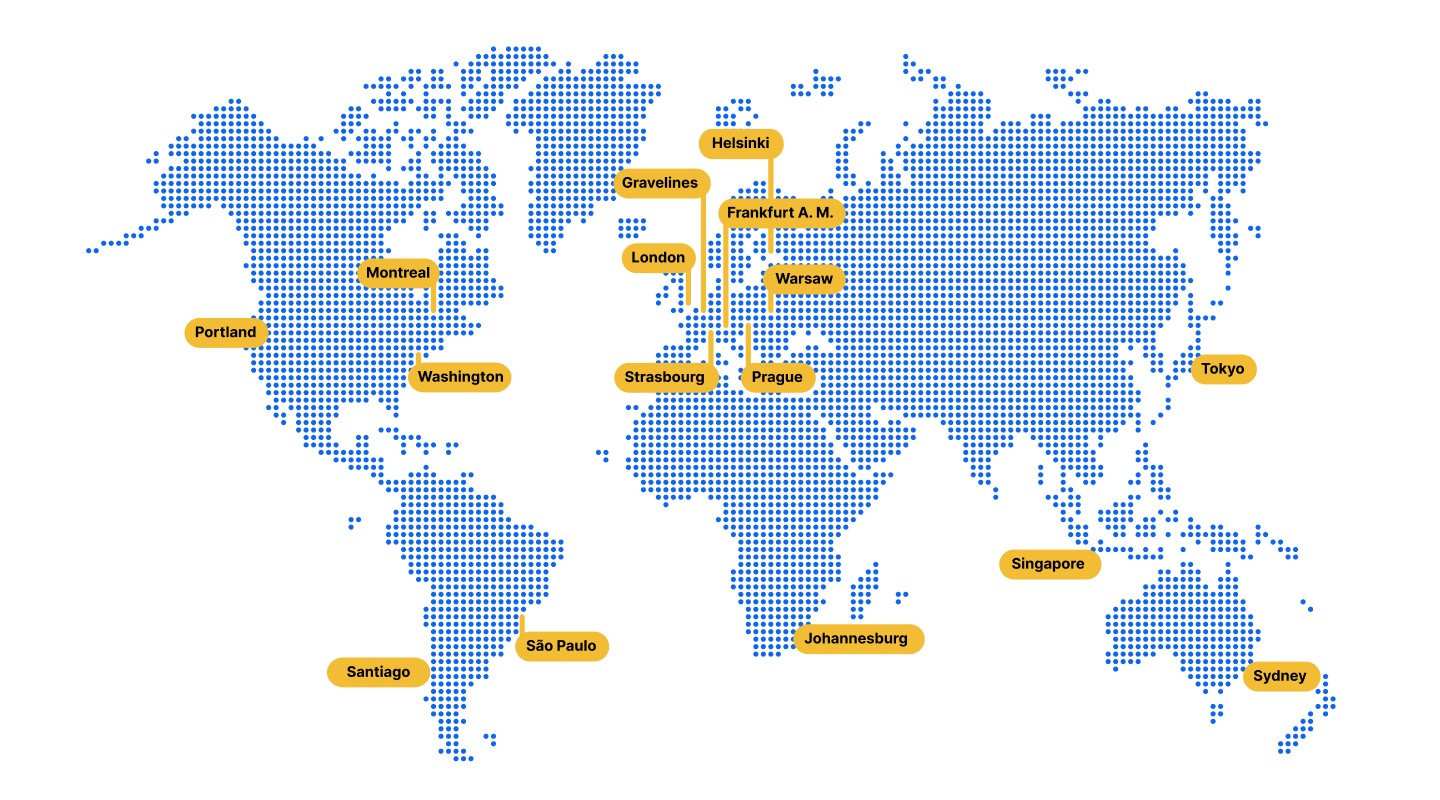 Data protection
Data stored on servers in plain format, with the possibility of local encryption of data
Data stored exclusively on the server with strict limited access
Non-disclosure agreement and complete data wipe down by server administrators
Recovery plan
In case of any issues, Easy Cloud has a range of recovery plans that, are continuously tested and updated. Recovery plans cover the following issues:
Server machine malfunction
Application crash
Data center malfunction
Login credentials leak
Backups
Backups stored in various geographical locations to ensure their safety in case of any natural disaster or any other server problem.
Backups created every day and stored for at least three months.
Encrypted backup transmission
Data stored in different locations
Backup creation process and backed up data are not accessible through server for security reasons
What plans does Easy Project offer?
Both cloud and server versions of Easy Project are offered in 3 subscription plans:
Essentials - includes all classic project management tools as Work management, Agile management, Time tracking, Portfolio management, Project controlling & reporting
Business - includes all Essential PM tools plus Resource Management and Finances
Platform - includes all Essential and Business PM tools plus CRM and Help Desk
Each subscription plan has a different feature set and different price per user/month..
How is the Easy Project Free plan limited?
The Easy Project Free plan and is limited to:
1 User
5 Projects
2GB of storage
Why should I choose Easy Project instead of other project management tools?
Below you can see a comparison of the basic features of Easy Project and other popular project management solutions.
| | Jira | MS Project | Asana | Easy Project |
| --- | --- | --- | --- | --- |
| Workflows | | | | |
| Agile | | | | |
| Kanban | | | | |
| Project Gantt | | | | |
| Portfolio Gantt | | | | |
| Earned Value Management | | | | |
| Resource Management | | | | |
| Team Cooperation | | | | |
| Budgets | | | | |
| WBS | | | | |
What are the best PM practices that lie in the core of Easy Project?
The "Iron Triangle" of project management lies in the core of Easy Project. Project Scope is managed through WBS, Schedules are done in Gantt and Resources are managed through the Resource Master Plan. Project Performance can be assessed in Earned Value S-curves, Risk in RBS and daily work in Kanban boards. Easy Project has modules for a Help Desk, Finances, and CRM. DevOps and Business Intelligence are coming soon.
What can be managed using Easy Project?
Single projects, project portfolios, programs, agile teams, strategic projects, product development, innovation, small or big teams, a whole company, DevOps, IT projects, relationships with clients, project finances, and more.
Who is Easy Project designed for?
Easy Project is designed for project managers, portfolio managers, c-level managers, business owners and freelancers to easily manage projects & teams, using the best PM practices with support from PM professionals and the community and with on-going project management education.
How do I import data to Easy Project?
Data can be imported in XML and CSV formats with Easy Project Importer (part of Easy Project).
Also, Easy Project can be easily integrated with other systems thanks to REST API.
Learn more about the integration of Easy Project on this page.
Is implementation service available?
Yes, professional business implementation is available for Professional, Team, Business and Enterprise plans. It is conducted by certified and experienced project managers. Meet our implementation team here. They are ready to help you.
Do you have a manual for Easy Project?
What do "server" and "cloud" mean?
Server solution
The server solution is designed for your own server (you host the software). By purchasing this solution you obtain installable software + the source code.
Cloud solution
Cloud solution is hosted on servers of Easy Software Ltd. in various locations. US clients are hosted on Amazon Cloud in Oregon. By purchasing this solution, you obtain the right to use the software in the cloud for a defined period of time. Easy Project in Cloud includes:
Easy Project + selected modules & plugins
Service includes software updates your Easy Project is always up to date
Daily backups, storing 14 backups
SSL protection
1 hour recovery guarantee in case of failure